Author: Frank Woods
It's come to our attention here at TASKER that Legion Firearms is in trouble, again TRIARC Systems is currently going through something of a heated litigation dispute that, when weighed against outlying circumstances, may be relevant to your interests as a current or potential customer. We've come into possession of a collection of legal documents outlining a variety of claims against TRIARC Systems and its owner, Chris Reeves that paint a foreboding picture of the current state of affairs. 
Here are the facts/allegations:
In a lawsuit filed in Tarrant County, TX, Bret Hart sues Christopher Reeves of TRIARC Systems in excess of $1M.

According to Hart, he owns 51% of TRIARC, however Reeves has not fulfilled the agreement to legally add Hart to the business as an owner, and has failed to pay back a loan in excess of $5M to TRIARC for start up and operating costs going back to 2015, even though TRIARC posted record sales with gross receipts in excess of $8.5M in 2020.

Court documents reveal that Reeves attempted to sell his 50% ownership stake in TRIARC to ZEV Technologies in 2019.

According to Reeves' counterclaims, filed in December 16, 2021, Hart loaned TRIARC $5,171,576.12 during his "time as lender." Those counterclaims assert that $4,158,496.89 has been "removed" by Hart and that such "deductions and payments significantly reduce the amount owed to Hart.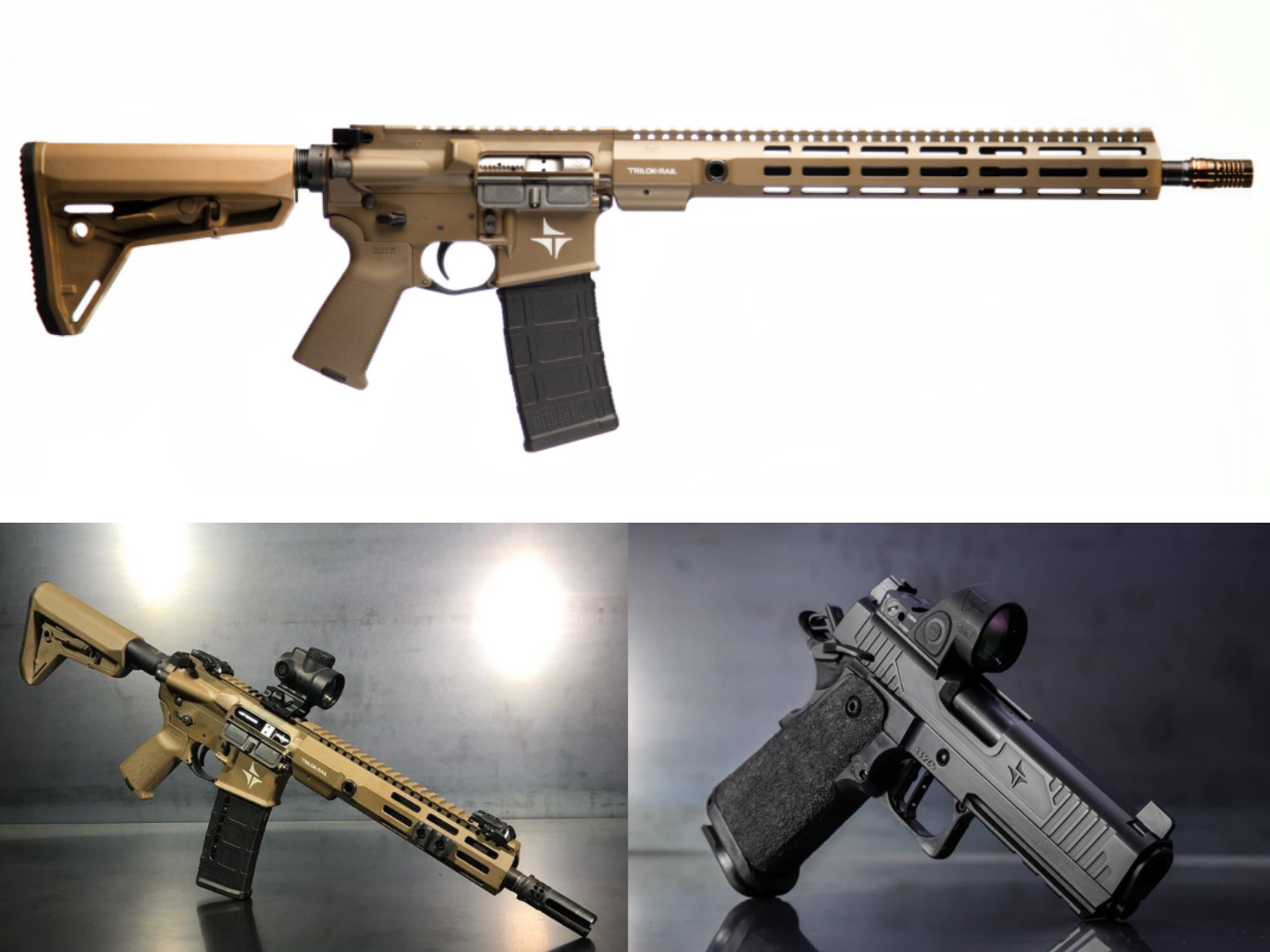 TRIARC Systems offers an AR-15 and 1911/2011 product, including multiple permutations of each. Pictured also is the cerakote finish "Peanut Butter," unique to TRIARC.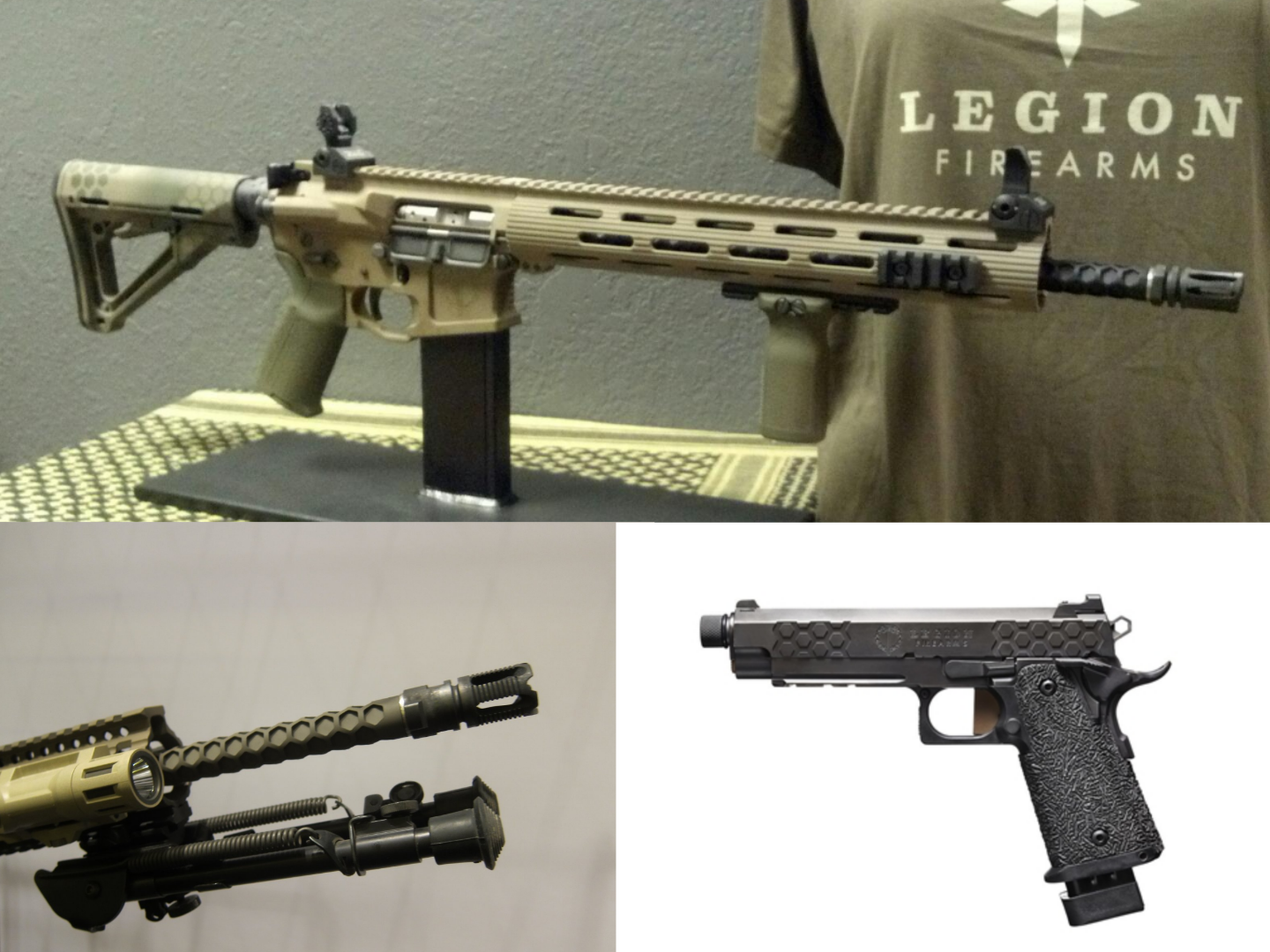 Before the company went under, Legion Firearms also had AR-15 and 1911/2011 product lines to offer. They were known also for their hexagon aesthetic, featured across their products.
In summary, it appears TRIARC has been having money problems the last few years that have either been caused by or culminated in a failure to deliver product. The most recent post on the TRIARC Systems Facebook page was in August of 2021. Since then the company has been radio silent, and there have in the meantime been a rash of reports of unfulfilled TRIARC orders by customers on social media.
There is a great degree of familiarity with this situation, and for some, the current state of affairs at TRIARC brings echoes of the past. For those unaware, once upon a time there was a company named Legion Firearms, yet despite offering similar products with a similar avant garde approach also saw a similar fate before it ultimately went under and dissolved. The story of Legion is legend in the industrial circles, but it's besides the point; it's only being mentioned here to account for the common thread between Legion and TRIARC: the owner, Christopher Reeves.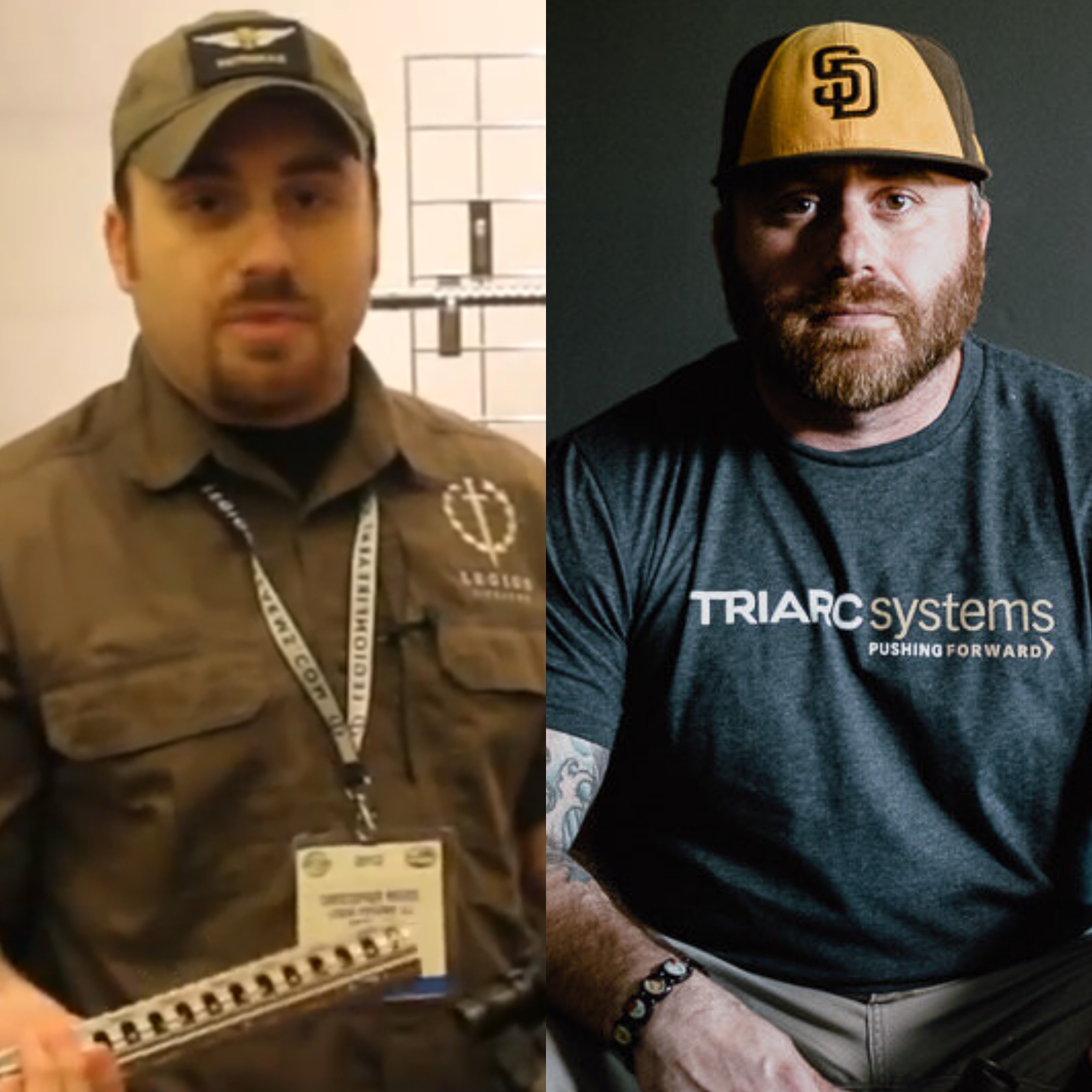 TRIARC Systems & Legion Firearms had a few things in common: An AR-15 product line, a 1911/2011 product line, money problems, failure to deliver product, and owner Christopher Reeves.
Legion suffered similar issues eight years ago, which rose to the point of being noteworthy when several publications ran their cry for help and last ditch attempt to stay afloat:
Legion Firearms Updates Their Status (It's Not Good)
Those cries went unanswered, and Legion ultimately went under not long after. Several people went unpaid, empty handed, or both.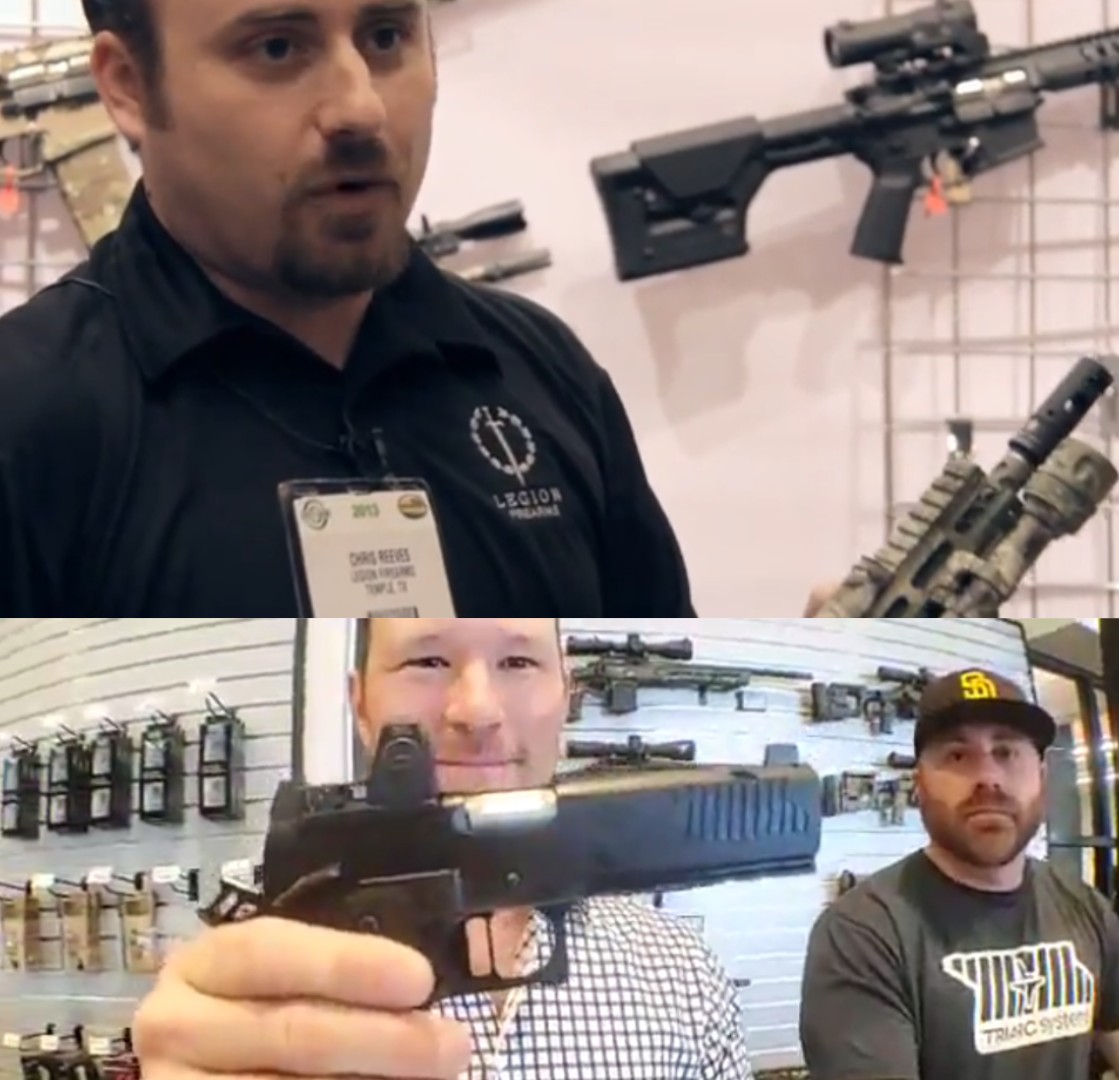 Reeves showing off company product: with Legion Firearms back in 2013, and in 2021 with TRIARC Systems.
Reeves was a controlling officer in the now defunct Legion the same as he is today in TRIARC. Unfortunately it appears that this may be the common denominator both companies have regarding their downfall or current tenuous position. Particularly when one weighs the allegations against the feedback. Here are some recent testimonials from would-be TRIARC customers: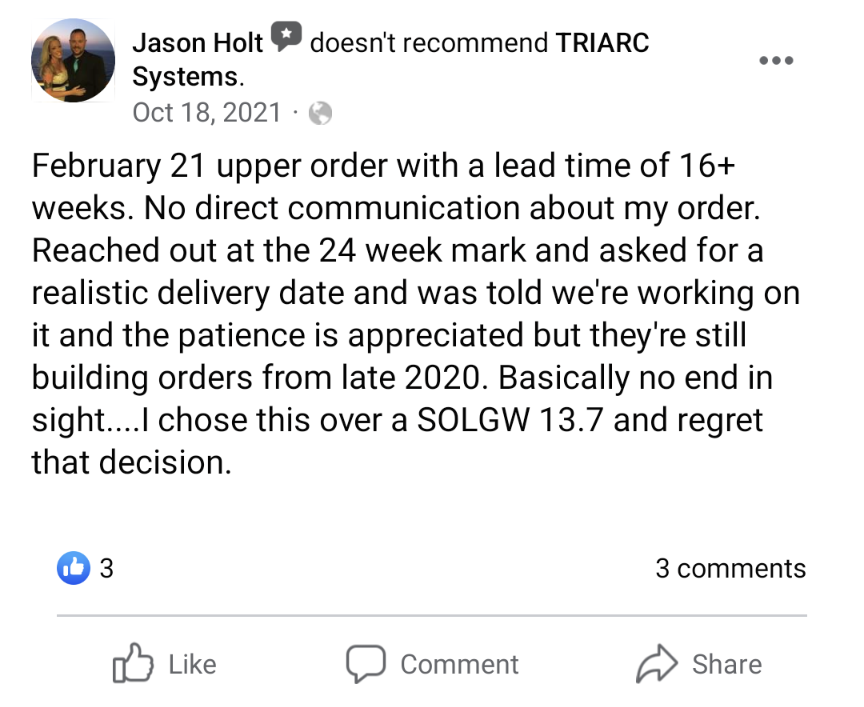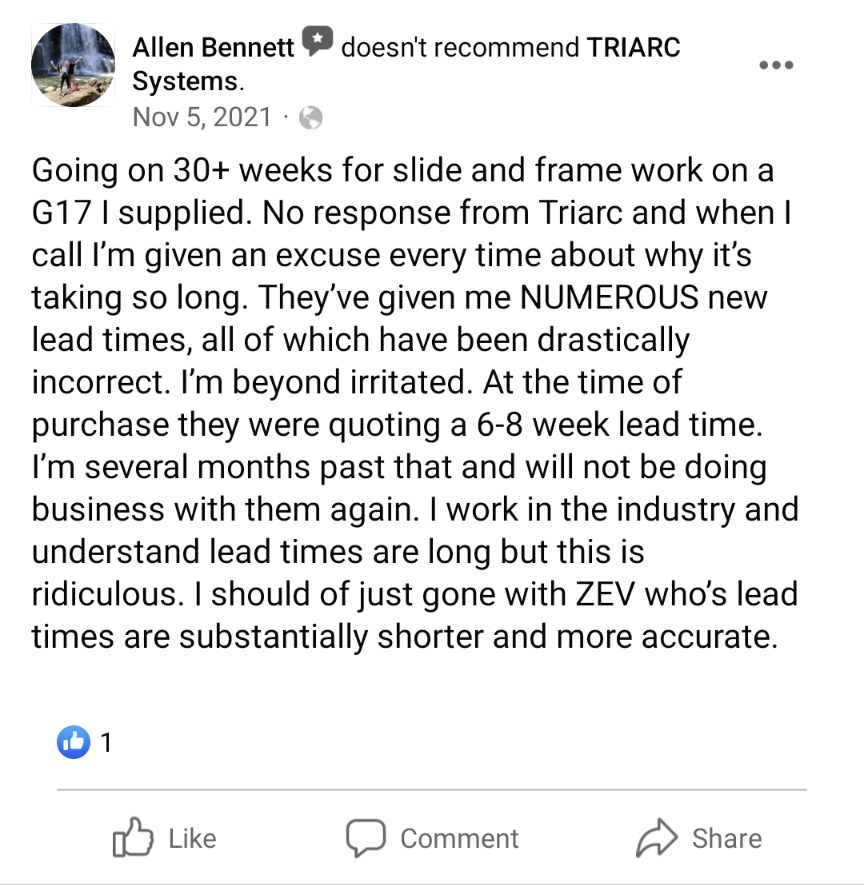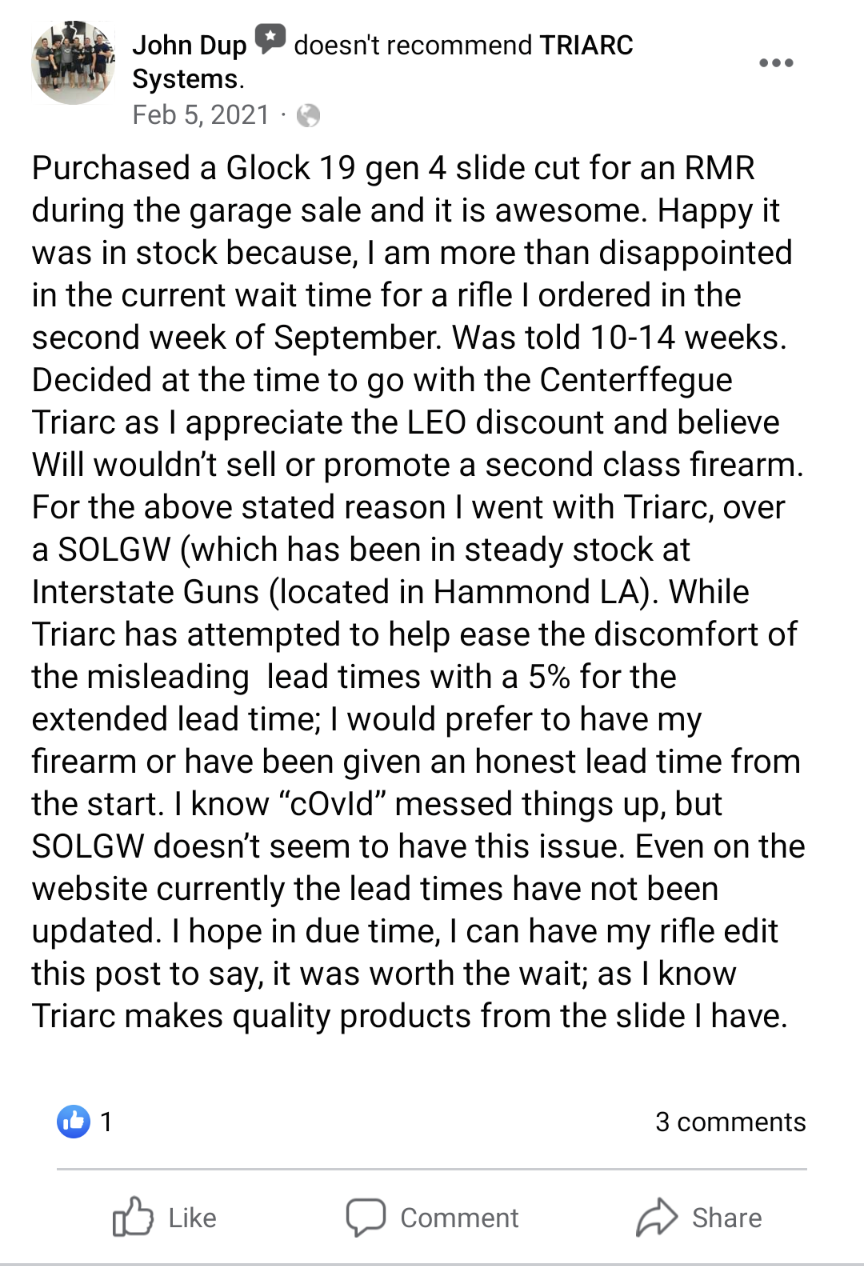 Upon review of these allegations against TRIARC Systems and Christopher Reeves and the amount of money being disputed (especially considering the reports of apparently non-existent product availability), along with the feedback from several unsatisfied customers over recent months:
As paying customers, whether as individuals or agency buyers, your money may be best spent with other companies that have a solid track record established for delivering product to their customers in a timely and efficient manner.
Ultimately, the decision is yours, and no ill will is directed towards you or TRIARC or any loyalties that may exist there between they and others. We would prefer to not see anyone suffer the same outcome as Legion Firearms and its affiliates. 
These are the facts and allegations at present, presented that you might be able to avoid history repeating itself. We have provided all the materials from which we drew our conclusions, so you could arrive upon your own. As always, caveat emptor.
Stay Dangerous.
Stay in this L.A.N.E.