Author: Frank Woods
After our previous article regarding TRIARC Systems went live last week, Chris Reeves reached out to the TASKER Network via both the Lightfighter.net discussion thread and Instagram, and offered to clarify matters brought up therein. We immediately accepted the invitation to talk to Chris, not only to give him the opportunity to tell his side of the story, but also to ask him questions on behalf of those in the audience, so they might also gain clarity on whatever their concerns were surrounding the matter. 
That's where the title of this week's article comes from: Due Diligence. Here at TASKER, we believe in confronting matters in a direct and straightforward fashion, without beating around the bush or making a dogpile out of a comments section to sling shit and hearsay and make speculative allegations. The firearms industry and the community surrounding it are exceedingly efficient at doing just that unfortunately; many they would sooner foment drama and run with their own version of the story like a knitting circle of gossip, rather than have the spine to step up and have a man to man discussion about whatever their grievances are. 
We did just that when presented the opportunity; Chris approached us, we rose to the occasion and accepted his invitation to talk, and asked him some questions to get answers straight from the source. The following is a transcript of that conversation, in the question and answer format as it happened over the phone. Make of it what you will.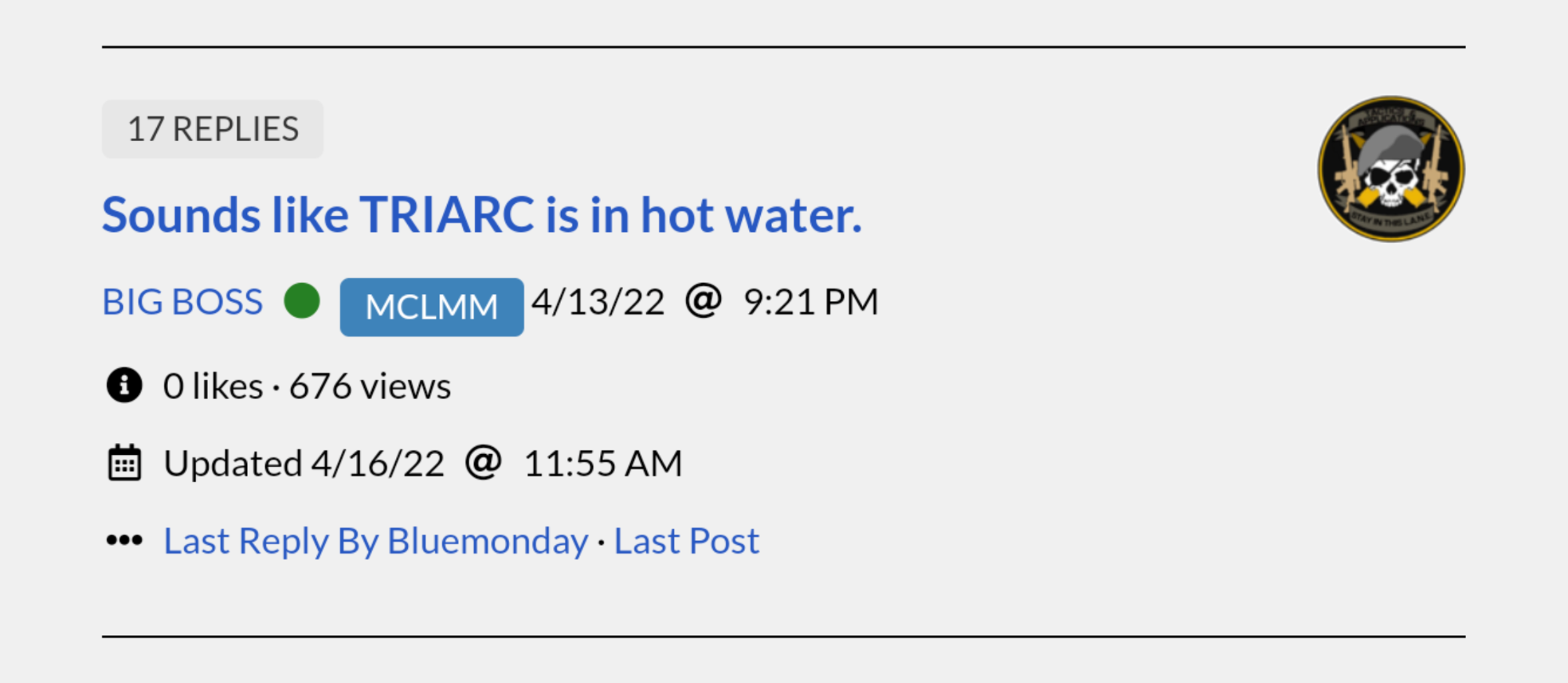 Is there anything else you'd like to say about the lawsuit or the circumstances that led to it, past what you've already said on the Lightfighter forum?
That statement was pretty much all I can say, for legal reasons. There's a lot I could say but that's all I could say for now. There's a big chunk that covered it, but beyond that I can't say anymore. I'm glad we did say as much though because it had to be said.
What can you say about the picture that's been painted pertaining to the day to day operations at TRIARC, especially regarding capability to deliver product that's already been paid for that's well past its ship date?
A lot of the reason for delays has been supply chain. When you partner up with people to get stuff like that done, sometimes there's setbacks, and those trickle down unfortunately. We do as much as we can to be informative to the customer as much as possible. There was a crazy spike initially for 13.9" guns that required a specific rail, and that's where most of the delays come from. We were getting 4:1 orders for those, so it's fair to say 13" barrels have been the bane of my existence, man. At the same time, customers that ordered like, say, a 10.5" .300BLK upper for example may have gotten them faster because there wasn't as much demand for those parts or that rail length. So we had to essentially start making our own rail to get into manufacturing independence so we could avoid that supply chain problem as much as possible, because we realized we were going to have to extend our lead times based on the extended lead times we were getting from our suppliers.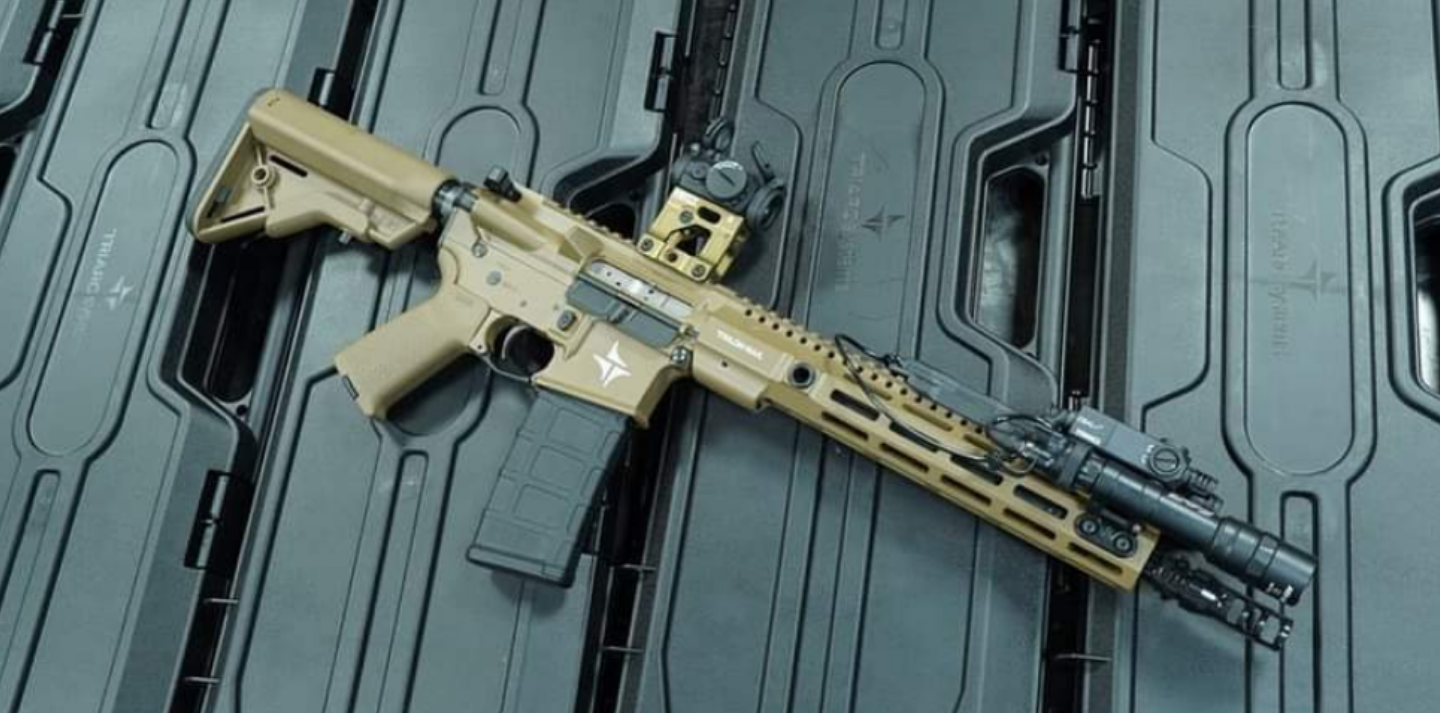 We actually end up rejecting a lot of parts if they come in from suppliers or come back from anodizing and they aren't to our spec. You've been in this industry long enough, you've seen when panic buys happen how it affects the supply chain and how parts quality goes down as demand goes up. We've had to swap out gas keys on BCGs, or the gas keys haven't been drilled all the way through for example. So when stuff comes in, if it's a serious blem or something else unforeseen, we do the best we can to keep the customer in the loop. But supply chain was a big deal, and then personnel issues following that with COVID that ran through the shop. But while it was happening, we pushed, and we still push hard. My team is extremely resilient, while managing three programs: the pistol, the rifle, and the LE side of the house, and we're still obligated by purchase orders that we're supposed to deliver in the order they came in. 
I value our customers, every single one of them, and rest assured I love what I do and every single thing about it. Like I said, you've been in the industry quite a bit so you've seen how the supply chain comes and goes in and out and catches up and there's good and bad that comes with it; bad that the customer has to wait longer, good that we're moving in full gear. 
Many people complain about lead times extending far past the ETA given initially, weighed against influencers appearing to have cut the line and received their products well before existing orders had been fulfilled. Can you offer any clarification in regards? Did influencers actually get their product before anyone else? Did they pay for it?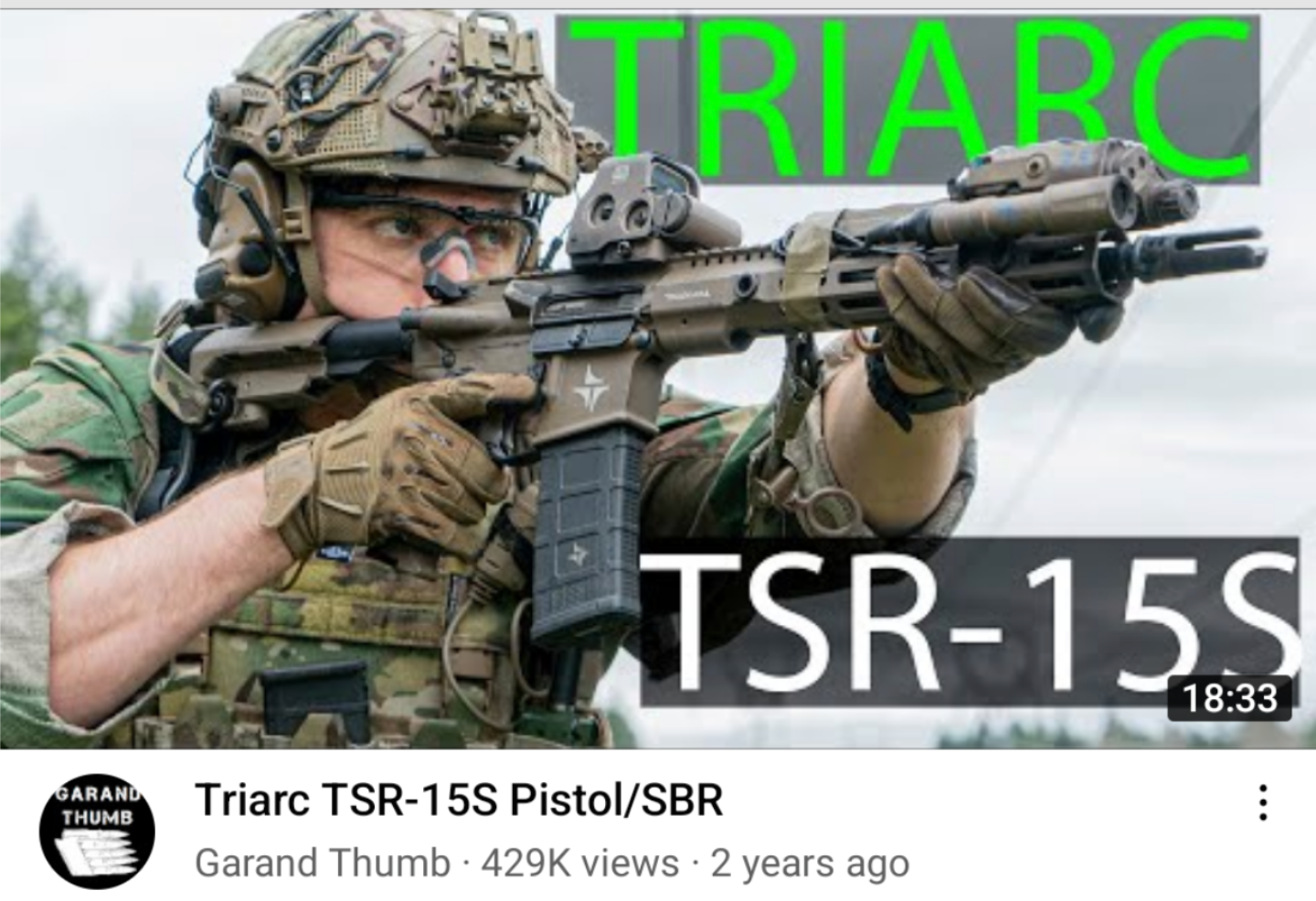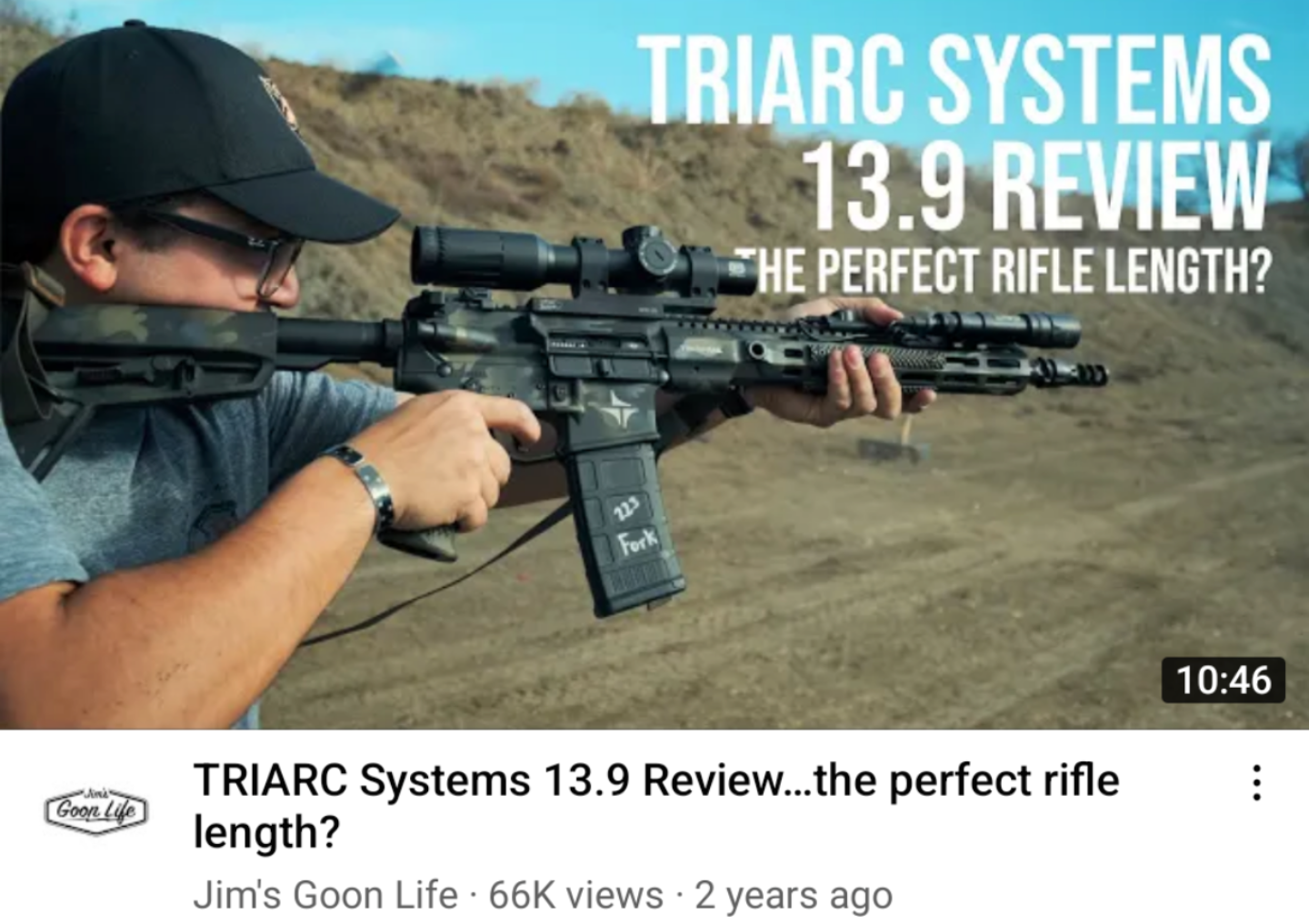 Influencers pay. It's one of those things where their orders get placed with everyone else's. We don't use influencers– Here's the thing: Being in the industry as long as you have, you've seen how influencers get paid. We don't do that. It's a process to bring someone on the team to represent the company. I don't put stock in how many likes or followers or subscribers they have, we have to know the individual. In a lot of cases, they're already customers of TRIARC. We've worked out arrangements where we've given them a coupon code, or covered range fees or ammo costs or cover a spot in a class or sponsored ammo for a comp they were gonna shoot. We'll do solids and hook each other up like that but we don't tell them what to say or post. Like there's no "If you want to rep for the company you have to do or say this." We want their honest opinions. 
What do you have to say about the allegations that TRIARC takes deposits from customers to pay for acquisition of materials and components needed to fulfill the orders in the first place? The phrase "ponzi scheme" has been used to describe this.
That is not true. We don't take deposits to buy parts. We have plenty of inventory, but again that supply chain issue comes back for the parts we don't have like the rails. Then there's manpower, we need to have enough people to put the stuff together, and we're not going to rush it out the door, we'll take our time to make sure it gets done right. So there's no ponzi scheme and we don't buy parts with a customer's money to complete any customer's order. As parts come in, they go to the rifles and upper orders as they come up in the queue.
We understand the industry has been collectively experiencing a bottleneck in the supply chain, which you mentioned last week on Lightfighter. How has TRIARC endeavored to counteract the effects of this? For example, some companies have stopped taking new orders in order to catch up on their backlog and fulfill existing orders. 
When it comes to certain components, we're getting into making the components ourselves in house, like I said earlier with the rail. The plan is to move as much of it in house with our own designs and production facilities in house so it's less links in the supply chain we have to rely on. That being said, we've got an influx of supplies and are getting pallets of parts in currently.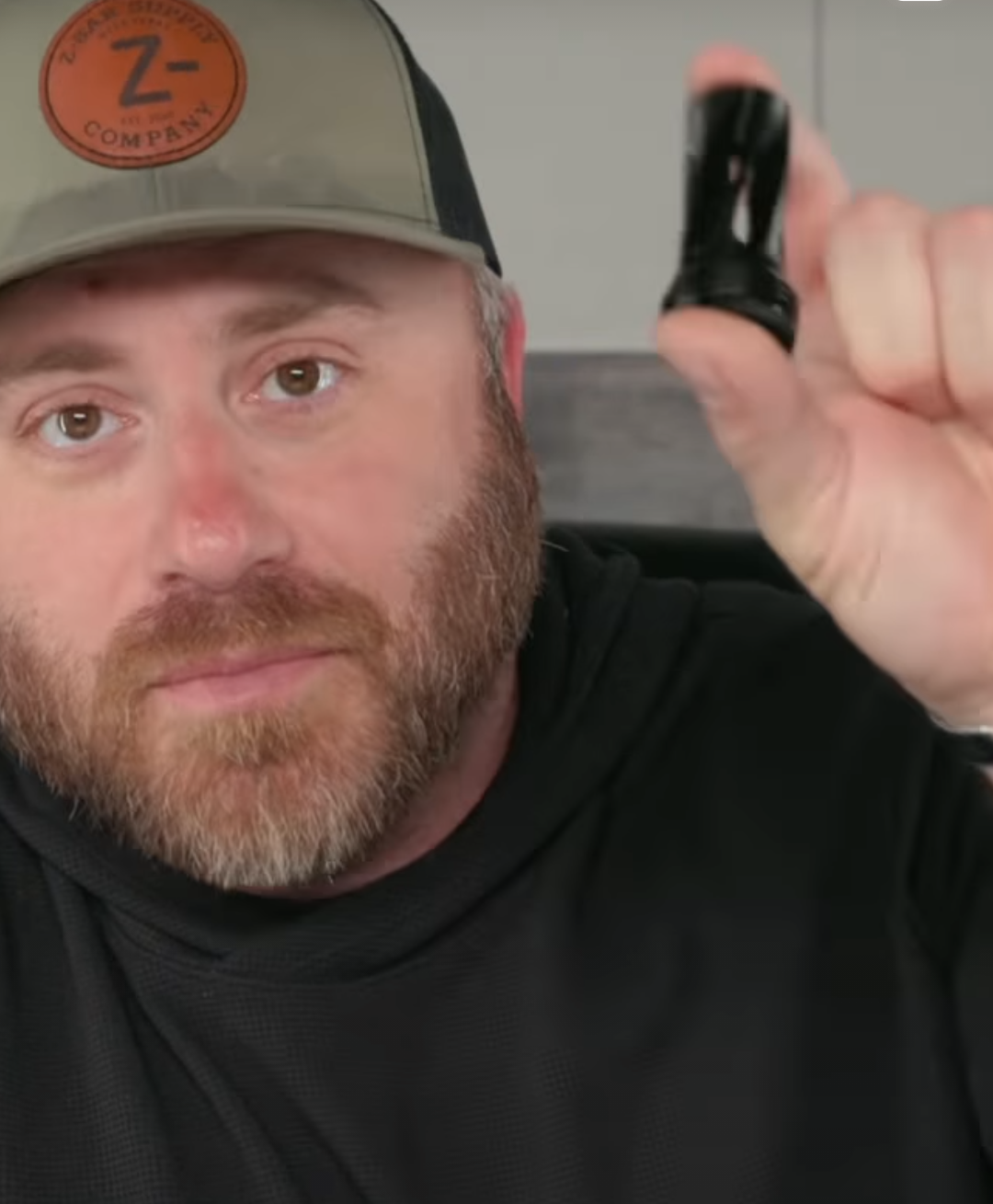 We saw you recently announced on Facebook that you are primarily active on Instagram and YouTube and people should follow you there for updates in production, lead times, product development, etc. Do you have a plan to follow up with those who have attempted to contact you via Facebook or left a negative review in the meantime to address their concerns? 
Yeah, we have a plan for that. We've been discussing that. It's kind of hard with social media and getting throttled by the powers that be. At the same time we have to have a plan and a person in place that can put in the time to monitor those things and address it as it comes up more consistently.  
What is your customer service plan going forward knowing that there are so many unsatisfied customers out there on record? In other words, what do you intend to do to establish confidence in the brand and the support it provides to those who are not yet customers of yours, but are considering spending their money on your products?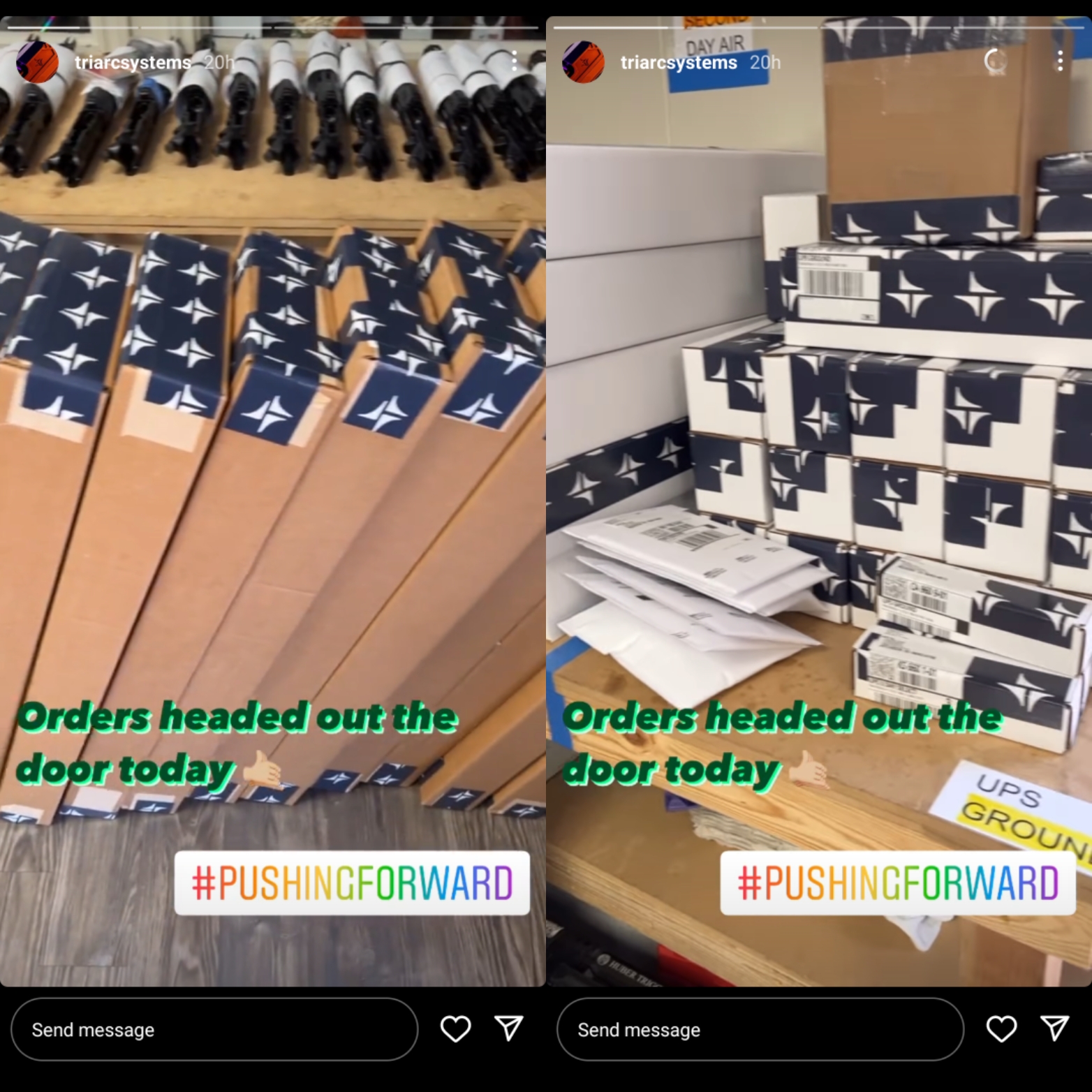 It's unfortunate and we would like to get those customers back, but we do have A LOT of satisfied customers and support. We're hoping that as we move production in house with our own designs that it will inspire confidence that we won't run into those [supply] issues again. The amount of orders we had in the beginning of the year were extreme, but we're on the downslope of that spike now, so lead times are going to drop. Every day we're working, orders are going out the door, and we've cut that backlog by more than half. I have a team that works every day and on the weekends and they grind to get it done, and we love what we do and we want to make sure the customers are satisfied with the product. We had over 1000 backorders, and now we've got less than half of those, while stuff is going out every day.
What QA/QC changes are on the board pursuant to the negative feedback TRIARC has received? Has it affected outgoing product volume at all?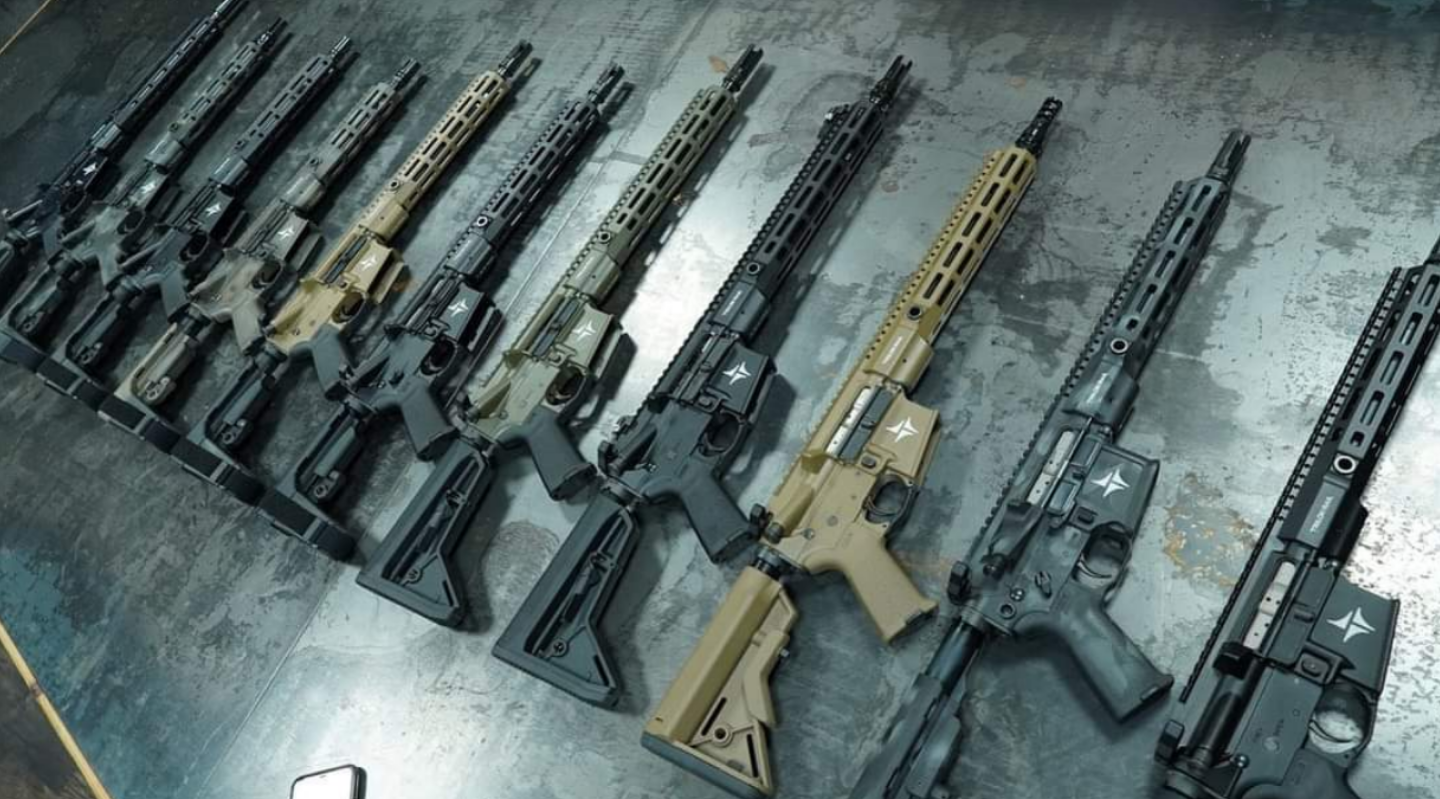 Outgoing product volume hasn't been affected, the team is grinding every day. I'm a big data driven guy, we investigate QC constantly. When you're ordering BCGs by the 100s it's one thing, by the 1000s it's a whole different ball game when you're sitting there with bins and bins of parts, and it takes time to inspect them all. Whenever something comes back, whatever the reason, it gets cataloged. Whatever the problem was, we go through it, we dissect it, we figure it out so we can inform the customer specifically what the issue was, whether it was an issue with our part or someone else's.
There's a screenshot of the Franchise License to transact business having allegedly been forfeit on April 14th. What is that about, and what's actually going on there? Many have sent us that screenshot, under the impression that TRIARC can no longer conduct business, or has effectively closed its doors.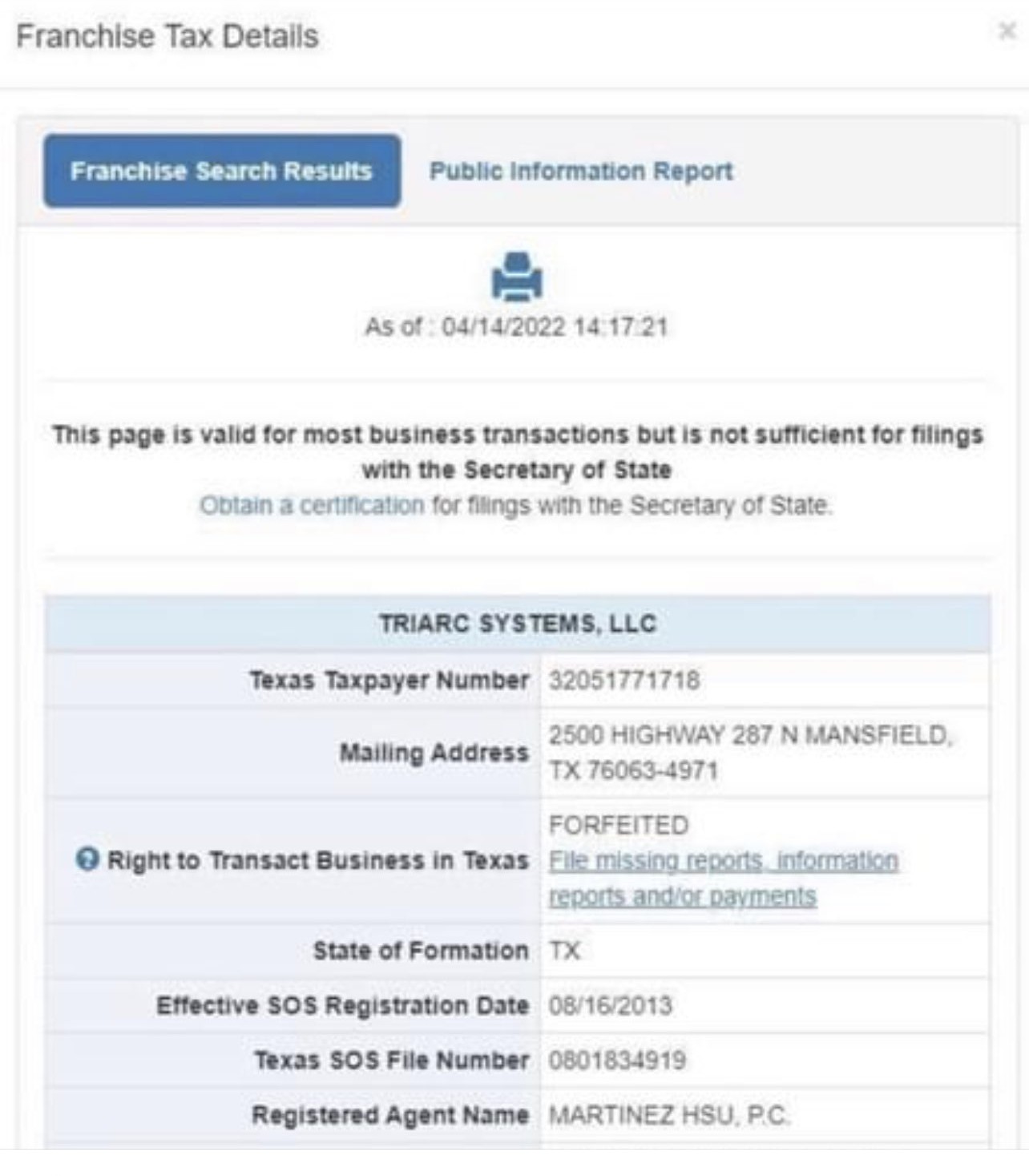 That was a clerical error. You'll see that being changed in the next couple of days. It had to do with Franchise Tax. So, people who do business in the state of Texas, you pay your state and sales tax. Every month we pay it. There's also the annual franchise tax. So there was a clerical error when it was filed, and they wanted a correction. We made the correction, but we were unaware at the time that they had notified us. The one thing about it though, it's a fifty dollar one time payment, and we're not a franchise, but we have to pay it anyway. So it was one of those things where the wrong box got checked, and they don't tell you right away they just take action and then you find out. But it's since been rectified. It just takes time to file it and for it to reflect publicly. 
Who is Matt Giambrone relative to TRIARC Systems? Is he an employee? He appears to have publicly spoken on behalf of the company, especially regarding the aforementioned Franchise Business License. 
Yeah, he's an employee.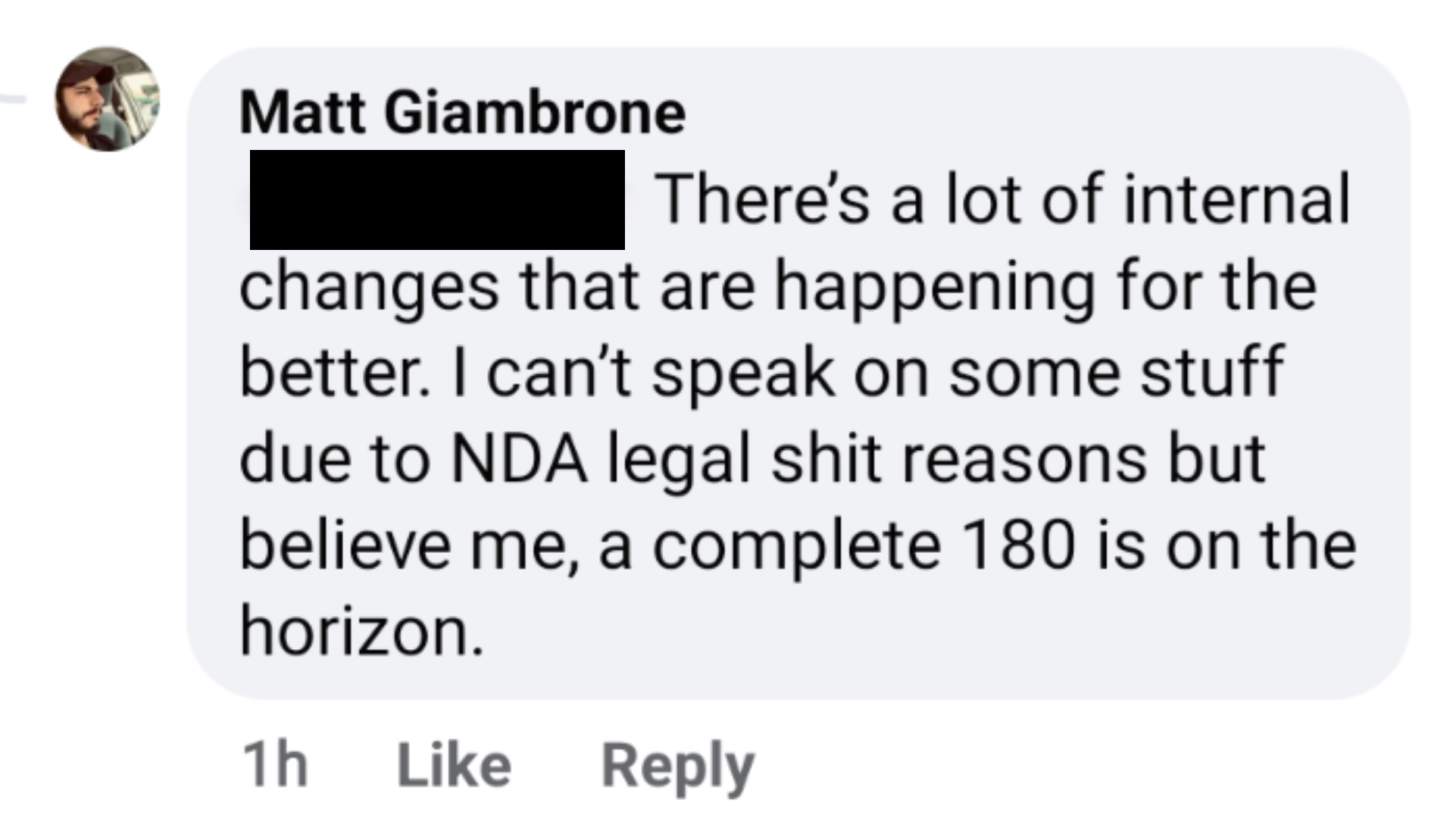 Matt Giambrone stated, "There's a lot of internal changes that are happening for the better. A complete 180 is on the horizon." What is he referring to?
We've hired a bunch of new people to add to the team to work on the backorders and we've been interviewing people to increase our workload capacity. 
What internal discussions have taken place at TRIARC regarding ownership or management changes? Are there any mismanagement examples that inspired such?
No, there've been no changes or discussions pertaining to any of that. Beyond that I can't say more than I already have on Lightfighter because it starts going into that ongoing litigation topic.
What happened at TRIARC between July and September 2017 as it relates to the business registration certificate having been temporarily forfeited by the Office of the Texas Secretary of State? 
Same thing as before, it was a franchise tax clerical error thing. We had an accounting firm at the time. 
You've been described as the "de facto chief operations officer" at Legion for a period of time before it went under; how did that title get bestowed upon you weighed against your duties as the rifle builder?
People thought wrong I guess. I was never the Chief Operating Officer and never declared myself as that. People got that impression because my face was in the videos but I'm not sure how they got that idea, I was just building the guns.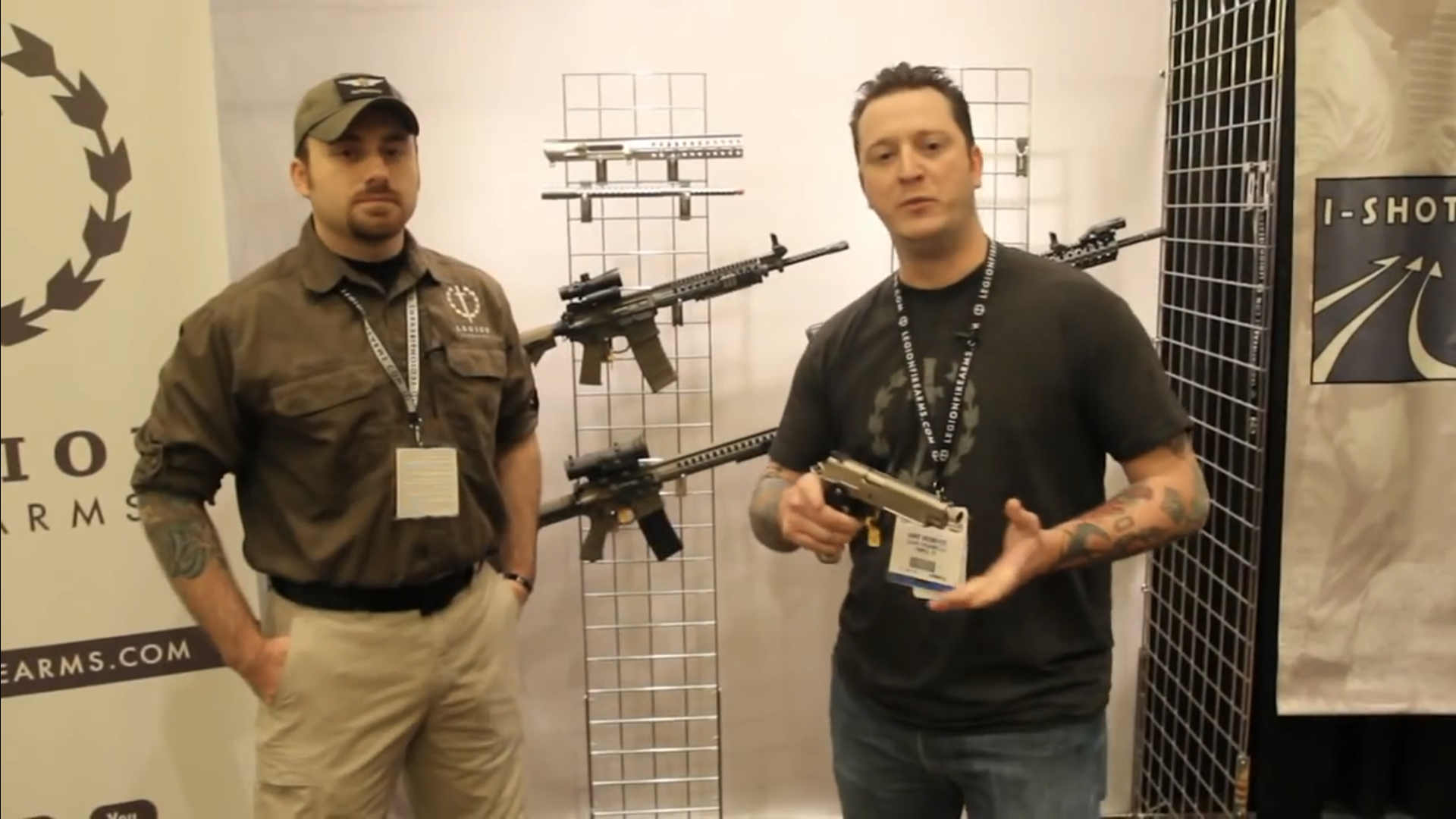 I understand that you started TRIARC while you were still working at Legion back in 2013. What was the impetus for that?  
I was let go, actually. About a year before they went under. It was a really long time ago, and it was something of a transition period. Adam Morehead was the CEO, COO, etc. Jamie Wehmeyer was one of the owners. All I did was build guns. 
You reached out to us initially offering to provide clarification on the matters mentioned in our previous article; with your previous statement on Lightfighter weighed against your answers given here, is there anything else you would like to clarify?
I was taken aback by the whole Legion thing, so I just wanted to reiterate: I had no say in what that company did. I was not a controlling officer in any sense, just an employee. That whole situation sucked for them, and I don't know how or what they got into. But me and my friend Johnny for instance, we worked our asses off. They tried to keep me and then they didn't, it was a big back and forth and yeah, it was a long time ago. Here at TRIARC, we're confident in our product and we believe in our product and we take our time to build it and make sure it's done right. We pride ourselves on the fact that we supply a large number of LE agencies, and we offer customizations; 90% of our consumer sales are all custom guns, when it comes to certain accessories or muzzle devices for example, you get it, you've seen it before, we try to do as much as we can so the customer can get what they want right off the bat. But sometimes that takes time. We want the customers to get the product they want and we're gonna build it right and back it with a warranty and provide the populace with a quality source for firearms. 
I just thought of this as we were talking; What was the deal with the chatter not too long ago regarding barrels prematurely wearing out, something to the tune of a barrel life of 5000 rounds by the time the barrel was shot out. I understand you've since addressed it, but what happened there?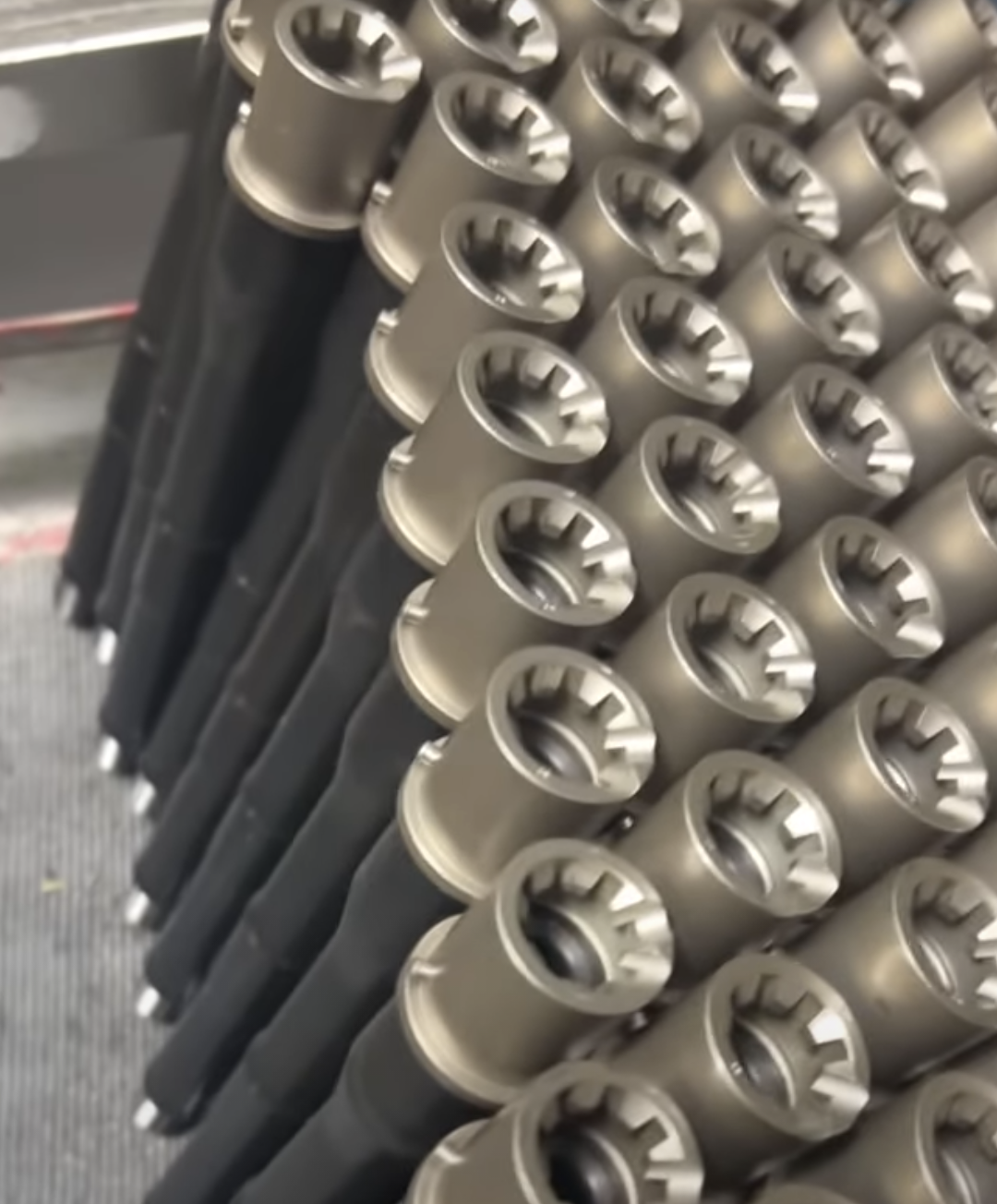 To be honest with you, we hear that, and we would warranty it. The second batch of barrels I remember, there was an issue with the nitriding that affected them.  We laser mark our barrels so we can track which batch they belong to. We did a detailed report and we ended up scrapping the whole batch. Ever since then though, we haven't had any warranty claims or seen that problem come back. Nitride requires a lot of QA/QC and gauging. If anyone has an issue though, like I was saying before, we analyze it, we catalog it, and we endeavor to make it right. So like let's say it was a barrel from batch 13 or batch 14, if we kept getting problems with barrels from the same batch, at that point we'd look at the whole batch to see what happened. We've had to scrap whole batches of barrels before and that sucks but that's what it takes to rectify the matter. If something does happen, people need to contact us immediately and send it back in. We'll give them a label to send it back in and get it done. 
As you know, when it comes to product development, that stuff takes time to make sure we get it right, even when we're taking things in house. We get test units out there and collect the data and use it to refine the product. We do our own gas blocks now for example, and that was no small feat. It's a lot of work but that's why we grind, because we care about the product and love what we do here, and there's a lot that goes into manufacturing because it's not all gun building. You know how it is. It's operations, it's shop management, it's a lot. In the beginning we were paying people to laser our stuff, now we've got two lasers working every day marking our own parts. But the biggest part to it is we're doing all of that to get out of the backlog, and we're almost through it. 
Our turnaround times depend on certain products like rail lengths and the like, since we offer so many customizations. Plus we've got the pistol side of the house cranking out 2011s while all this is happening.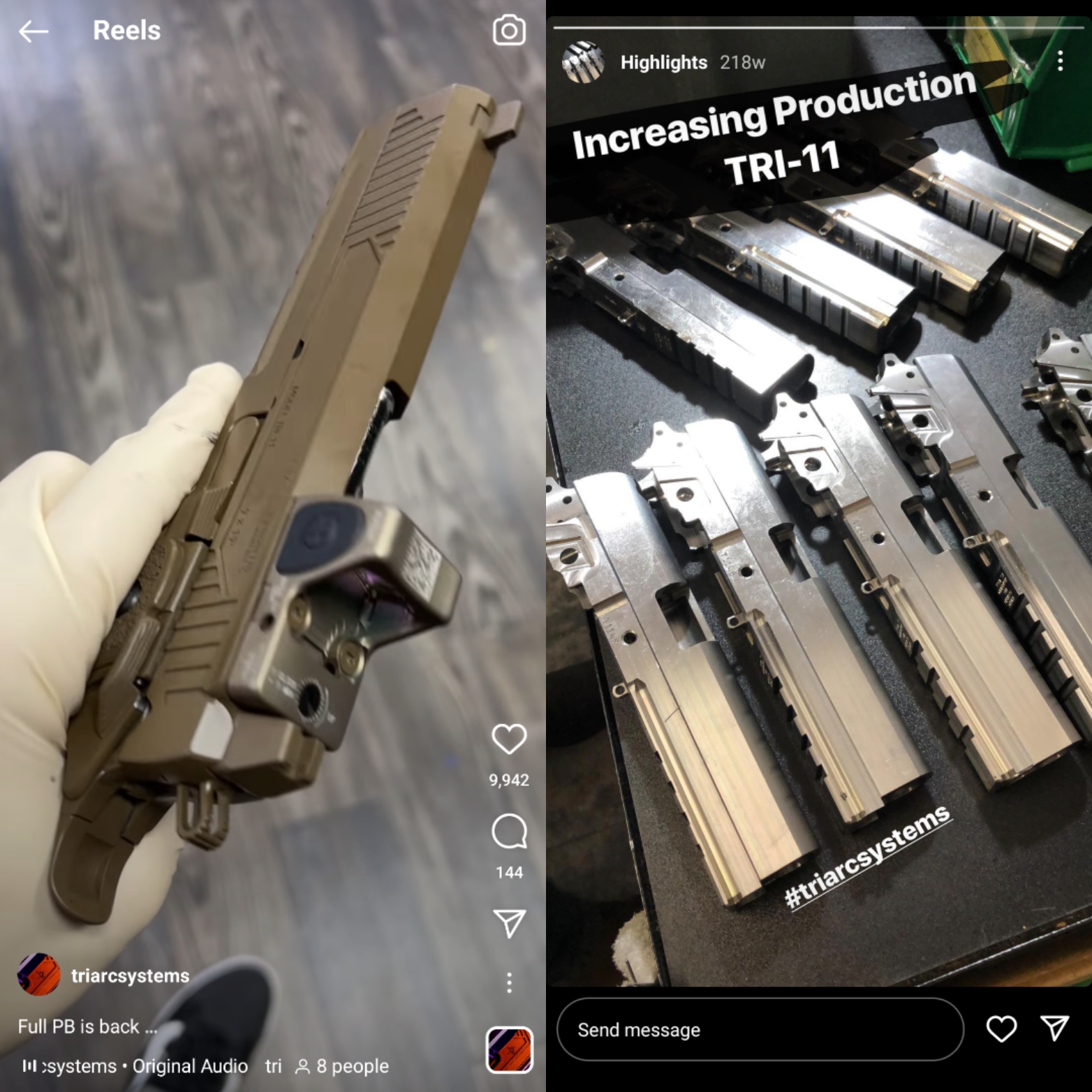 Have you heard any complaints about the 2011s not being able to run common varieties of 9mm ammo?
Negative. If that's an issue people are having, the customer needs to reach out. But we haven't heard anything like that.
Going forward, what's the best way for customers with product issues to contact you? I know you said you don't do Facebook anymore, do you prefer Instagram, email, a phone call? How should they do it?
It's not that we prefer Instagram, that's just the one we tend to get more engagement with. When it comes to communication, we prefer direct: phone call or email. When you have a lot of followers that communicate by comments, it's easy for them to get lost among thousands of comments. But we have someone monitoring customer service at all times. Direct communication is the most preferred method, you'll get a call or email back every time. Instagram stories are where we give the customer production updates and an inside look of what's going on at the factory.
Well people should certainly be happy to hear all of this.
Yeah man. You're more than welcome to come to the shop brother, if you're ever in the Dallas Fort Worth area, stop by, check it out, we'll throw back some beers or whiskey. That's a lot better for you to see it with your own eyes rather than hearsay. If you ever have any questions feel free to hit me up, you can get a hold of me now that you've got a direct line. I'm gonna get going and do what I do man: I freaking love building guns!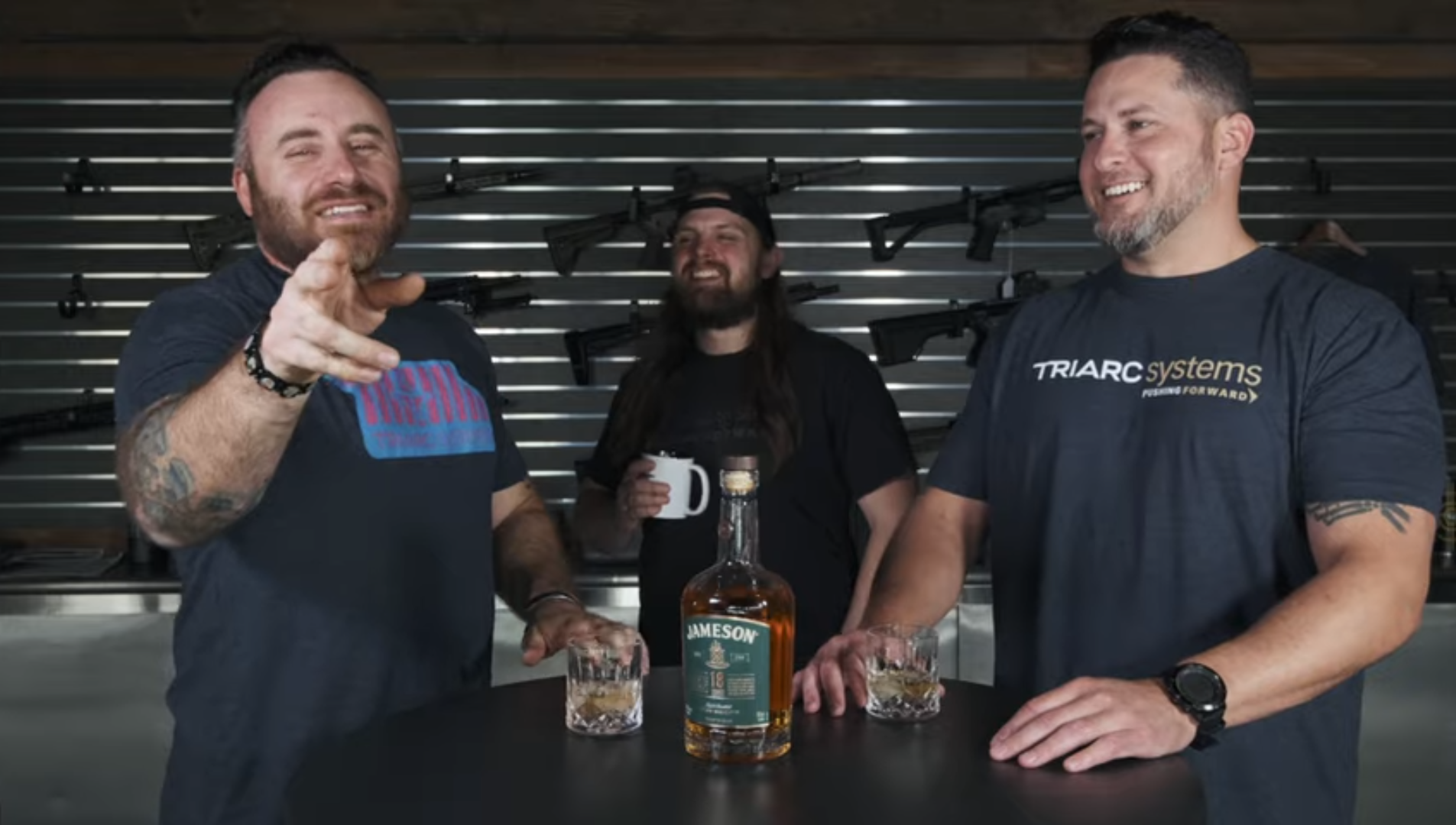 Alright, awesome. Thanks for your time, be safe and stay in touch. 
There you have it. Perhaps this was merely a matter of TRIARC Systems being a victim of their own success, where they suffered the same problems the rest of the industry has been dealing with the last two years, and their increased visual signature on social media in the meantime made them a big/easy target for those with a bone to pick. Either way, Chris was very easy to talk to, had a very laid back demeanor about him during our call, and didn't find any of our questions offensive nor did he attempt to avoid answering them. If you have any additional questions that we didn't cover here, do as we did and approach Chris directly with them. I suspect he'll be plenty accommodating in regards.