Author: Sam Houston
The AR-15 is the dominant rifle for tactical shooting on the market, this is an undeniable truth. In this write up I will attempt to explain the basic do's and don'ts when it comes to night vision (NV) and rifle synergy. When the sun goes down and you have a single sight focal plane (NV monocular/goggle) your gear and weapon need to work with you, not against you.
I am not married to a particular barrel length, so you may want to have a shorter or longer bbl depending on your context.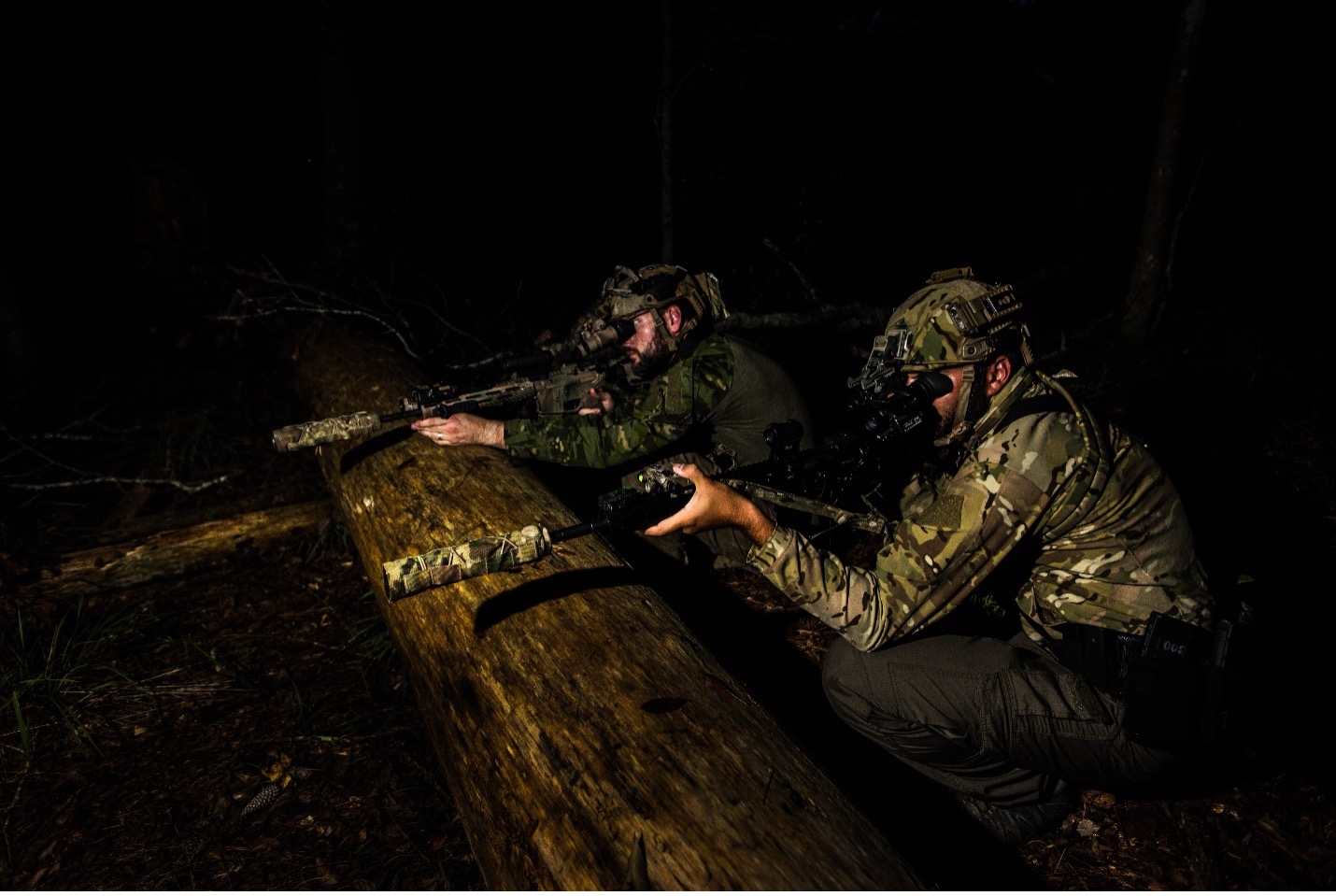 Starting from the buttstock and moving forward: a good quality buttstock from a reputable company with QD cups is highly recommended (Magpul/BCM/LMT/B5 systems are my go to companies).  An ergonomic adjustable buttstock will allow you to set your length of pull (LOP) and position the gun into the pocket of the shoulder for sustained accurate volumes of fire and will interface with a 2 point adjustable sling…a must have, in my opinion.
A sling is to a rifle what a holster is to a pistol. A professional rifle is always setup with a sling, no doubt about it. There are a multitude of good 2 point adjustable slings on the market to include the VTAC sling, Blue Force Gear VCAS, The Way of the Gun Proctor Sling, the Sierra Tac sling, and finally the basecamp Kilo sling. I typically run the sling as far back on the stock as I can and as far forward on the rail as possible for a variety of reasons for both day and night applications and load bearing/ stability reasons. Whatever sling you run, make sure it is easily adjustable, staying out of your way during reloads and other weapons manipulations. There are right ways and wrong ways to run slings and I suggest you learn the proper techniques.
Moving forward on the gun comes the charging handle, an ambidextrous charging handle is a nice to have item, but certainly not a must have.  When it is dark and you are resorting to certain motor skills, the ability to grab onto a larger charging handle latch on either side can greatly aid during weapon manipulations. I personally run Radians, Battle Arms, Forward Control Designs, and BCM charging handles on most of my guns. They are all functionally identical.
I generally prefer a well built and combat-proven two-stage trigger in my rifles. The fact of the matter is an already proficient and accomplished shooter can do more with performance enhancing modifications than with standard single stage mil-spec trigger.  This makes it a worthwhile investment at some point for an above average shooter or serious armed professional.
Up next are Optics and Optic mounts. There are a variety of optics on the market that lend themselves to certain environments. High magnification optics are absolutely off the table for NV shooting outside of sniper applications. I will not go into the reasons as to why in this article because it would just waste time, please bear with me and push the "I believe button".
An LPVO with a manually adjustable brightness can work in its 1x configuration but understand you will have a daytime focus and a different night time focus for shooting passively through the tube. Other potential drawbacks of LPVO's are lackluster eye box/eye relief and multiple panes of glass to see through in variable lighting conditions.
A NV compatible red dot sight is favored for NV shooting because they possess NV settings to dim the reticle to acceptable levels to be viewed under NV, and exhibit acceptable or near zero parallax at the ranges most folks will be shooting at under NV. Generally bigger window optics like EoTech HWS and large tube Aimpoint RDS (Comp M2/M3/M4/PRO) are more forgiving and the reticle is easily picked up for passive shooting situations.
All that said we now possess technology that allows us to mount smaller diameter optics higher than the standard lower 1/3 co-witness (1.54 in) mounts of yesteryear. Mounts from Geiselle, Reptilia Corp, Scalar Works, American Defense Manufacturing, Unity Tactical and others exist to raise sights closer to your eye line, which is very much desired as the NV only see what they are pointed at in a 40 degree field of view. Personally I believe the minimum height to be 1.93inches but prefer 2.26 or even 2.33 inch height mounts even more for RDS optics.
Most of the shooting we find ourselves doing is heads up shooting, either standing, kneeling, or resting on a barricade but seldom if ever prone shooting. If you do find yourself shooting prone there are techniques that can be learned from reputable instructors around the country.
As to Iron sights: run them or do not run them, utilization of them under NV is nigh on impossible and not even pepperidge farm remembers the last time you had to resort to using irons (outside of zeroing them) assuming you bought a high quality red dot sight. You also most likely possess another viable sighting system (the Laser).
Rails/Forends is another aspect to think about. Rails should be free floated, and have enough rail real estate to mount the peripheral gear you will need for the  mission at hand. Free floated rails reduce the mechanical variables when it comes to accuracy of both sights and lasers and can aid in heat dissipation when weapons heat up during long strings of fire. They also allow certain sling techniques to add stability/accuracy to long shots when shooting around cover. As stated earlier I prefer my sling as far out on the rail as possible in order to maximize what my gear brings to the table.
Lets now discuss the items that should be on your rifles forend/rail in regards to NV shooting. Any serious NV shooter with have a laser/illuminator unit mounted on the gun. It is important to have an all in one unit to have the ability to run the laser by itself or with an illuminator for various photonic problems you will inevitably encounter.
Currently the MAWL C1+ is the absolute best class 1 laser available to the consumer market and in many cases can outperform certain Class 3 units. The ergonomics of the MAWL in terms of mode switching and fast activation and the ability to interface with pressure pads from Surefire and Unity Tactical along with where/how it sits on a rail are close to perfection. Other capable units from Steiner such as the DBAL A3  perform well for most situations. The L3/EoTech ATPIAL C is the civilian version of the well known PEQ-15. This unit, while lacking a good illuminator, is a very capable, rugged, and reliable laser that is intuitive, easy to zero, and maintain. It also interfaces with pressure pads very well. As long as you realize its illuminator is limited in certain environments it is still a solid choice.
Steps can be taken to add additional illuminator capability with the BE Meyers Kiji to a laser with less than desirable illumination.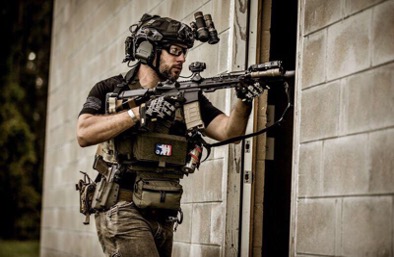 Moving along, Infrared illumination is important but so is visible white light for a variety of reasons. Nowadays we have the luxury of lights with Lumen rating of well over 1000 lumens and candela rating of well over 25k. Lights, be they infrared or visible allow us to gather information, the better the light the better we are able to gather information under dynamic situations. It is important to use lights at the right time and place for obvious reasons. Seeking out good low light training should be in your to-do list of training requirements. A 1000+ lumen light is recommended from a reputable company like Surefire, Modlite, and Cloud Defensive. These are top tier lights and I wouldn't cut corners on a light. The light needs to be able to be activated with momentary and constant on functionality, these are a must when selecting a long gun weapon light.
Pressure switches can aid you in bilateral and awkward shooting positions and are not a bad investment, as long as you have the ability to fire the light from the tail cap as well, because switches and cables can go down, having  dual redundancy will allow you to be at least partial mission capable should murphy join the party.
Lastly let's talk about muzzle devices. They come in a few varieties. Brakes, compensators, Flash hiders, and hybrid devices that have the features of 2 of the aforementioned devices. Flash hiders as the name would suggest mitigate the flash of the round but do not do anything for recoil mitigation. Brakes funnel the recoil impulse straight back and minimize muzzle lift by directing gasses and pressure in certain ways via baffles or large ports. Compensators compensate for muzzle rise by directing gas through ports in the top of the device, neither the comp nor brake tames the flash, in fact the flame can be intense on these. Muzzle signature needs to be accounted for if you're going to be potentially shooting at bad guys. My recommendation regardless of what muzzle device you choose to run should have the ability to accept a silencer.
Night vision and Silencers are a match made in heaven and complement each other very well, using the cloak of darkness and the muffled shot in terms of force multiplication cannot be said enough about. If your laws/policies/MTOE allow for the use of silencers do it, nuff said.