X MARKS THE SPOT: Lightfighter.net Custom 2011s, by Accuracy X

Author: Frank Woods 
DISCLAIMER: For the purposes of this article and all product references therein, "2011" is defined as a 1911 pistol that feeds from a double stack magazine- regardless of who used the naming convention first or what any manufacturer of likewise pistols calls their products. ALSO: The US Army Marksmanship (AMU) does not officially endorse any product mentioned hereafter, despite being named directly.
Upon acquiring Lightfighter.net in February of 2021, one of the first things I looked into doing was a specialized version of a 2011 that was tailor made to specifications worthy of putting the Lightfighter name on. 
There are those who are content to say "Perfect is the enemy of Good Enough," and treat this as an absolute. I do not. Rather, I find that "Good Enough" is good enough until it's not; sometimes, the full effect requires greater effort. This is to say, Lightfighter (and therefore the TASKER Network) does not exist to do what is done in our circles the same way things are done everywhere else, "the way it's always been done," for the mere sake of doing what everyone else is doing; We do it right. 
If doing something right means it costs more time or money, then so be it. This is the example and standard we set for those who would step forward and put their lives at risk so others won't; if we don't make the effort, how could we tell others to do the same? This mentality informed the approach to this project.
At the time, there were a few options on the board as far as manufacturers go in the world of 9mm 2011s, as popular as they'd become after a few years of being dismissively slept on before having reemerged as a serious contender as a duty grade sidearm alternative to the polymer frame striker fired guns that had dominated the sphere. The industry started to catch on, and new names popped up among those who were already known for premium 1911s. Our first choice fell through because the diva on the other end of the phone couldn't be bothered to answer the call. As it turned out, that was a blessing in disguise.
In April 2021 a friend of mine in the Army told me that at some point the claim had been made somewhere, that nobody could guarantee or build a 2011 capable of shooting groups of 1.5″ or better at 50 yards; as it was further explained to me however, the truth of the matter wasn't so much that it couldn't be done, but that the person saying as much couldn't build such a gun themselves.
Here I heard the bell of opportunity ring. My question at that point was, "…well, who can make a gun so capable?"
The answer was Accuracy X.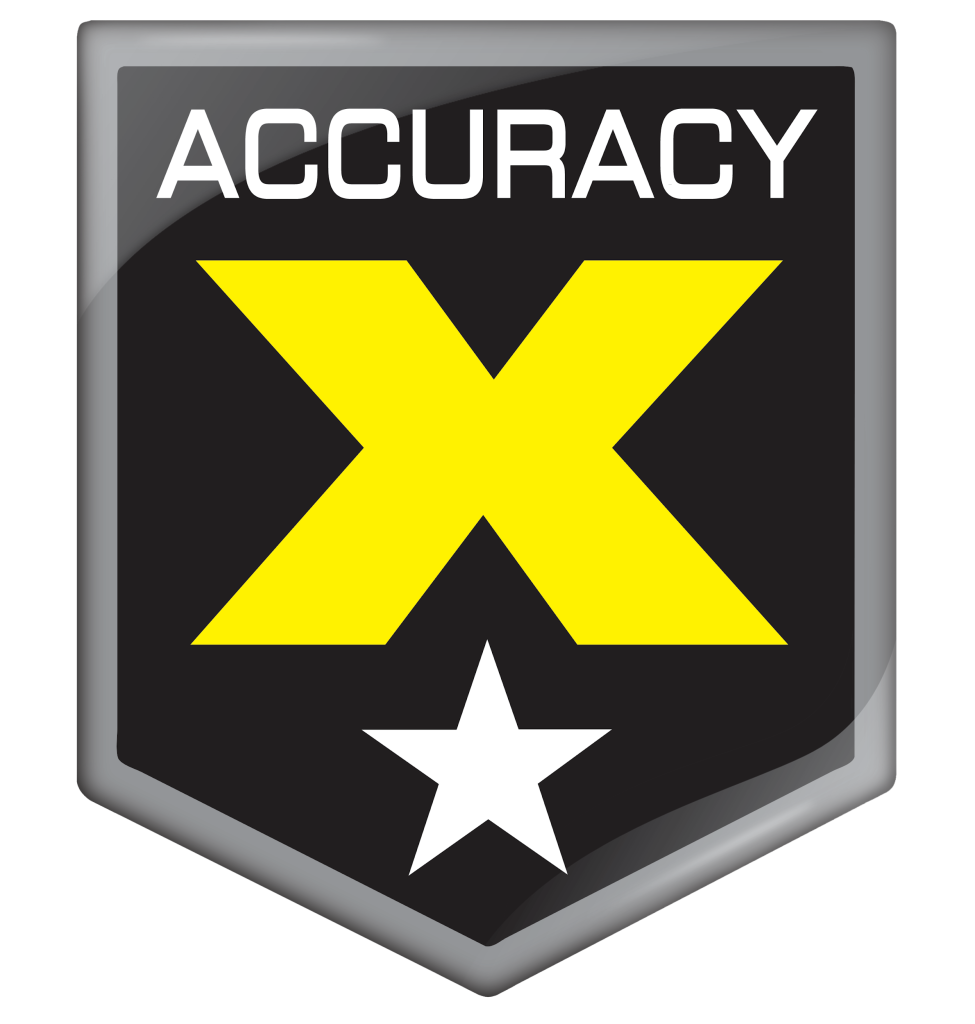 I looked at their website to see what they had to offer, and looked at some of their YouTube videos documenting their craftsmanship; I was impressed with the capability of both marksmanship and modularity, but wasn't really feeling the aesthetic design. Not to be discouraged by a few elective cuts made into steel, I reached out and spoke to Steve Huff, the owner of Accuracy X (abbreviated as AXI) and also its lead gunsmith.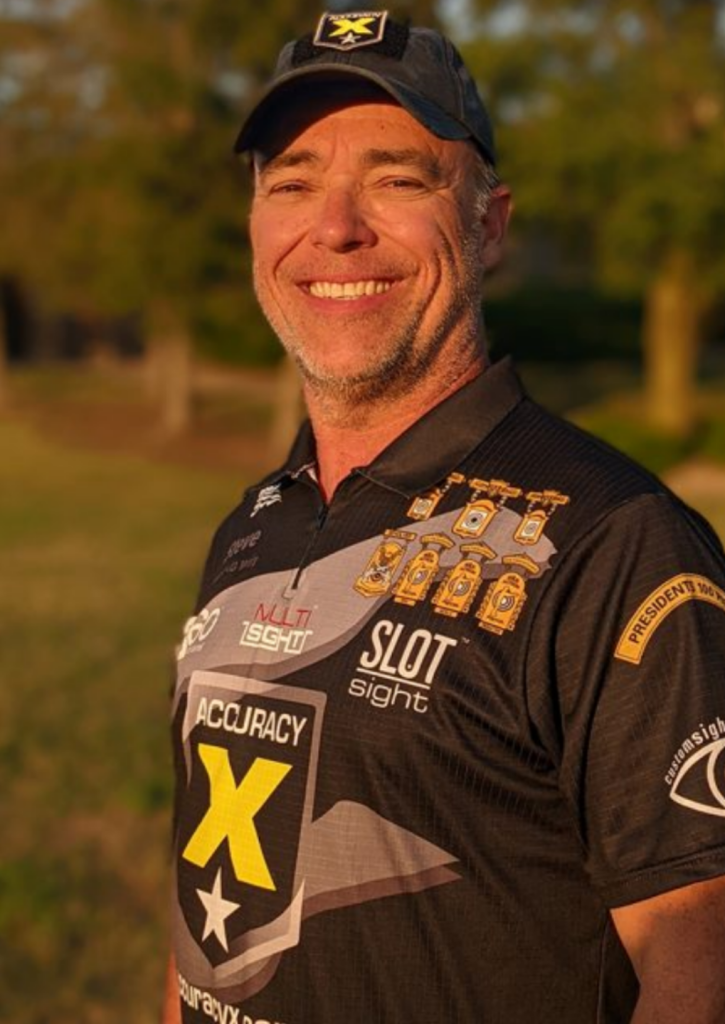 Steve Huff, Accuracy X Actual
We discussed the options and the possibilities, and I asked him to do some things AXI had never done before. It's worth noting here that Steve did not need Lightfighter's business; he had plenty of work coming in for custom builds between competitive championships to attend with the AXI team. He had every right to tell us, "No." Instead, he accepted the challenge and stepped up to plate.
The fruits of this collaborative endeavor resulted in not one, but two unique pistol configurations exclusively available from Accuracy X, developed from the ground up with duty and defensive use in priority, which TASKER & Accuracy X are enthusiastically proud to present to you now.
Meet the Gunfighter and Darkfighter.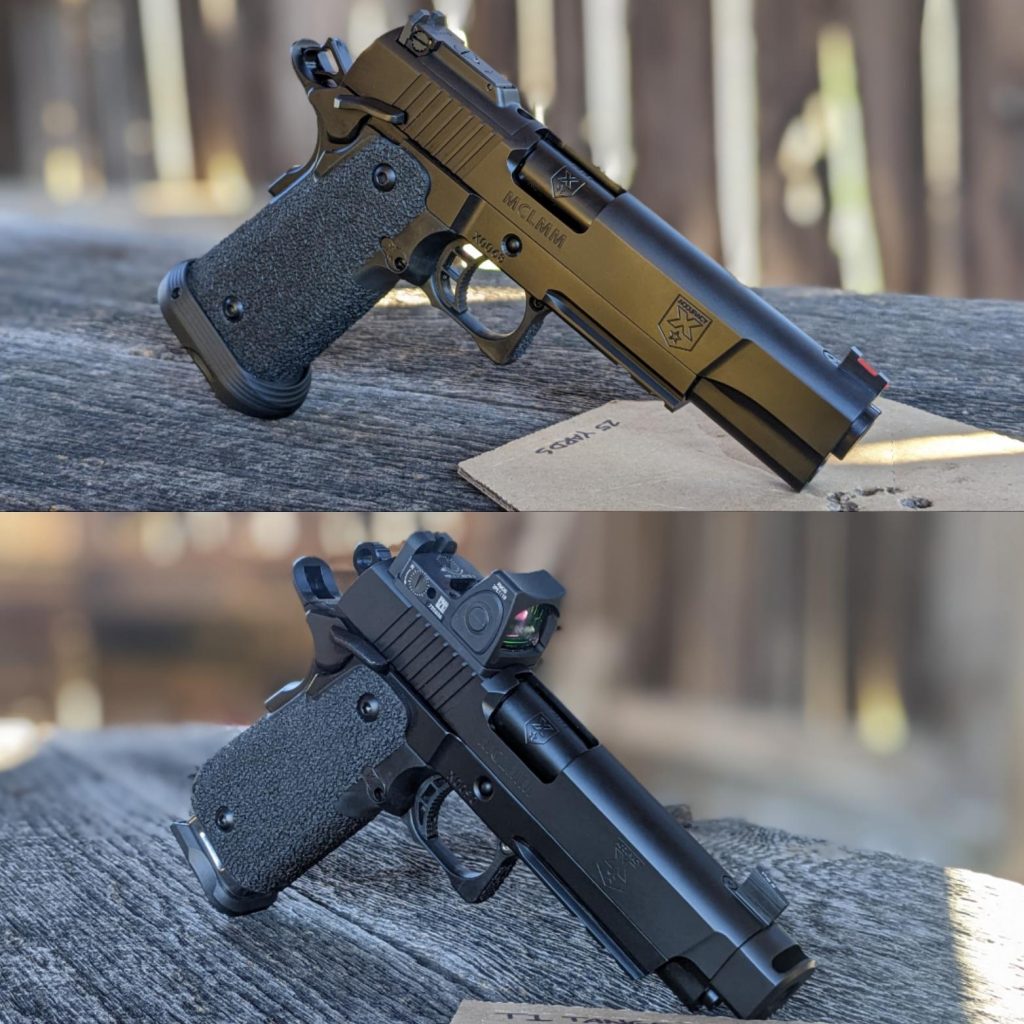 We landed on two configurations upon realizing that we simply couldn't get all the features we wanted in one gun without sacrificing something like holster compatibility or concealment. At that point we said well, why not do two different designs? This allowed us to explore full optimization of the design and use intent for each configuration; That's more choices for you at the end of the day.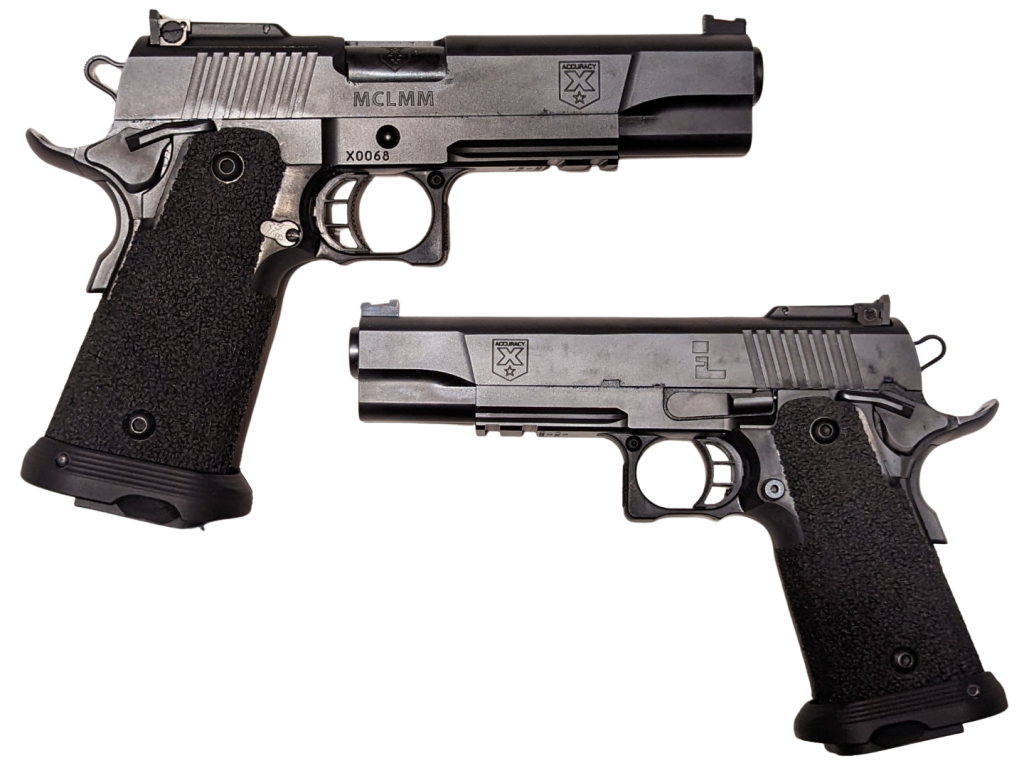 The Gunfighter is the more conventional between the two; based on the Accuracy X D1 Delta, it's a full size model engineered as a modern day contemporary of the legendary M1911A1. This is to say, it's intended to function as a duty sidearm and ride in a likewise duty holster typical of LE & .mil use and all the rigors thereof, which is from where it derives its name: Professional Gunfighters. It sports a government sized slide and 5″ barrel, ambidextrous safety lever, beavertail grip safety, extended magazine release, a railed dust cover, skeletal hammer, and a Dawson Precision mag well.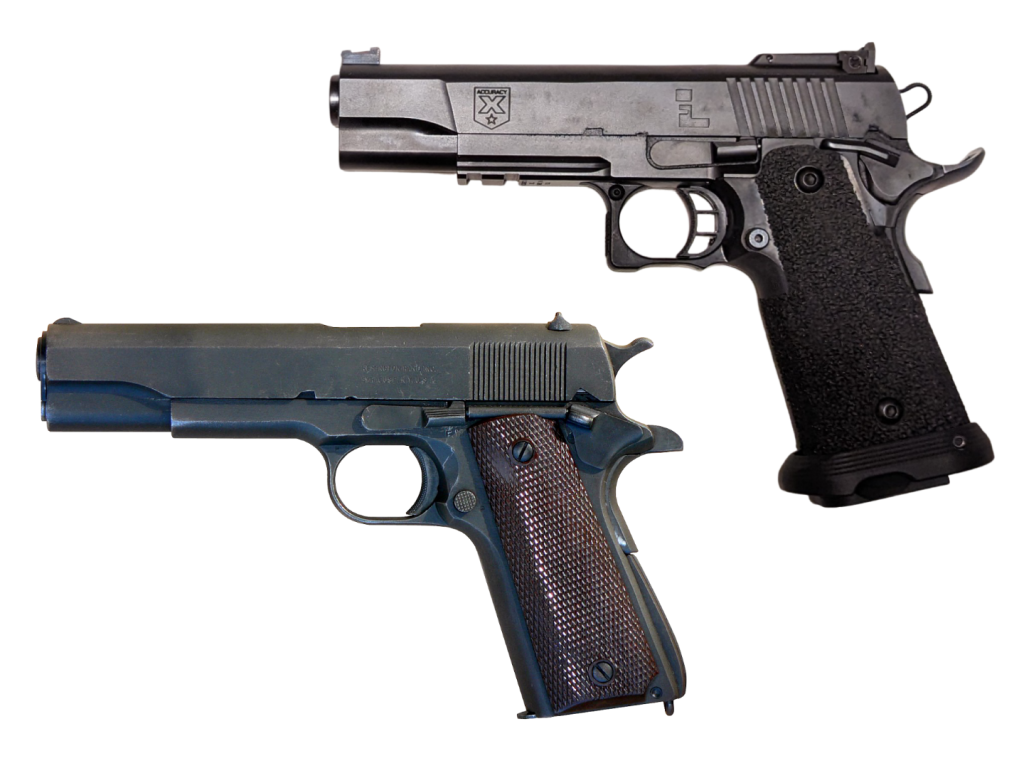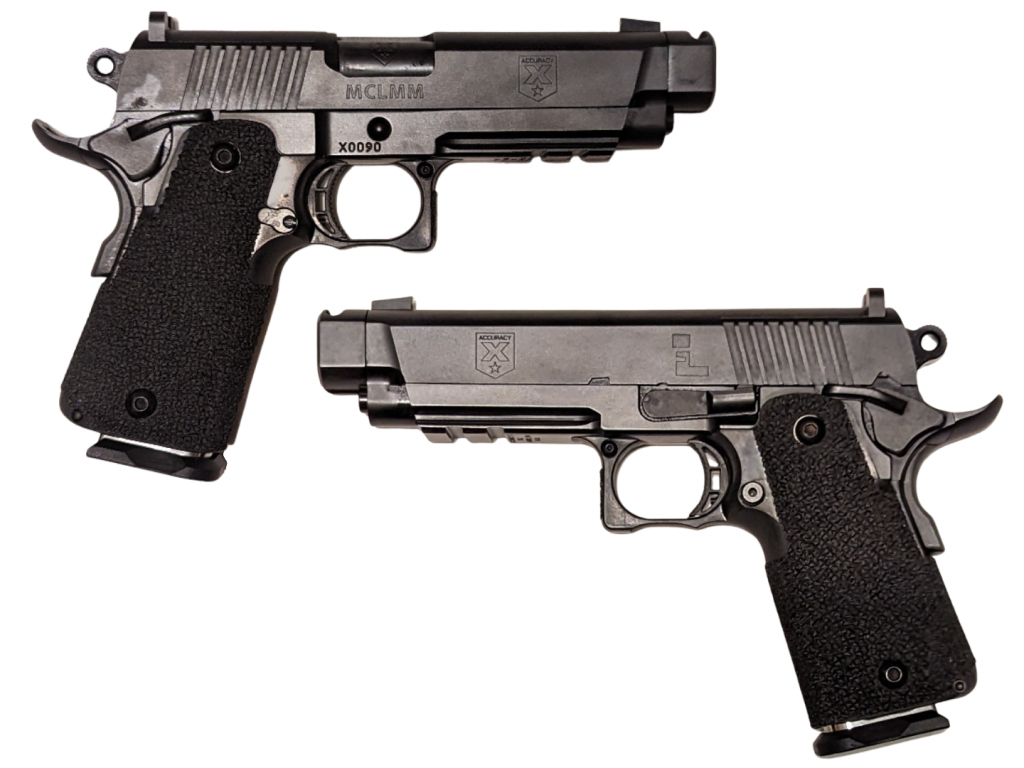 The Darkfighter is more specialized; based on the Accuracy X T1 Tango, it's inspired by Commander sized 1911s, and therefore the compact/carry model to the Gunfighter's full size, but certainly capable of the duty sidearm role all the same just as a Glock 19 can be in lieu of a Glock 17. While on its lower half it shares the safety levers, railed dust cover, and beavertail grip safety with the Gunfighter model, it sports a shorter cut grip module with a rounded off bobtail inspired heel for ease of concealed carry, and a Commander-esque ring style hammer. The barrel and slide however are a shorter length (4.25″ slide and 4.75″ threaded barrel), true to the Commander size we were going for.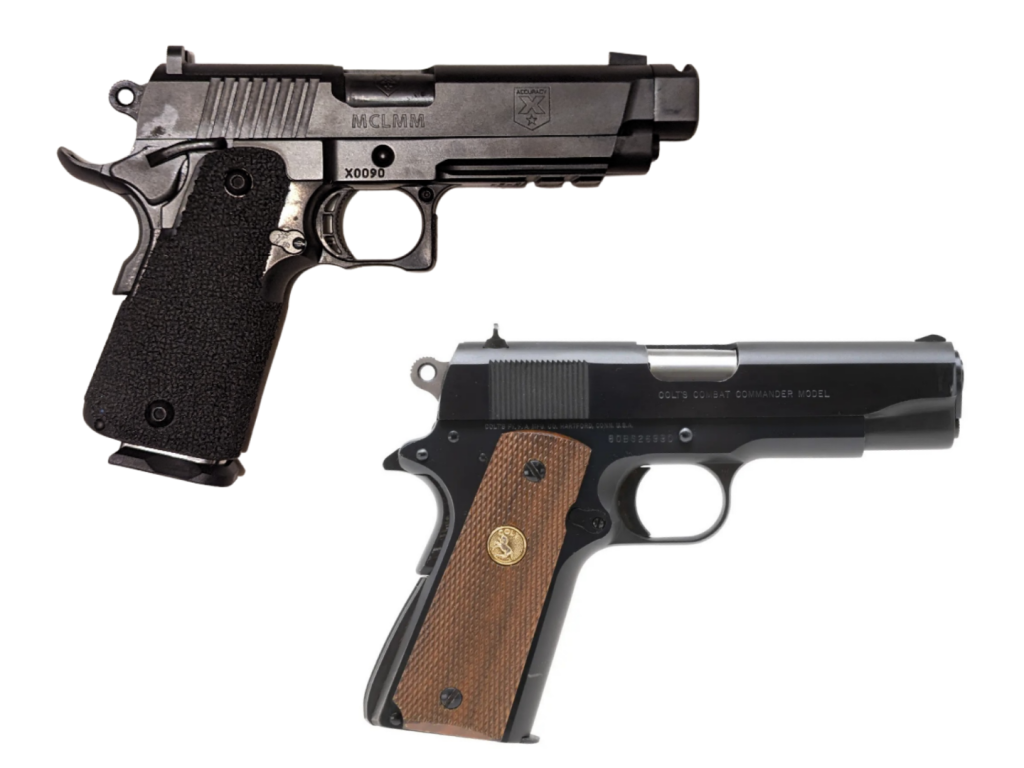 Unique to the Darkfighter and new to the list of customizations offered by Accuracy X is the new X Comp carry comp at the muzzle. While AXI has offered compensators before, those were of the multi port, full length variety. Developed especially for this project, the Darkfighter's X Comp has a single port, and was specifically designed to extend the length of the slide no further than that of a government length slide and barrel assembly.

I have to commend Steve Huff on the carry comp's development; he and I see eye to eye on a lot of things, but especially the notion where if doing something right means it takes longer or requires more effort, then so be it: Rather than just chop his existing three port compensator down to one port and calling a day, Steve went back to the drawing board to determine the proper thread pitch and did a fluid dynamics analysis as well to ensure the internal dimensions of the comp itself and the port were sized proper.
The result is a noticeably effective compensator that enables flatter, faster shooting deployable from concealment, to which the Darkfighter owes its name; "They'll never see it coming." That likewise government length size allows the end user to use the same holsters as they would with a railed full size 1911 or 2011. In agency bean counter speak, that means one need only invest in a single duty holster that could be used with either model between the Gunfighter and Darkfighter. I tested and confirmed this myself, but I'll get more into that later.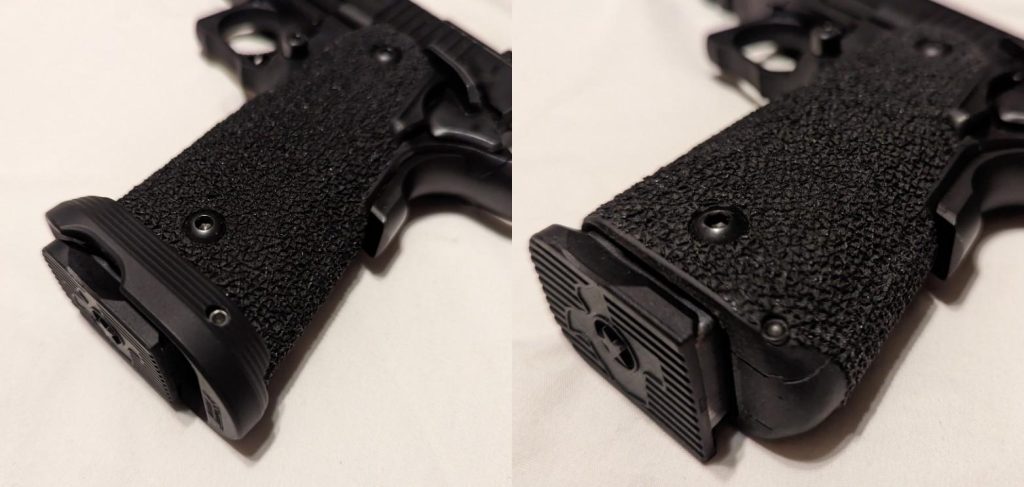 Both versions you see here sport Accuracy X's optional "shark skin" grip module stippling, which provides a grip texture that's aggressive and prevents the gun from getting slippery with sweat but not so much that it's abrasive to your hand either. With gloves, you'll feel the glove material sliding against your skin rather than the gun sliding around inside your gloved palm.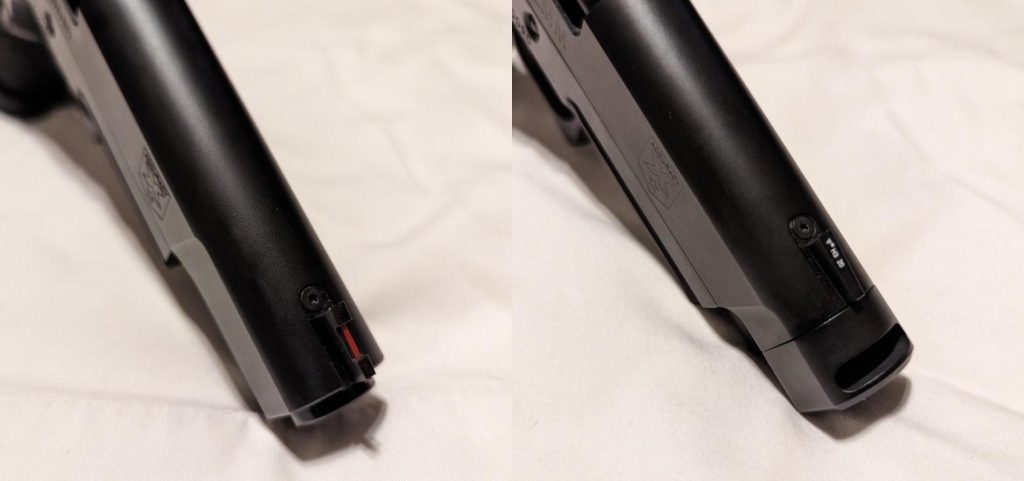 Both pistols come with a modified, muted version of Accuracy X's BlackSTAR finish. Matte black in appearance, it's a low reflective albeit highly durable surface treatment that not only looks sharp, but protects against the elements as well. Because who wants to worry about their blaster rusting? Older SIG fans, maybe, but not I.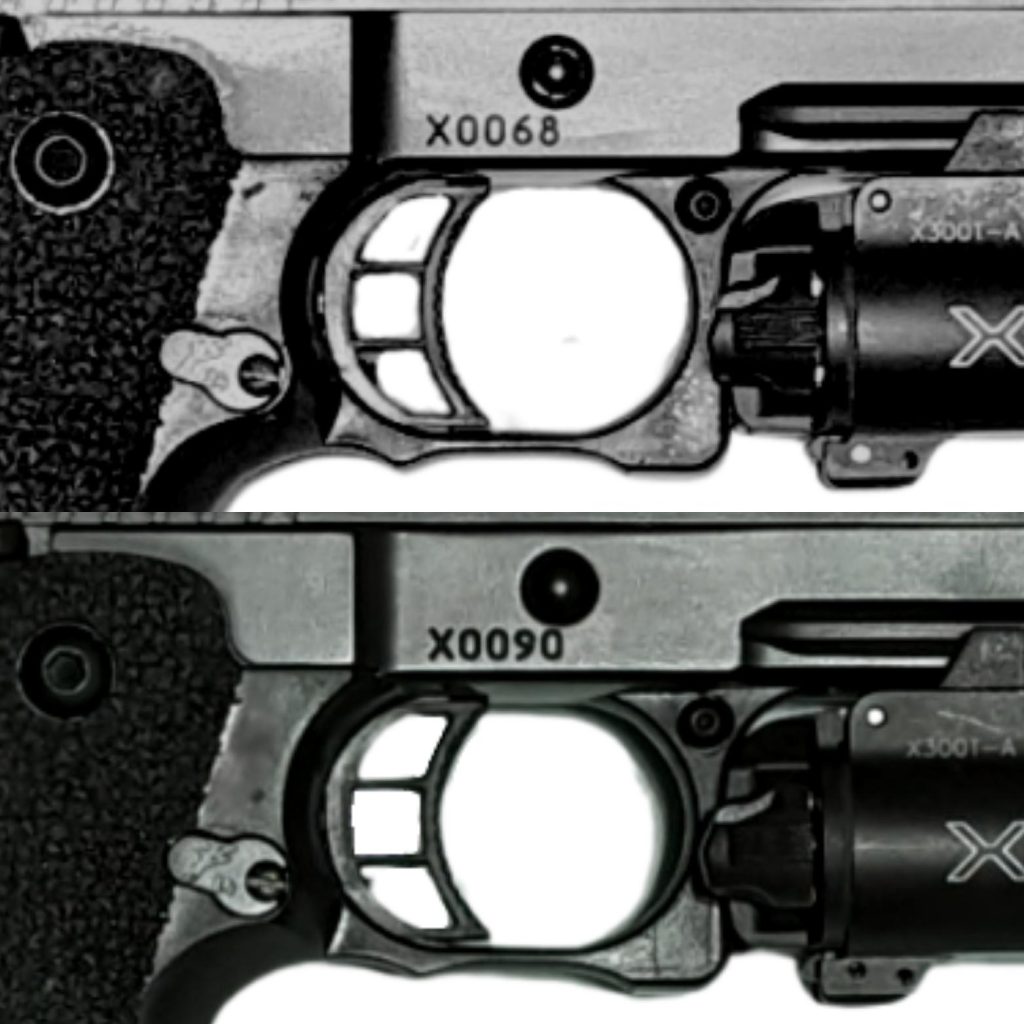 Both models will ship with a standard length trigger. Originally the Darkfighter had a shorter GI length trigger like those seen in older 1911s back in the day; a misinformed request rooted in nostalgia on my part. I'll explain why I had it switched to a standard length trigger like that of the Gunfighter later on. Each model's trigger guard is undercut from the factory, an AXI standard feature.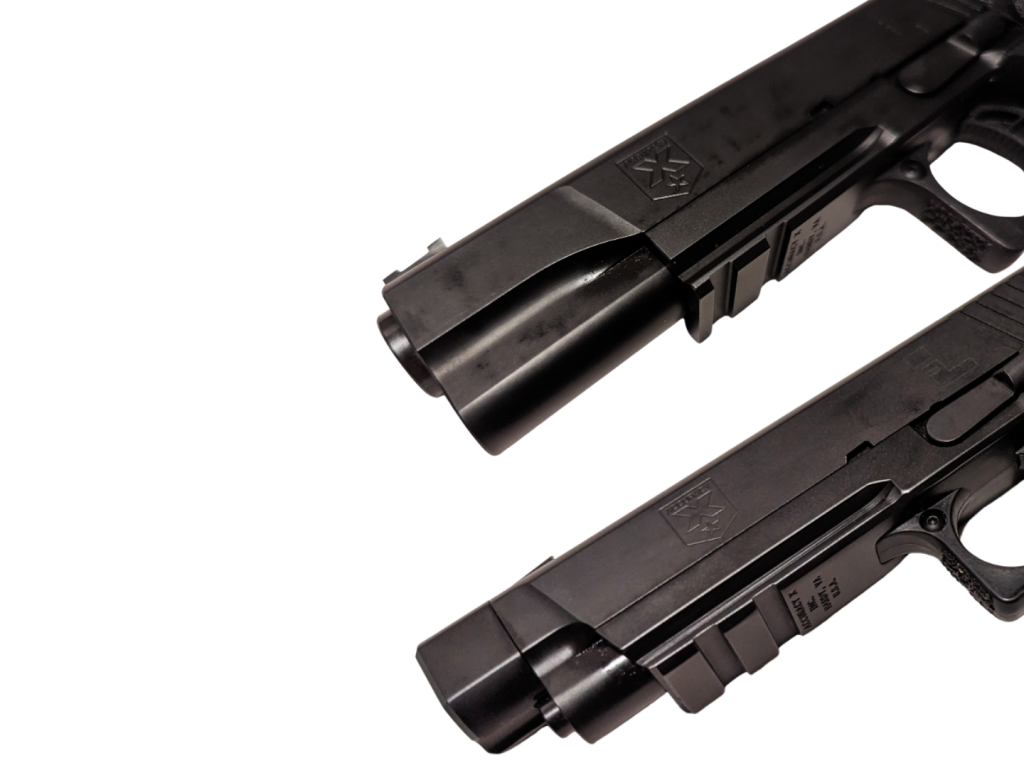 We didn't bother with any sort of texturing cuts along the top of the slide since it made more sense for one to push their hand up against the front of the optic to rack the gun and perform press checks. Pragmatically speaking, it's less machining time to pay for, making for a faster turnaround time.
That being said, both Gunfighter and Darkfighter omit the slide port cuts that come standard on most of Accuracy X's various 2011 and 1911 models in favor of Browning Hi-Power style cuts at the front end. Combined with a standard length dust cover, this sleeker form factor results in fighting guns that are snag proof on the draw, and the joining of old and new aesthetics between the BHP & 2011 styles makes for handsome, professional looking blasters that stand out from the rest of the front serration/full length dust cover pack while retaining a classic aesthetic.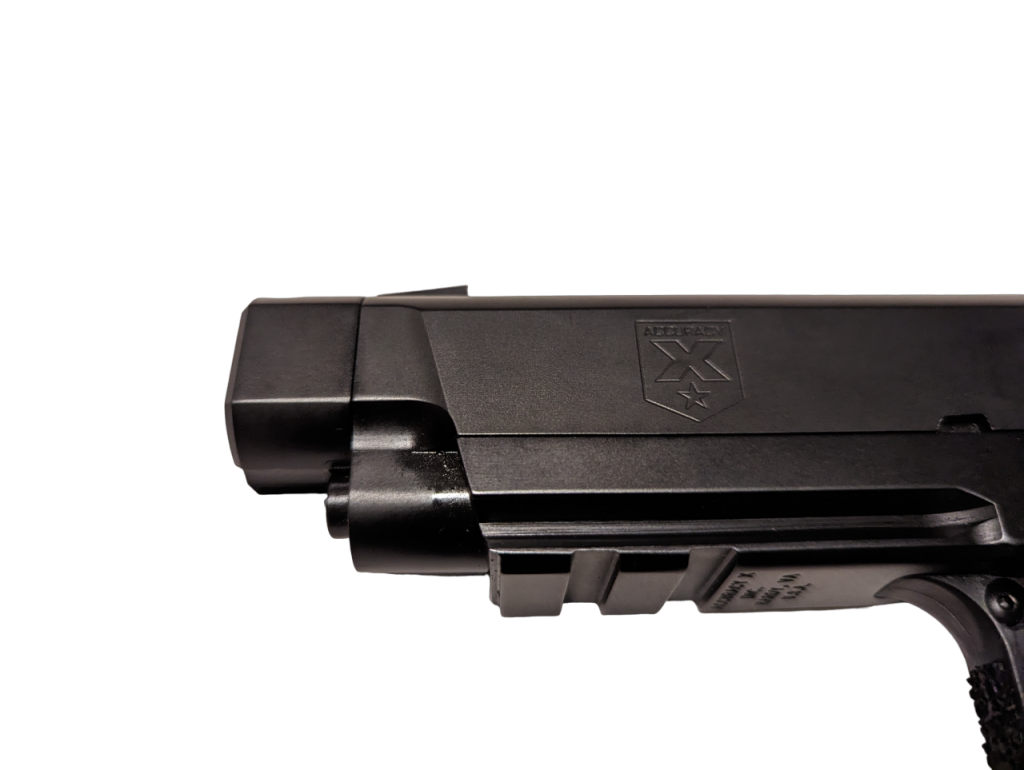 This was accomplished on the Darkfighter by cutting the carry comp to seamlessly mate up with the abbreviated BHP cuts at the front of the slide, another new customization Accuracy X is offering that was initially developed exclusively for this project, having never been done there before. All together, this results in a uniform aesthetic between both the Gunfighter and Darkfighter.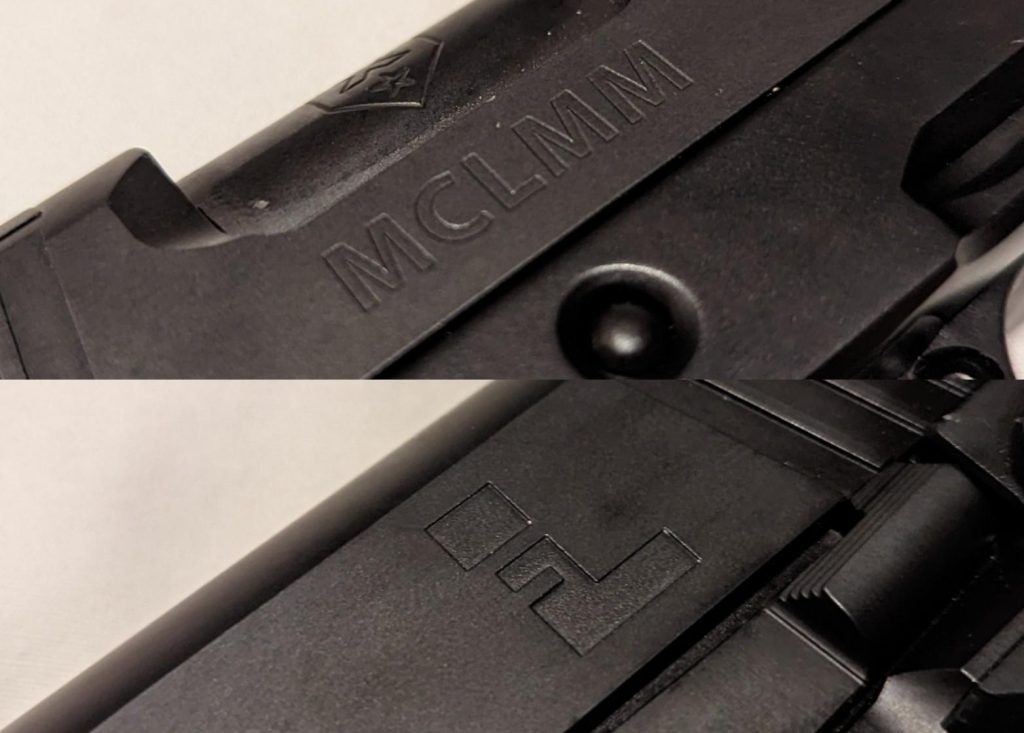 Rounding out the slide customizations, both models also sport custom engravings that call back to Lightfighter itself; on the right side of the slide just under the ejection port is the classic MCLMM tag that's become synonymous with Lightfighter over the last 20 years as the leading discussion forum for the discerning professional gunfighter.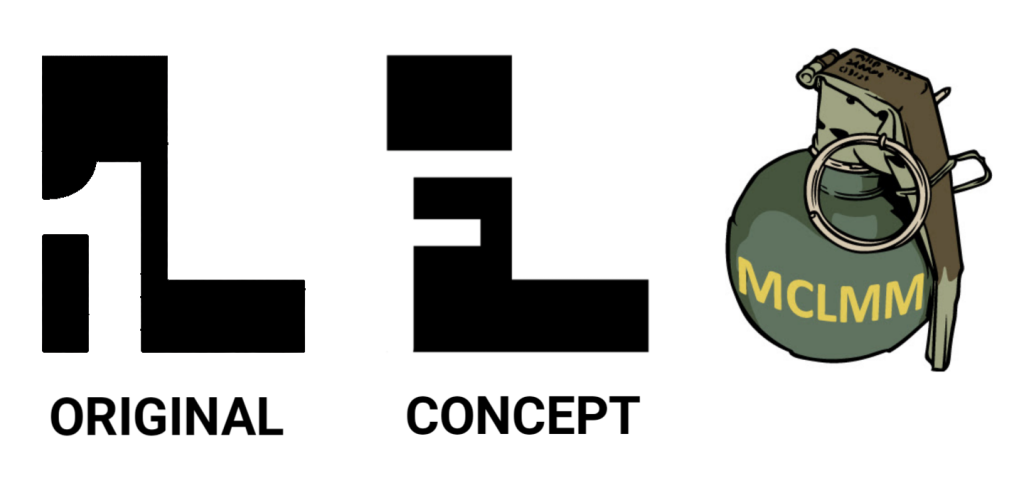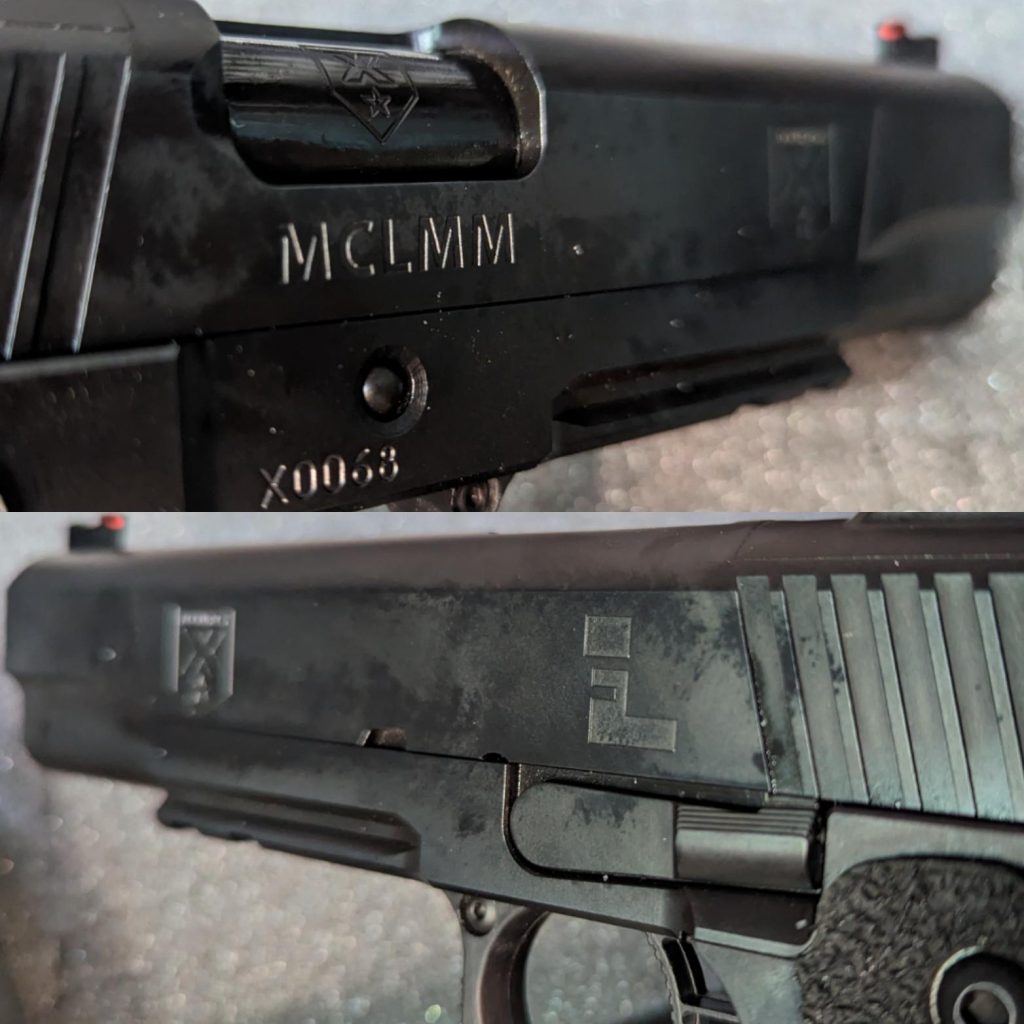 On the left side of the slide towards the rear is an LF symbol I thought of that was a modification of Accuracy X's L1 Limited gun logo, which serves as a nod to both Lightfighter's colloquial initials and Accuracy X itself by remaining visually in line with AXI's product branding aesthetic otherwise; a touch mark of sorts, if you will.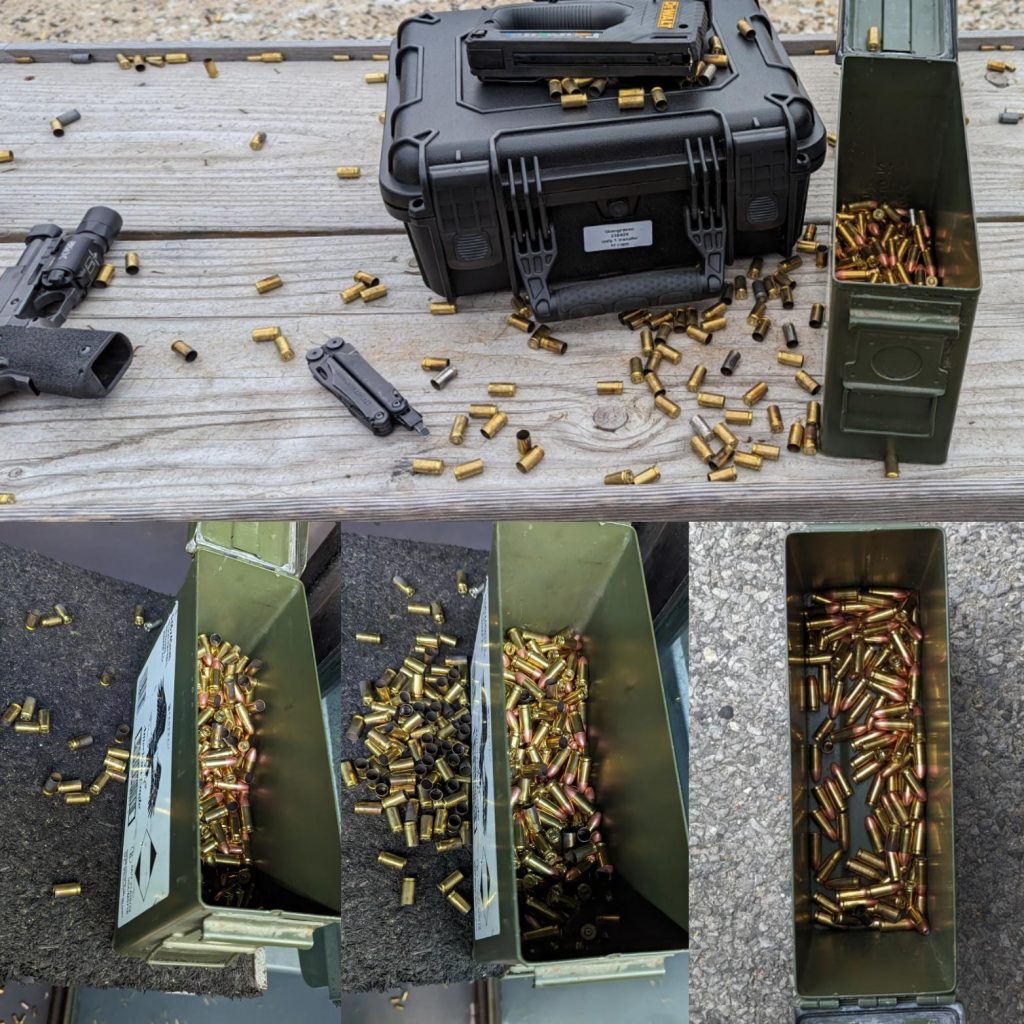 Finally, both pistols are tuned with heavier spring rates for use with +P duty/defensive ammo, although they both happily ate hundreds of rounds of lesser powered training ammo despite that. They can however utilize springs for standard powered non +P ammo if that's what you're issued.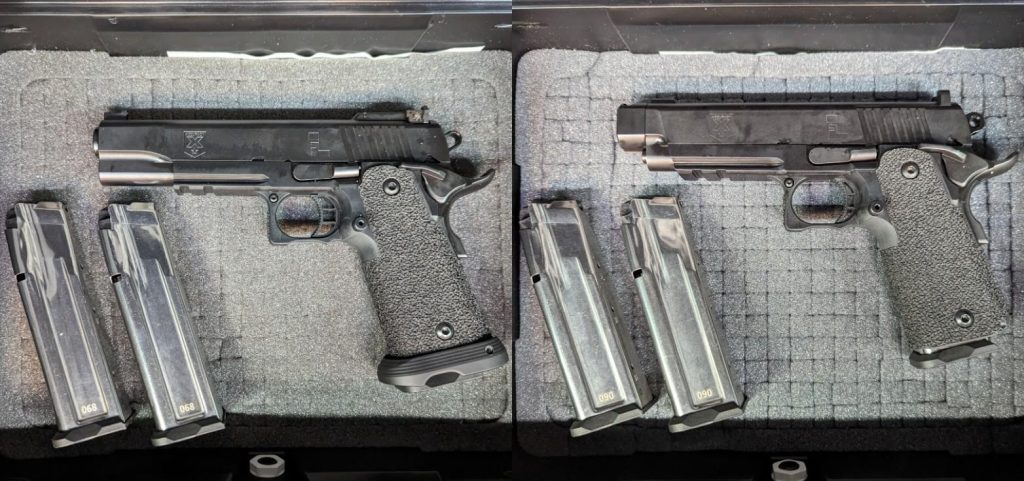 The Gunfighter shipped with two 17 round Staccato magazines. The Darkfighter shipped with two 16 round Staccato mags. These mags are available standard or tuned by Accuracy X. Mine are all tuned and I have five of each variety, which makes for 10 mags I can use in the Darkfighter.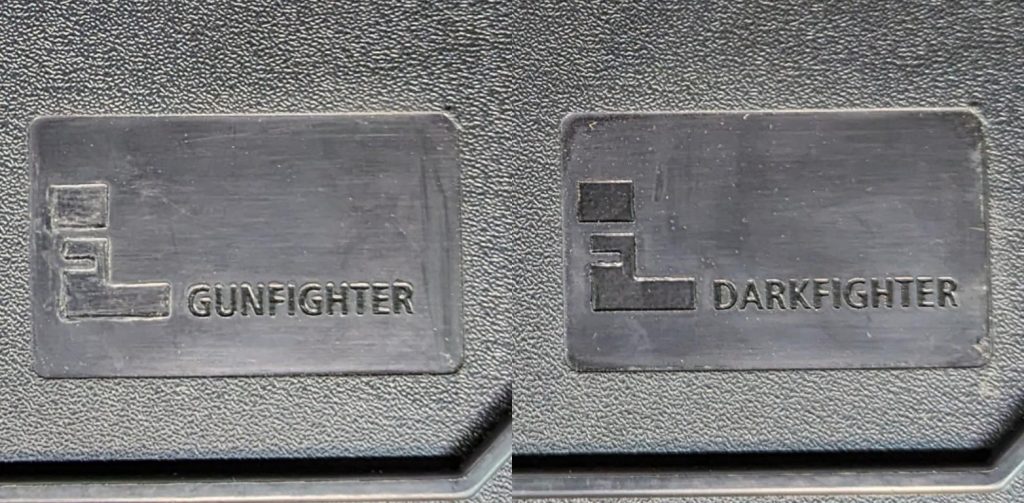 Each pistol shipped in its own Condition 1 Size Medium Waterproof Hard Travel case that included customized engravings with the Accuracy X logo, the LF logo, and the name of each pistol. The case model is big enough to fit both pistols and a spare mag each, or one pistol and 5 or 6 magazines.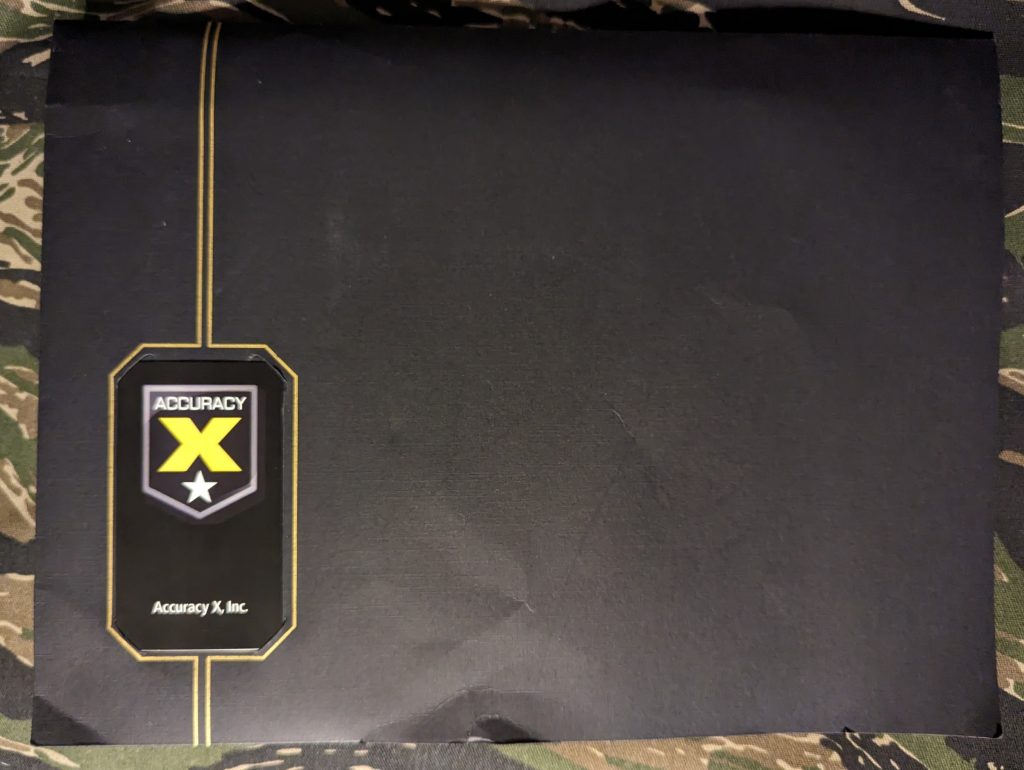 Standard with every Accuracy X pistol is a folder with Steve's business card attached to the outside; inside, there's a few things included:
• The weapon's test fire target, fired from a mechanical rest.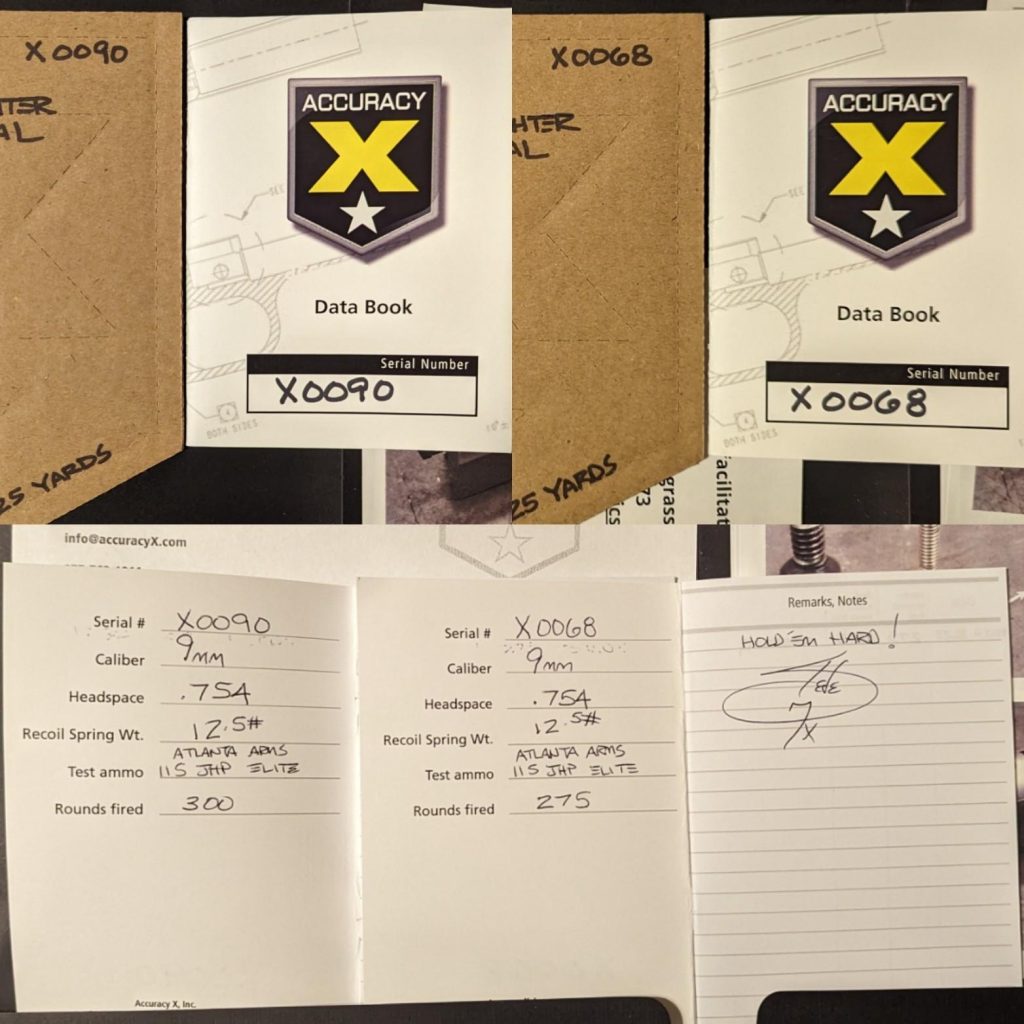 A log book for each pistol that details a few things about how the pistol was tested and measured before it left the factory.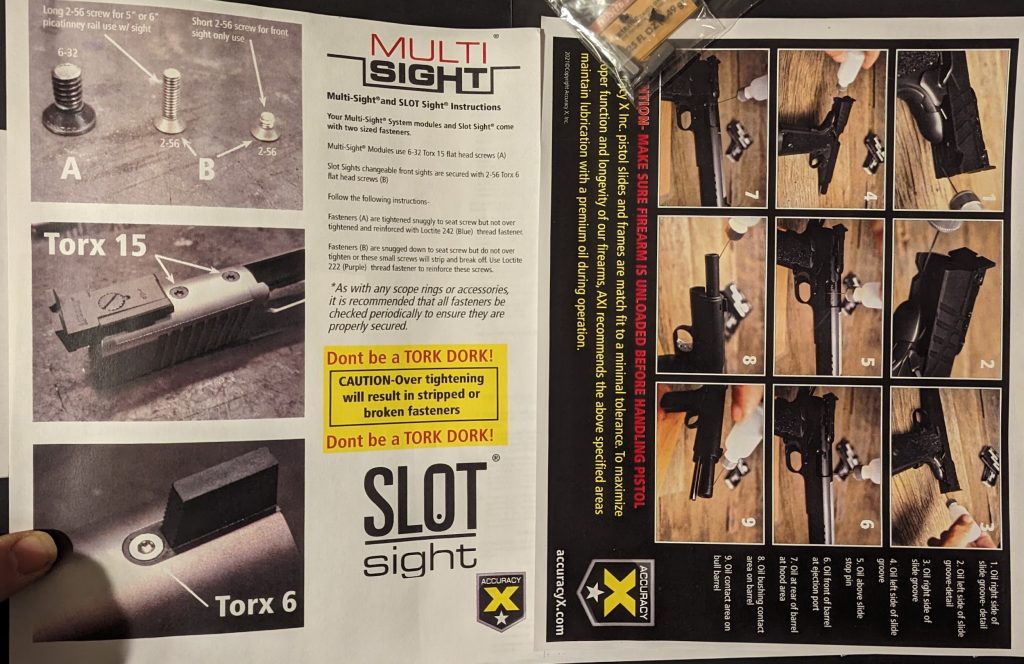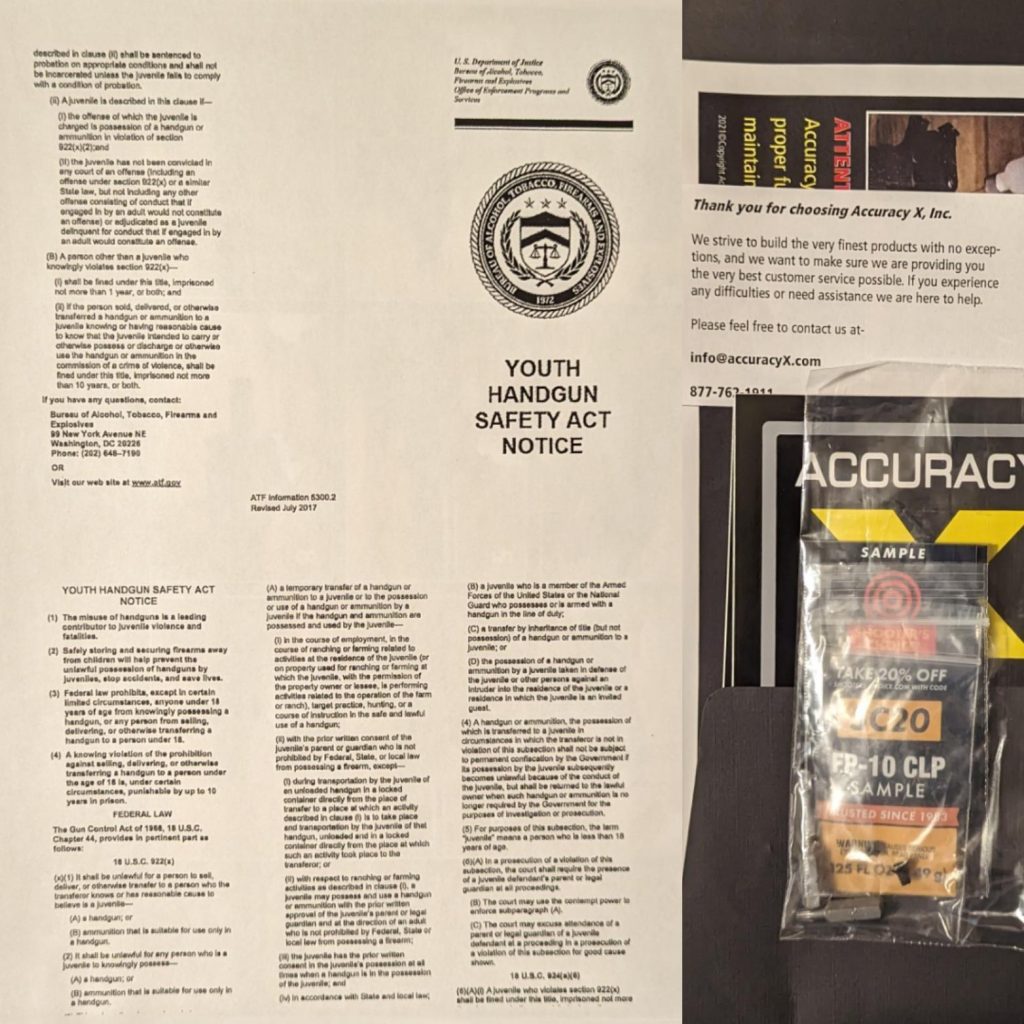 Instructions for the modular sights, along with CLP and torx bits for their respective screws (size T6 & T15), a little thank you slip with customer service contact information, and a copy of the Youth Handgun Safety Act Notice (I'm guessing the legal team mandated that one).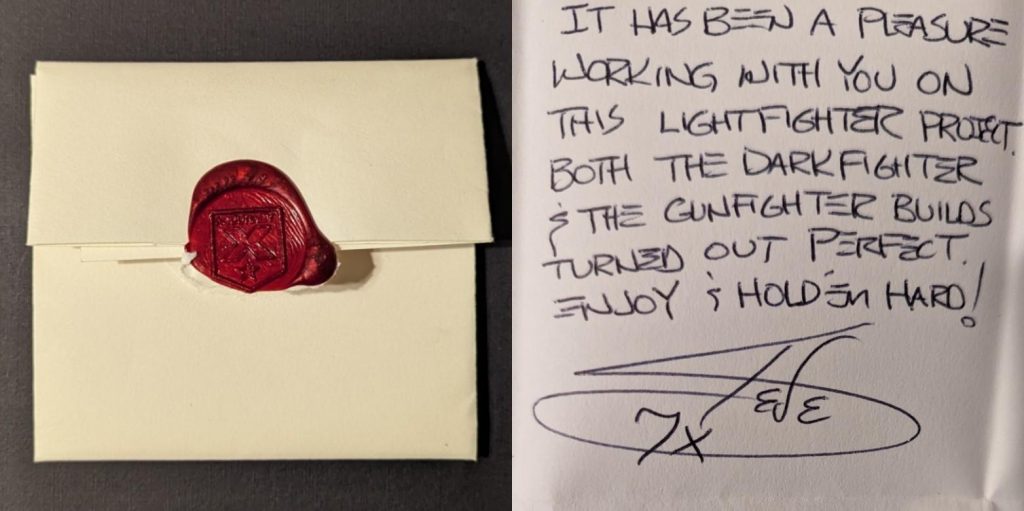 • A more personal touch that I wouldn't expect if I was buying an AXI gun off the shelf with no personalization, albeit a pleasant surprise: A handwritten letter from Steve sealed with the old school red envelope wax featuring the AXI logo that included his personal remarks on the project in retrospect; there's a reason he signs his written notes with "7x," we'll get into that later.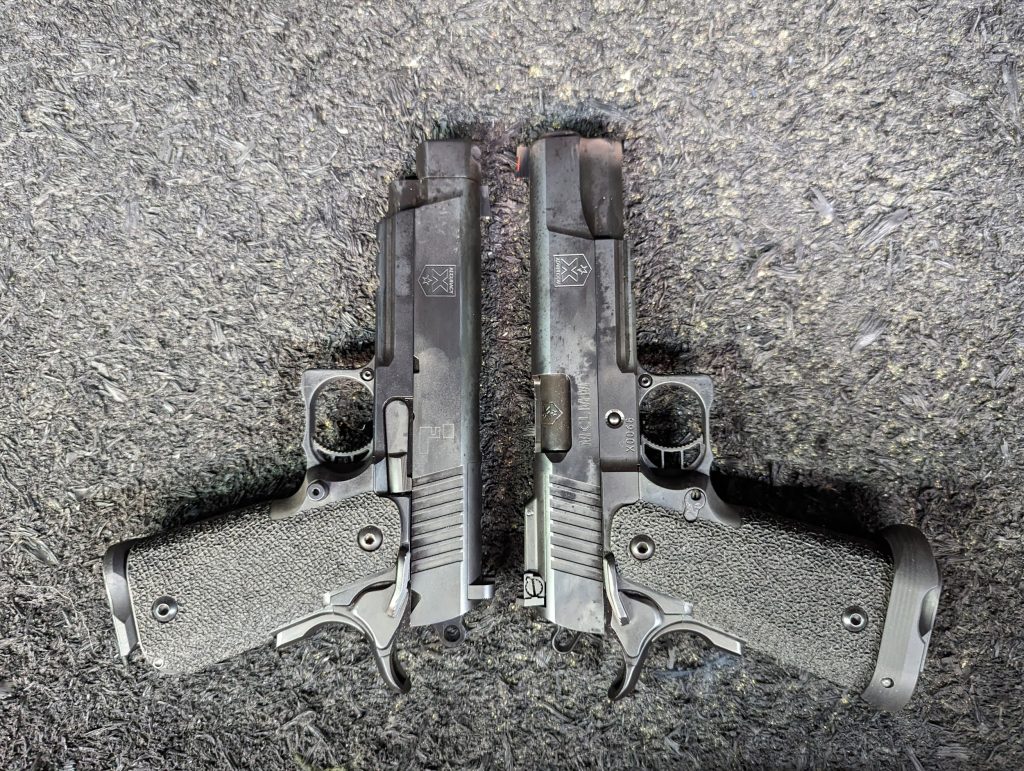 Overall, "Form follows Function," both at TASKER and Accuracy X; looking cool is only half the battle. These were specifically developed as working tools first and foremost. All of these customizations were requested with particular purpose in mind as I've explained here; nothing was done here for "drip" or because it looks cool or because everyone else was doing it. Were that the case, Steve would've said "No." The Gunfighter and Darkfighter were designed by professionals for professionals, and it shows with no uncertainty on both of these pistols.
MULTI-SIGHT™ & SLOT-SIGHT™ SYSTEM
All that being said… Gov size, Commander size, grip texturing, slide cuts, extended mag releases, triggers, mag wells, mag capacity, beavertails, bobtails, railed dust covers, carry comps and even optic plates are all things we've seen applied to 1911s and 2011s before; there are only so many ways to put these things together. What really sets the Gunfighter & Darkfighter apart from the rest of the 9mm 2011 pack is Accuracy X's patented Multi-Sight™ & SLOT-Sight™ System ("MSS" hereafter) that comes standard with every AXI pistol.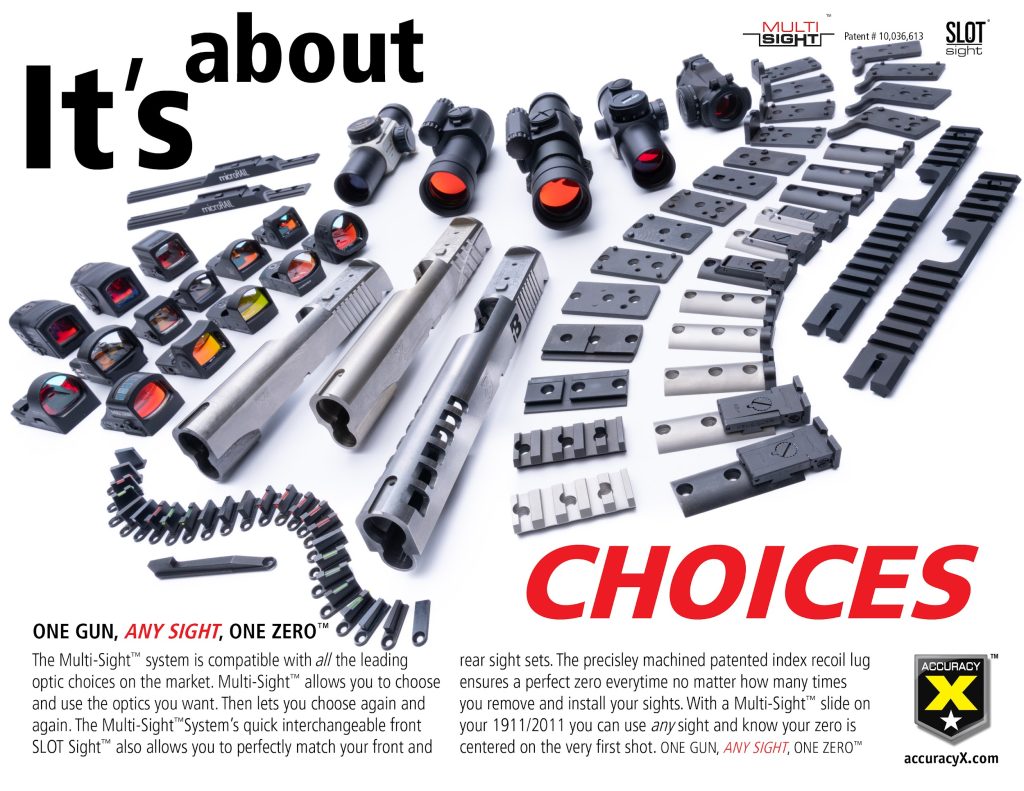 Long story short: Whether you're an irons guy or an MRDS guy; Whether you like black, tritium, fiber optic front sights, or none at all; Whether you like standard or suppressor height irons; Whether you like your rear sights fixed, or adjustable, or none at all; No matter how many different pistol optics you own for however many pistols you have, you can use whatever you want whenever you want, and change them out on the fly with standard user friendly tools found in a hardware store that require no specialized armorer's training to utilize. No need to worry about milling a slide or which rear irons or plate pattern your slide is cut for. ALL of these options come in an extremely robust, repeatable, and therefore reliable form factor, as interchangeable as they are myriad in totality.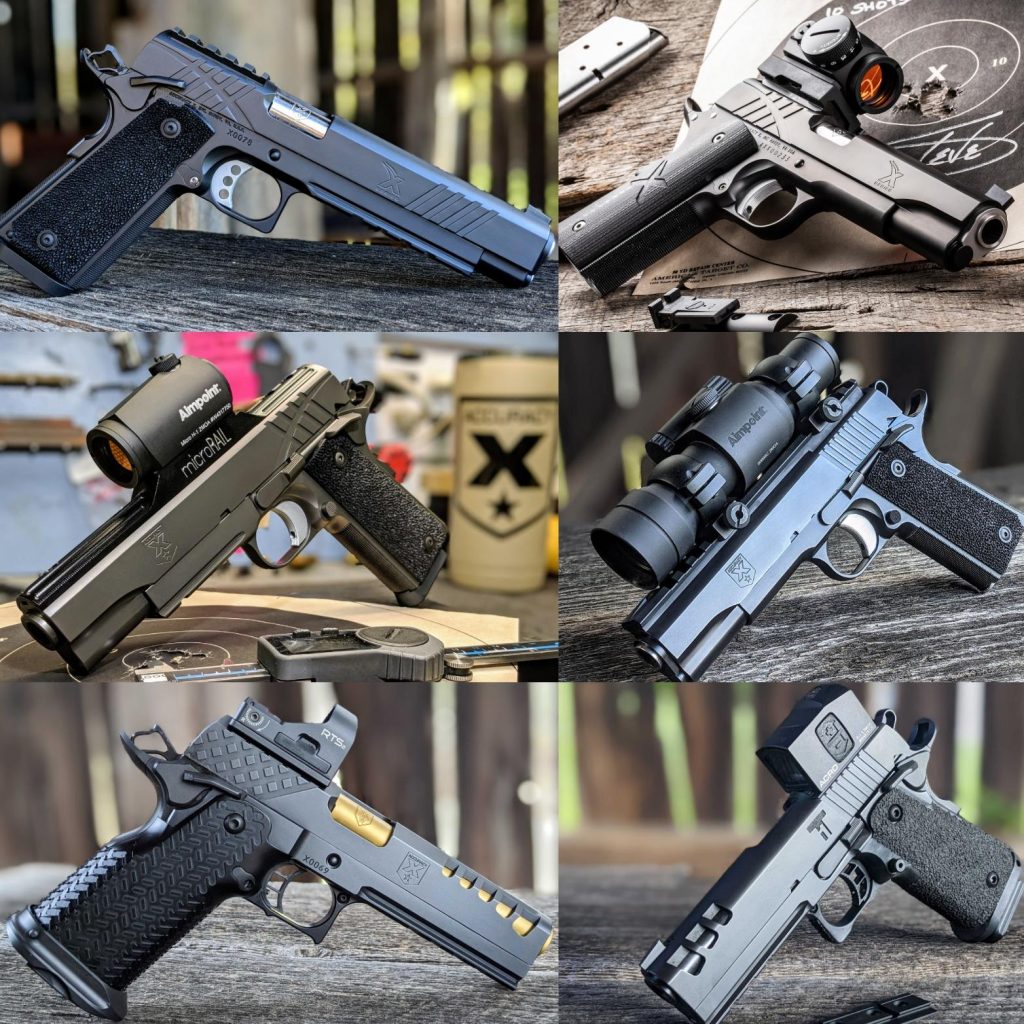 Where most companies have taken to "optics ready" slides at the rear sight section that provide a limited degree of end user options based on the optic they like to use (and usually end up relying on the aftermarket to expand on them), Accuracy X took it a step further in the engineering of their slide system to provide easy modularity to the front and back of the slide all together. With a torx set, you can go from tactical to competitive, including a 1913 rail up top and a slide charging handle if you're so inclined. In only a few minutes, you're punching out from your shift and off to the races.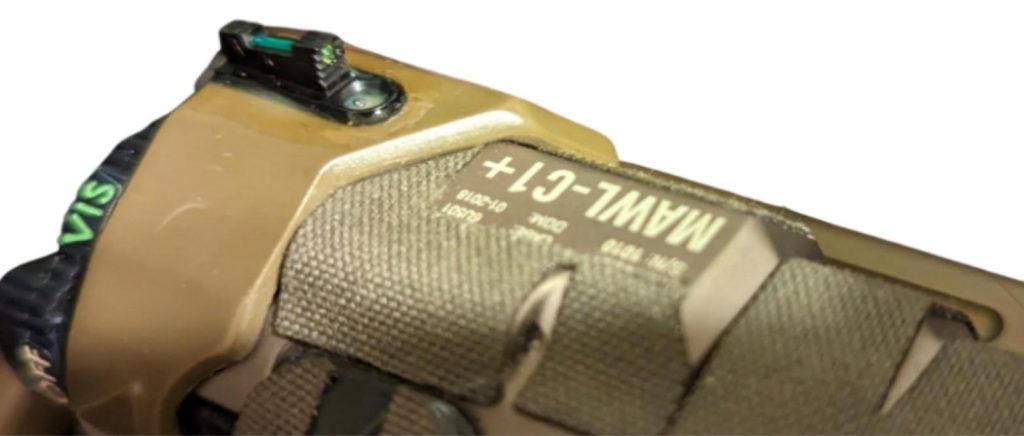 Technically this isn't the first time you've heard of the SLOT-Sight™ here at TASKER, either. On my GPR-K rifle I wrote about previously, I epoxied a green standard height front sight onto one of the sides of my MAWL to use as an indexing point when using the MAWL's VIS & IR laser pointer functions. Handy little improvisation there, if you were thinking about using it yourself.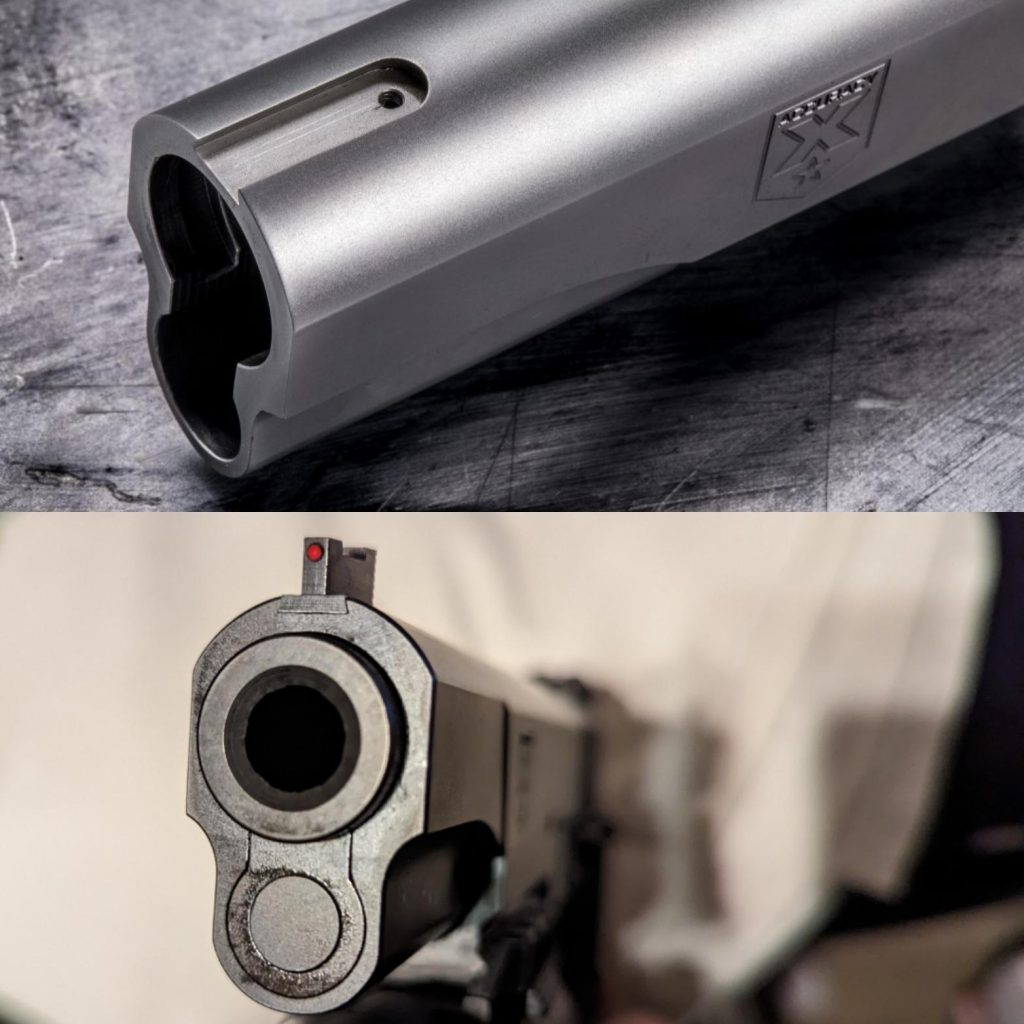 The MSS was designed and prototyped in 2015 and finally rolled out in 2016. The genesis of the MSS's design philosophy started with the concept of providing one gun for multiple competitive settings and rule sets; where Accuracy X believes that Tactical & High Level Competitors are very similar users in terms of skill, they thusly believe that one of the best places to test a tactical pistol is in a competitive setting.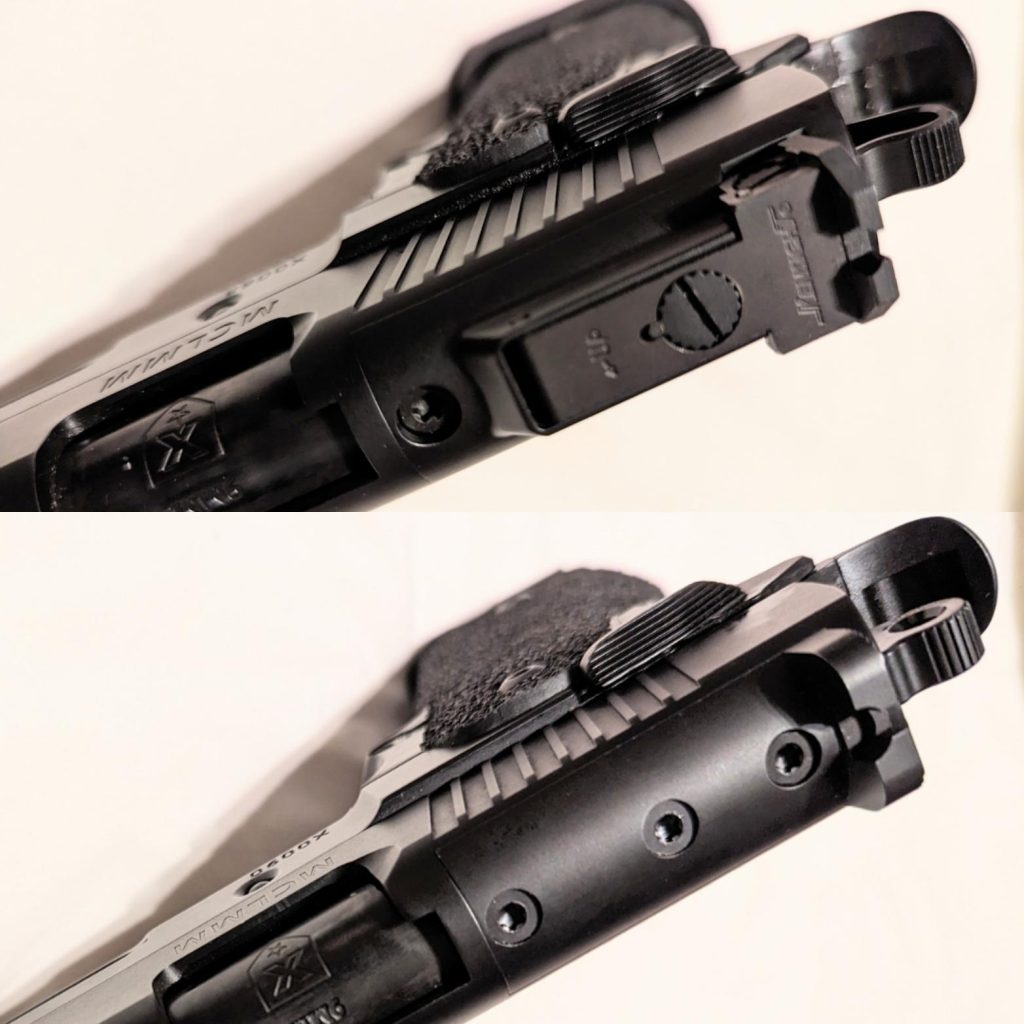 With the MSS, Accuracy X made sure the end user (professional and competitor alike) had the option to choose the optic that went on top of their pistol, rather than limit and tell them what they couldn't have based on the gunsmith's personal preference, or mandating them to choose chinesium like a bunch of sellouts. Colloquially speaking, as it pertains to 2011 sighting systems, Accuracy X is the Burger King; "Have it your way." That the MSS components are robust albeit cost effective is a welcome bonus.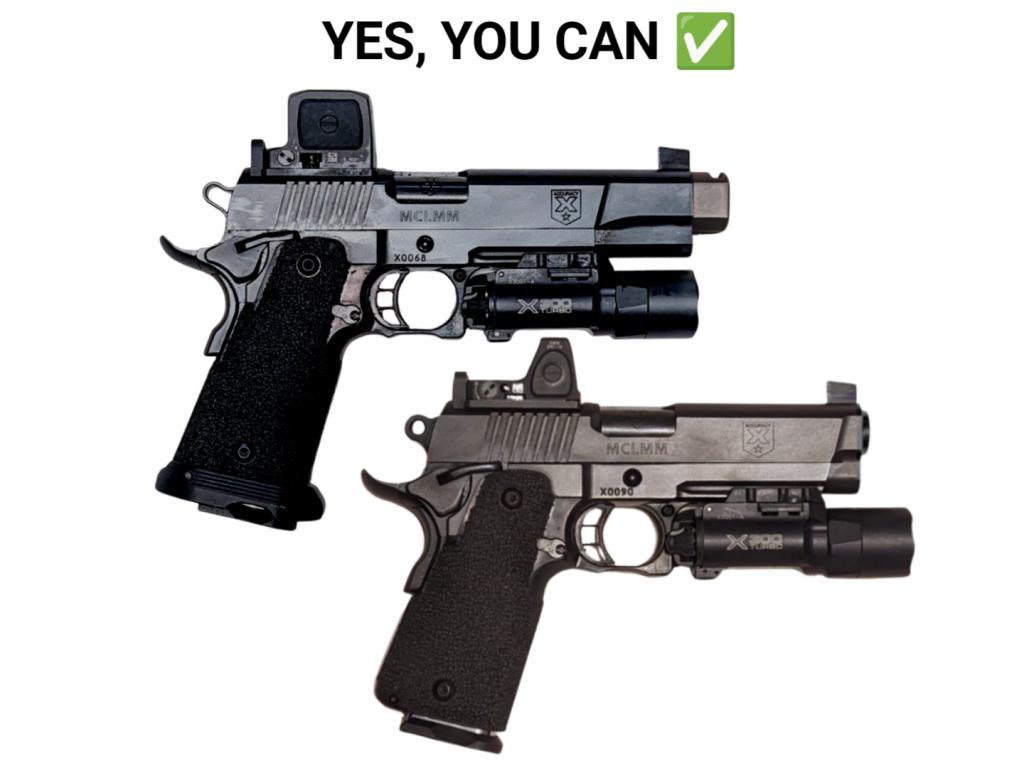 In case you were wondering, as far as the extent of having it your way goes: Yes, you can have either-or between the Gunfighter & Darkfighter with or without the single port X Comp if you wish. AXI will allow customers to customize this component along with the iron sights included with the pistol as it ships from the factory.
Of course, that's all well and good as far as wrenching on guns like playing with Legos is concerned; but I know you really want to know how good they shoot, since that's the most important thing. Let's get to it; we'll cover accuracy and precision first, then move onto round count testing for reliability.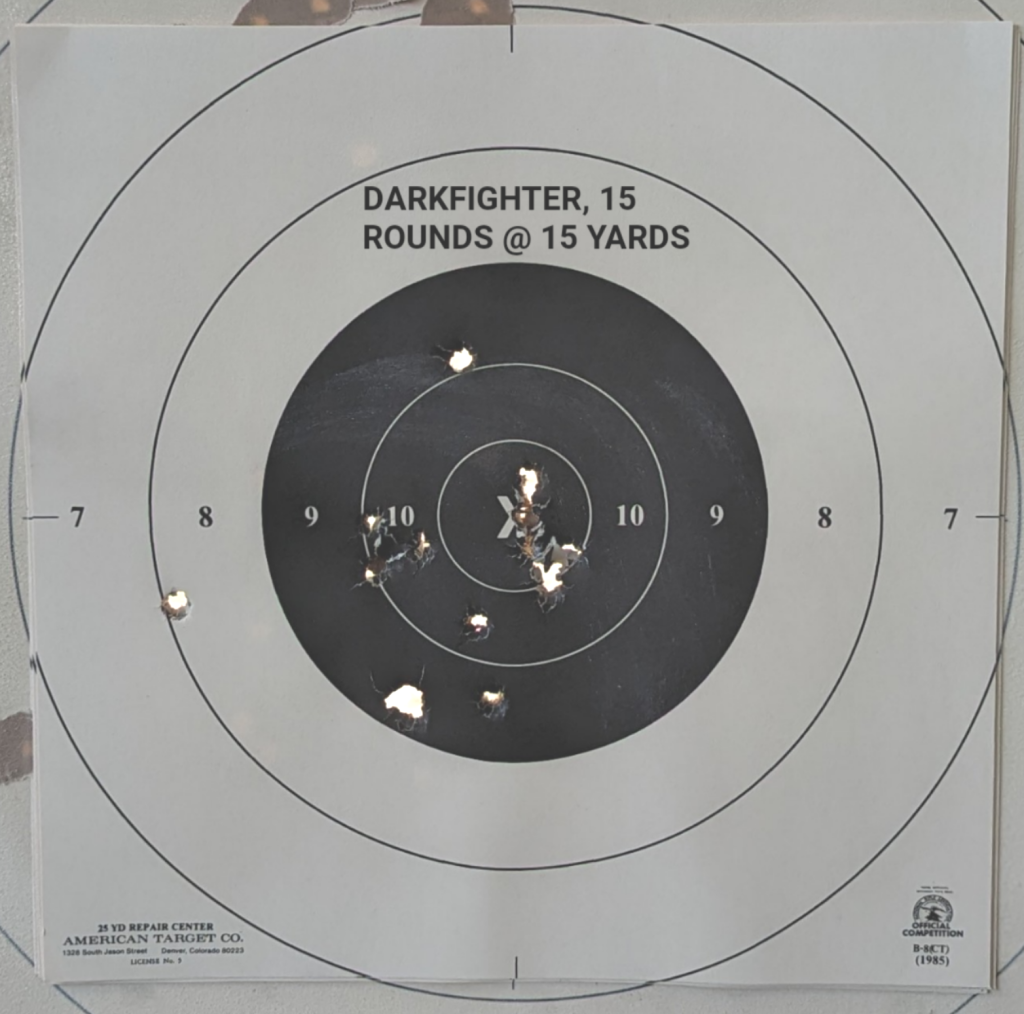 There were several points while shooting both the Gunfighter and Darkfighter at varying distances up to 25 yards where I had a double take after firing the second round and only saw one hole in the target, thinking to myself "How the hell did I miss so bad I'm not even on paper?", only to find that I hit the same spot twice upon closer inspection.
Now I understand a lot of a gun's accuracy and precision in performance relies on the shooter's skill, and I've never been the type to talk shit and flex nuts over my shooting skill; a humble "I'm okay" or "Good enough for government work" is the most I'll say about that. But it is important to know what the firearm is mechanically capable of on its own before human error enters the equation.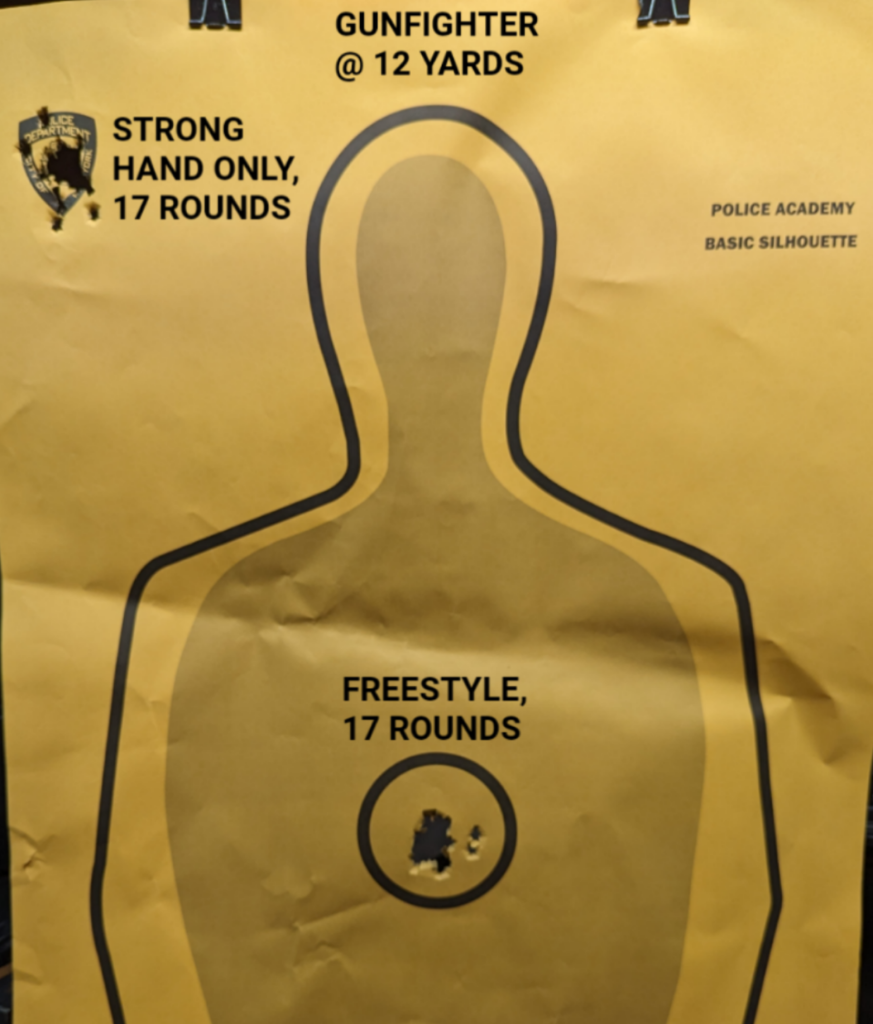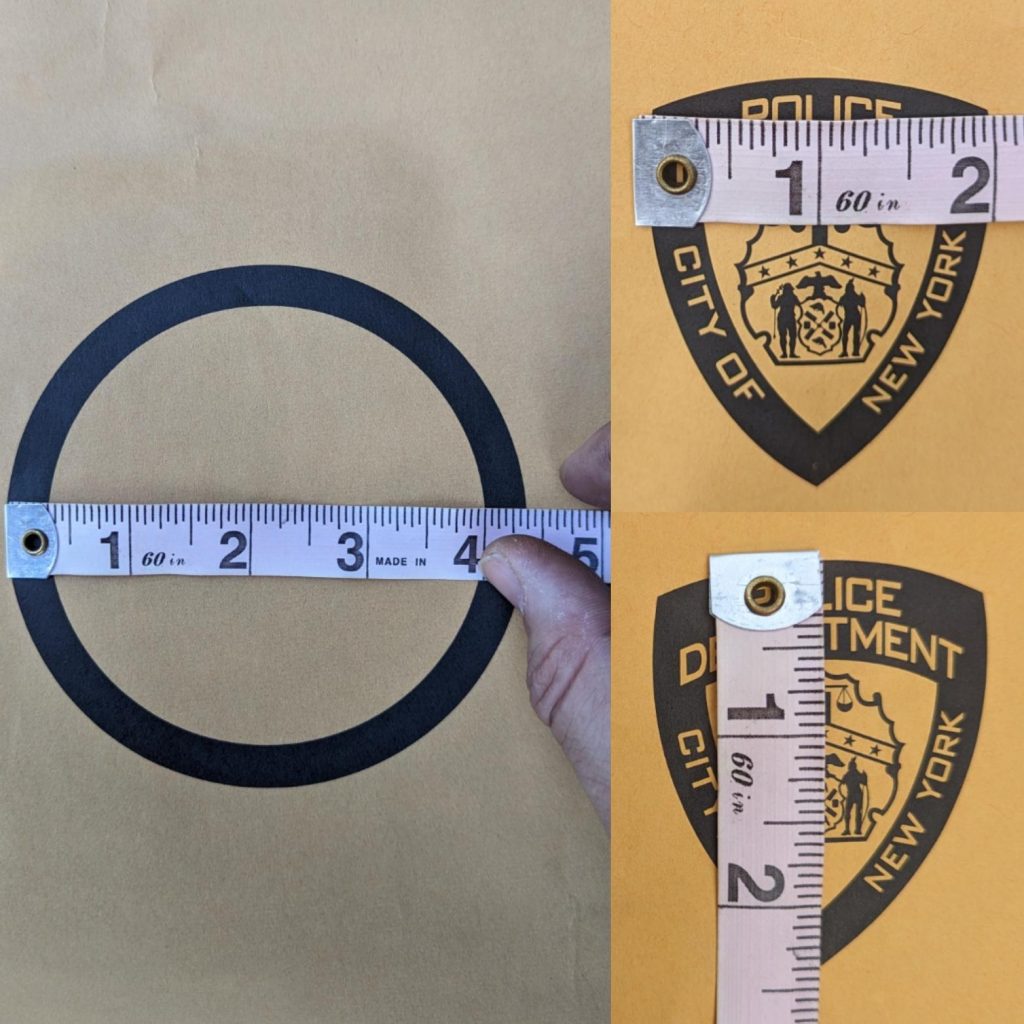 This is to say, don't take my word for it; don't even take Accuracy X's word for it. The quality of the guns' craftsmanship can speak for itself. When I told Steve the story of how AXI came to my attention, that someone said nobody could build a blaster that shot 1.5″ groups or better at 50 yards, he said "Challenge Accepted." And he made that challenge his bitch. Here are the final testing targets for the Gunfighter and Darkfighter: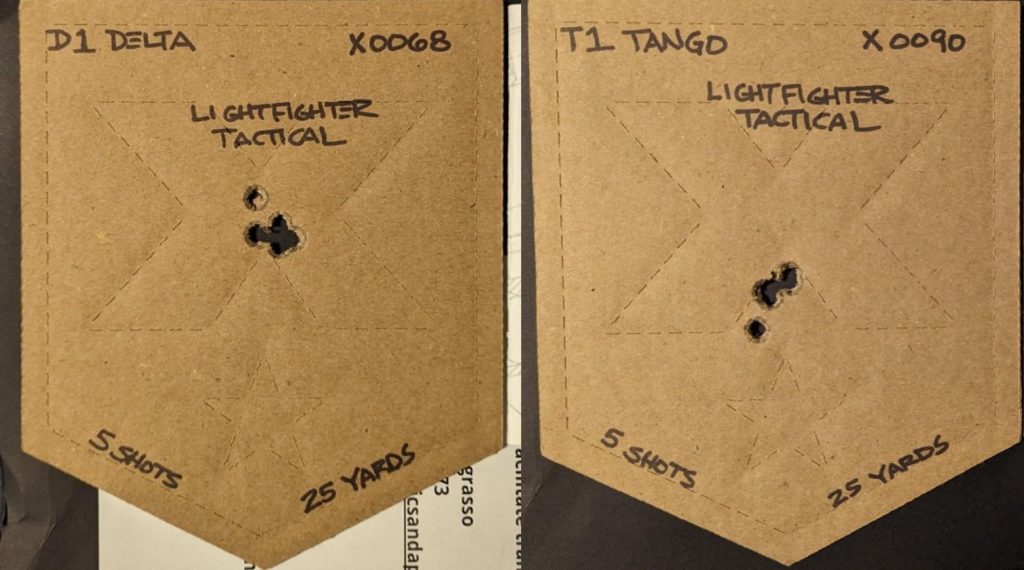 You can see the guns' mechanical capability for accuracy and precision versus my capability as a shooter; like I said, I'm okay. But Steve didn't just stop there. Come take a look here and see what your money is paying for and what you can expect to get, when you buy an Accuracy X pistol. What you're about to watch is the accuracy testing procedure Steve performed for these Accuracy X pistols, at 25, 50, and 100 yards:
GUNFIGHTER & DARKFIGHTER OVERVIEW:
DARKFIGHTER TESTED AT 25 YARDS:
DARKFIGHTER TESTED AT 50 YARDS:
DARKFIGHTER TESTED AT 100 YARDS:
GUNFIGHTER TESTED AT 25 YARDS:
GUNFIGHTER TESTED AT 50 YARDS:
DARKFIGHTER CARRY COMP DEMO:
STEVE HUFF GUNFIGHTER BILL DRILL:
AUTHOR GUNFIGHTER & DARKFIGHTER BILL DRILL: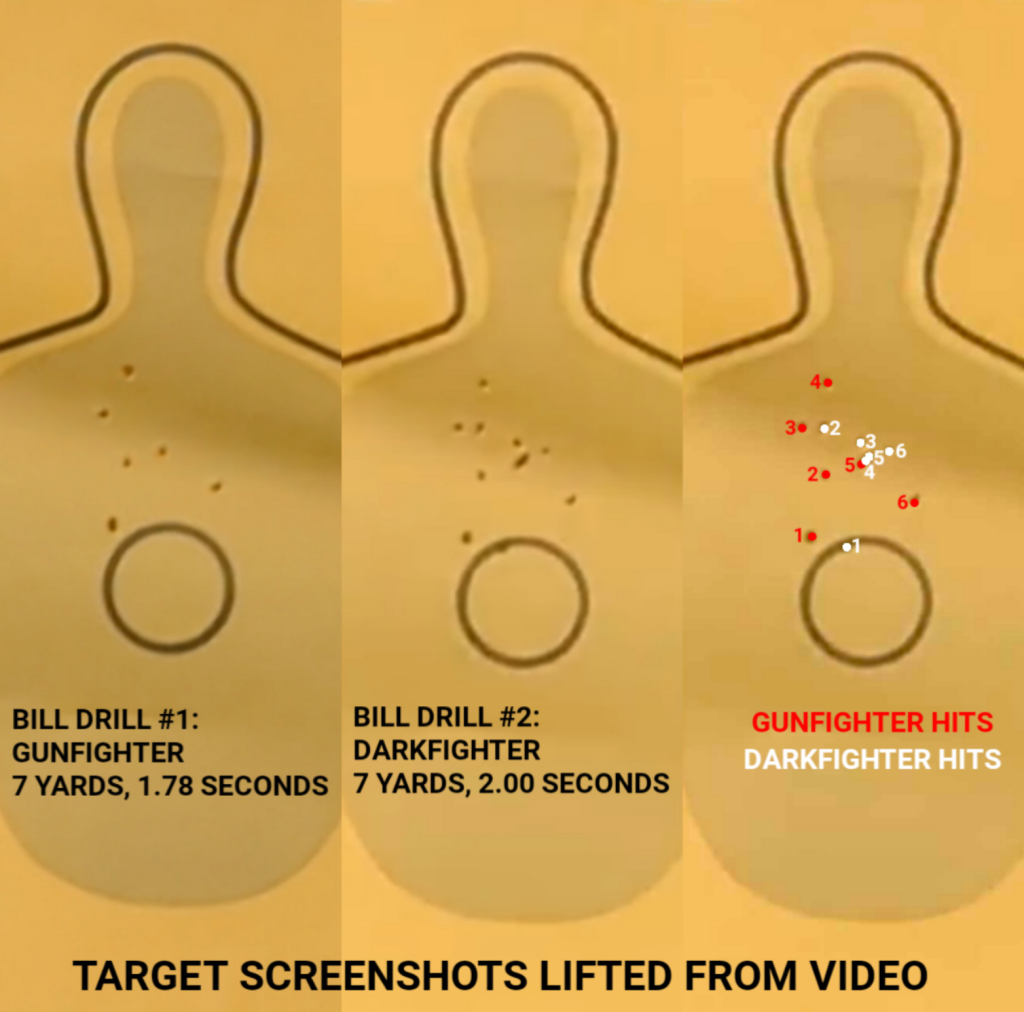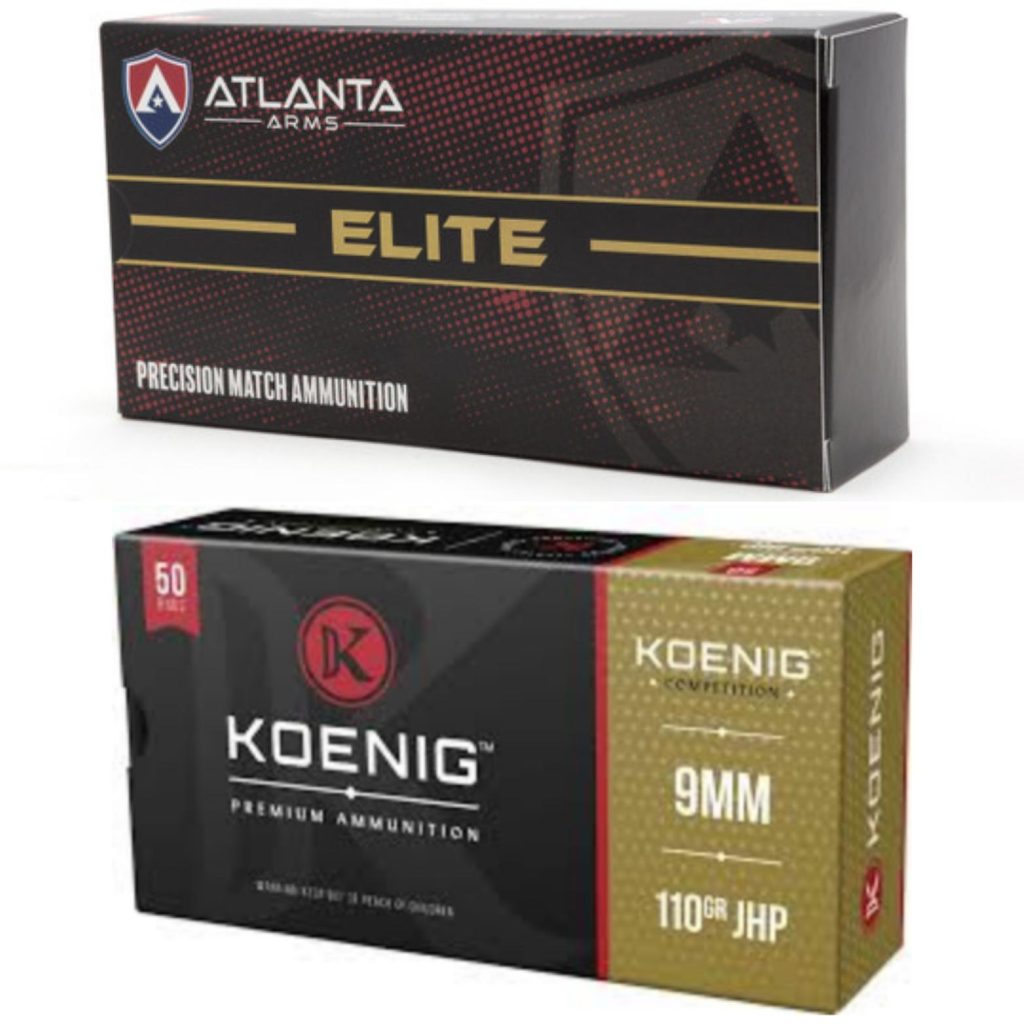 The 25 yard test targets and the 50 yard targets in the above videos were shot using Atlanta Arms Elite 115gr JHPs. The 100 yard target was shot using Koenig 110gr JHPs.
From these videos, your takeaway is an extremely informed idea of what the Gunfighter and Darkfighter are capable of; both mechanically on their own and in the hands of accomplished shooters, and both at distance and at speed. No bullshit. 1.5″ at 50 yards? These did better, and damn near that good at twice the distance; Yes, it can be done. AXI went ahead and did it. Do you see any other 2011 makers putting up videos of their guns like that to prove what they're mechanically capable of? I don't.
Between the Gunfighter and Darkfighter, I'd guess conservatively that I've fired somewhere to the tune of 1500-2000 rounds each as time permitted since I received them in April 2023. Most instances saw me shooting about 300-400 rounds through one or the other in the span of an hour at the local indoor range, but in some instances I did even more. Ammo varieties I used included Speer Gold Dot 124gr +P JHPs, and a mixed bag of American Eagle 124gr FMJ, CCI Blazer 115gr FMJ, and Sellier & Bellot 115gr FMJ. The target below was shot with Speer 124gr +P.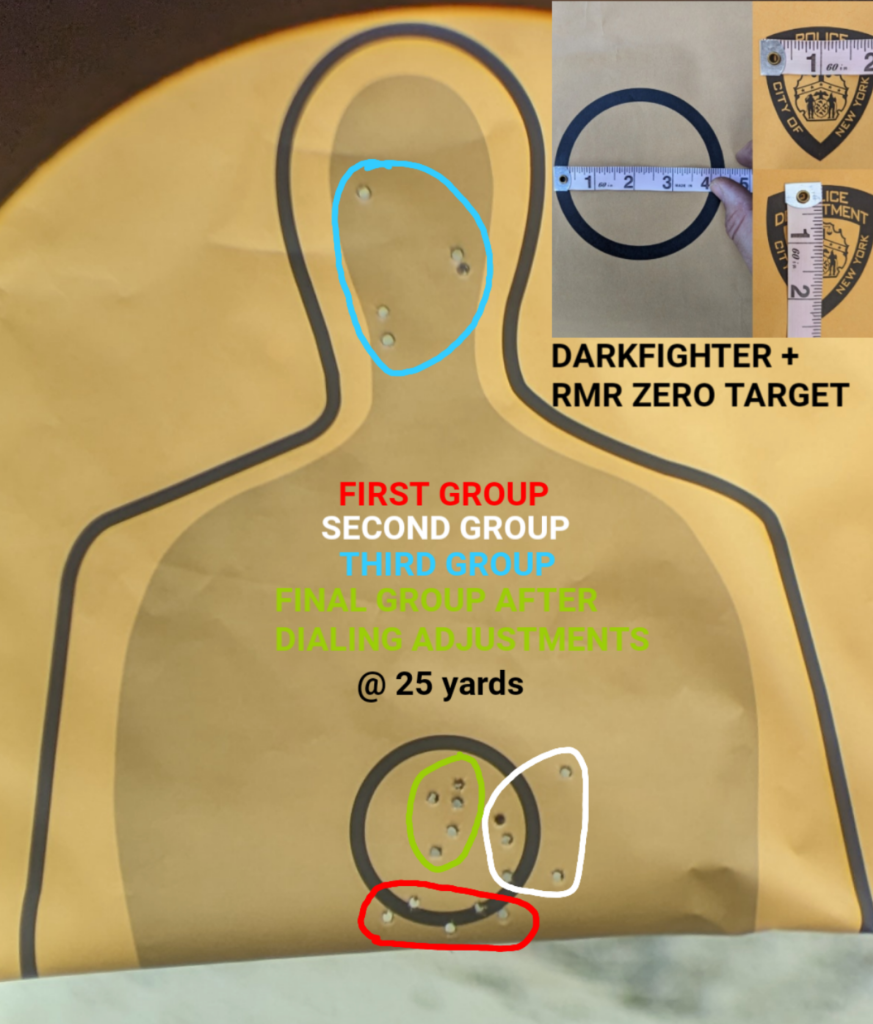 I took the Darkfighter to a Presscheck Consulting No Fail Pistol class in July, and I was supposed to take the Gunfighter to a Sage Dynamics Red Dot Pistol class this month (August) but it was cancelled at the last minute thanks to an extremely unreliable and uncooperative host.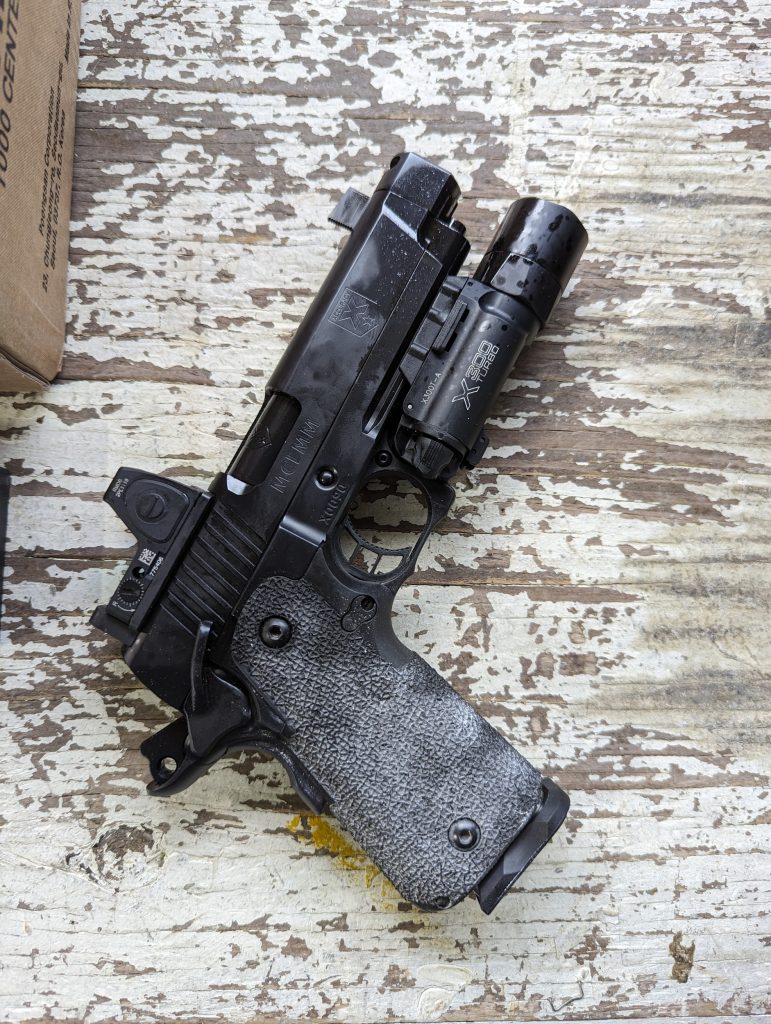 At Presscheck I shot 653 rounds through the Darkfighter over two days. I had ordered a 1000 round case of ammo for each class; I fired the remainder of the ammo for Chuck's class (347 rounds) and 800 more rounds of ammo allocated for Cowan's class through the Gunfighter for a total of 1147 rounds in two days. The remaining 200 rounds for Cowan's class were shot through the Darkfighter, but by that point I had already fired an estimated 800-1000 rounds through it, with some more through the Gunfighter as well. So while each gun has at least 1000 rounds documented, the total amount fired through each gun is well over.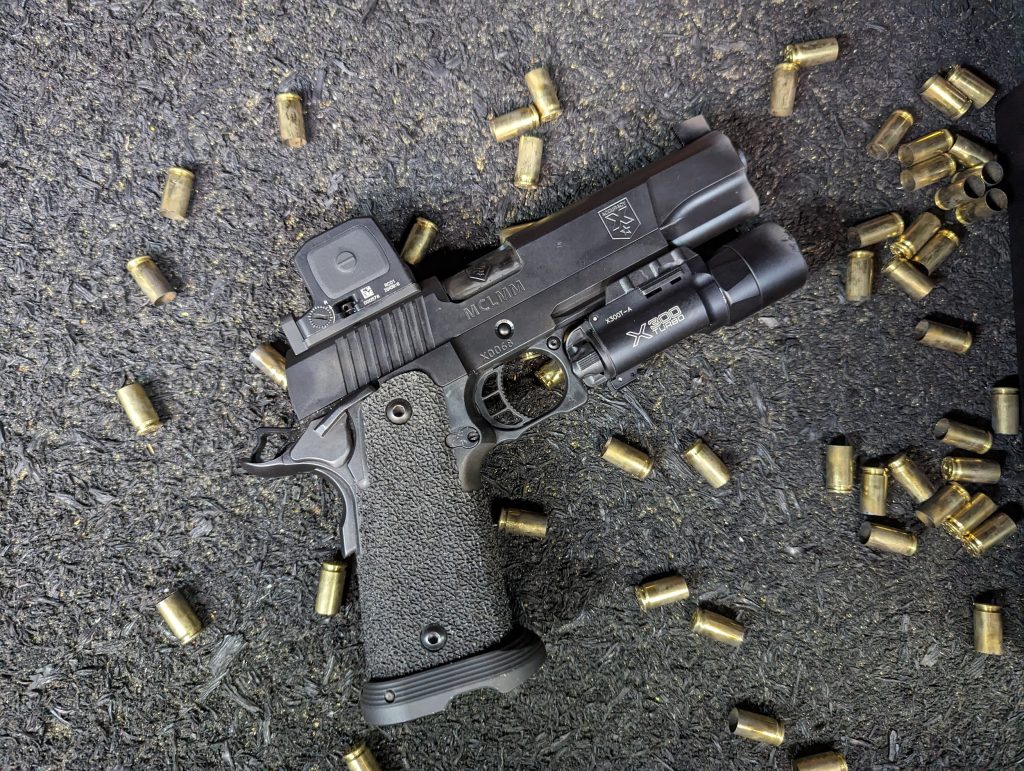 Some of those rounds are documented here in the following video, showcasing how flat the guns fire under speed:
Like I said earlier, these pistols were set up and optimized for hotter +P ammo, with the spring rates on the heavier side; shooting these with Speed Gold Dot 124gr +P defensive loads was flawless. Recoil was mild and muzzle flip was negligible. The single port X Comp on the Darkfighter provided for a noticeably lighter recoil impulse, but the Gunfighter was no more difficult to control; the balancing act between grip length, barrel length and compensator. I suspect a Gunfighter sized gun with a single port X Comp would be really easy to control, and I'm trying to talk myself out of ordering a threaded barrel + X Comp single port to do that with.
Hiccups along the way can all be attributed to user error via shooting lower powered ammo in the guns while the heavier +P rated springs were still installed. Occasionally, with the heavy spring set up, after being run dry after a few hundred rounds there would be a stovepipe, or fail to feed, or not lock back on an empty mag when using the lower powered ammo.  
Although switching to the proper lighter spring rates for the lower powered ammo would have eliminated any issues with running that ammo (at the cost of the guns beating themselves up more while firing +P ammo), just adding a little oil on the guns kept them chugging along with the lighter loads and the malfunctions stopped happening. As you can see in the videos, brass ejection was so predictable the cases streamed out of the ejection port like they were on a rail, with only one such instance failing to lock back on empty.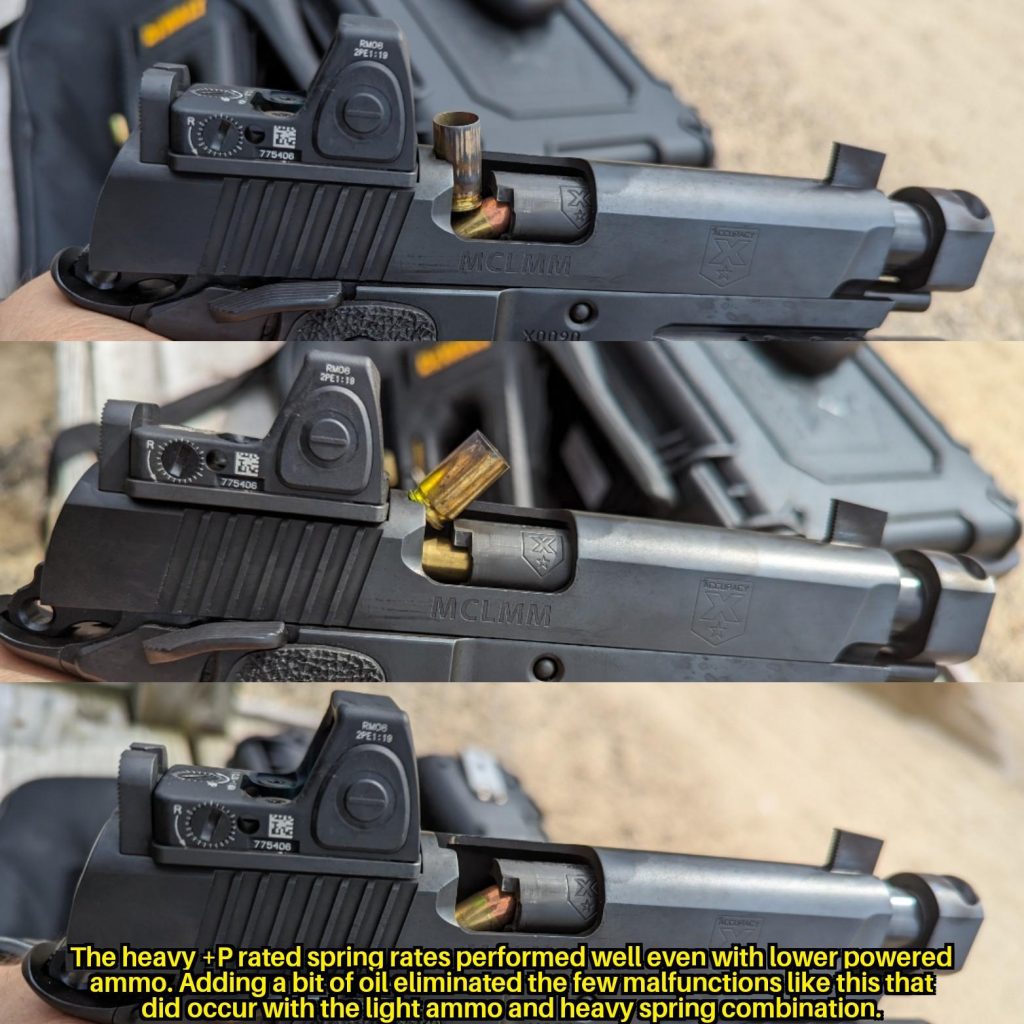 Bearing in mind that these were all attributed to user error via my not changing out the recoil springs (since no such issues occured using +P rated ammo), I'd say there were cumulatively less than 20 (or, less than 1% of the total rounds fired) malfunctions of either variety through both guns over the total amount of rounds fired so far, and all of them were accounted for and fixed on the spot; these things are fucking machines. Nothing required tools or armorer's knowledge to rectify (no timing or feed ramp issues or anything catastrophic), so at the most I'd say keep your gun oiled as you should anyway and you'll be fine, should you choose to use lesser powered ammo relative to the heavier recoil spring.
As Steve likes to say, "These guns don't wear out, they wear in." That's how he builds them. You can run them ragged and they'll keep going; they have absolutely earned my trust with my life, and you can trust them the same.
Surely there exist marksmen in the world who've got a faster and tighter Bill Drill than what you see above, but the point was to demonstrate that these guns are no slouch when it comes to performance on demand. So what happens when you bang on the things and make the effort to be more precise?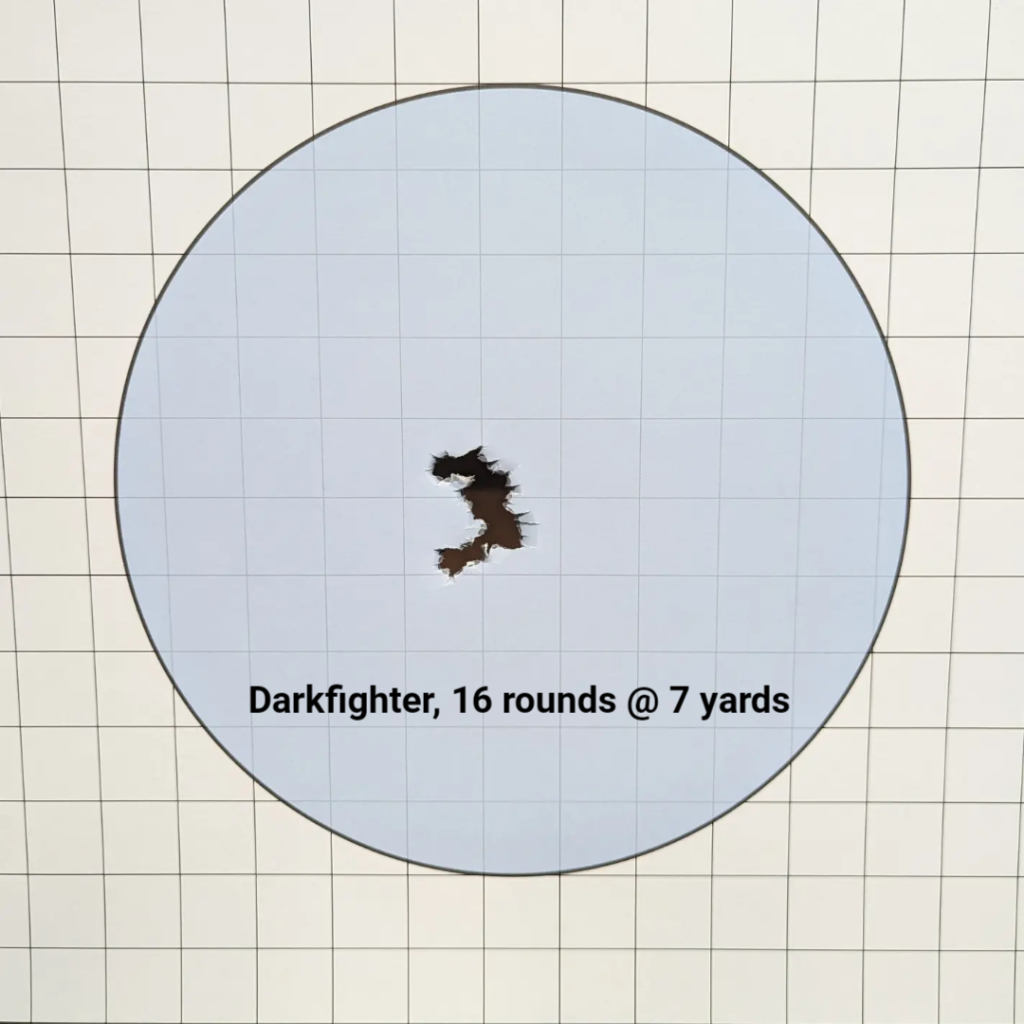 We've established what these guns are mechanically capable of at this point, which is to say we've acknowledged the "It's not the gun, it's you" factor. In light of this, there are some folks out there who like to say it's dumb to buy expensive gear and equipment of quality manufacture like top shelf firearms that they don't have the skill to take advantage of, and that they should spend that money on ammo and training and entry level, non-premium hardware instead. 
I think that's dumb, and that people that say it are dumb. If these pistols reaffirmed any beliefs I've already held, it's that a quality machine in the hands of a novice WILL show the novice what they are doing wrong IMMEDIATELY, which is well worth the price tag and cost of entry compared to a haphazardly assembled participation trophy piece of shit that most are content to cut corners and settle for. 
When you KNOW what the gun is mechanically capable of, the only thing you can do when you look at the target and see your points of impact aren't matching with your point of aim is accept and admit, "I'm doing something wrong and I need to fix it." The machine challenges the man to better themselves to harness its inherent capability, and in turn, the man develops high confidence in the machine. You therefore know, that your skill and effort as a shooter must rise to meet the capability of the gun to get the performance out of it that you know it's capable of. So spend the money, you're making a long term investment in your tools, your skill, and your ability to stay dangerous.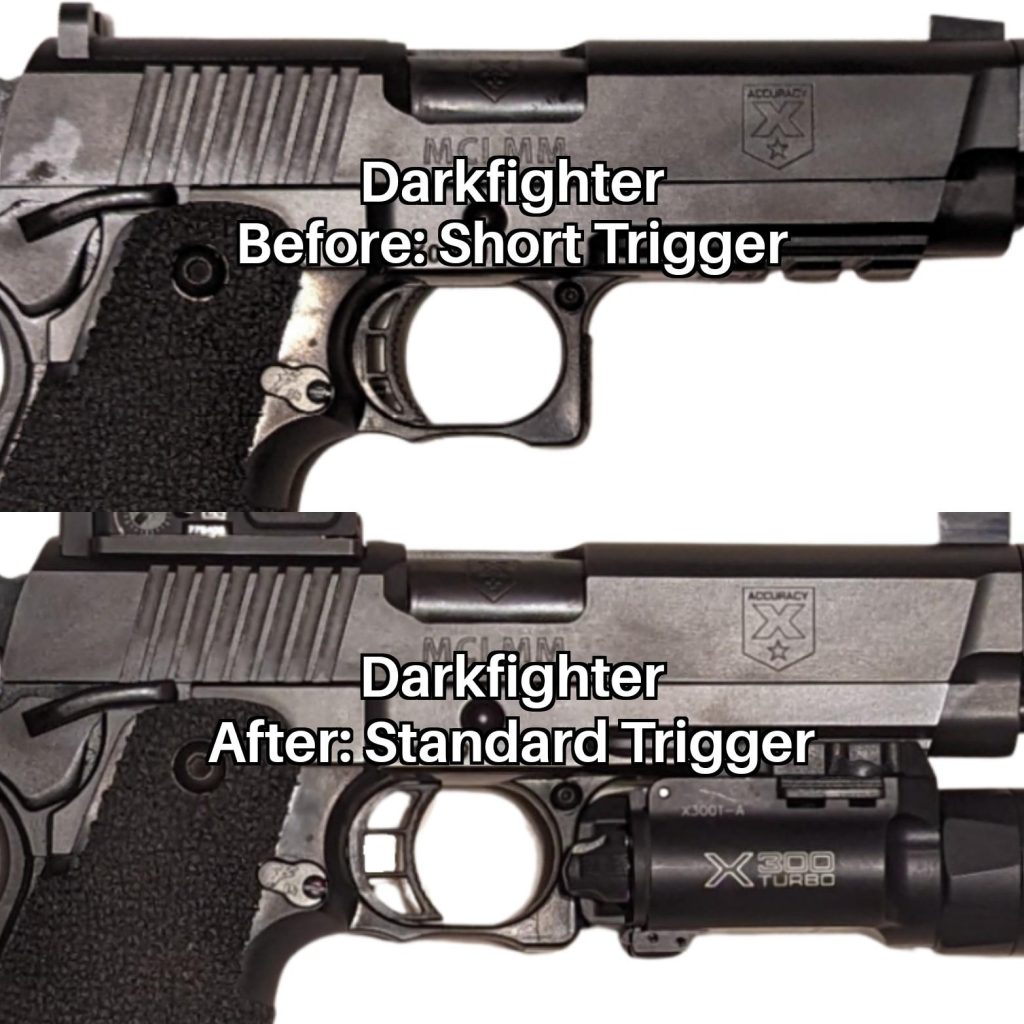 I experienced this myself with the Darkfighter. Remember earlier I mentioned how the Darkfighter originally had the shorter GI length trigger? You can see the difference between how the trigger looks before and after it was equipped with the optic. There was a very deliberate reason for that.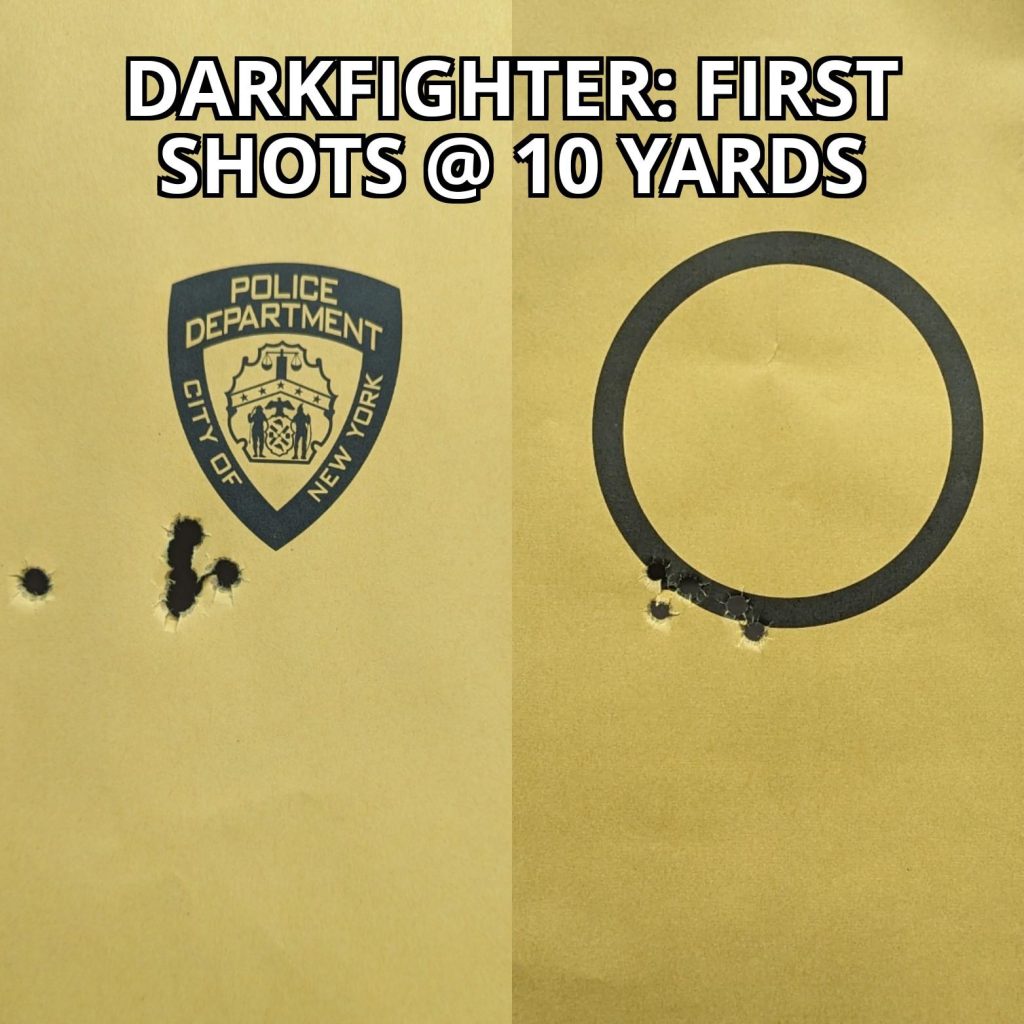 Like I said, I'm an okay shot. But the first few shots out of the Darkfighter were low left on my target. With an arched brow, I looked at my target feeling disappointed; this wasn't normal for me, I shoot better than this. What was I doing wrong? Well, a couple of things.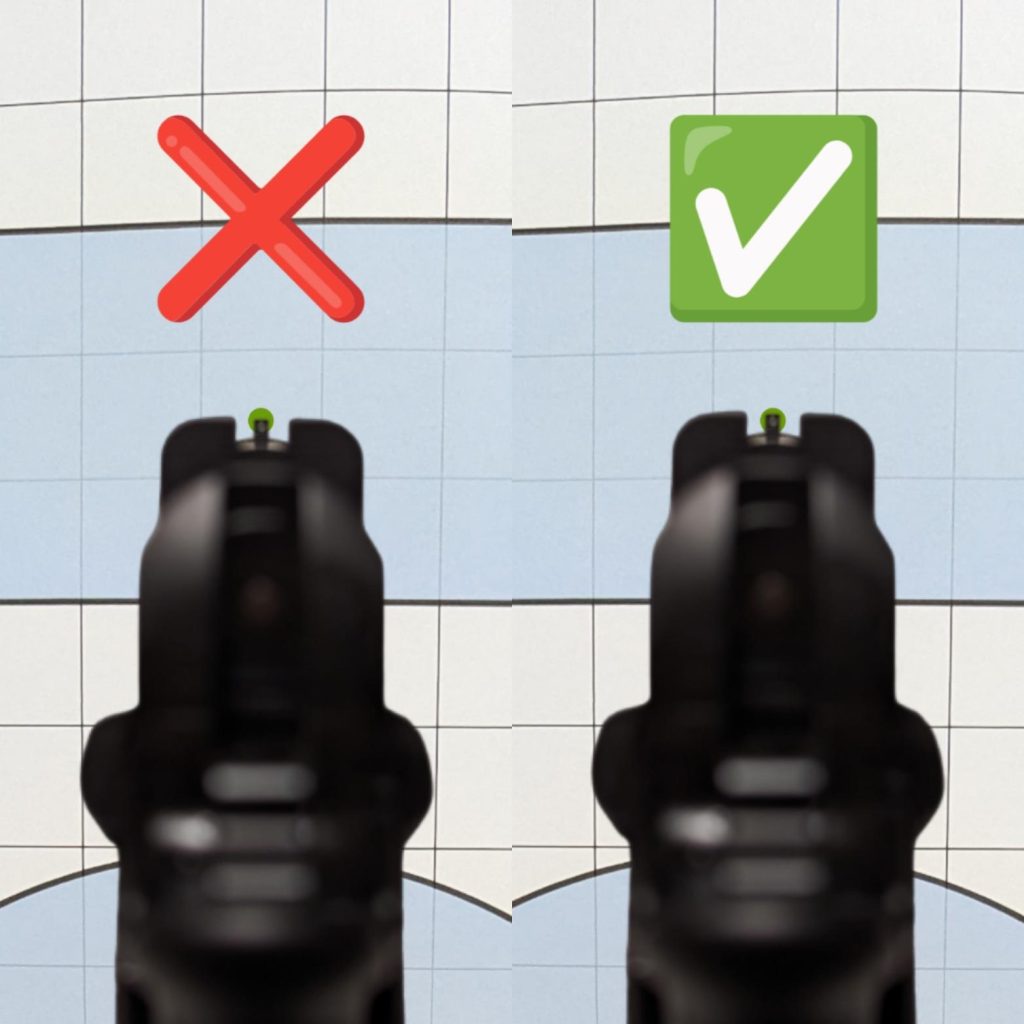 For one, I was using the irons wrong. The way I'm accustomed to shooting my work gun (Gen 3 G19 with Trijicon night sights) is to bisect the target with the aligned irons and cut the desired point of impact in half with the top edge of the irons. Between the Darkfighter and the iron sight modules they shipped with installed from AXI (tritium front, blacked out rear), I found that the way to do it was to COVER the desired point of impact with the front sight dot. Once I realized that, the "hitting low" problem was solved.
So why were the shots landing left as well? Because everything about the gun was smaller, and I was going too fast. It's a shorter pistol, with (at the time) a shorter trigger, and a shorter grip. All of those things lend themselves to a smaller footprint, but also require a lot less speed and a little more attention when trying to shoot very precisely.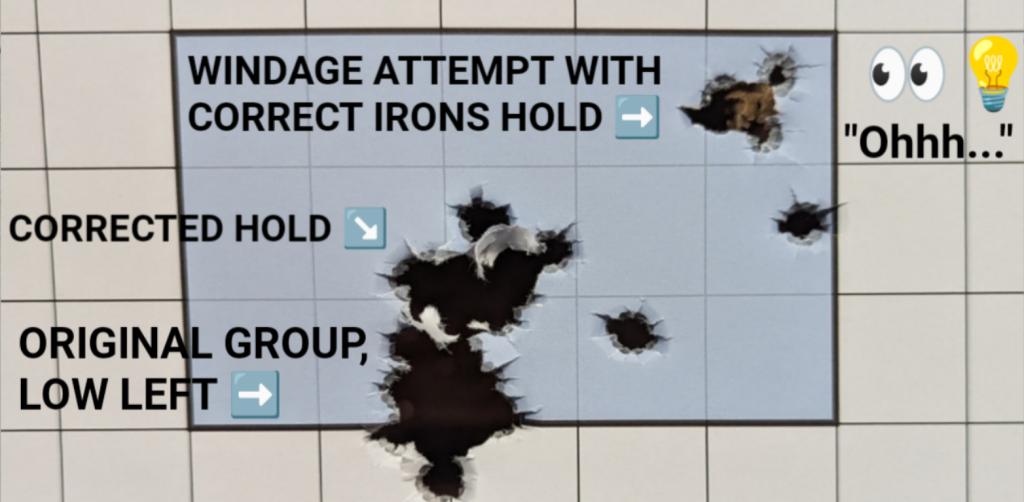 When I was shooting carefully and deliberately conscious of my shot process, the gun would hit exactly where I was pointing it… which I discovered by accident when I was trying to windage it with a right biased hold to counter the leftward hits. When the rounds hit exactly where I was holding to the right, the lightbulb turned on and I was like "Ohhh."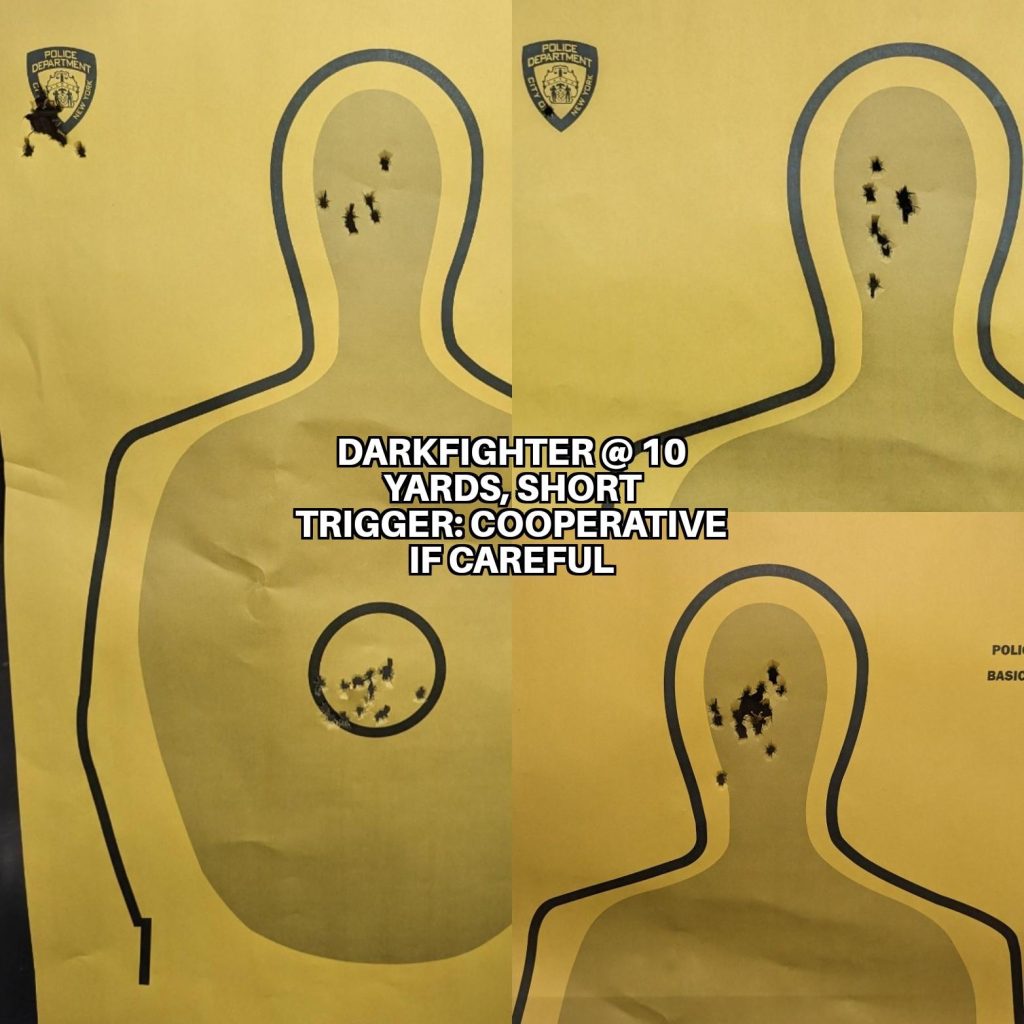 Again, the gun was better capable than I was performing, and it told me exactly what to unfuck and how. After that, it cooperated as long as I was careful with my trigger pull, because my trigger finger's relationship to the shorter trigger was causing me to push the gun to the left during the shot process.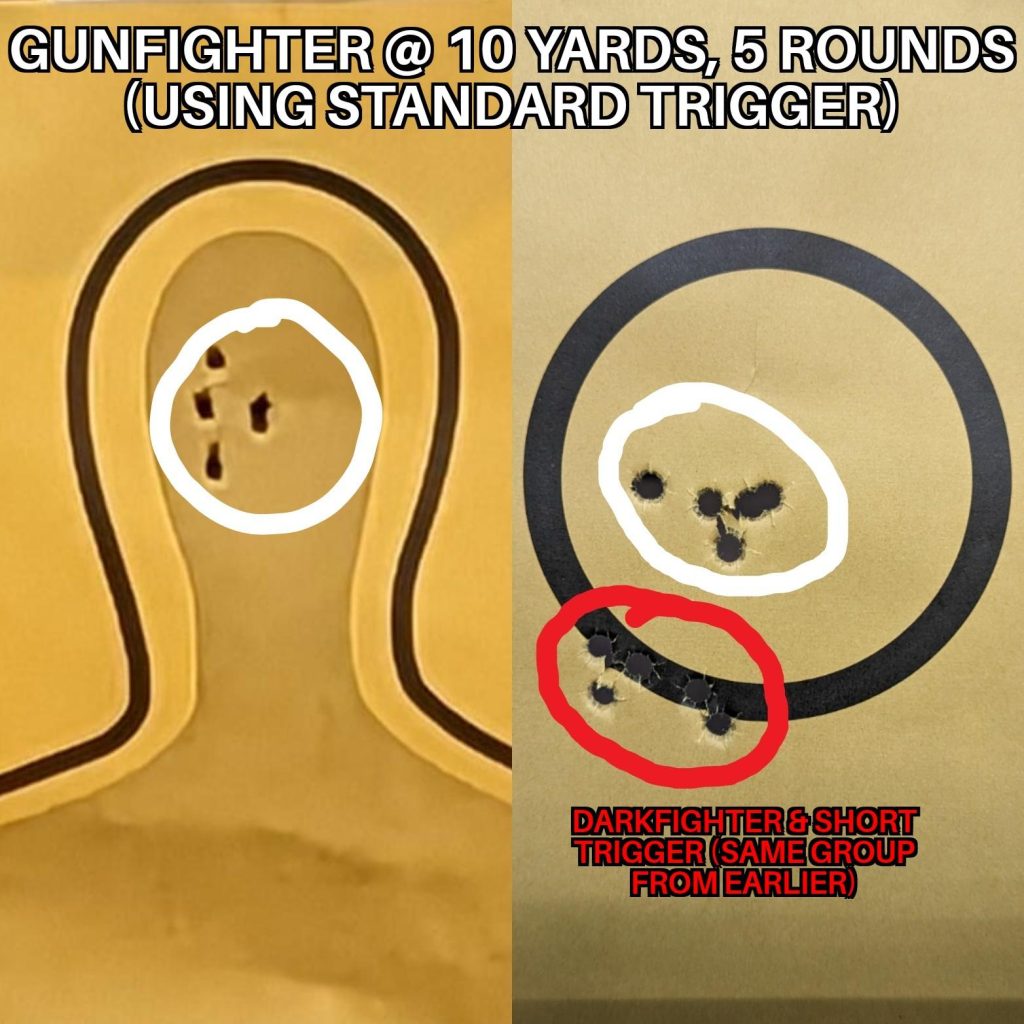 But the Gunfighter and its full length trigger and grip on the other hand were like shooting a laser in comparison! The difference was stark in contrast. The Gunfighter said "Where do you want me to put these holes fam?" I'd point, pull the trigger, and boom there it was. Both hands on the gun, strong hand only, weak hand only, it was all very much like shooting my comped G19X; I was able to be a lot more "casual," dare I say sloppy, with my handling, and the Gunfighter would still cooperate.
Conversely, with the Darkfighter I'd have to be like "Hey man, are we cool? Are we gonna do this or what?" and I'd have to be gentle and baby it to get the results I wanted. And, well, I wasn't cool with that. In dry fire that short GI length trigger seems like a great idea and feels really good with that single action setup but when the rubber meets the road… I can't slow down or change up my approach because the gun was built all picky-like.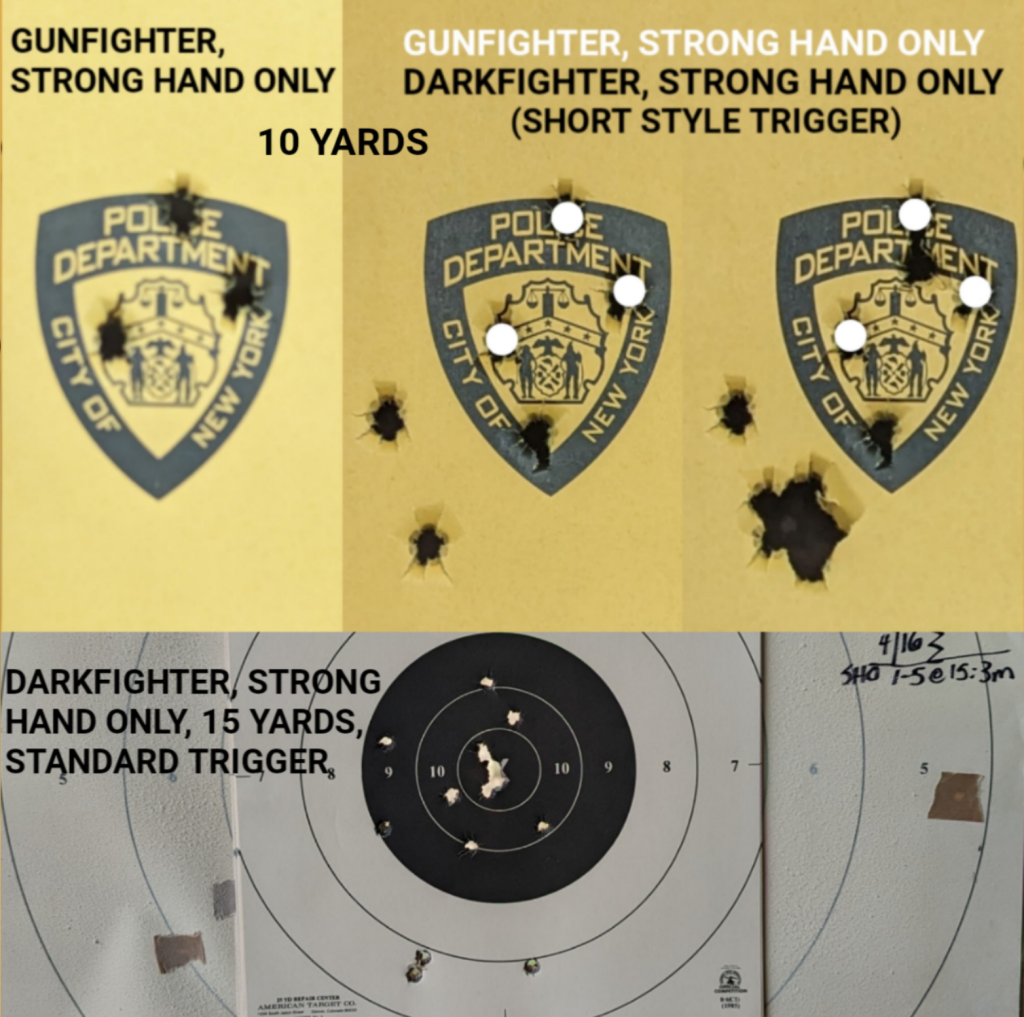 I sent the Darkfighter back to Accuracy X and Steve changed the trigger to the same full length style that was in the Gunfighter and after that, everything was gravy. Now I can shoot the way I'd normally shoot with either gun and expect results typical of what I usually produce on target when I do my part. 
That being said, there's still a discernible difference between the two in terms of learning curve. The Gunfighter is definitely the easier between the two to pick up and go to town with, due to both the longer grip and the mag well allowing you to lock in your grip over a greater surface area. I would go as far as saying the Gunfighter is Easy Mode.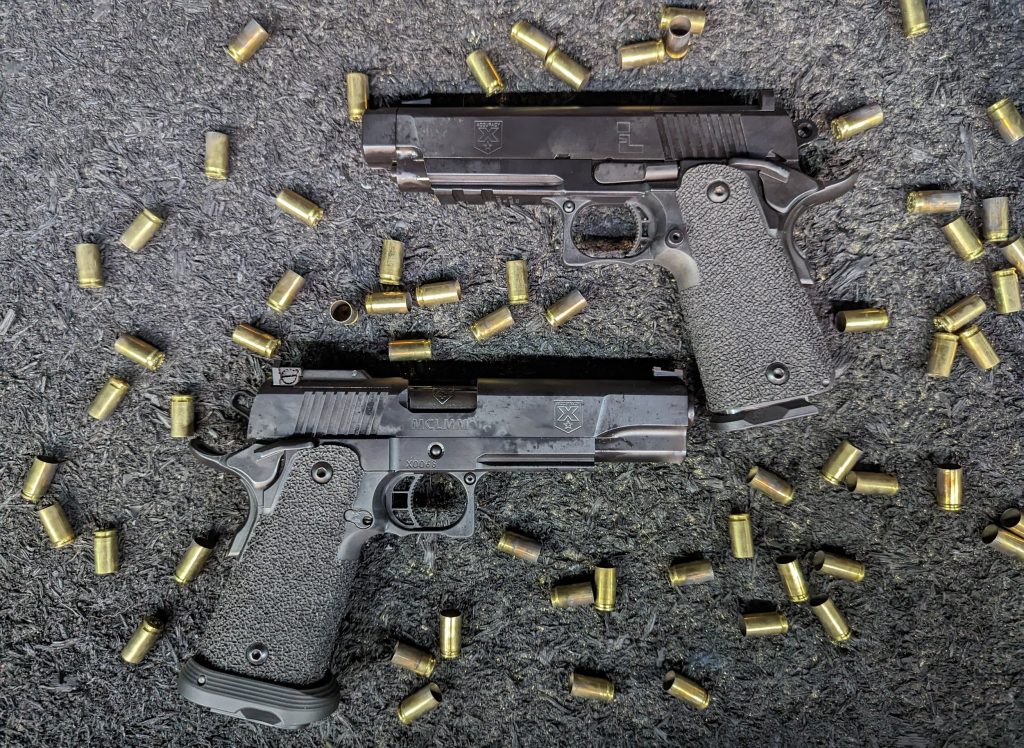 In comparison, the Darkfighter is best suited to more experienced shooters; while the carry comp makes the recoil impulse feel comparable (or even lesser, depending on the ammo you're using) to that of the full size Gunfighter in spite of it's shorter barrel length, the shorter grip will effect how your hand grips the gun and the consequent influence it has on your accuracy and performance. It's not a harder gun to shoot, you just have less wiggle room to be sloppy without that longer grip and mag well making your grip all snug towards the bottom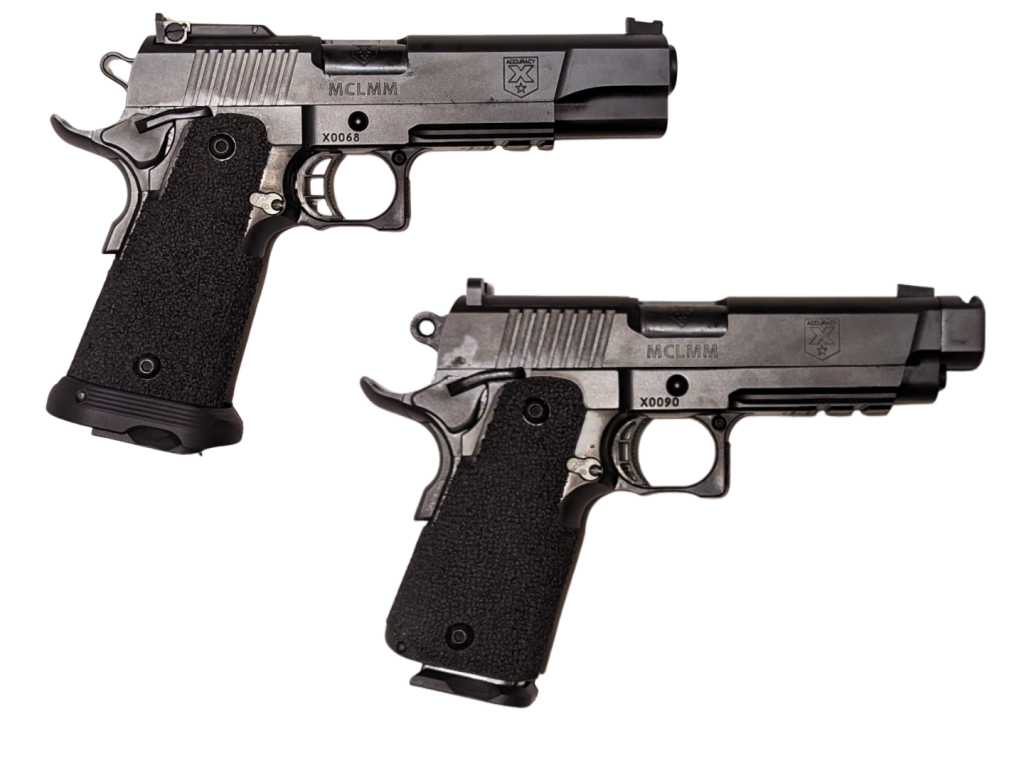 I was really looking forward to getting Chuck Pressburg and Aaron Cowan's feedback on both of these pistols during my time training with them; unfortunately, I never even got to see Aaron in person due to the class getting cancelled. Chuck did get to handle both the Gunfighter and Darkfighter the night before the class started and he thought they were made well, as far as finger banging and dry fire could tell him at least. But we ran out of time on the second day of the class before I could put it in his hand with a full mag and say "Shoot this and let me know what you think." 
It wasn't a total loss though; the night before class started we each broke our guns down to clean them. Once they were back together Chuck was nice enough to let me take some pictures comparing the Darkfighter to his gun and its configurative cousin, the Chambers Custom Pistols Light Fighter. I was also able to get pictures comparing it to the host's wife's pistol, the Staccato P, that being the nearest size Staccato has to offer comparable to the Darkfighter; You can see all of these below: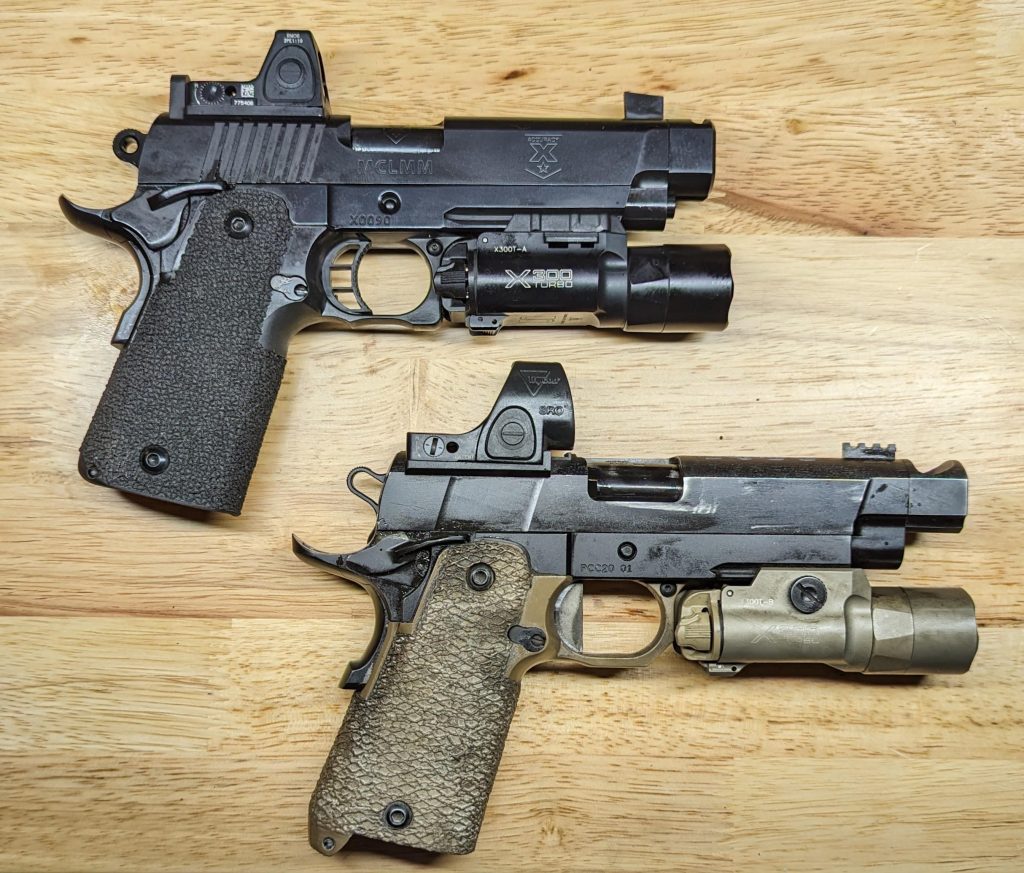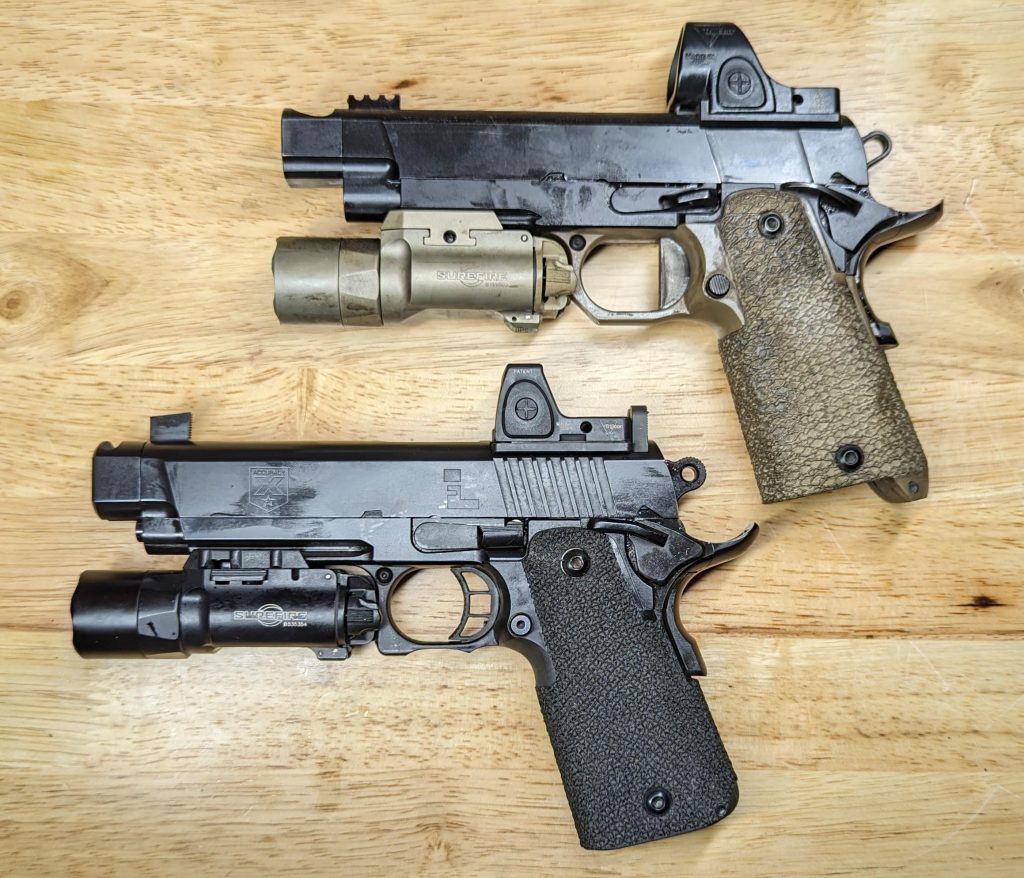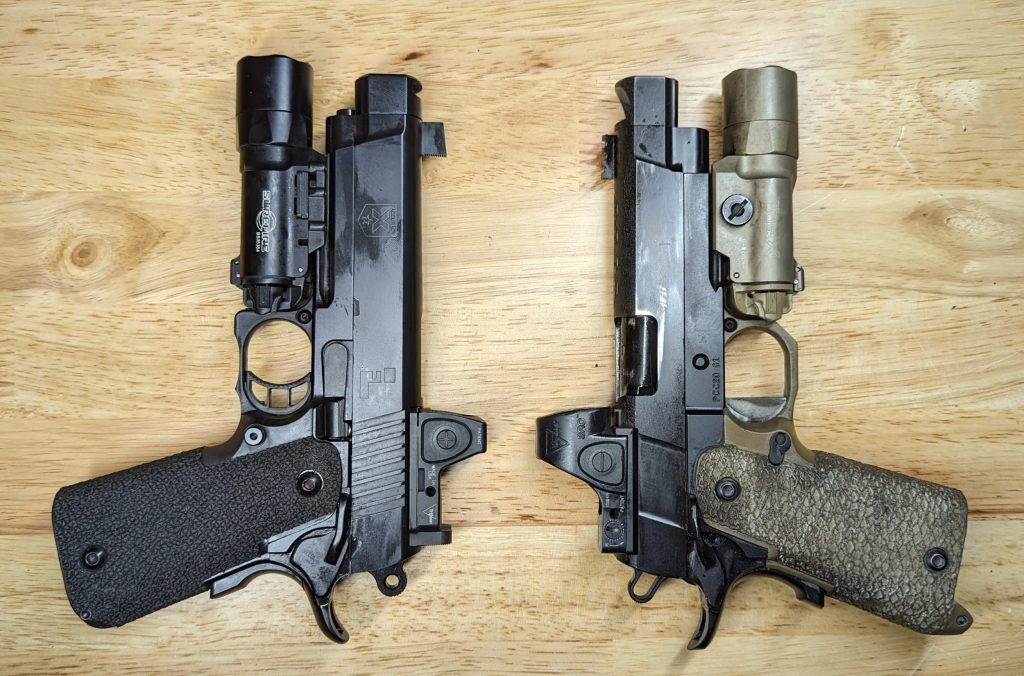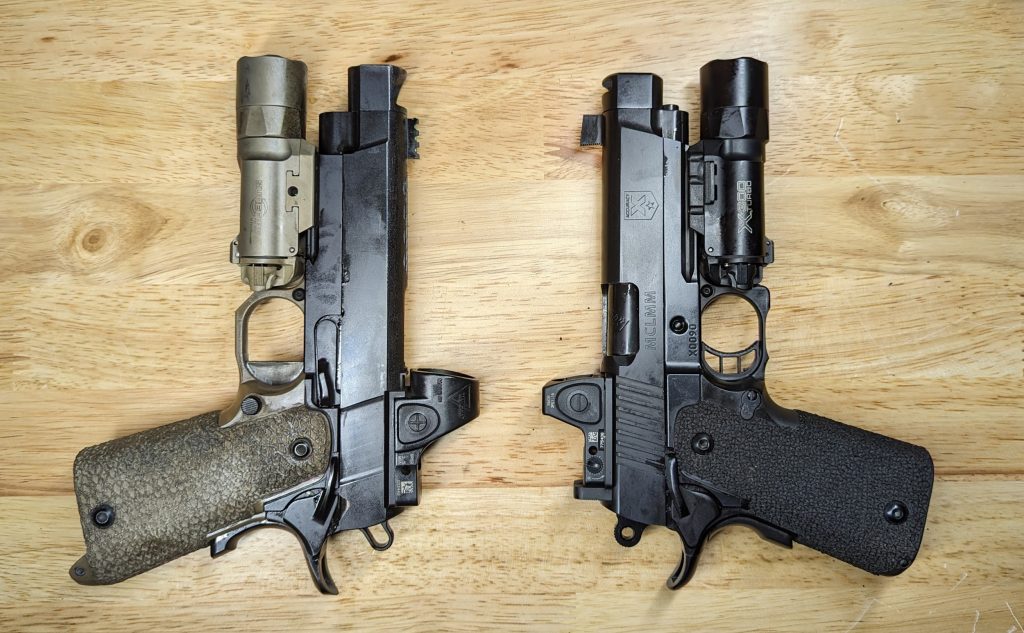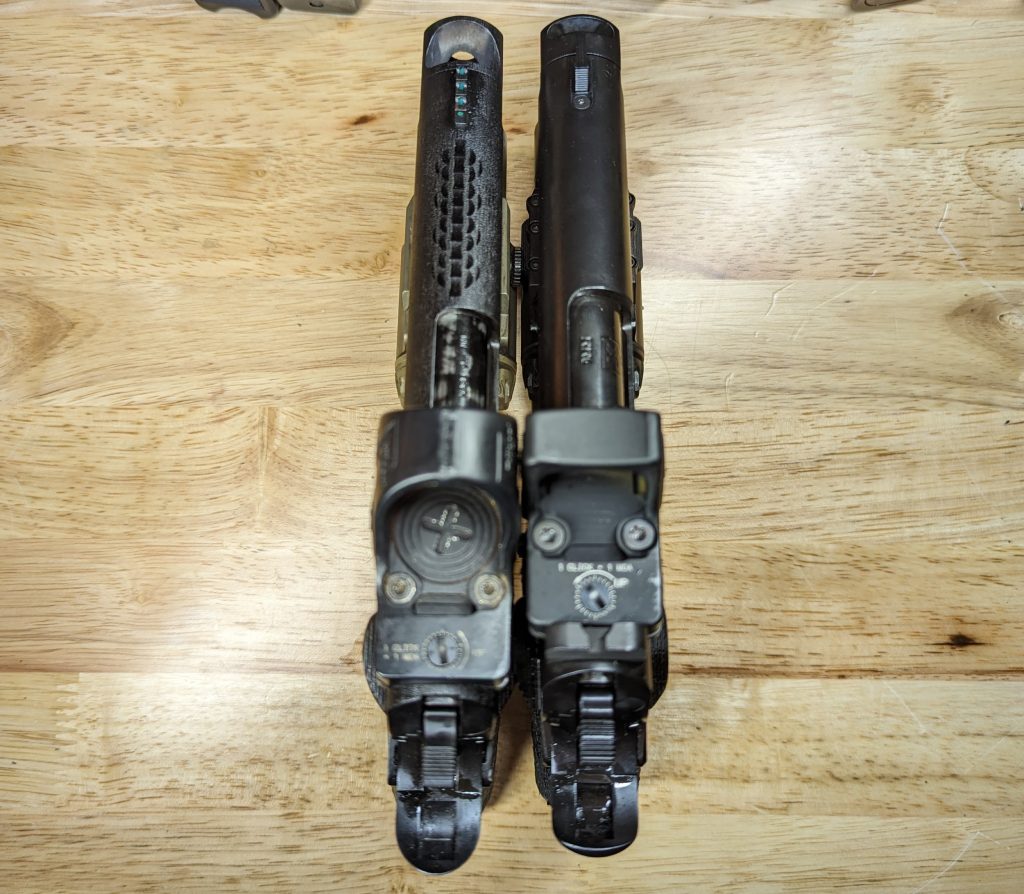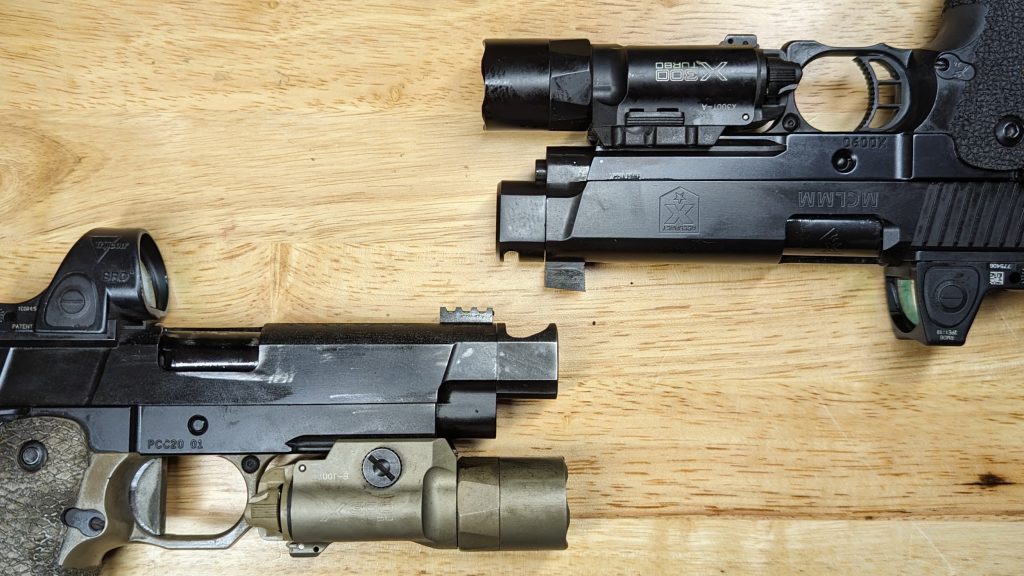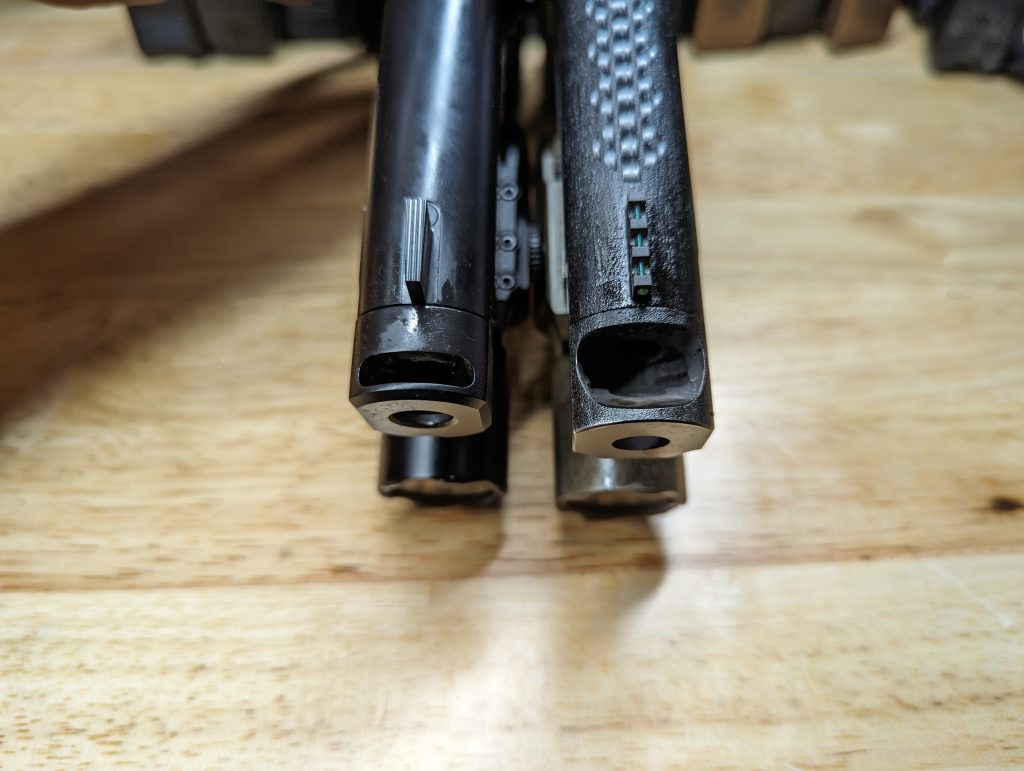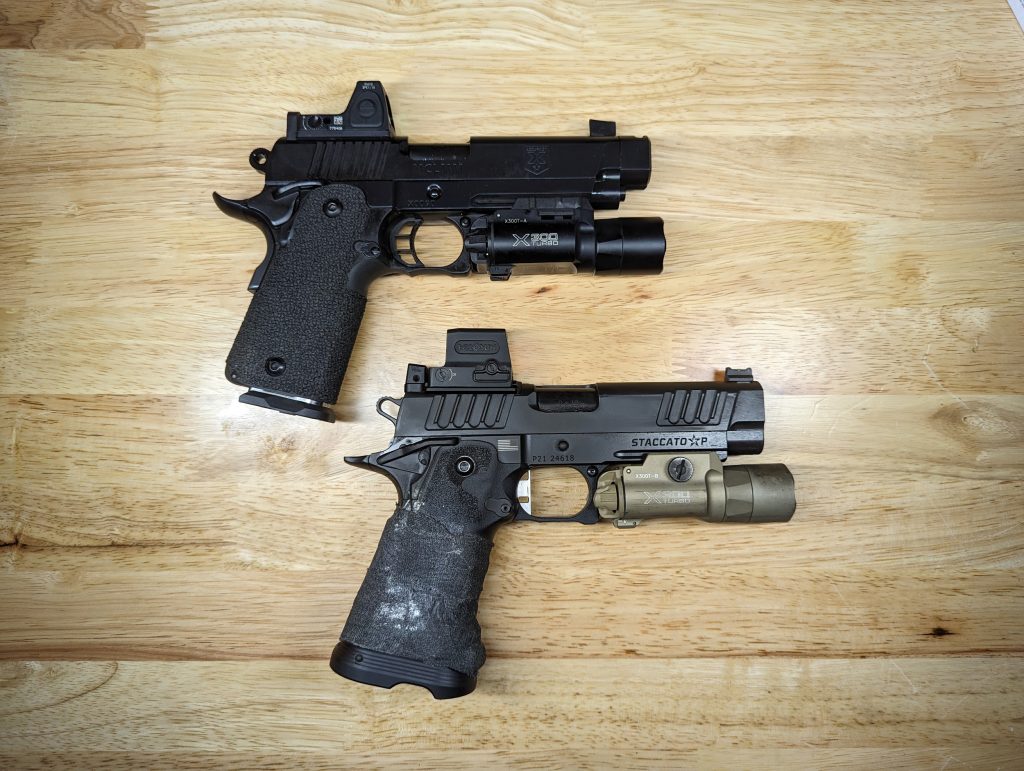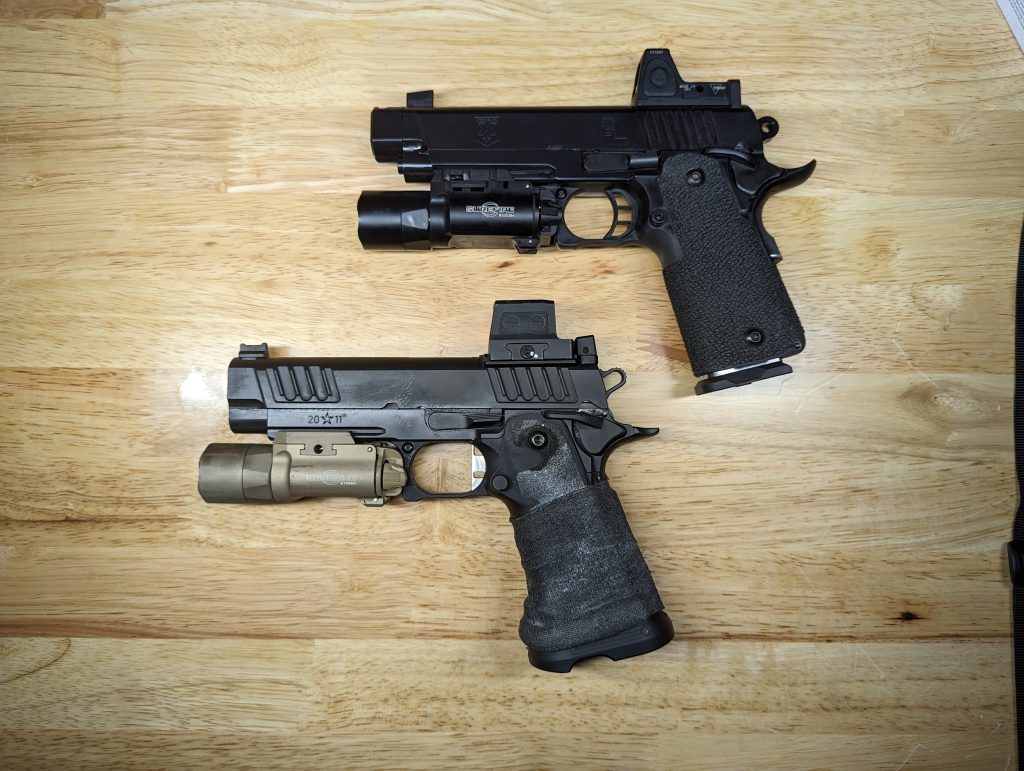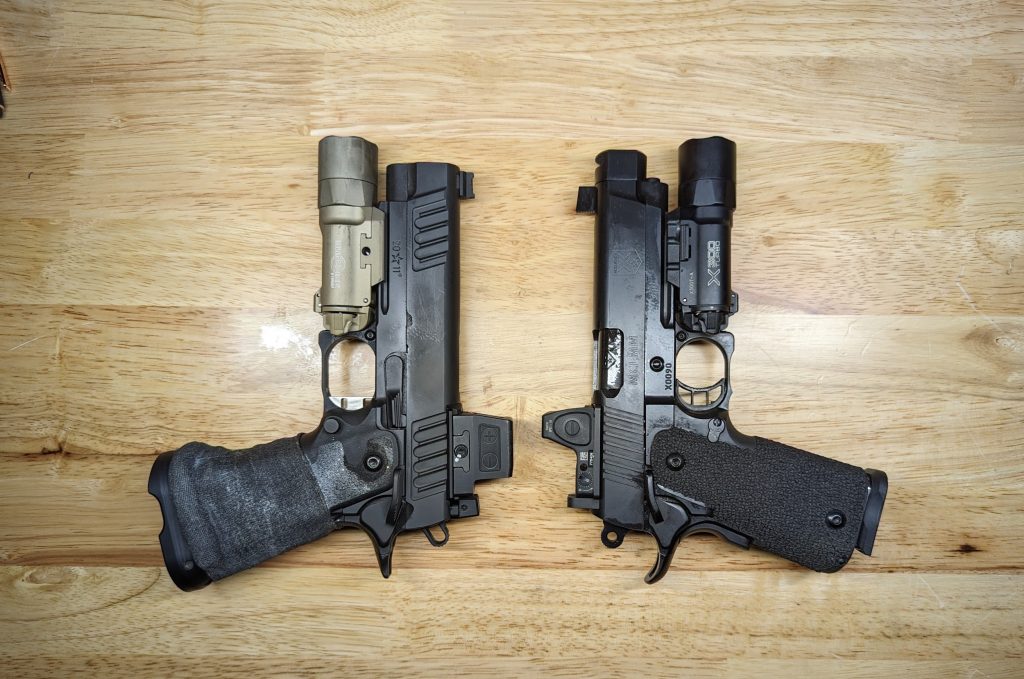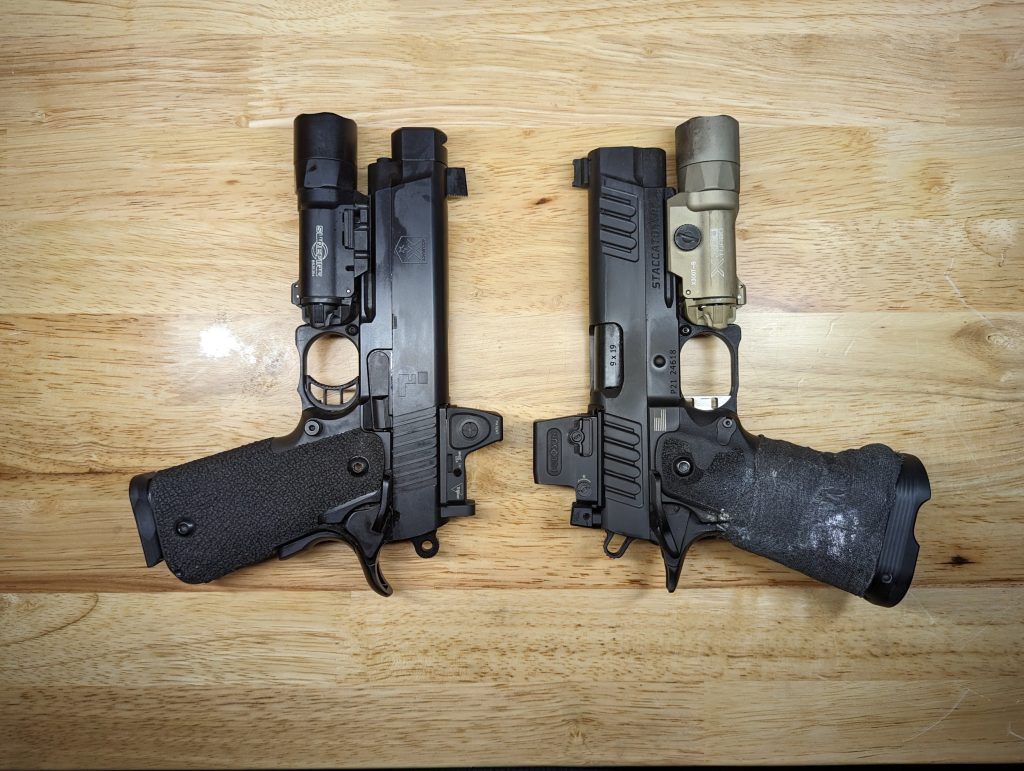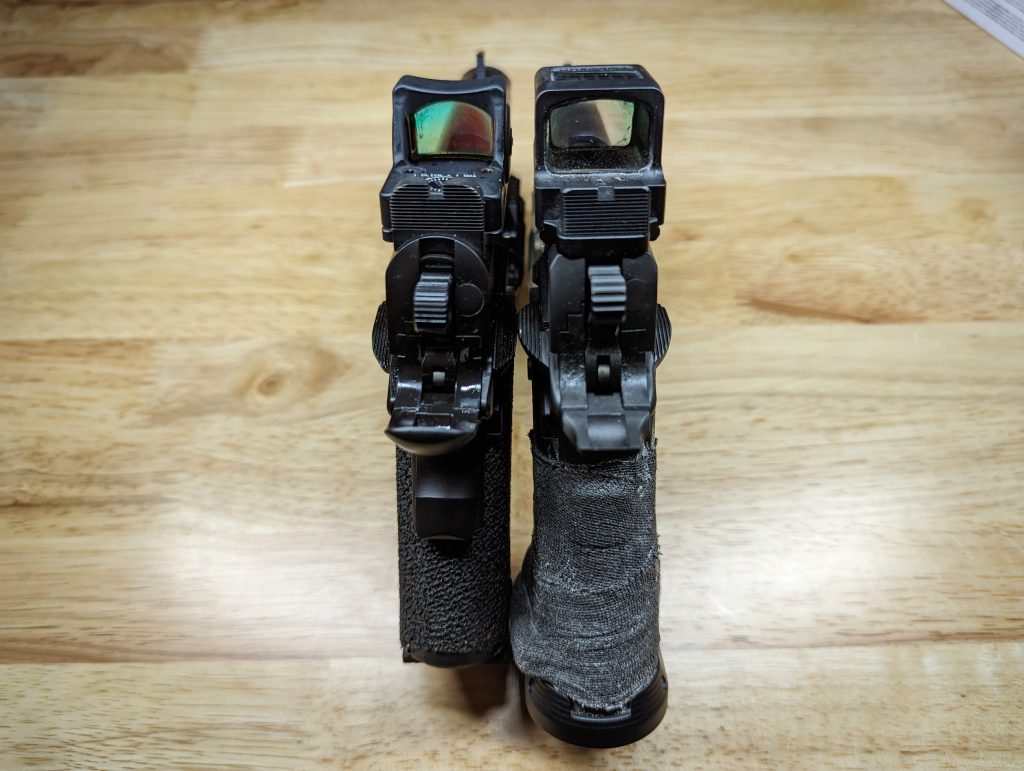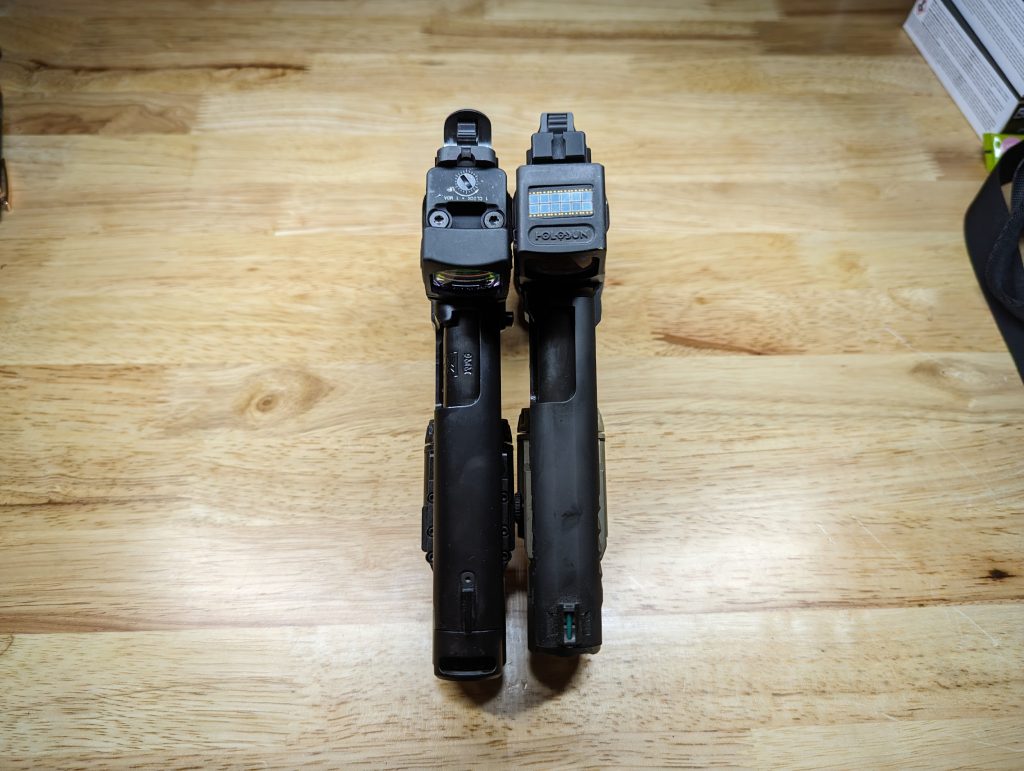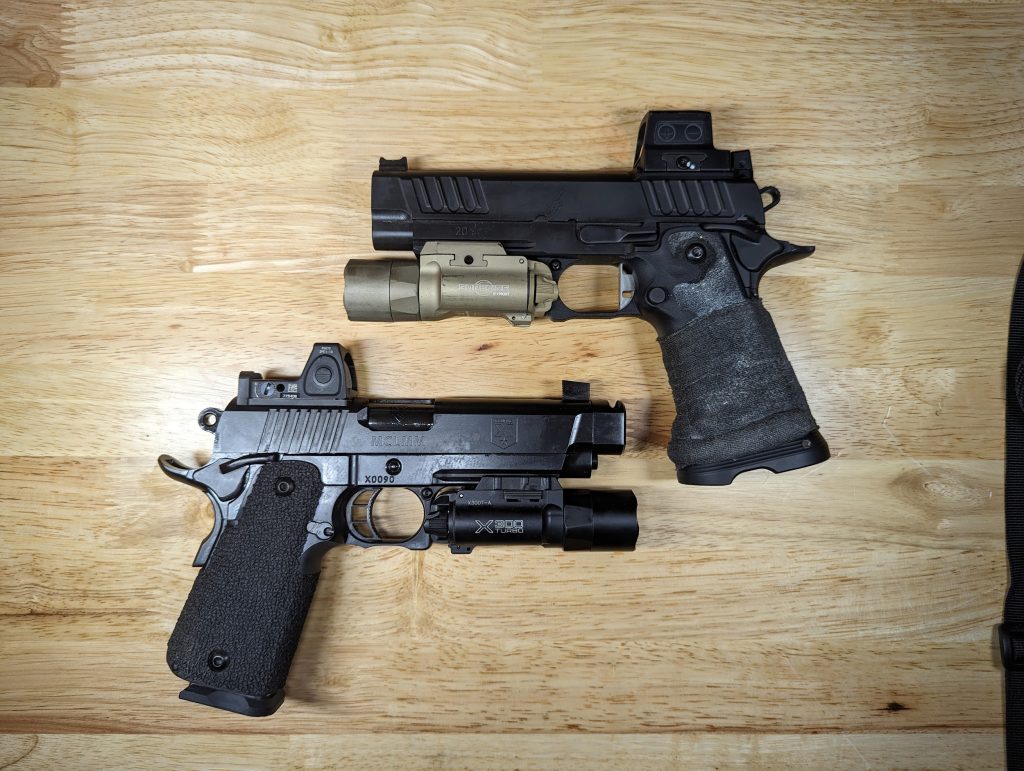 Now I'll discuss the attachments I've used with each pistol.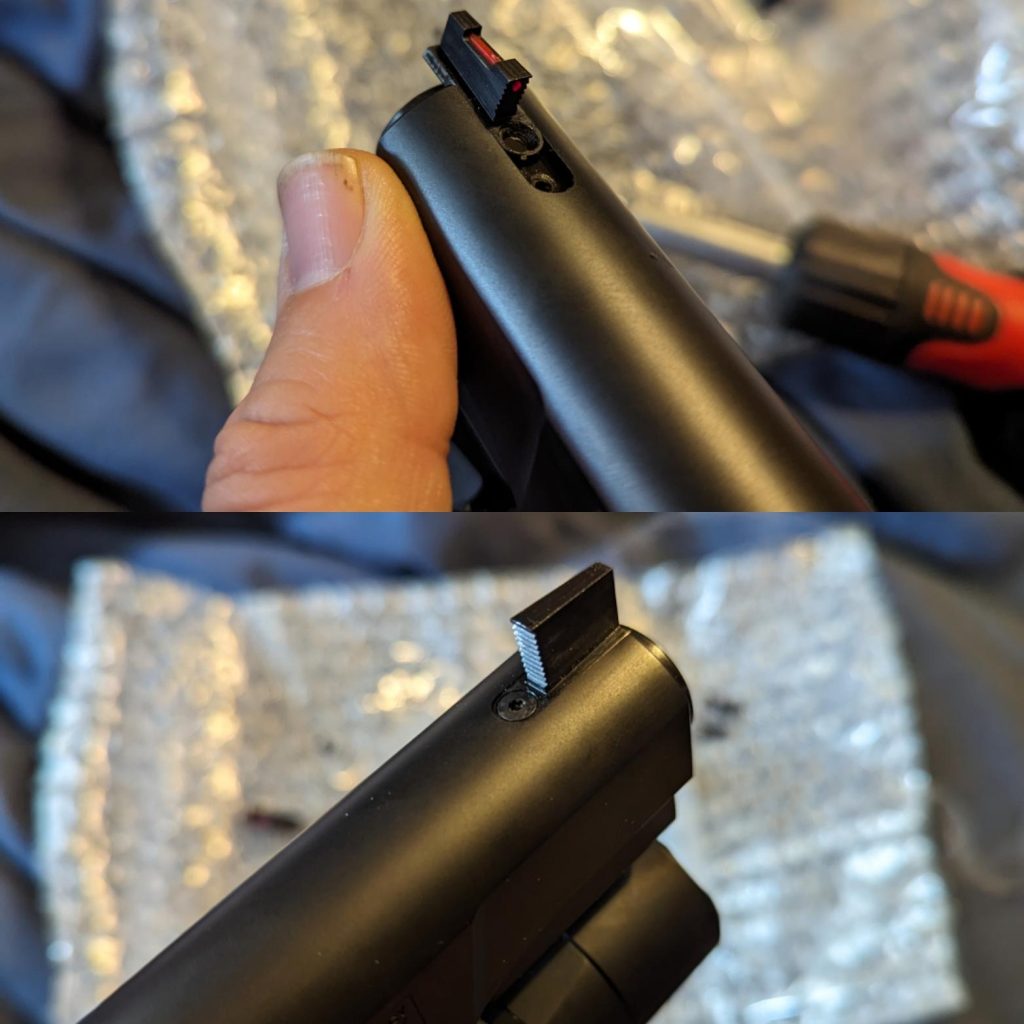 The Gunfighter shipped with a fiber optic front sight and an adjustable rear sight, both standard height. These modules were replaced by a suppressor height blacked front sight and an RMR mount with built in blacked out rear irons. I actually had to tap that suppressor height front sight into the MSS dovetail with a plastic hammer (an unused AR-15 grip in this case) to get it into the MSS dovetail slot up front, and it took some finish on the outer edges off in the process. This isn't uncommon however; Steve explained it's because the machining tolerances are that tight. Suffice it to say, the front sight isn't going anywhere.
The Darkfighter shipped with a tritium front sight and blacked out rear irons, both standard height. These were replaced by the same front and rear sight mentioned above for the Gunfighter. Changing that front sight out wasn't as difficult, but it's not loose enough in the pocket to matter. The rear sight components are easy to swap out and install either way.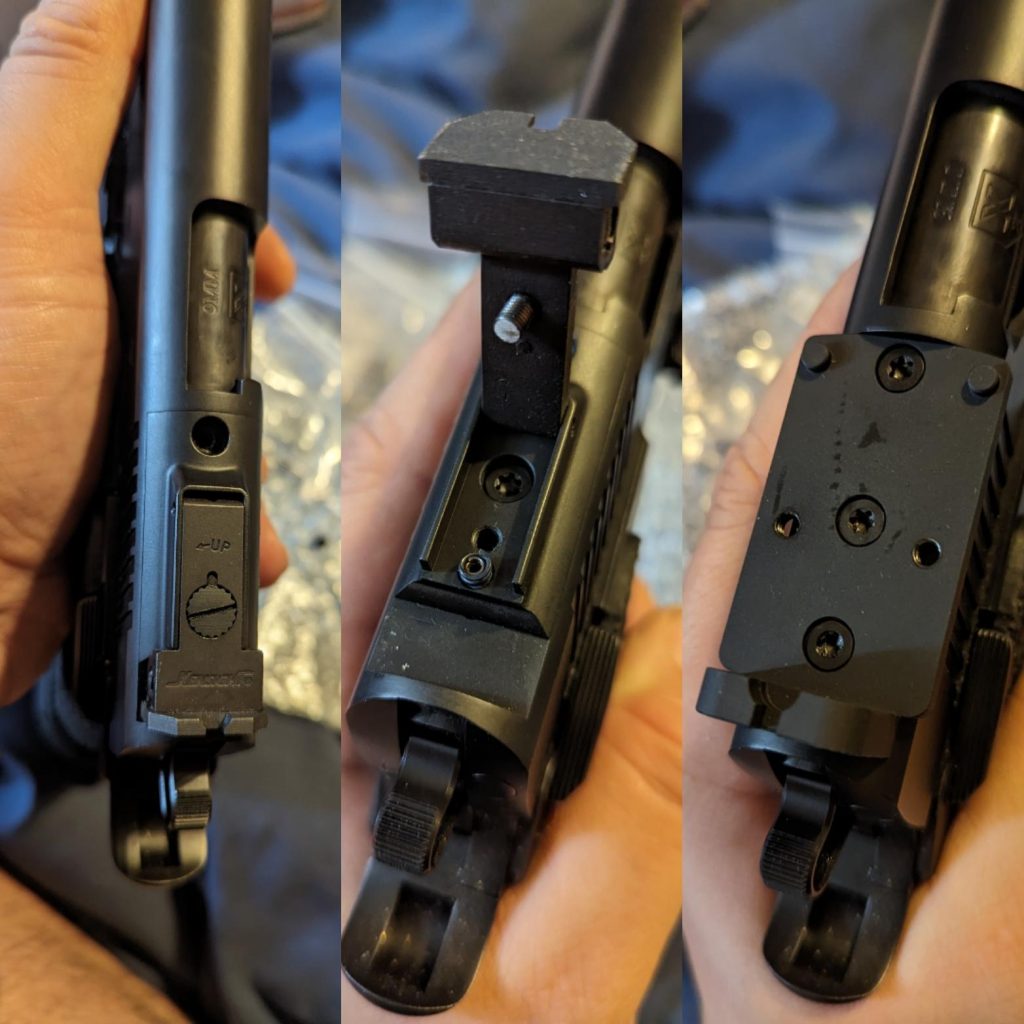 The RMR mounts on each gun come with recoil bosses machined into them, one of the patented design features of the MSS. The screws to install the plate to the slide, unlike most MRDS plates on Optics Ready Pistols, are not on the left and right of the plate near the screws for the optic itself. They run inline down the middle of the mounting surface, centered, along with an additional recoil boss lug for every MSS plate variety AXI makes.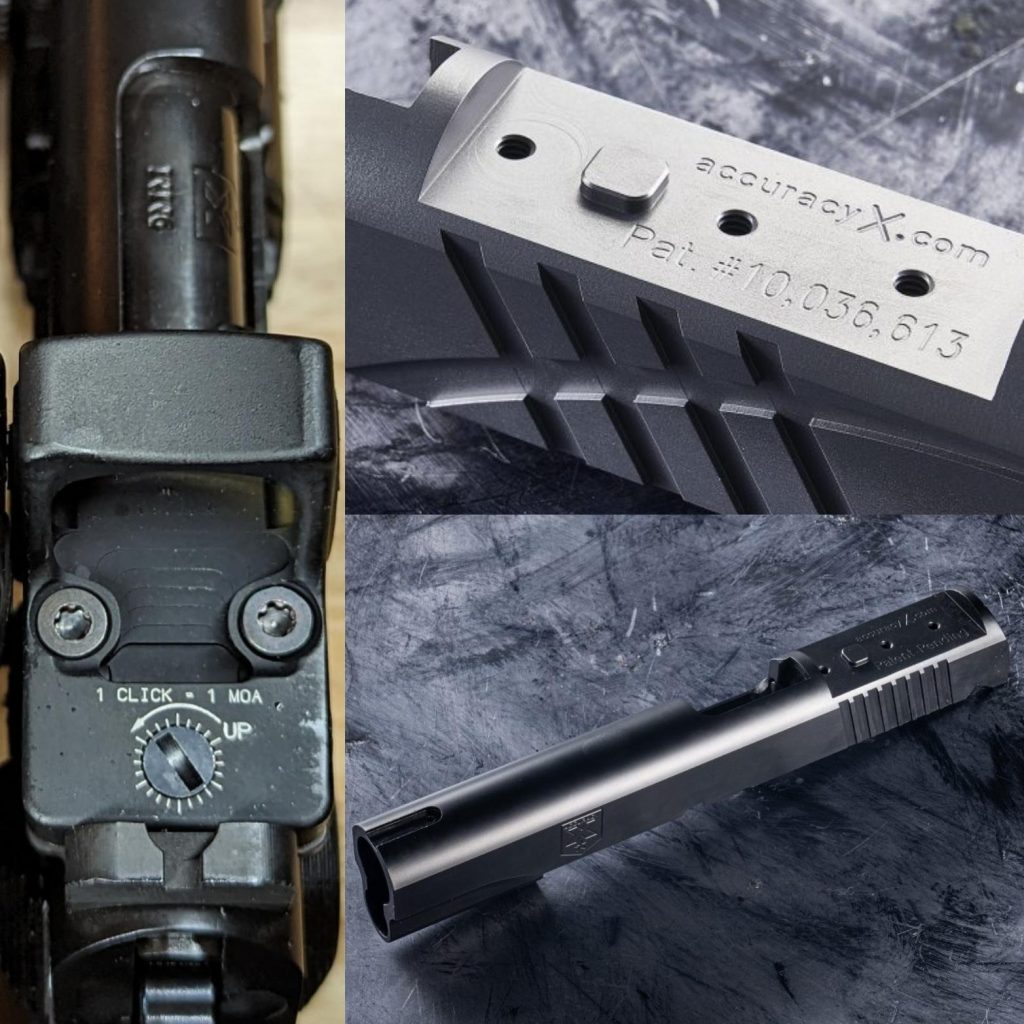 Steve explained that this keeps the shearing force in line with the direction the slide is moving during cycling, and off the screws that secure the RMR to its mounting plate. Little details like that matter over time when you don't want screws snapping off and stuck in your slide.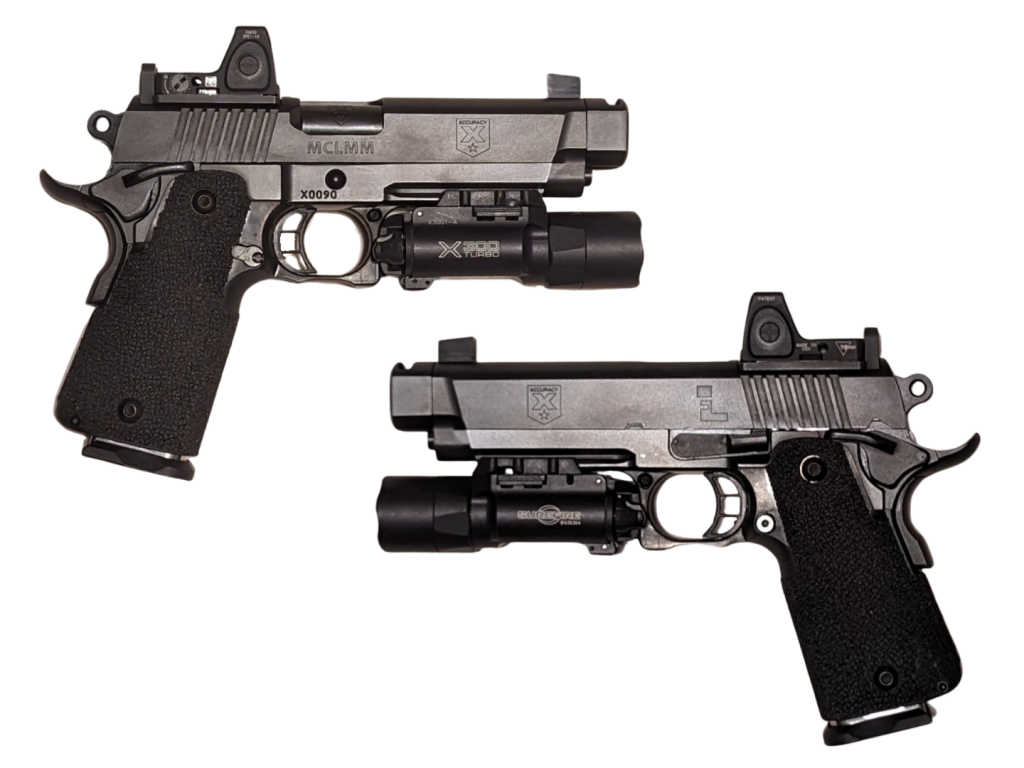 The Darkfighter wears a Trijicon RM06 Type 2 that was gifted to us who participated in the development process of the new RCR optic they just recently announced. It's an RMR, we've heard about these on pistols long enough to know what to expect from them. Mine did fine, hasn't broken, and wasn't hard to use compared to my ACRO P-2s.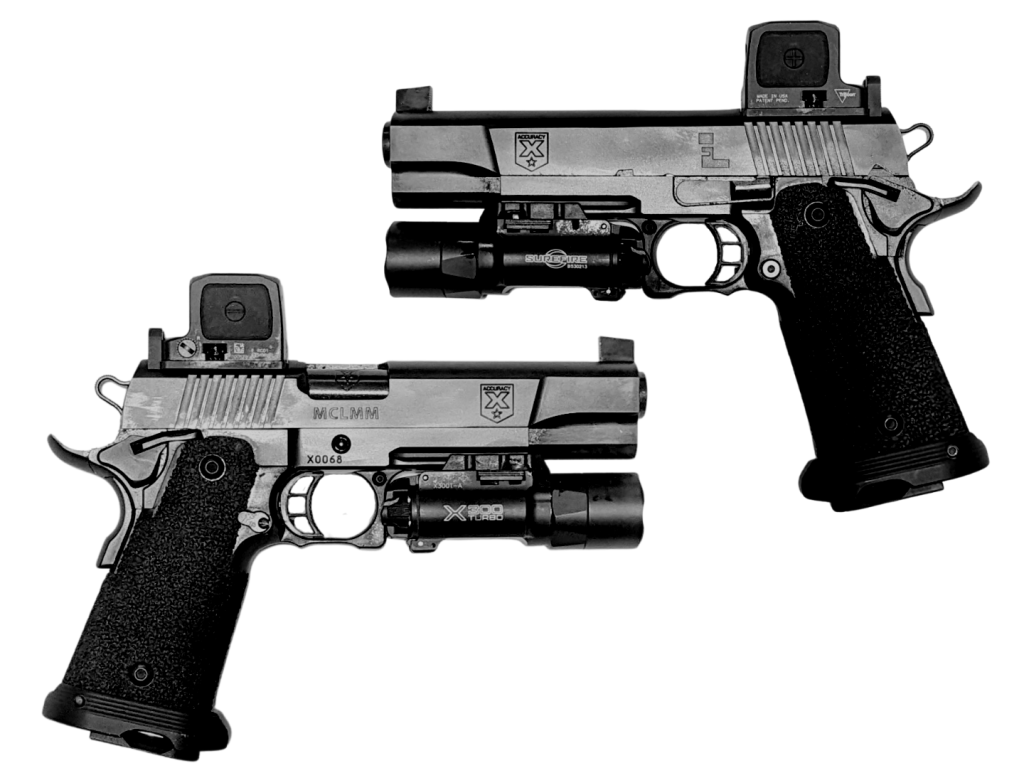 The Gunfighter wears the Trijicon RCR, the new new enclosed emitter optic they just put out. Trijicon sent me one for extended feedback out of appreciation for my efforts with them during the development process. I'll write a separate review for it that goes more in depth, but the quick and dirty is like this: It's a quality made mini red dot sight (MRDS).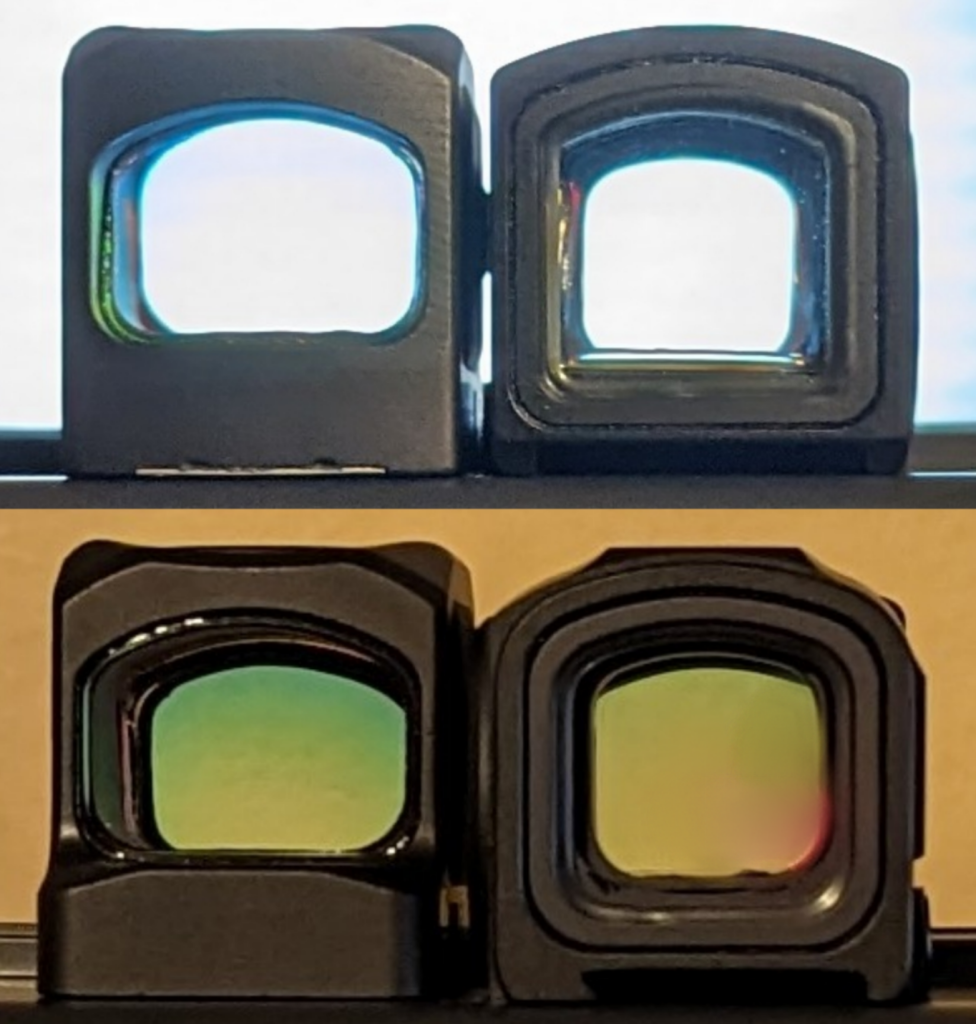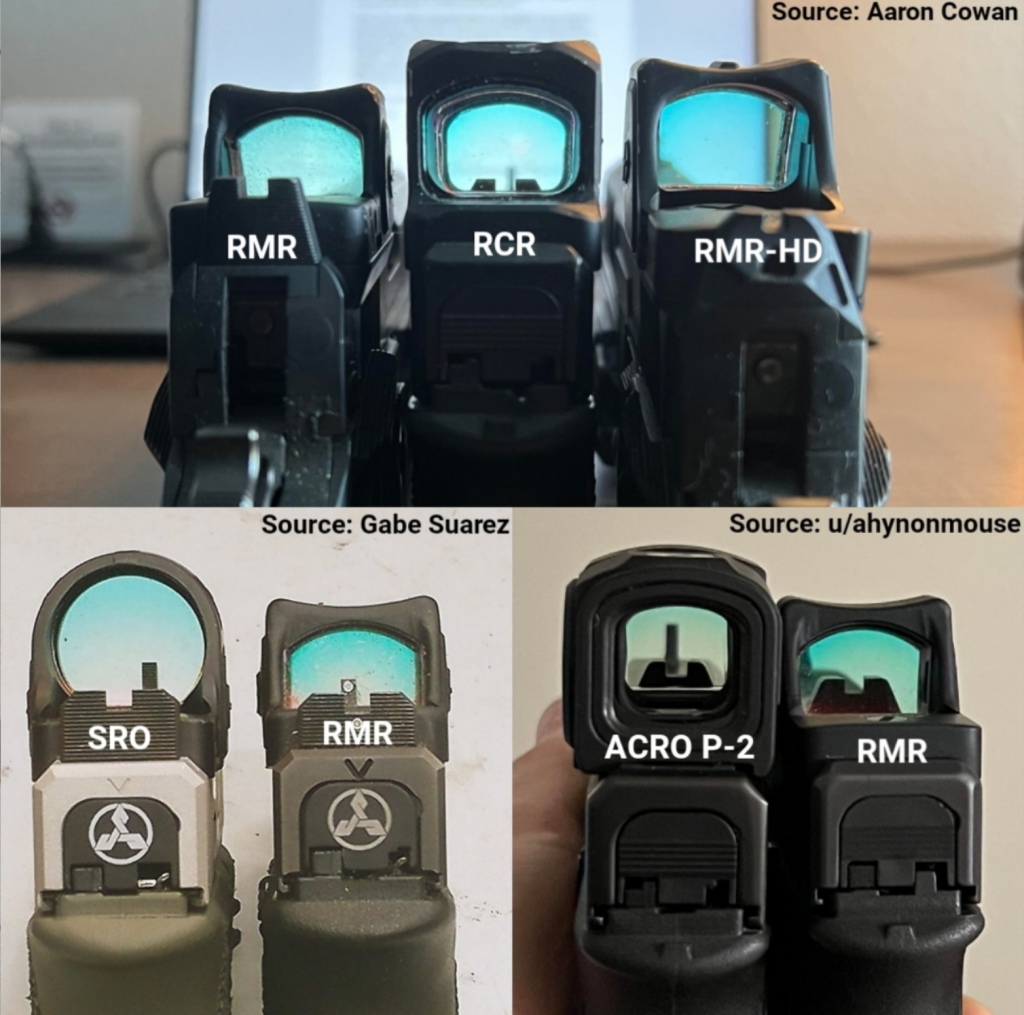 You put it on the pistol, you look through it, there's a red dot, you zero it, and you keep shooting. Outside of some minor surface finish details only a hobbyist would complain about, they did a good job. The window looked a little more generous than the RMR's, and comparable to the ACRO's. The dot is easy to acquire upon aiming, the zero adjustment clicks are tactile and audible, and it was easy to install. I got the RCR installed faster than the MSS plate it's mounted to, as a matter of fact.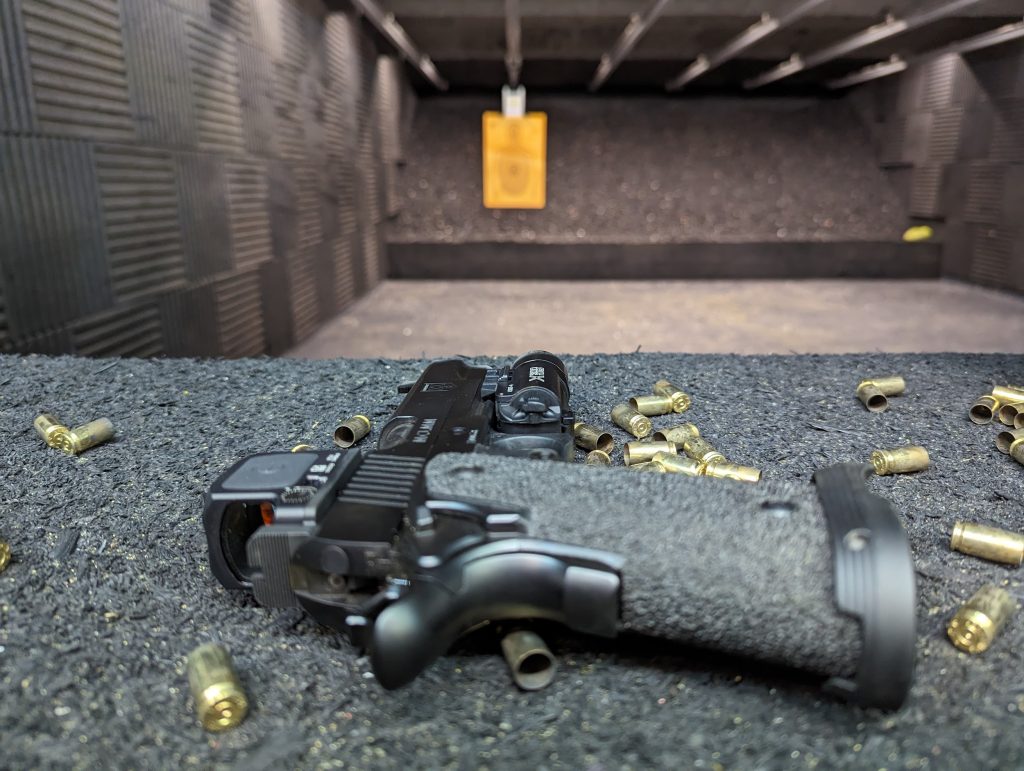 That it uses the RMR footprint is extremely convenient since I didn't have to wait for Accuracy X to develop a plate for it; I just bought another RMR plate and kept it moving. Nothing unusual to report and nothing to complain about after 1147 rounds (347 one day, 800 the next) within a 24 hour period. Sample of one, make of it what you will, I'll keep you posted either way as I continue shooting with it.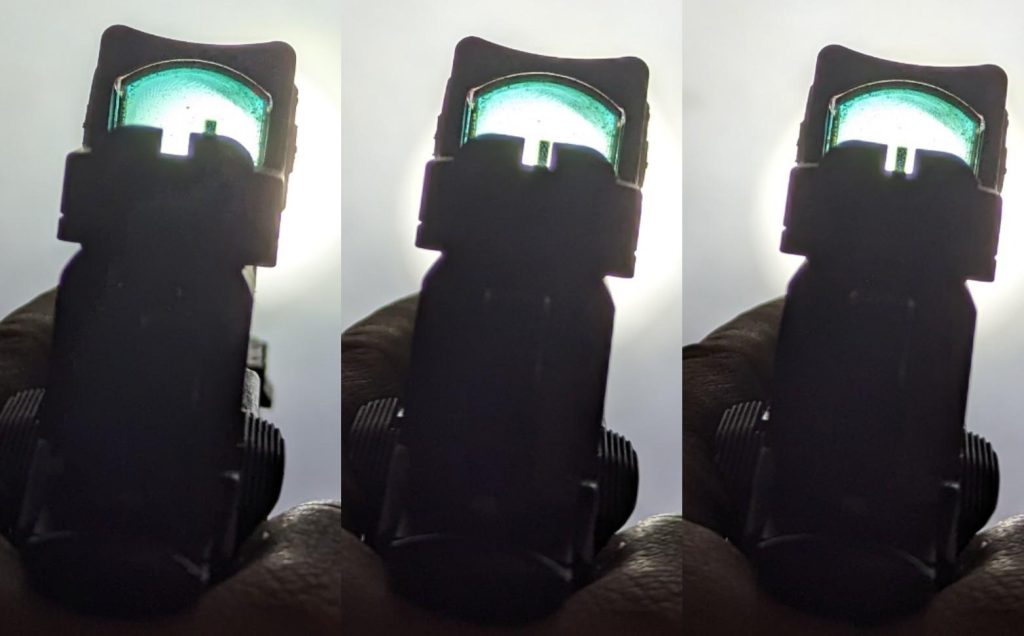 In either case, having the suppressor height irons really helped in cases during Chuck's class where we were shooting at steel and a flawed draw meant I wasn't seeing my dot through my optic right away. But because we were on the clock and the time mattered, I was able to avoid losing time trying to find the dot through the optic when I could see my irons through it immediately and just line them up before breaking the shot to get the hit. A valid hack, and an invaluable time saver; if you can have irons on your MRDS equipped pistol, definitely have them there. They aren't going anywhere off the top of an Accuracy X slide, that's for damn sure.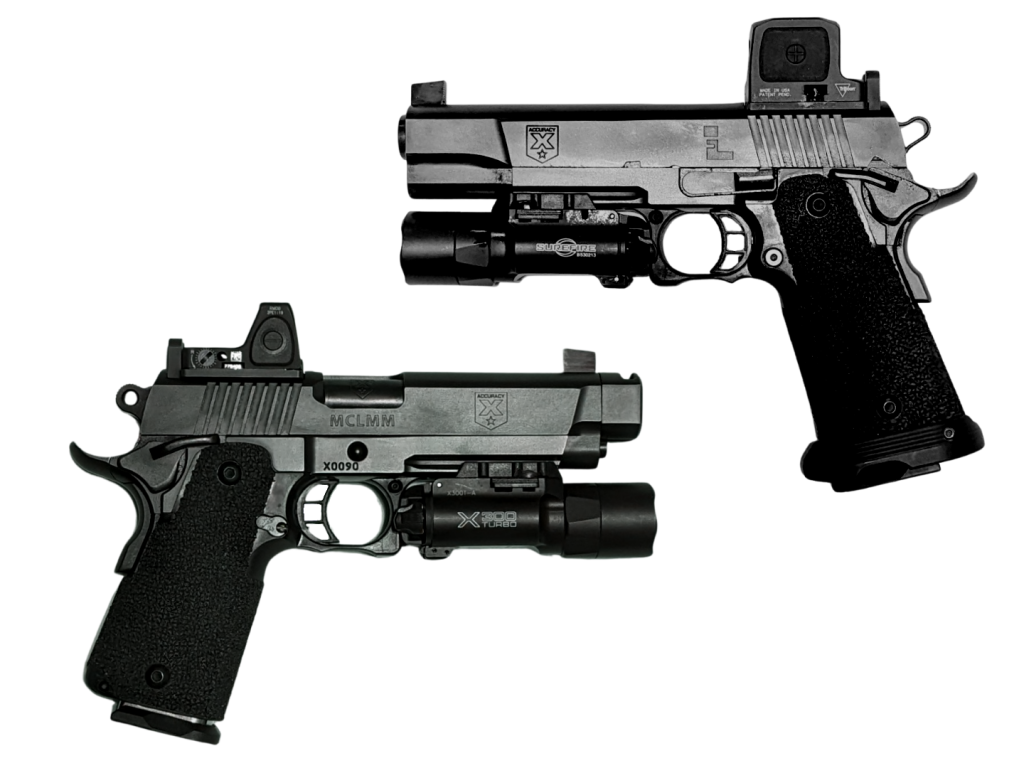 Both pistols rock the Surefire X300T-A Turbo series weapon light, because Daddy's Home to remind us why Surefire is still the King in this arena; either Cloud's isn't even available however many years after it was revealed, or Modlite's got a less functional switch. The lights still turn on after all the rounds I've put through the guns since installing them, so they still work. No flickering or dimming or whatever. Good to go.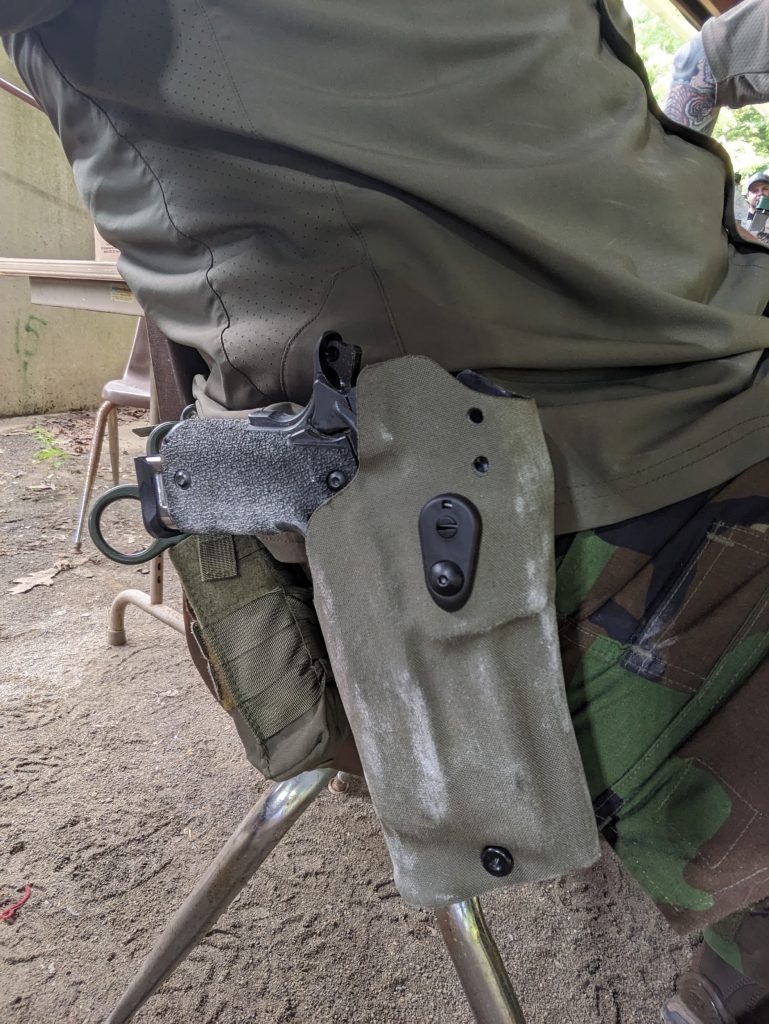 Both pistols ride in a modified Safariland holster I bought from Jeff Wilber over at RDR Gear on both Chuck Pressburg and Jared Reston's recommendation. The long and short of it, Jeff takes an existing Safariland holster for a pistol + MRDS + X300 WML (I think for an M&P2.0 or SIG X5 Legion or some other NotGlock, I'm not sure), does some voodoo shit to the insides, wrapped it in Ranger Green at my request, and what I ended up with was basically a 6354DO for a 2011.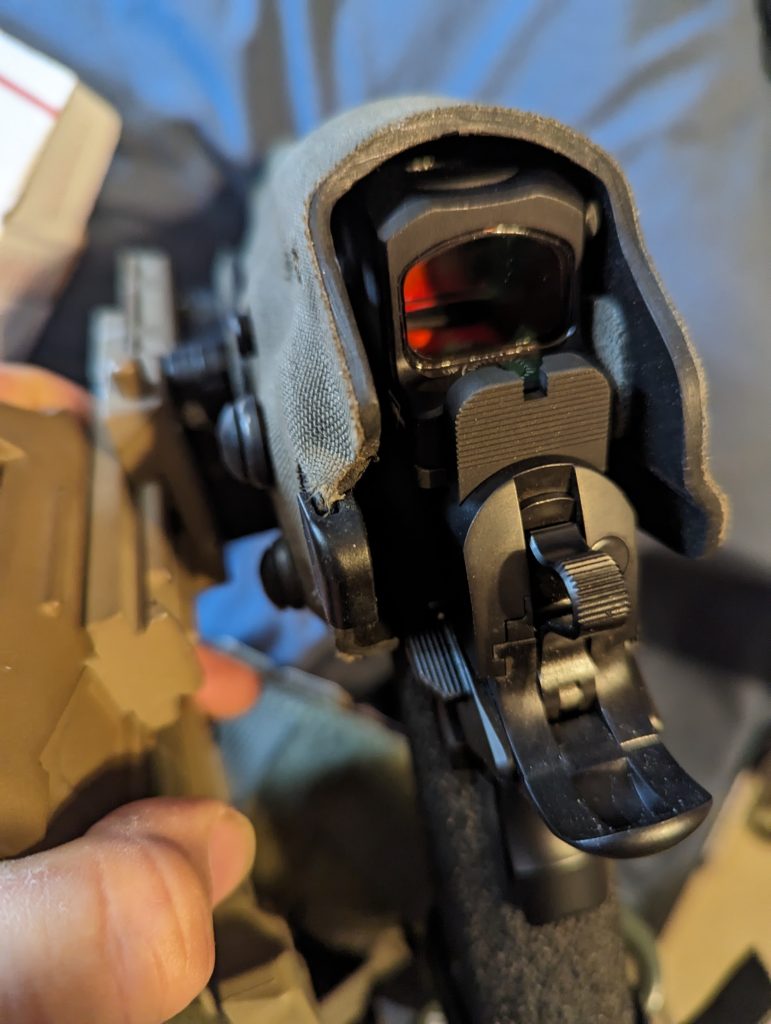 There's some forward and back play in it when the Darkfighter is in there, but not enough to hang up my draw or defeat the retention. The Gunfighter + RCR fits in there too, a little bit more snugly probably due to the added height of the RCR over the RMR, but also has no clearance issues.
Both guns are secure and draw freely once the ALS is disengaged, same as you'd expect from a purpose built Safariland ALS holster. Again, one holster that works for two guns, it's a win for me. I have no idea why Safariland is dragging ass on getting factory 2011/1911 + WML + MRDS holsters out while everyone else has managed to figure it out, but if you're a lawman who's thinking of rocking either the Gunfighter or Darkfighter as your sidearm and you can't wait on Safariland, RDR Gear's got you covered.
If you can't swing the 8-12 week lead time (mine took 13 weeks), word on the street is the gang over at US Duty Gear (ex Safariland guys making Safariland comparable duty holsters) are dropping their 2011 holsters sooner than later. We'll see how long that takes.
PEDIGREE & QUALIFICATIONS
Let's talk about qualifiers and pedigree, since I know there are those in the audience thinking "Who's Steve Huff? What's Accuracy X?"
It's extremely likely that this is the first time the majority of you have even heard of Accuracy X; In truth, this is actually their formal debut into the "Tactical" side of the commercial industry. They've flown under the radar primarily catering to the Competitive side of the house, but they're well known among professionals no less. Until now, they've been the best kept secret in 2011s; Steve's been making 2011s since well before 2011s were cool.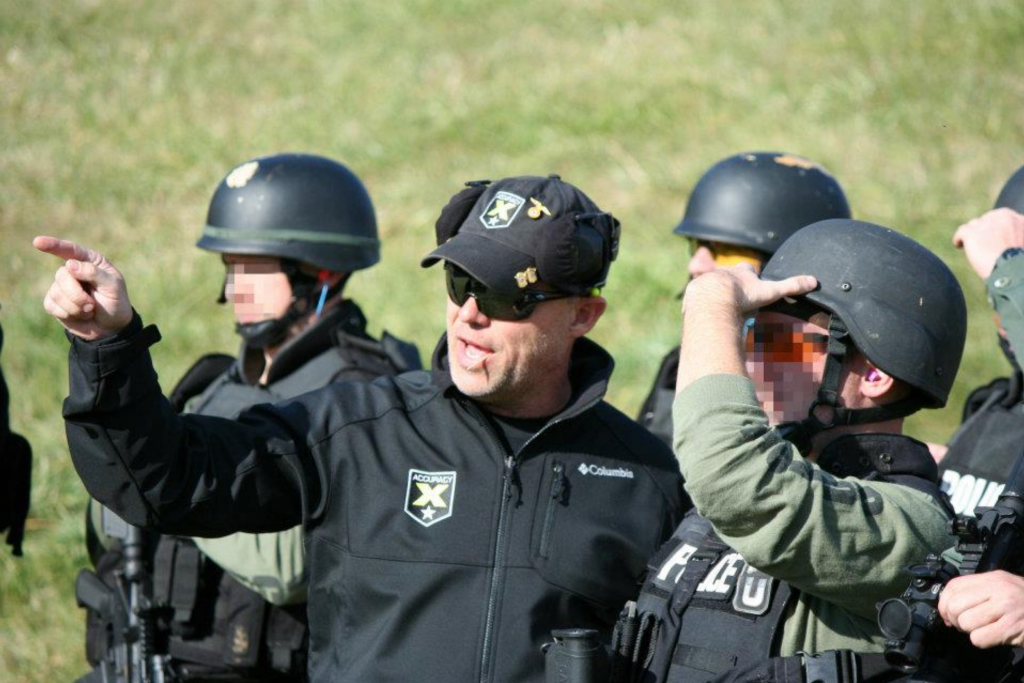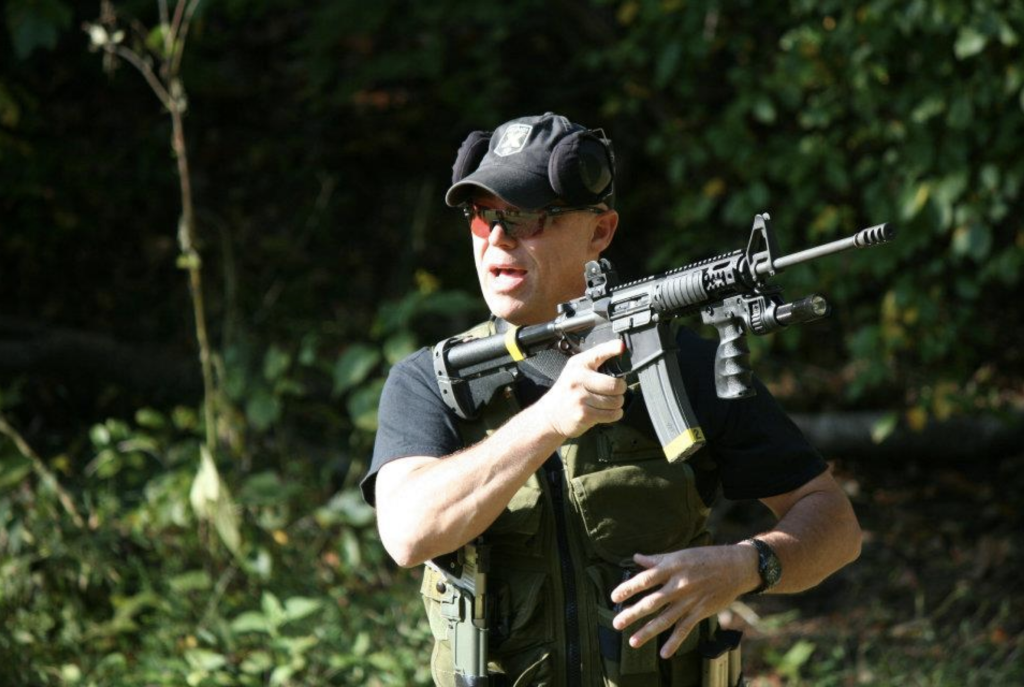 He's trained and trained with elite LE & .mil in the country for years, to include the likes of FBI HRT, State SWAT teams, and SOF personnel. He doesn't make a show of it though; not unlike said personnel, Steve is a silent professional, and from that same era, now bygone in a time of bragging rights and juvenile flex offs.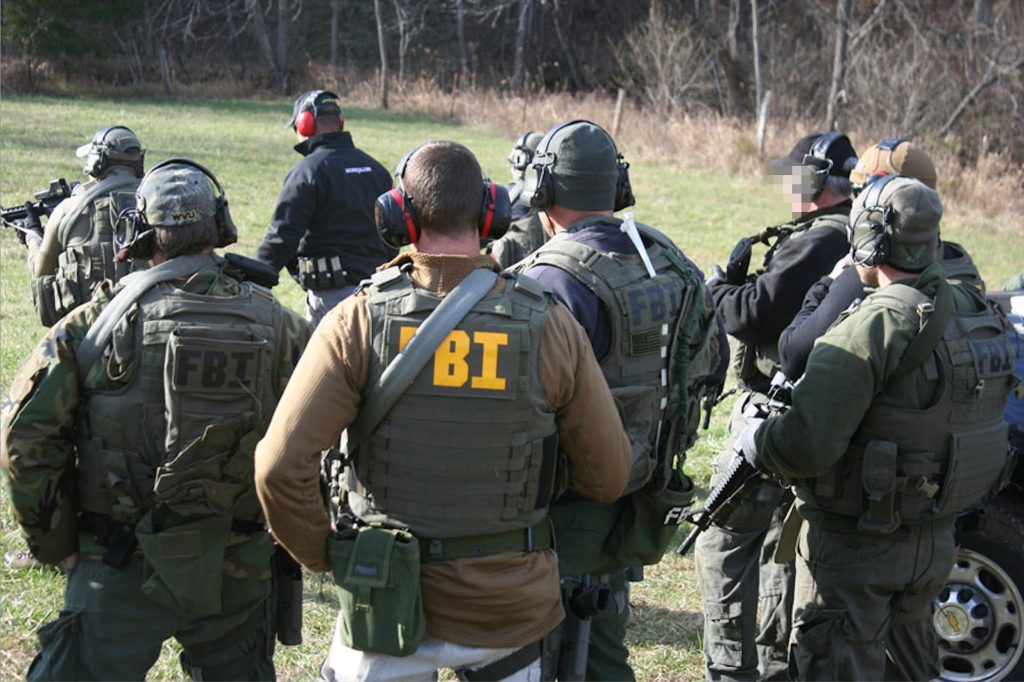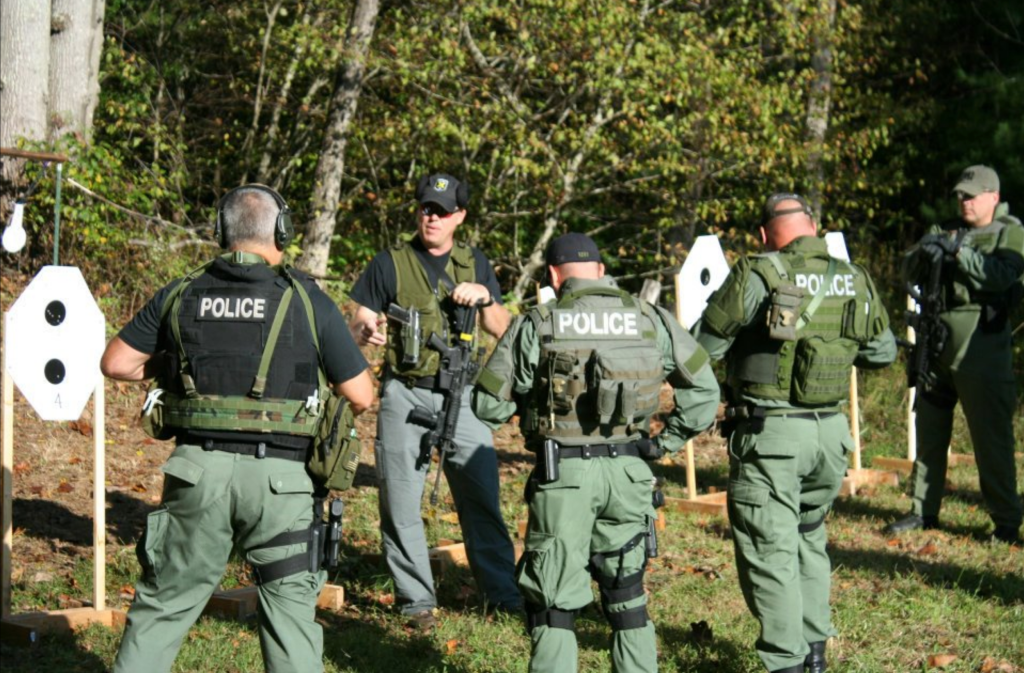 But because I know the tendency of the "gun community" to question and challenge the credibility of anything or anyone they encounter that confronts them in their minds and self esteem with the notion that they don't actually know everything they think they know, I asked Steve what his background and bonafides were anyway. In his own words:
"I am fortunate to have been involved with, and influenced by some of the best gunsmiths of a generation. Many of whose names are not commonly known.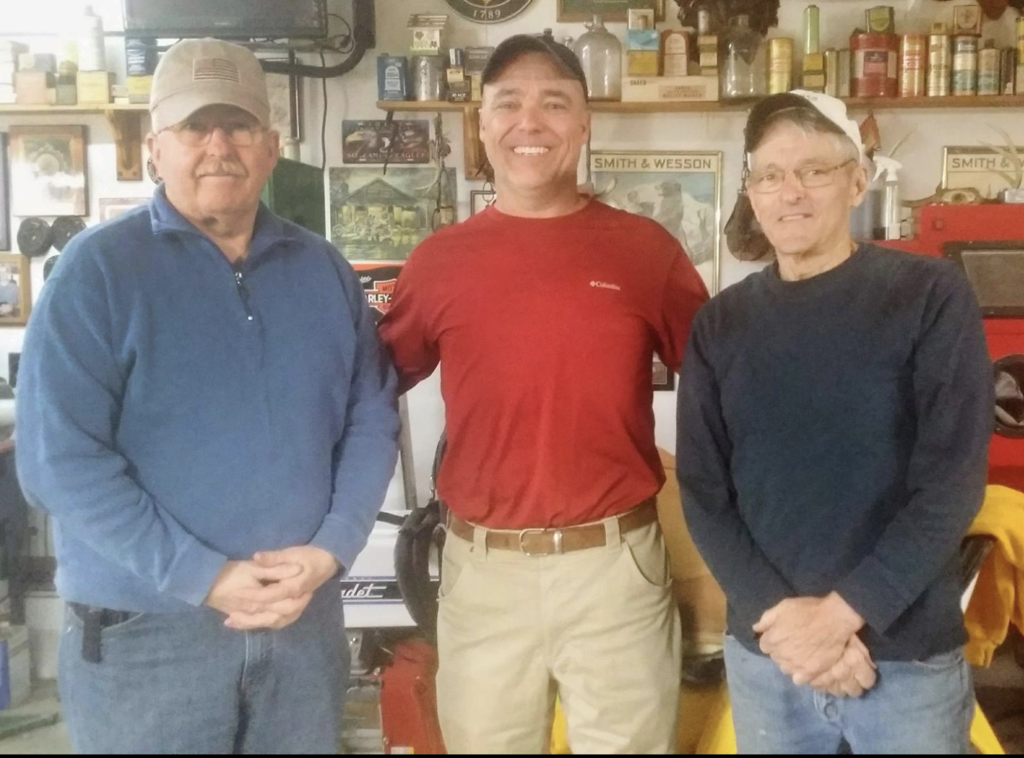 I have worked with several excellent Marine Corps "2112" armors who come from the Mike Curtis gunsmithing tree. Mike Curtis is a friend of mine and an absolute legend in the Bullseye shooting world. I too was fortunate to include Jerry Keefer as a friend. Jerry was another legendary accuracy/precision gunsmith who is sorely missed.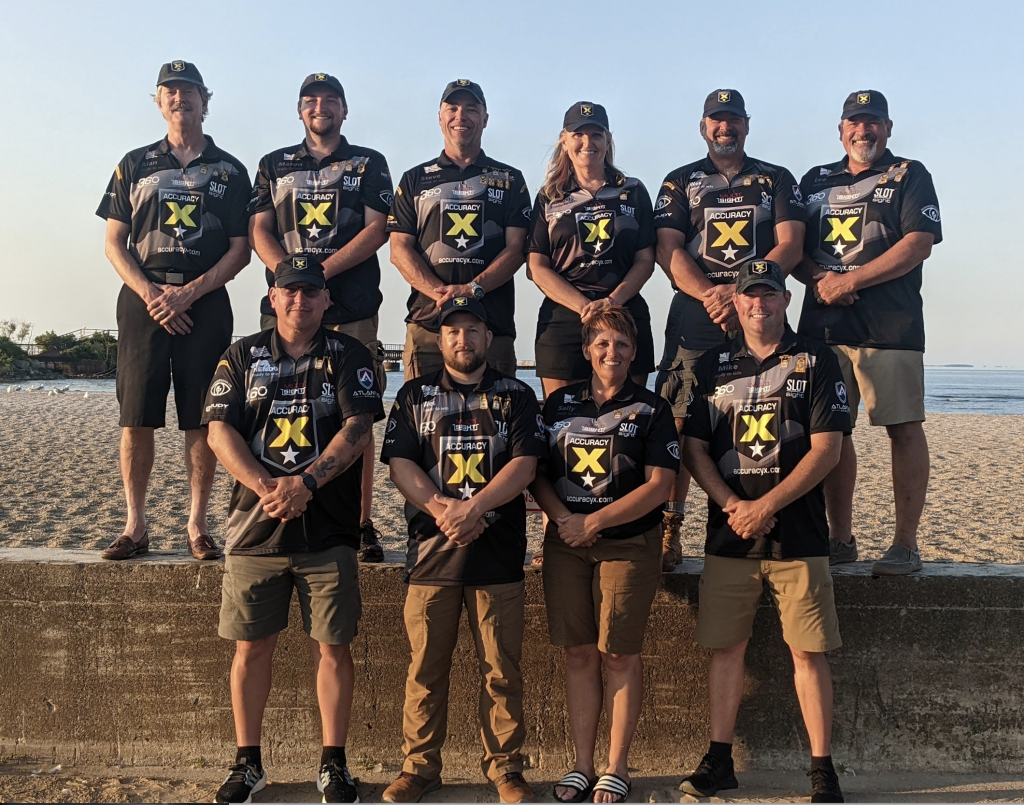 Over the years I've had close ties with the Army Marksmanship Unit and the Armorers there; they build some of the world's finest precision firearms at their shop at Fort Benning. The Accuracy X shooting team is a proverbial who's who of some of the best shooters walking the planet, with several members on the team having previously competed with the Army Marksmanship Unit. The collective accomplishments of the team are too numerous to account here, but it suffices to say this group has a collection of National titles, National records and International shooting accomplishments and wins that is truly impressive.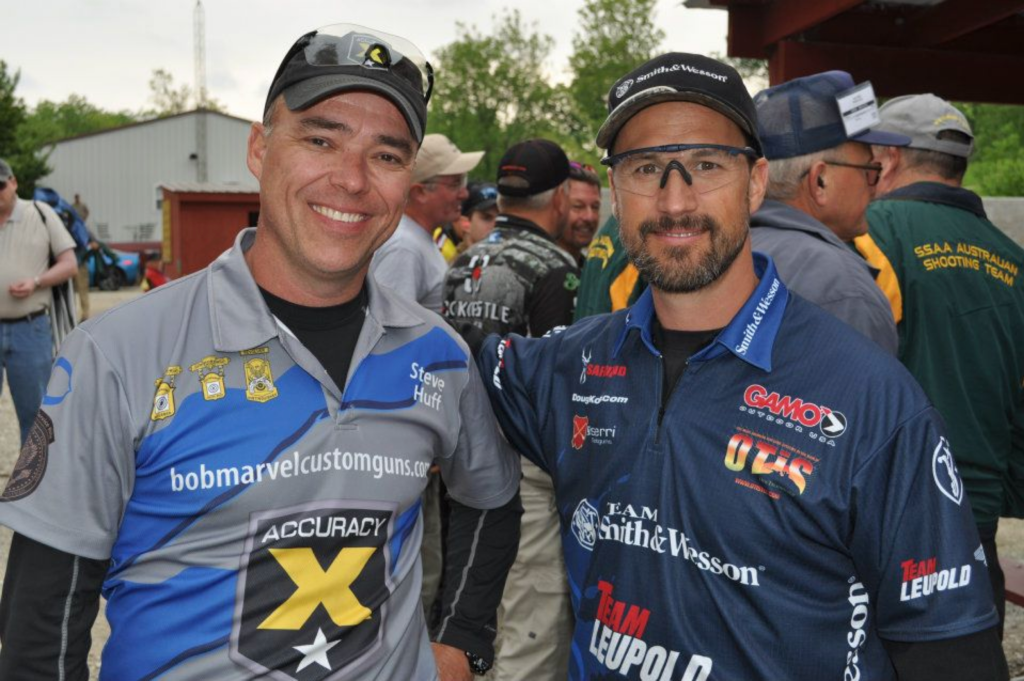 In the early 2000s I represented and shot competitively for Marvel Custom, having represented Marvel Custom in Bullseye and Action Pistol competitive shooting events. I won some big matches shooting for Bob. For years, Bob encouraged me to begin building guns. I used to joke with Bob, and tell him that "I was an un-loader, not a re-loader. I was a gun shooter, not a gun builder." I told him it was his job to build the guns. 
Bob believed I would be a force to be reckoned with if I would combine my education & professional background along with my success and experience as a high level competition shooter into building custom guns. He was very persistent and after years of encouragement, I finally relinquished and took his advice.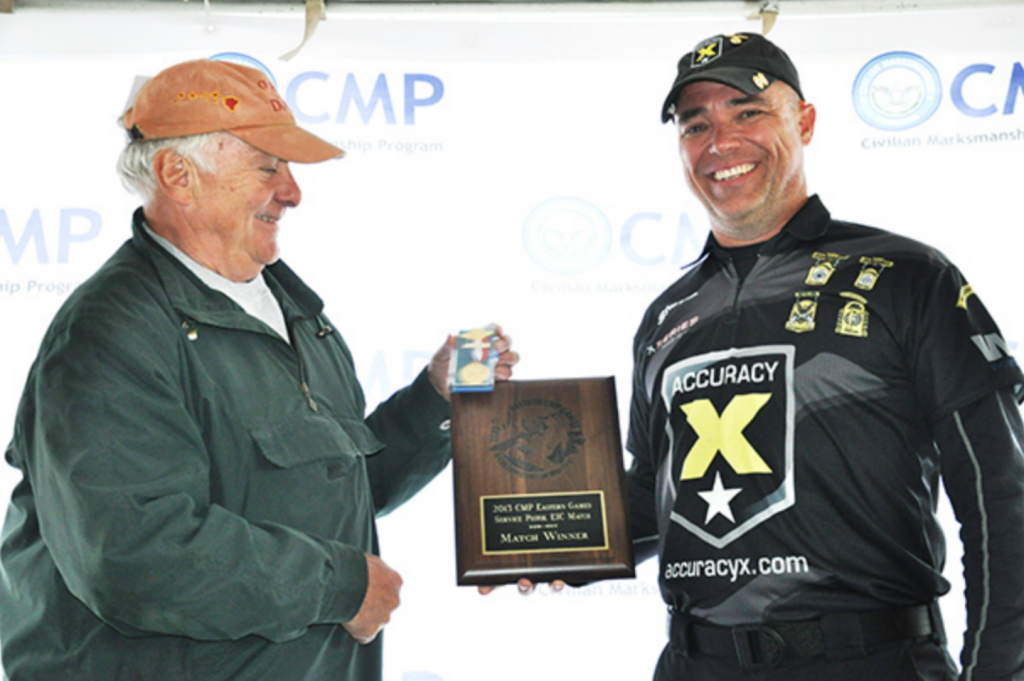 I suppose time has shown that Bob Marvel was correct, as Accuracy X has carved out a niche of building the world's most proven and accurate firearms, as well as being an innovator of some revolutionary products for the market.
My desire to blend my passion for firearms, training and competitive shooting with my experiences throughout my professional career, were key elements that lead me to starting the company back in 2010.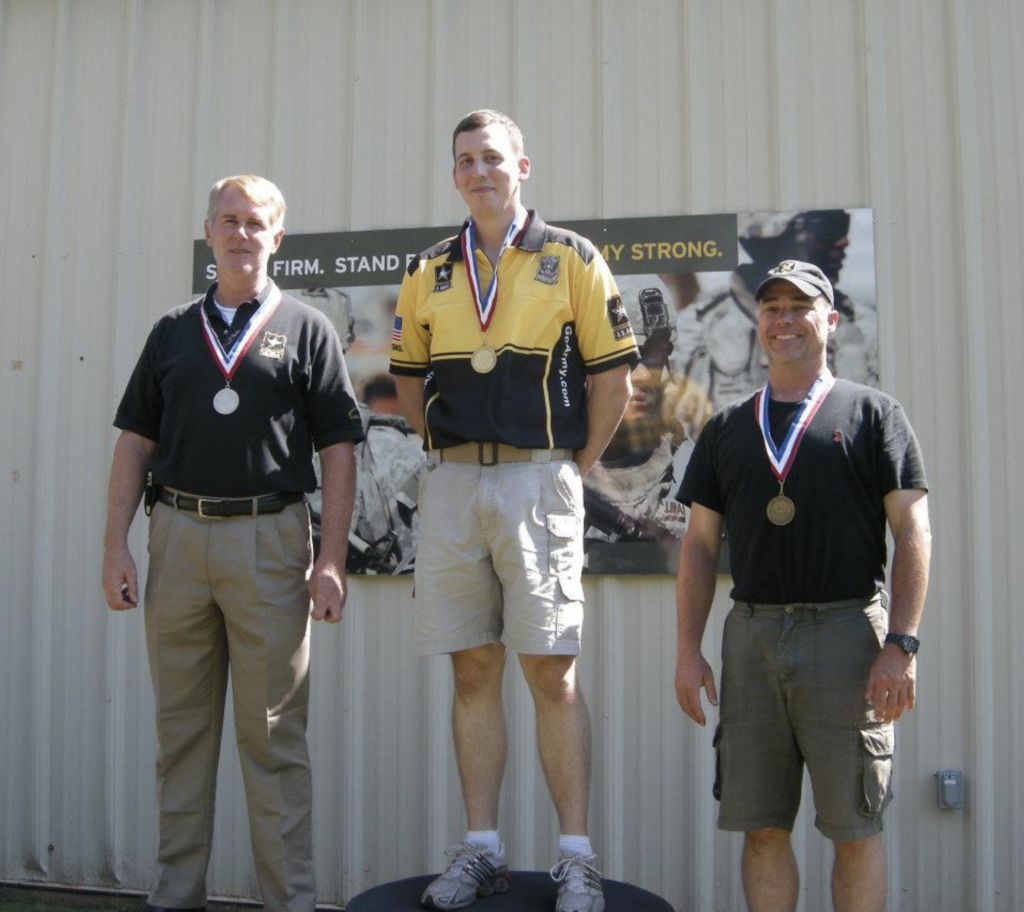 As I mentioned, I'm fortunate to have been successful in several professional ventures in my career. My having a strong background in design, engineering, manufacturing and machining are a few of the things that lent themselves to starting up Accuracy X, Inc. Those experiences along with my desire to create a business that could employ people close to me that I cared about was the initial genesis for creating Accuracy X.
In fact, creating Accuracy X allowed me to leverage all of my experience in many different areas into one focused entity. Looking back I realize I had been learning, training and mastering all the skills that would be needed to start and run this company.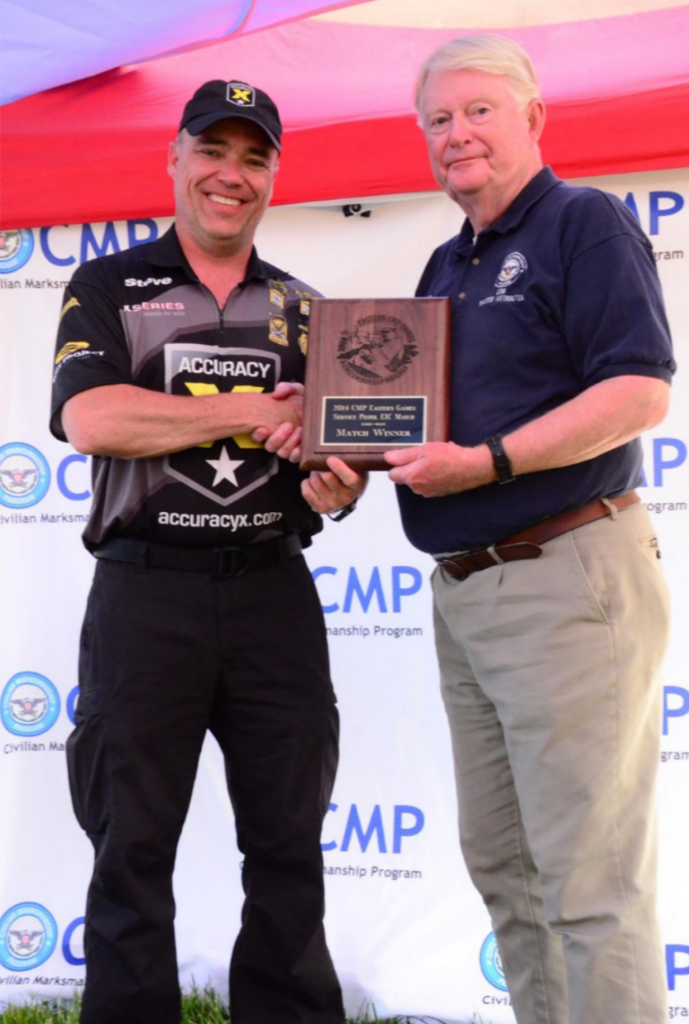 When we first started, our products were focused only on the precision 1911 platform. But we soon expanded to the 2011 platform and precision bolt rifles soon after. It didn't take long for the reputation of our products to spread across all the competitive shooting sports. We do builds for nearly all the different types of competition shooting events now. We also have a loyal following of folks who work for a living using their weapon. It doesn't matter if you're a competitive sport shooter or an operator who relies on his weapon for work, people seek out quality and the highest level of performance. Word gets around.
We are proud of the winning reputation that Accuracy X products has earned over the years. The best shooters in the world seek us out because they want to win. We want to win too! Our competitive drive to win is what motivates us to always be the best.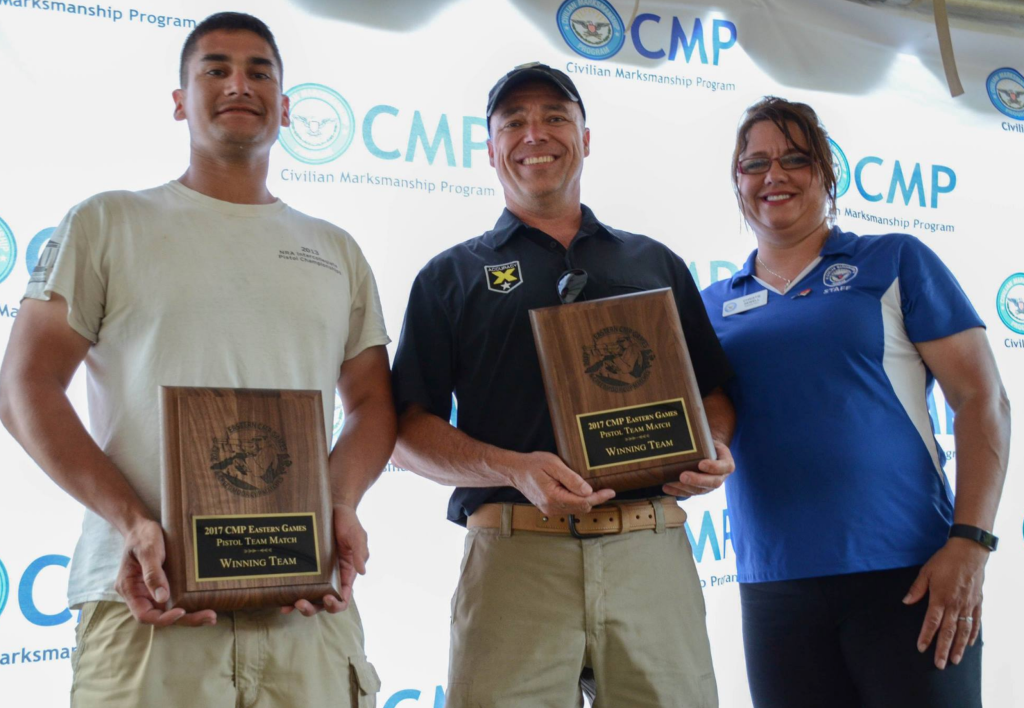 Our company is always striving to find better, smarter ways to build a superior product. Our full commitment to always testing our product in a transparent way is part of that ethos. Our testing is not just to prove to the customer what the performance levels of our guns are, it is also for us to continue pushing the envelope on making our products better. We always try to keep an ear open to our customers' feedback. 
Our patented Multi-Sight™ sighting system was the result of a customer complaining to us that he wished someone would come up with a system that would allow one gun to be able to do multiple jobs. Our new line of Accuracy X Enhanced striker fire builds was also a result of customers feedback. Customers who love the striker fire platform told us they wanted to be able to enjoy the key Accuracy X attributes (accuracy, performance and versatility of our 1911/2011 builds), but in the striker fire platform they preferred. So we set about changing the game for the performance level and capabilities of striker-fire pistols. (Author's Note: That is correct, AXI does Glocks now too with an MSS of its own, and all of the aforementioned SLOT-Sight™ components are compatible with them).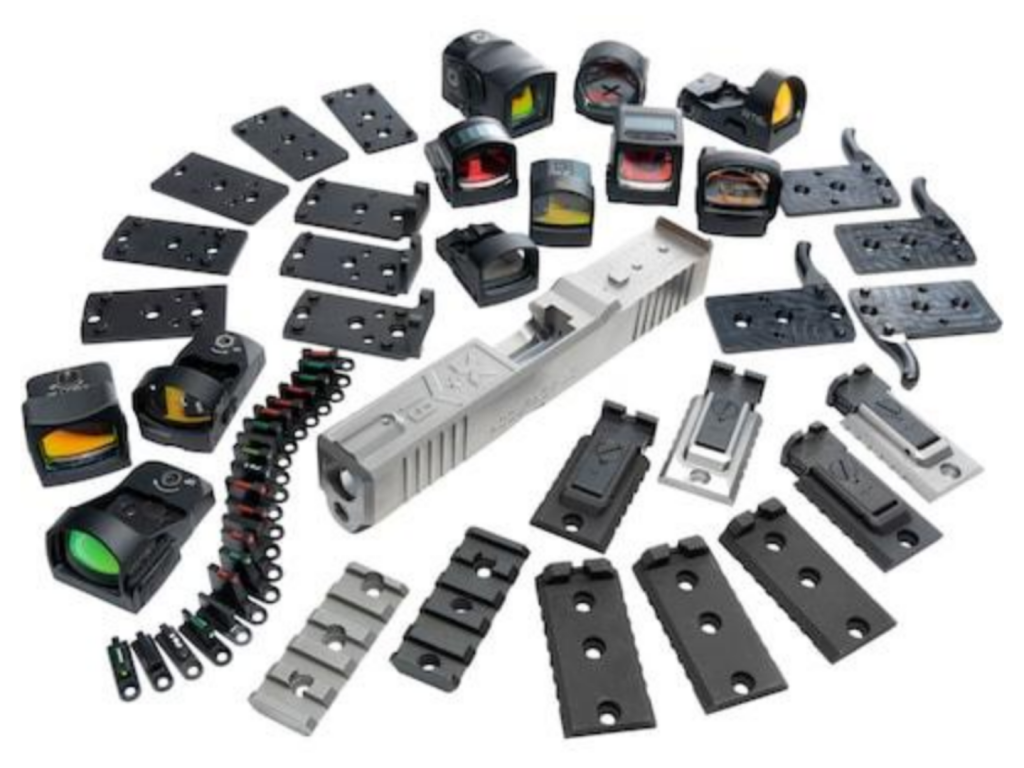 I also wanted to build a company with a culture the way I thought it should be done. We work very hard at Accuracy X. We put in long hours and we work almost every weekend. Hard work is good. It is the American way. But it should not be drudgery. 
It's important to me as the owner and president of the company to create a place that my people want to come and spend time at. Not just so they can make money, but a place they truly enjoy and want to be a part of. You still have to make room for fun. So it is not uncommon for me to walk into the shop at any given moment and tell everyone to grab their ball glove. We'll go outside and throw a baseball around for 30 minutes or so just to take a little break. What we do is very intense. It takes a lot of concentration and focus. It can be a high stress environment. Sometimes you just need to take a break to hit the reset button. I want my folks to look forward to Monday mornings, not dread them.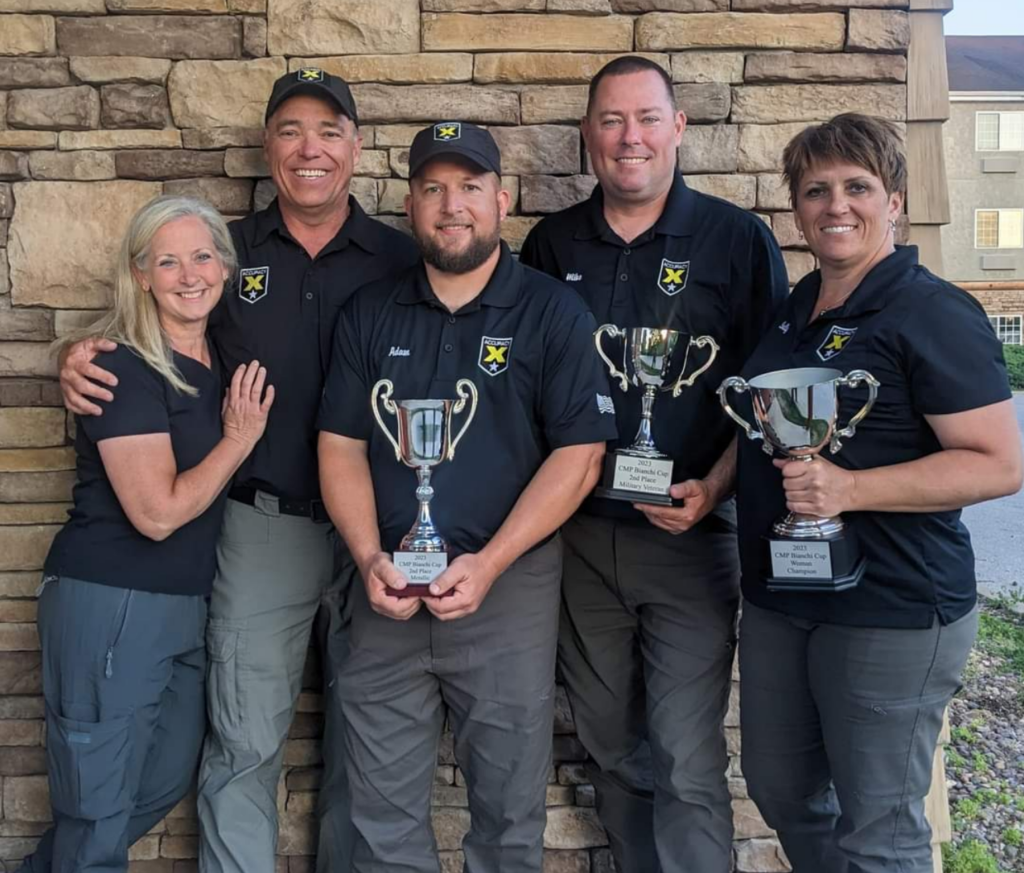 Any business owner will tell you that it is not easy running a company. I had a friend tell me one time a guy he used to work for told him once that he made a thousand decisions a month just to ensure that his employees had a job. That statement stayed with me because it was so true.
For the most part at Accuracy X, we make all of our decisions through the prism of "what would I want if I was the customer". So I came up with a little saying that we use to keep us focused on what matters. "We do what we say, when we say, how we say."  No surprises for the customer. If we do that then the customer has very little room to be dissatisfied. In fact I believe we have the very best customers in the business. They become our friends. It's a very cool thing.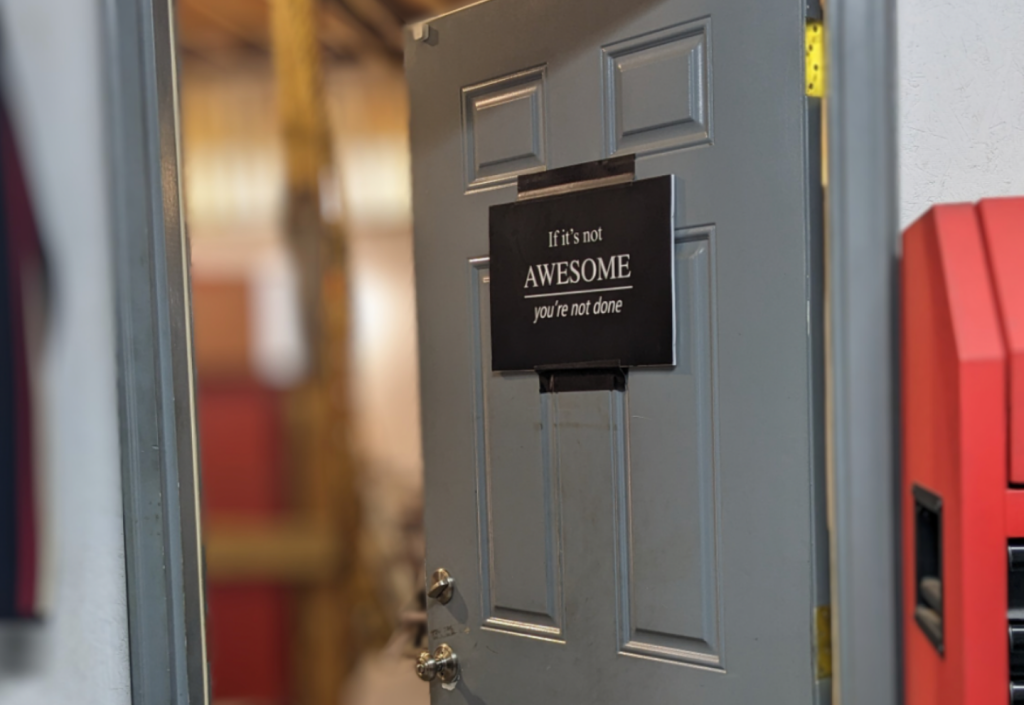 On the shop door there is a sign that I put up there on day one. If we had a mission statement, this would be it. The sign says "If it's not AWESOME, you're not done."
That sign greets us each day. It is a reminder of why Accuracy X is different. It reminds us that we are lucky to be doing what we do. It reminds us to always keep striving for that goal of perfection."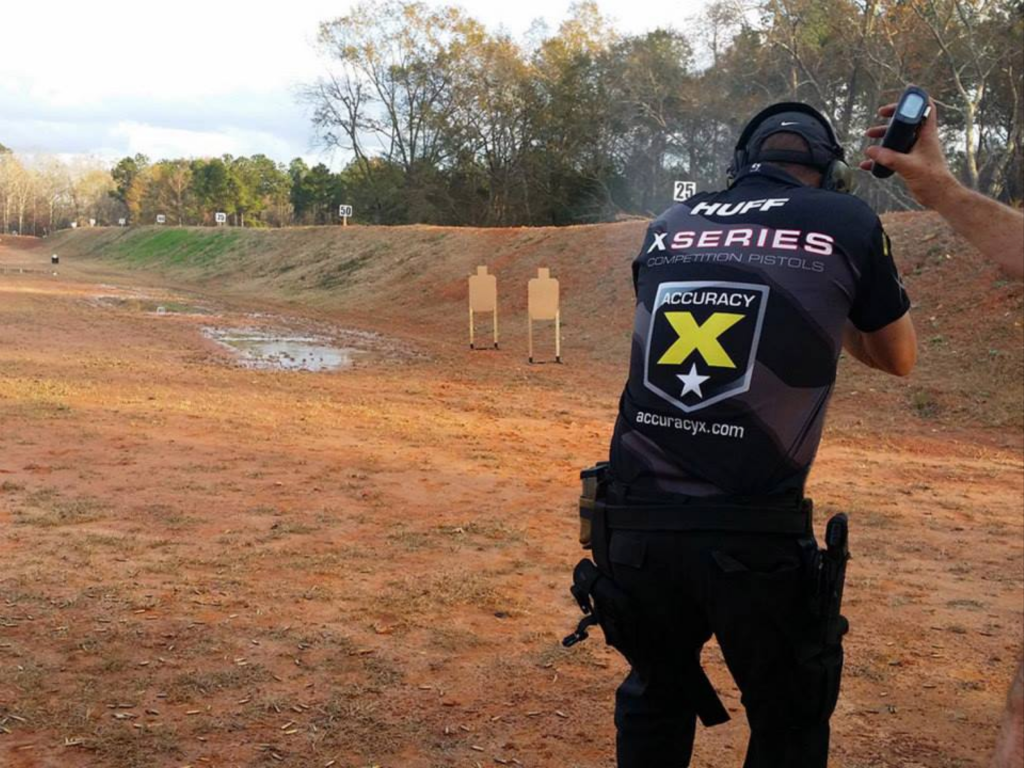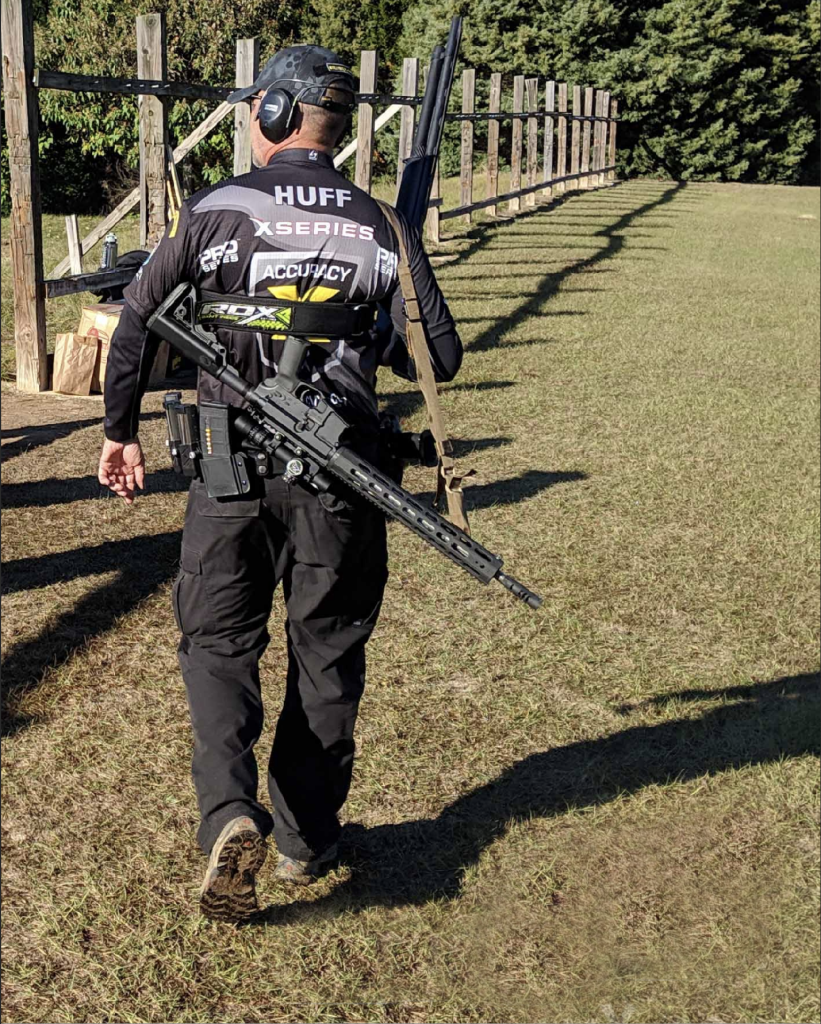 As a shooter, Steve Huff's accolades include:
Being the only seven (7) time Distinguished Shooter, holding the Rifle, Pistol, 22 EIC, Revolver, Production, Metallic and Open badges; That's where that "7x" in his signature comes from.
President's 100 Tab recipient for Rifle & Pistol
National, State, Regional, and Zone Championship victories
Several National records across multiple disciplines
High Master classifications in several CMP & NRA shooting disciplines, to include Precision Bullseye, Action Pistol, and Service Rifle.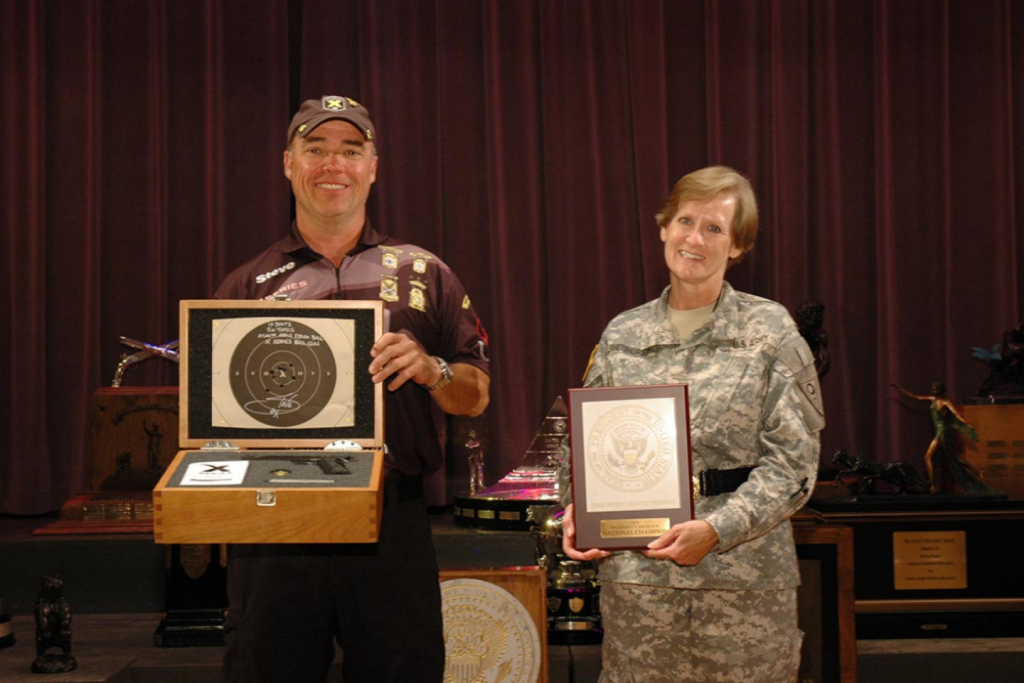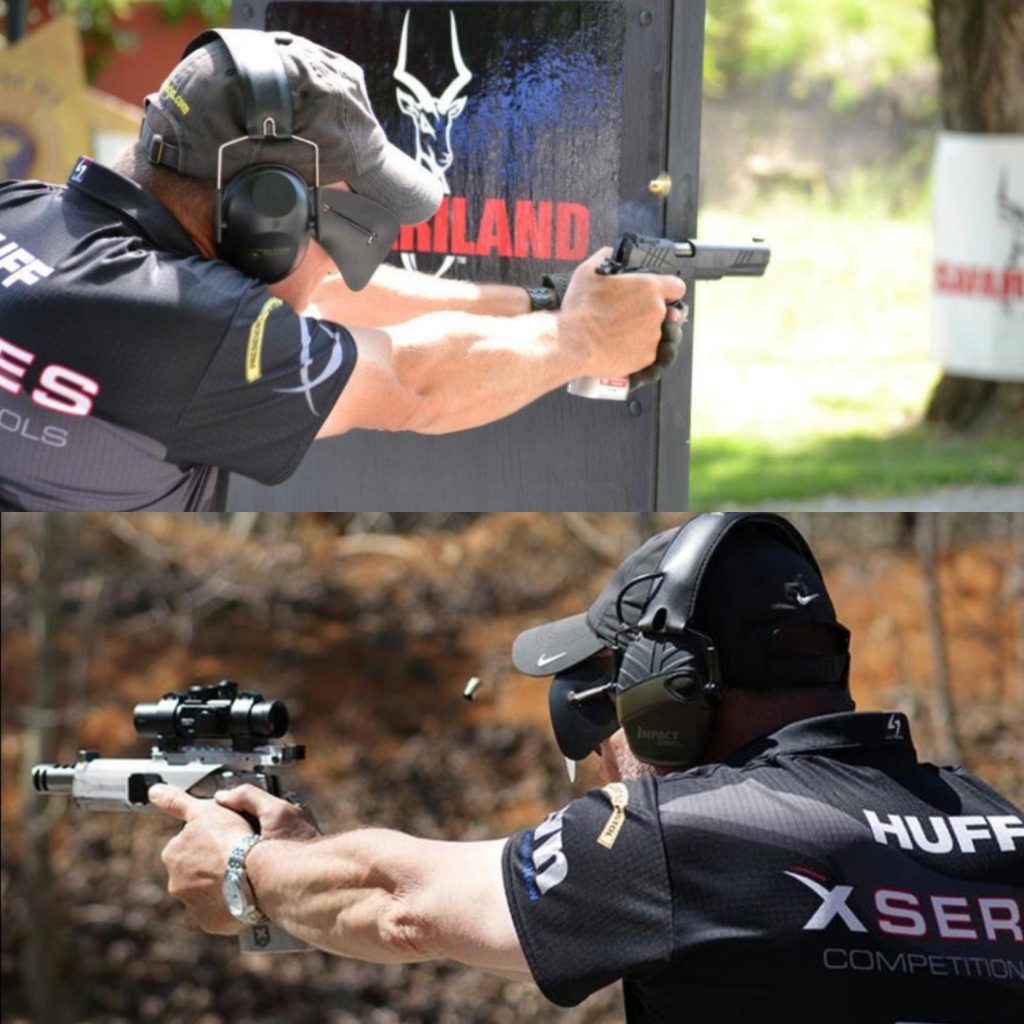 Suffice it to say, if the guy's Practiscore is what you were concerned with, you're still in amateur hour and not remotely in his league or on his radar. All you need to know is, the guy that runs the company and makes the guns can actually shoot and compete with the guns, and he's been in the game since the 1990s. He doesn't talk shit cause people's opinions don't concern him, but he could back it up if he did. Remember that next time somebody wants to pop off on the gram for a dopamine hit.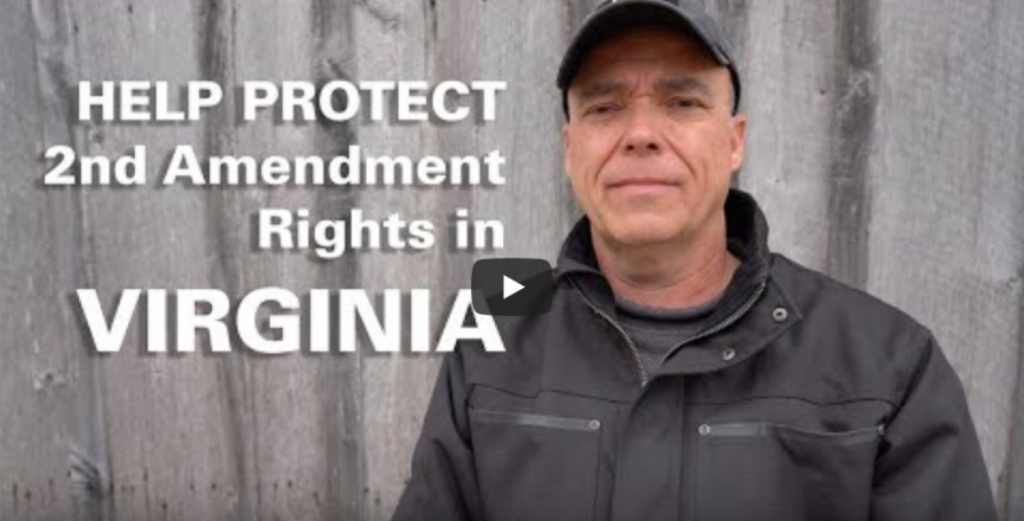 Here we've reached the end. By now you're wondering how much these things cost and whether or not they're the right product for you. I'm convinced that Accuracy X's wares are already the winning choice that you'll have to invent a reason to talk yourself out of choosing.
In a market some would consider saturated with 2011s, Steve and I decided to do things the American way: offering something better. All things considered, it's my unqualified albeit biased opinion that you cannot find a better shooting 2011 style pistol with the level of modularity and customization in the turnaround time that Accuracy X stands to offer, and all of that is proven; The data is there. The targets are there. The videos are there. They don't lie, we certainly have no reason to either. I'll ask you again; how many other 2011 manufacturers put up their wares for all to see what they're truly made of?
Sure, you'll pay more for an Accuracy X than one of the cookie cutter mass produced options on the market… but you'll also GET more than any of those mass produced options; confidence in your equipment's capability chiefly among that. You can reason that one of those lesser options are "good enough," but you know how we feel about good enough and likewise excuses.
That being said, they aren't nearly as cost prohibitive or exorbitantly priced as some custom 1911/2011s out there, either. Weighing the pricing against the features, the quality, and the reliability, what Accuracy X has to offer here is Goldilocks compared to the alternatives on the market; their first dedicated take on guns you'd bring to a gunfight.
The thing is, we understand: If you're a guy that thinks the mass produced and cost effective alternatives out there are good enough, then these aren't meant for you. These aren't marketed to the casual hobbyist variety of gun owner that likes to sample and flip guns as new stuff comes out and say "just as good" or talk about their "use case"; these are legacy grade hardware built for more refined, dedicated, and experienced shooters that know what they want and intend to commit to the mastery of that tool; who want dependable hardware that will outlast them, that they can pass down when they're ready to hang it up after having wielded them for years.
And all of that to say nothing of the level and quality of support you'll get from Accuracy X, usually from Steve directly if he's available. Any question or concern or curiosity I've ever had about the Gunfighter and Darkfighter builds, he was happy to answer when he had the time, which is surprisingly more than I'd expect for a guy with everything he has on his plate. 
I count Steve among a short list of friends in the industry that I actually look forward to hearing from when he can come around, which to me is better than a guy who awkwardly follows you around social media acting like you've been best buds for years just because you bought one of his guns. Steve's a friend with a ridiculous amount of knowledge and experience that can be reliably called upon, a quality reflected in the craftsmanship of his pistols, exemplary of the standard we set.
We are the TASKER Network, and this is Lightfighter. We want the best, for ourselves and for you, and so we shall have it; and here we do.
Have you ever wanted a highly customized, highly performing 2011 without any of the baggage, fleas, or bad press that comes with them elsewhere? Look no further. Turnaround time as of this writing is 6-8 months. You can find product info and pricing details at the links below.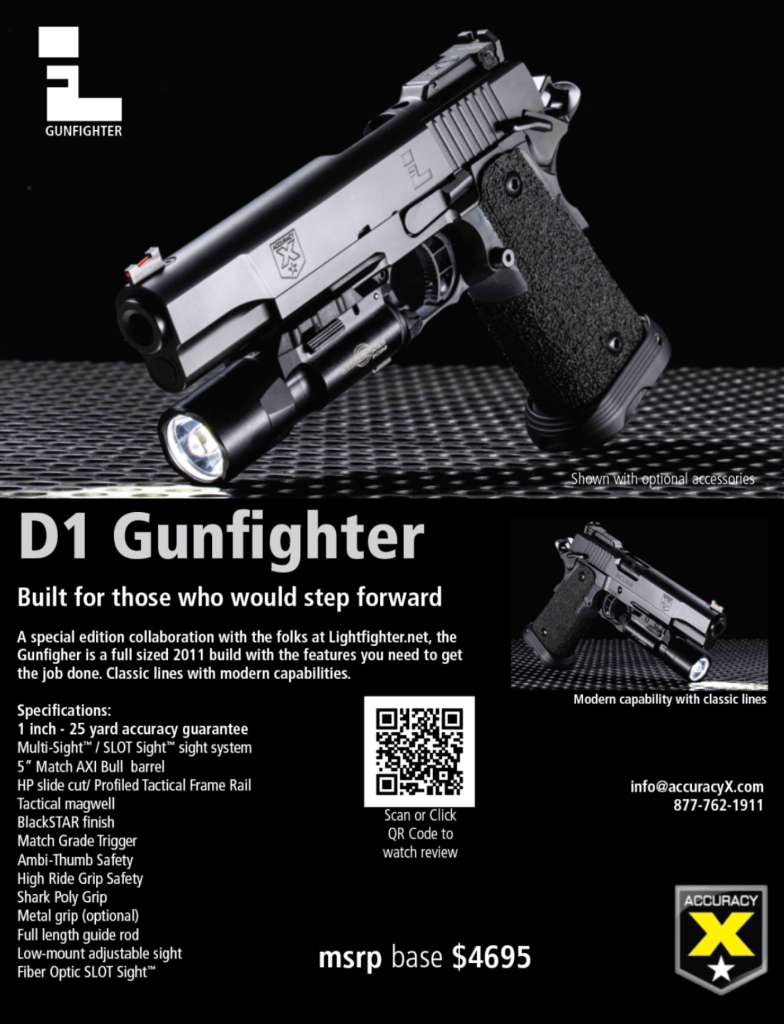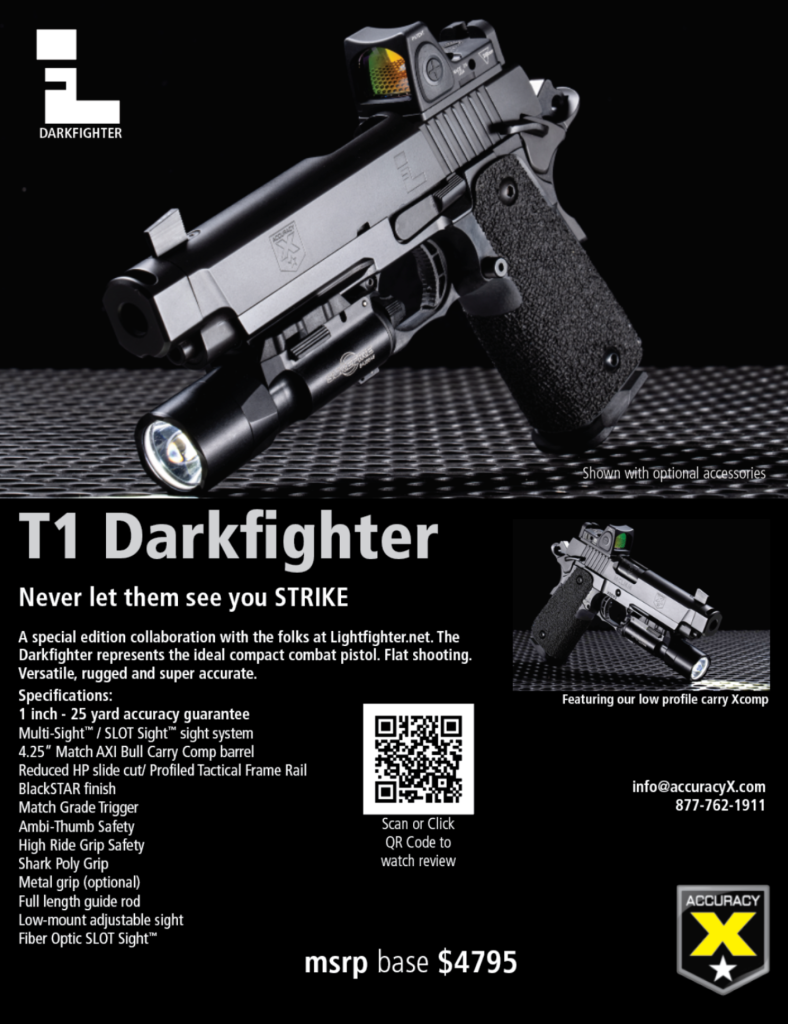 Stay Dangerous.
Stay in this L.A.N.E.
Hold 'em hard.
Execute.