Author: Frank Woods
I had a lot of walking and talking to do at SHOT this year, and along the way I stopped and took pictures of things that were interesting enough for me to stop and ask questions about, either stemming from my own curiosity or because a bunch of people were asking and unsure, and I wanted to set the record straight. 
Let's get right to it.
EOtech: OGL
Looked a little bit bigger than an NGAL but smaller than a PEQ-15/LA-5

VCSEL emitters: Yes ✅

Price: Somewhere in the 2-3K range for Full Power unit, pending

Commercial Release ETA: Unknown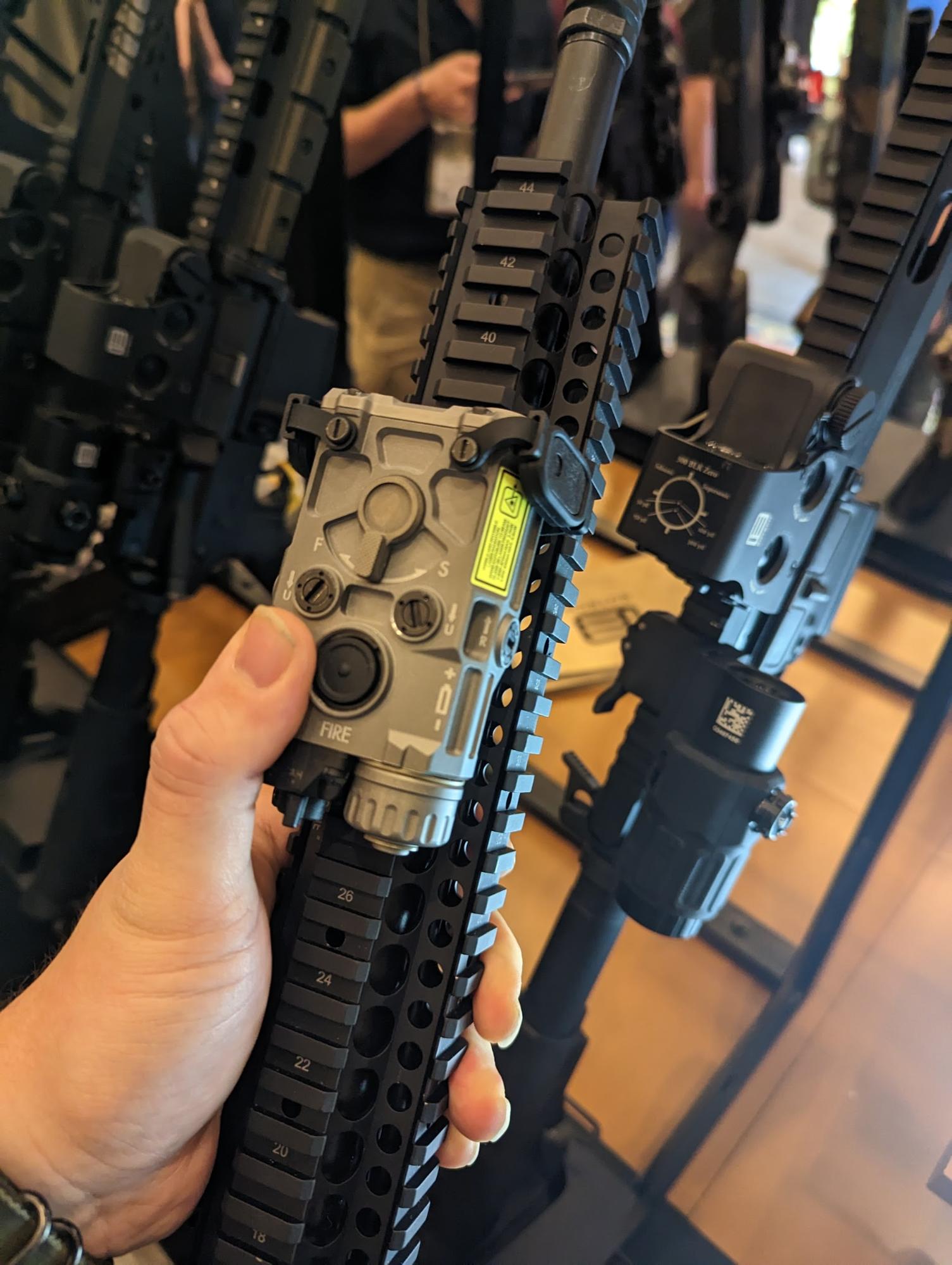 Maxim Defense: PDX-SD
Hearing Safe 5.56 can @ 138db

Textbook example of a

PDW

when .300BLK

Not too small to fully equip with laser, WML, switch, etc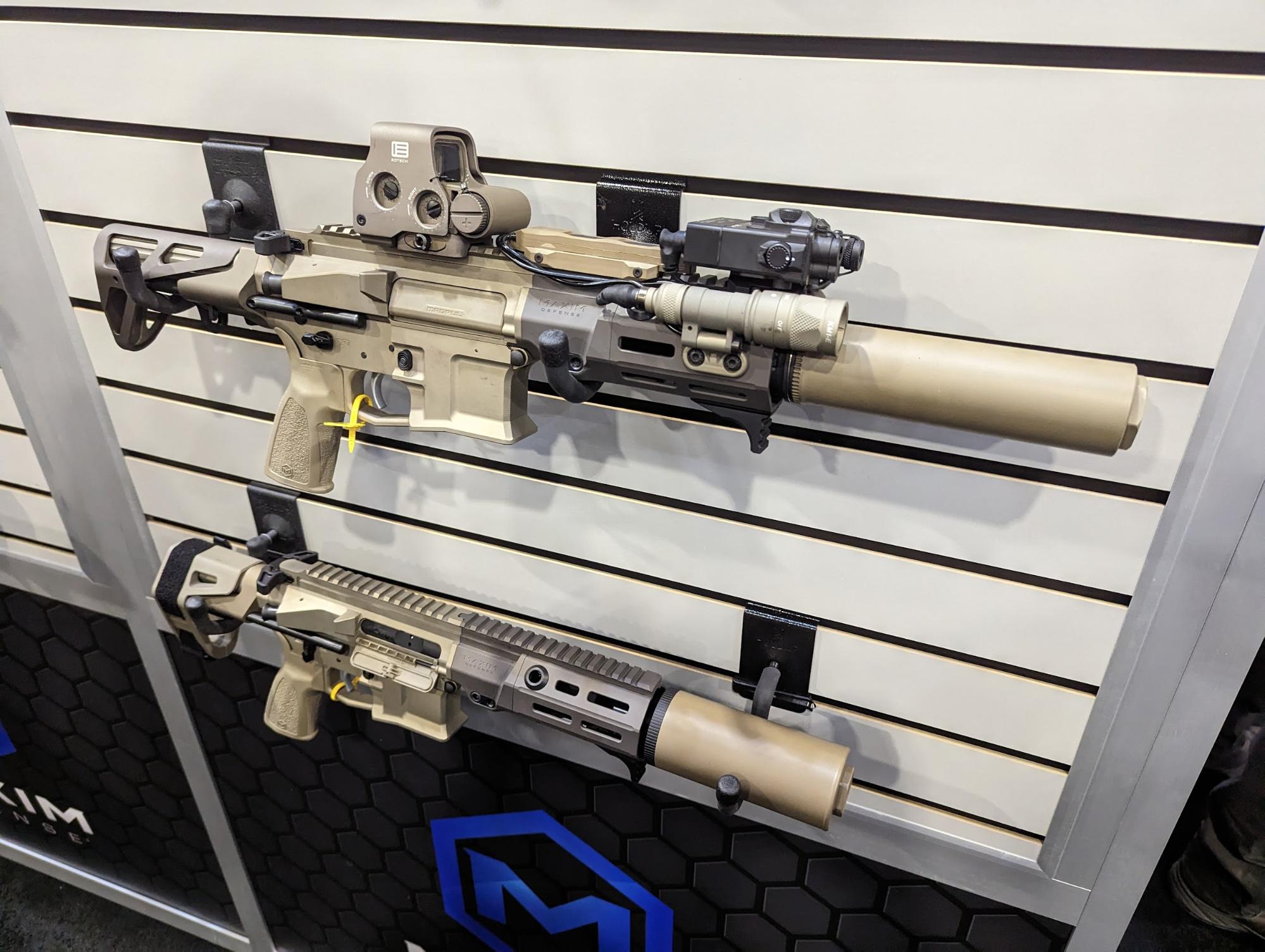 Glock: G47 & G49
Going forward, the G47 is replacing the G17. Same performance and dimensions for greater modularity. Should have happened years ago.

Includes new performance trigger

G49 is the factory "G19L": The G47/G17 length slide on a G19 frame. The G49 was not on display, and the commercial release is unknown, though it has been pictured before (see above). If you already own a Gen 5 G19, drop the G47 slide into the frame and you'll have a G49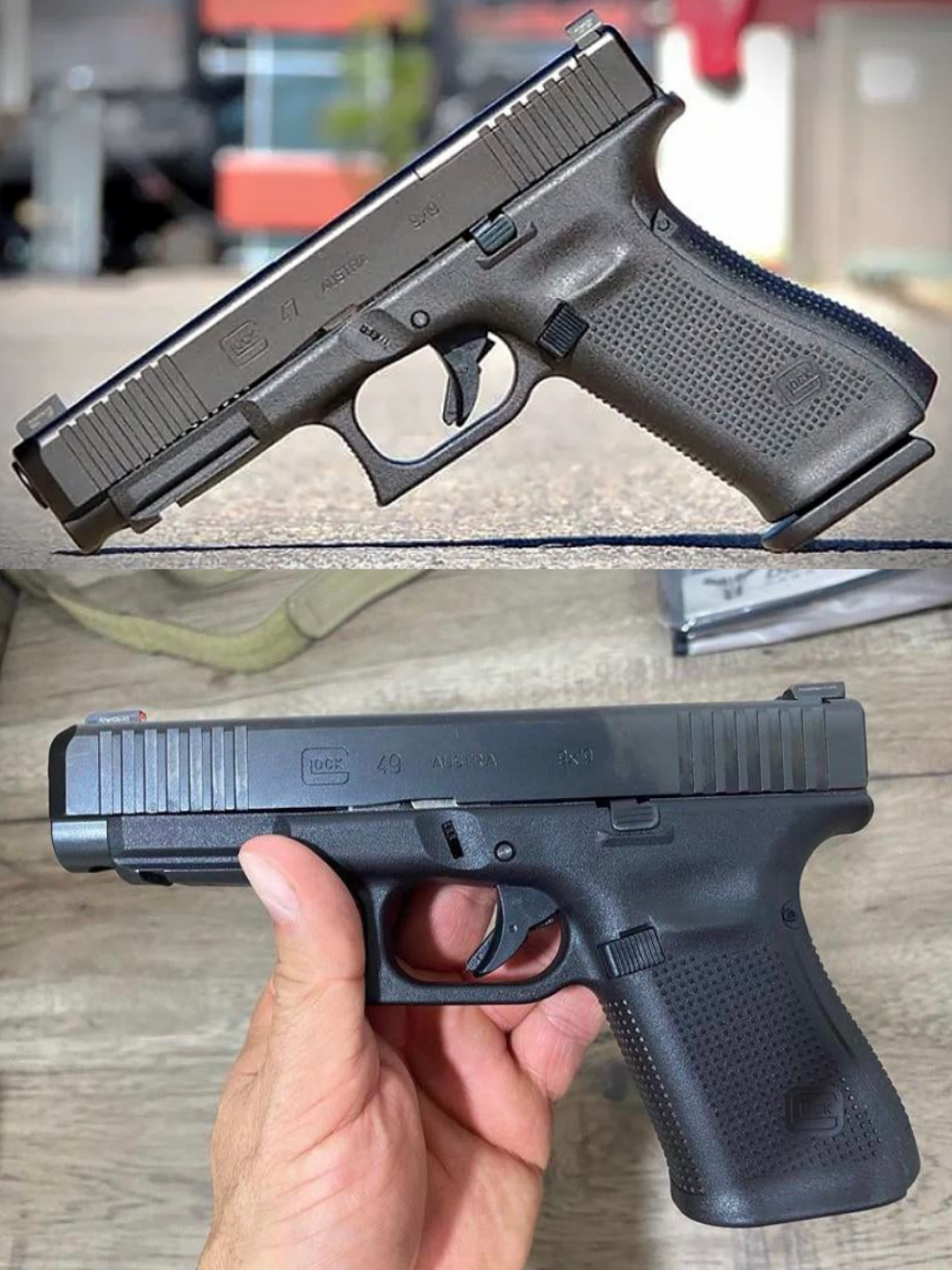 Beretta: 92XI SAO & A300 Ultima Patrol
92XI translates into "9211"; 1911 style Beretta 92 series 

Frame based safety is intuitive and easy to use, crisp single action trigger pull

Everything from the M9A4 in an SAO/1911 style of operation. If you love Beretta M9s and 1911s, this one's all you, especially if you already have a bunch of Beretta M9 mags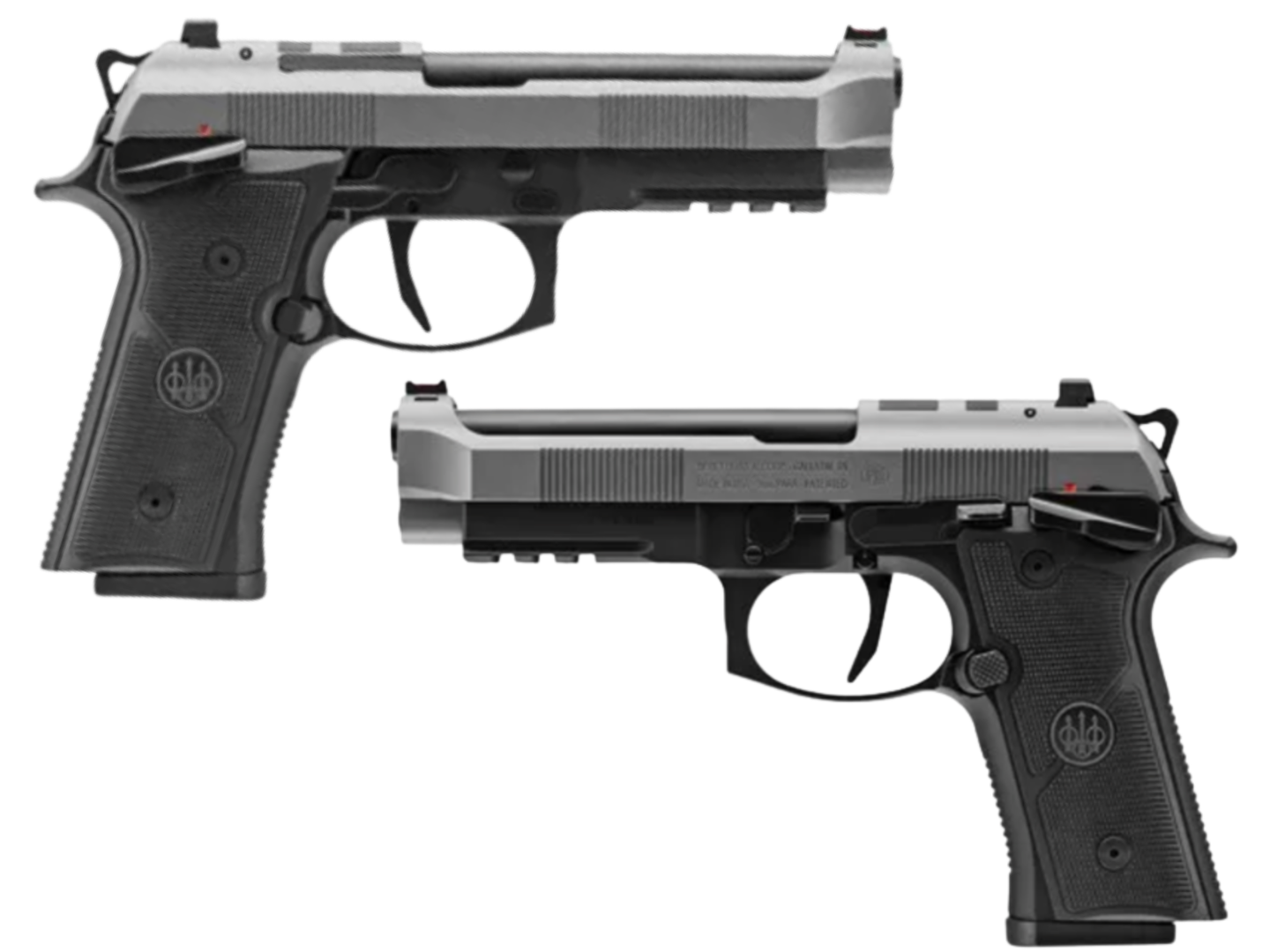 A300 Ultima Patrol; US made solution to 1301
Beretta Italy would only send 10K 1301s a year to the US, despite demand for more; this was developed to supply that demand

Being USA made bypassed 922R compliance requirements

Factored in most aftermarket mods and demands: M-LOK slots in handguard, grippier texture, 1913 optic rail, flared loading well

Accepts chokes

Langdon version in the future

Retails for under 1000, easy buy-in for a rugged semi auto shotgun compared to a Benelli M4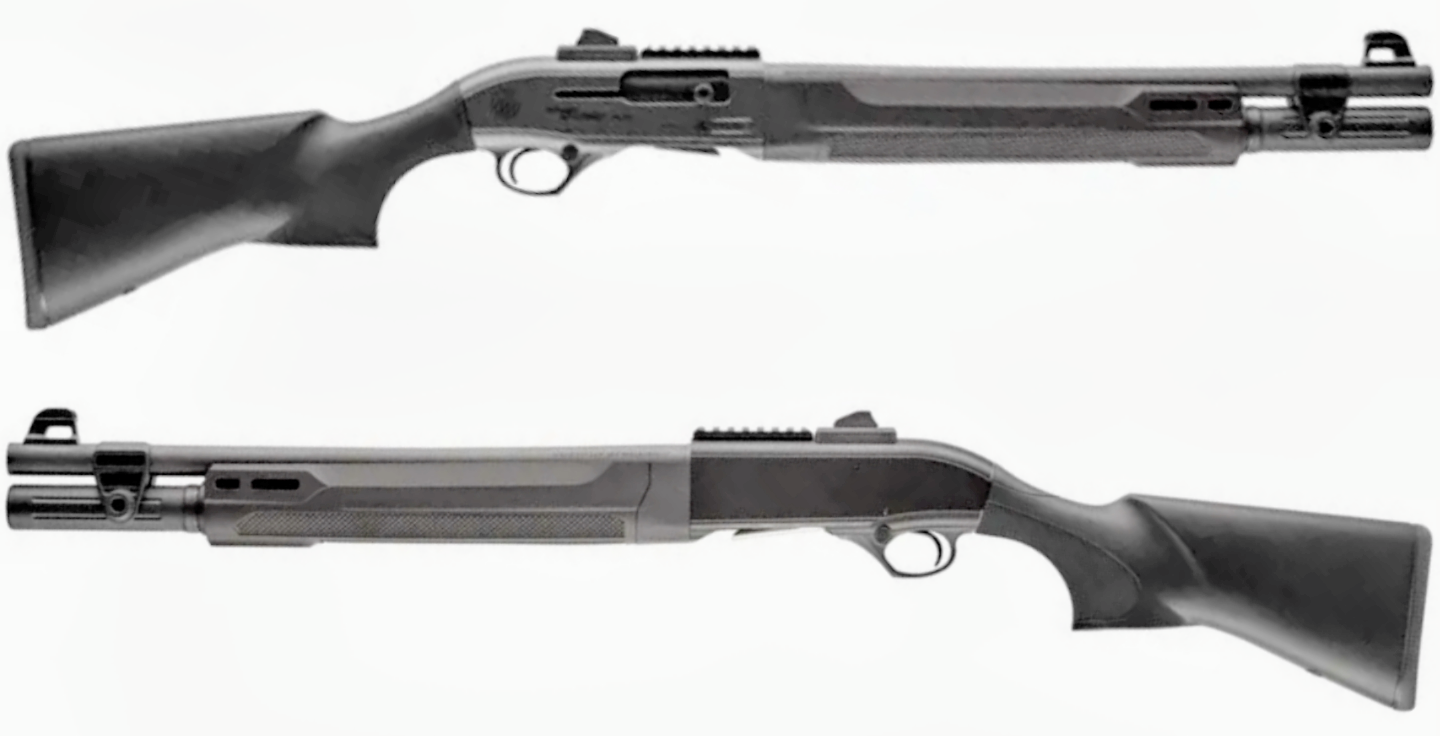 FN: IWS
I got special permission to go hands on with this thing and check it out in person

Lightweight and handy, easy to point

Proprietary mags are

Magpul PMAG Gen M3

type; Stock and Grip are in house/"white label"

Lower is reminiscent of the ACR; AR style safety & mag release, ambi bolt catch/release 

Ambi Charging Handle position lower and more rear set than usual; not hard to use, just takes some getting used to
• It would not surprise me at all if this ended up taking the job of the XM5 (now XM7): Lighter, sleeker, overmatch and armor defeat capable without higher pressure/lesser barrel life ammo, lighter ammo and more rounds per mag (25) and therefore more rounds per soldier than XM7, meaning minor decrease in soldier load for greater effect on target vs M4A1, BIGGEST factor: The Army is already buying the IWS, and it costs less per unit than the XM7. As far as proprietary ammo and mags go: So what? They were already going to do that with the XM7 anyway. End result: Lighter weapon, lighter cost, same effect on target and capability, compared to the XM7. We've seen switcheroos like this before. We'll expand on this later.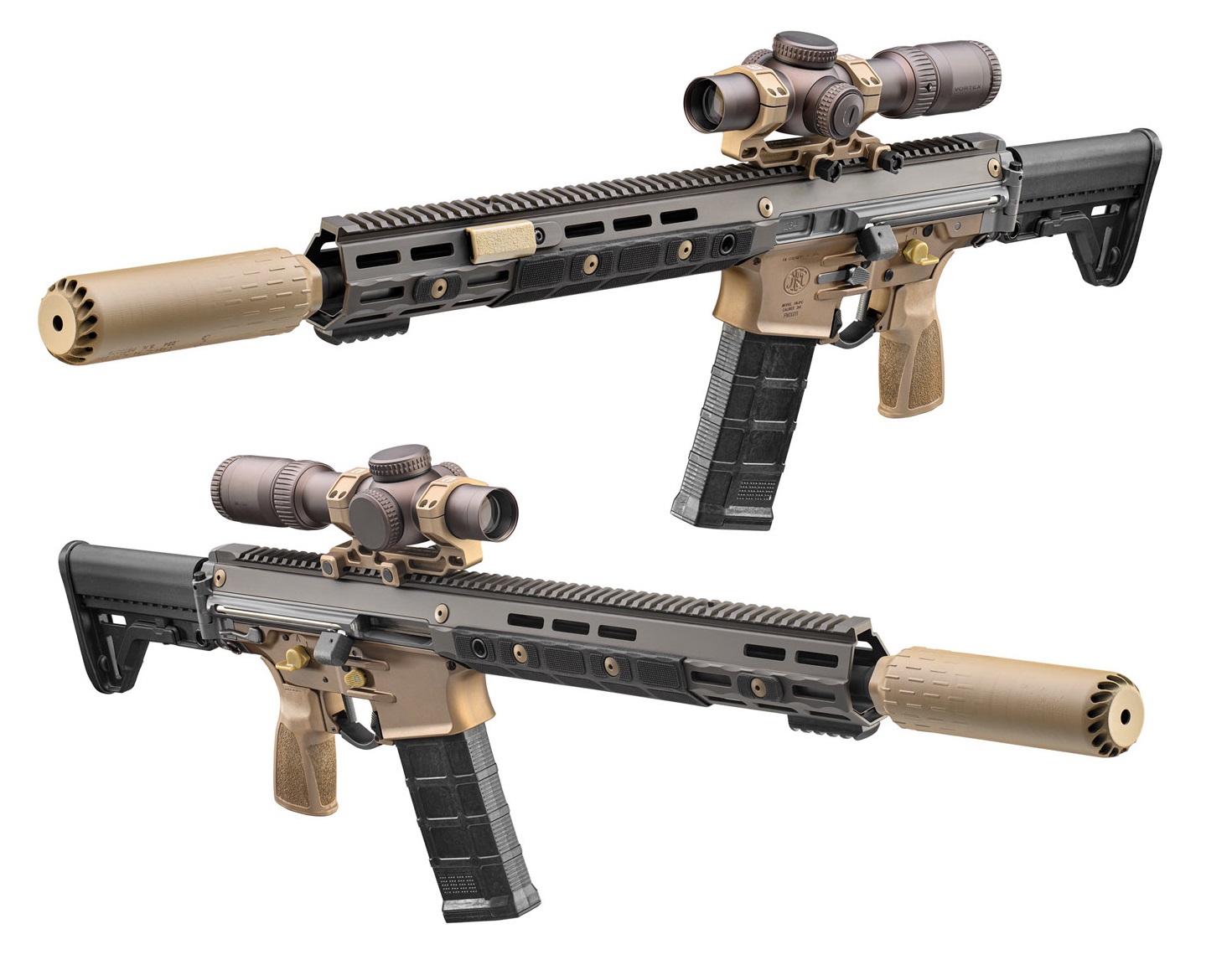 Knight's Armament: KS-1 Hands on
URX6 rail & New Ambi lower

New Ambi Controls were easy to use right handed, didn't have to break grip on fire control to use right side bolt catch/release like I usually have to do with the LMT/LWRC/DD style of ambi controls

New Suppressor shroud doesn't add significant front end weight or offset rifle's balance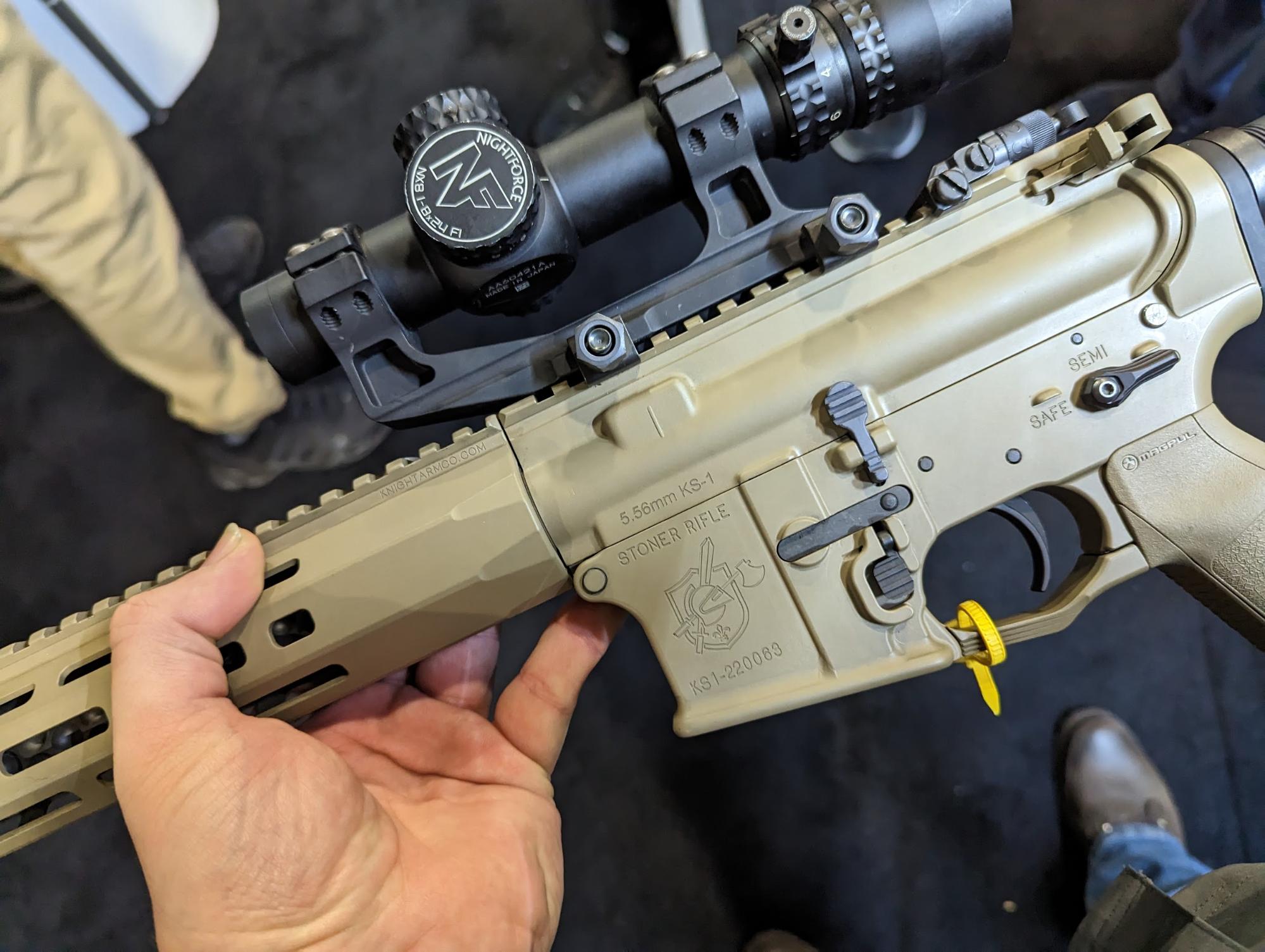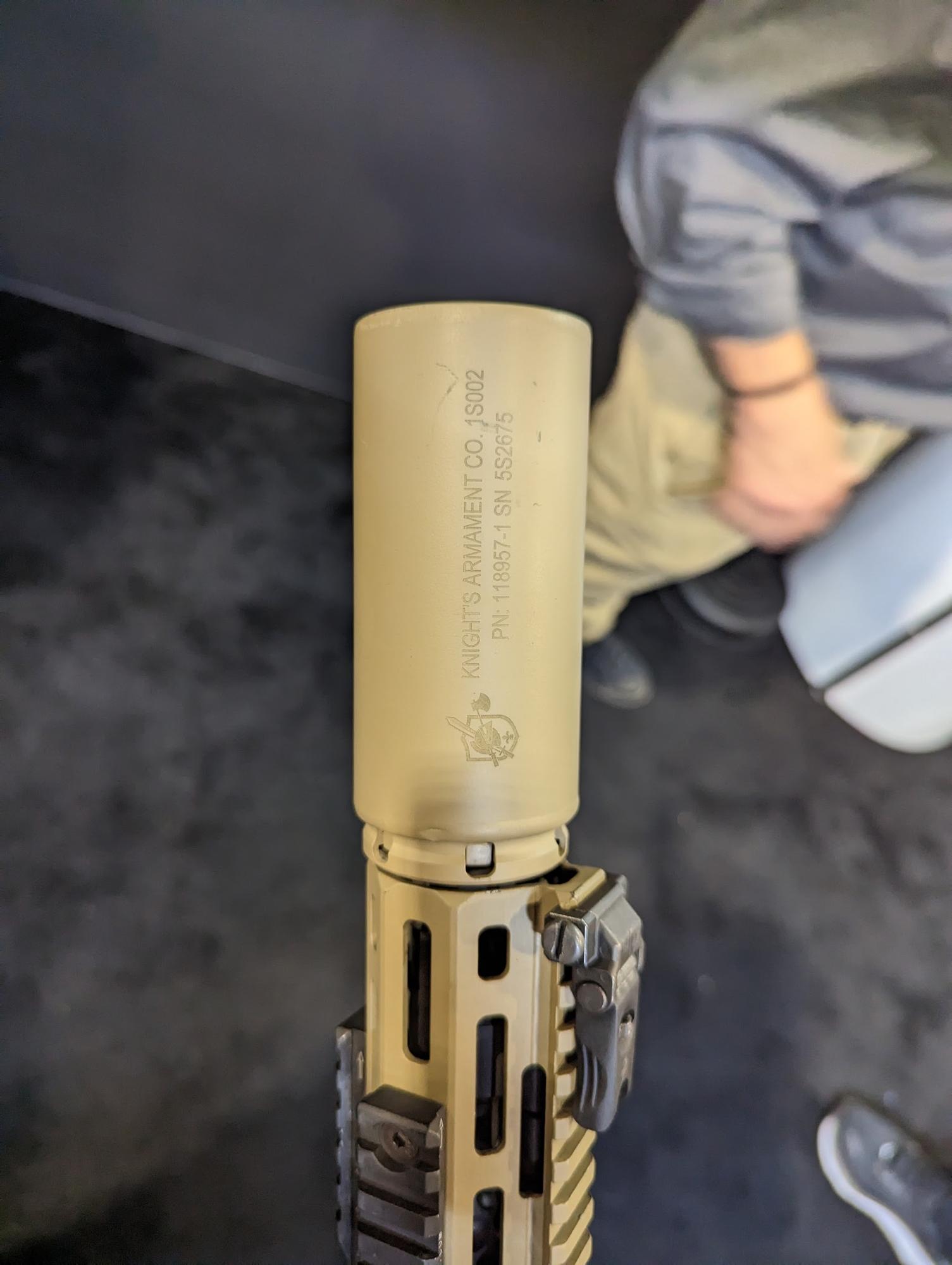 Geissele: Joy MK5, GFR, MK20
JG-06 Joy MK5

AKA

VSASS

was shown to us years ago. Now it's finally coming to the commercial market

Will be available in both

7.62×51

&

6.5 CM

Has full ambi controls: Mag Release, Safety, Charging Handle, Bolt Catch, Bolt Release
• Stoner Cut receivers, BUT NOT SR-25 receiver compatible; It was originally…but along the way it was decided to get away from that. Receiver pins & lugs will not line up between Geissele Joy and KAC SR-25 receivers. 
Receiver Extension Plate (between receiver and barrel nut); Specific purpose unknown

Muzzle device threaded for proprietary Geissele suppressors (not on display)

Technically the first commercially available large frame "SR-25 size" Geissele rail, but proprietary to the extended upper receiver; Though it's not hard to imagine a minor tweak to the CAD file on the receiver and barrel nut end to produce an SR-25/DPMS spec rail
• Estimated Price of ~$6,000 at retail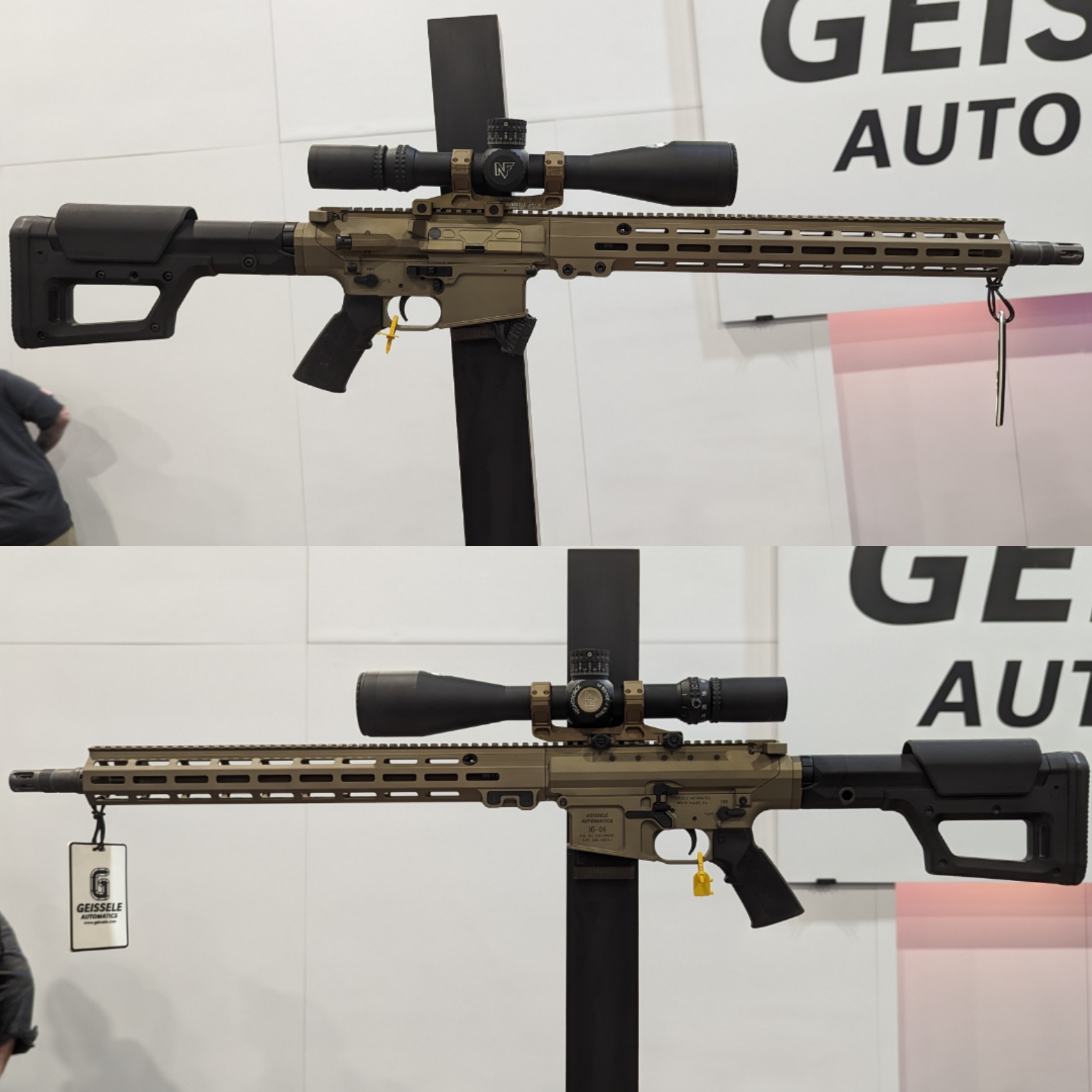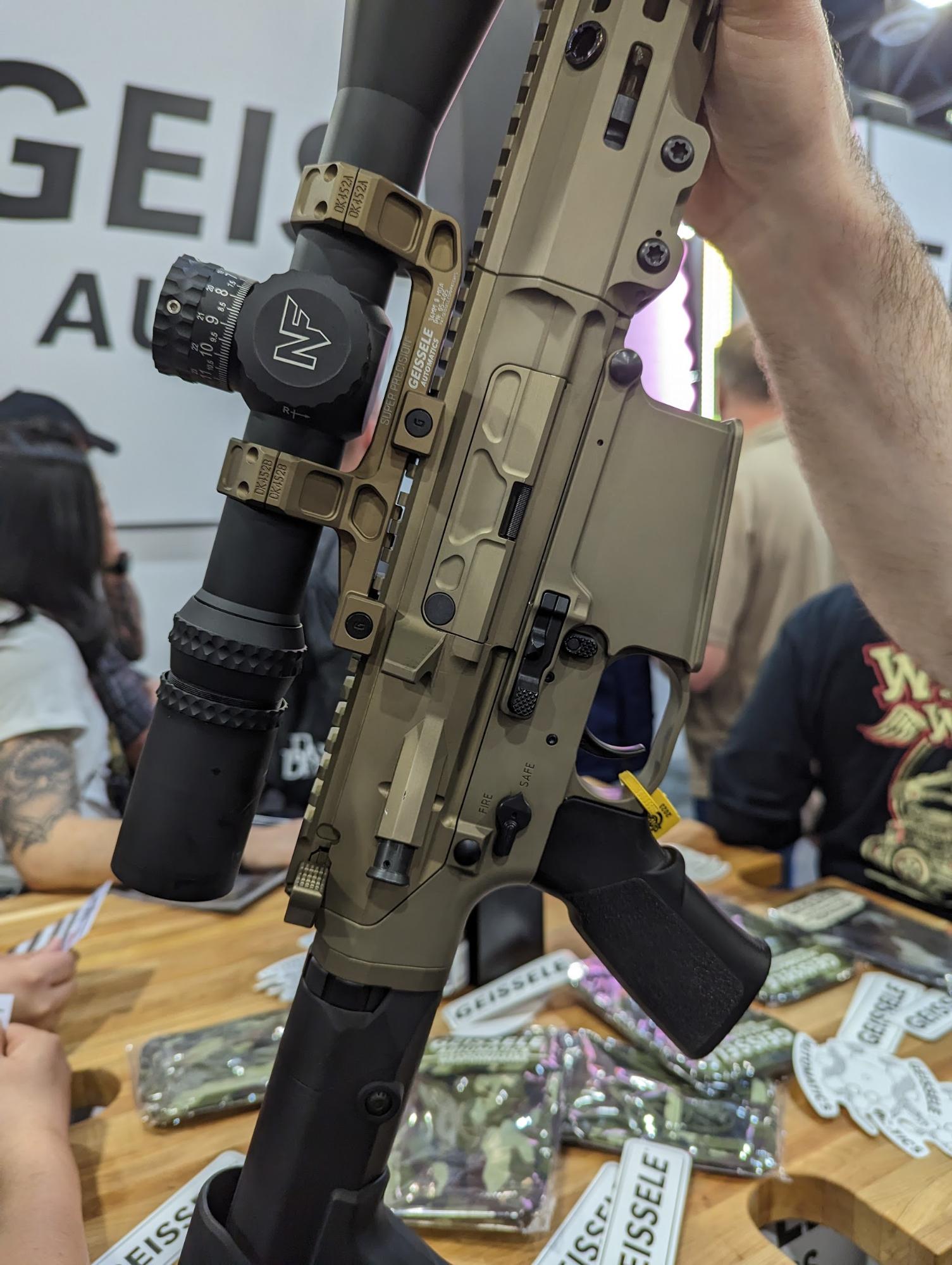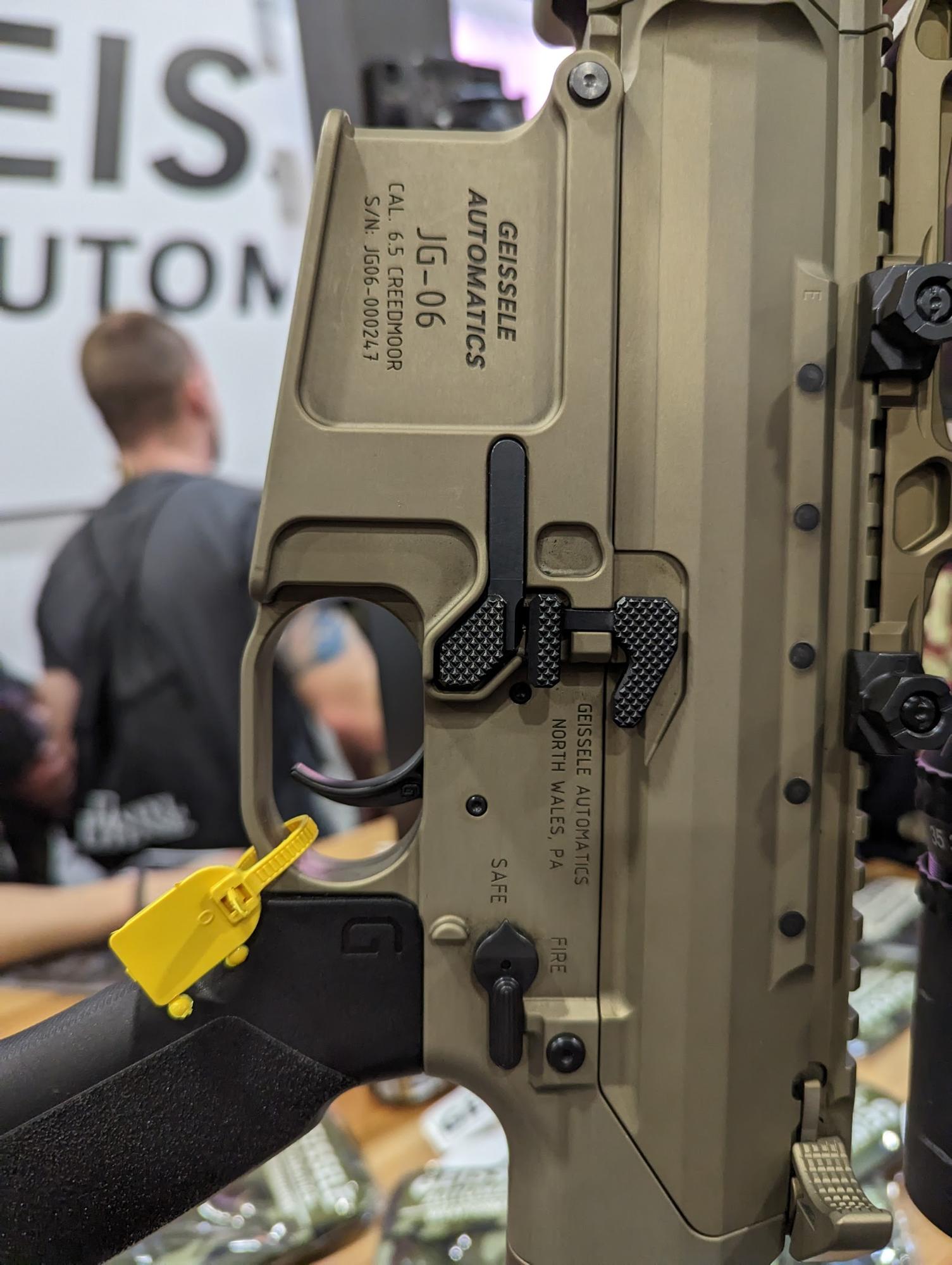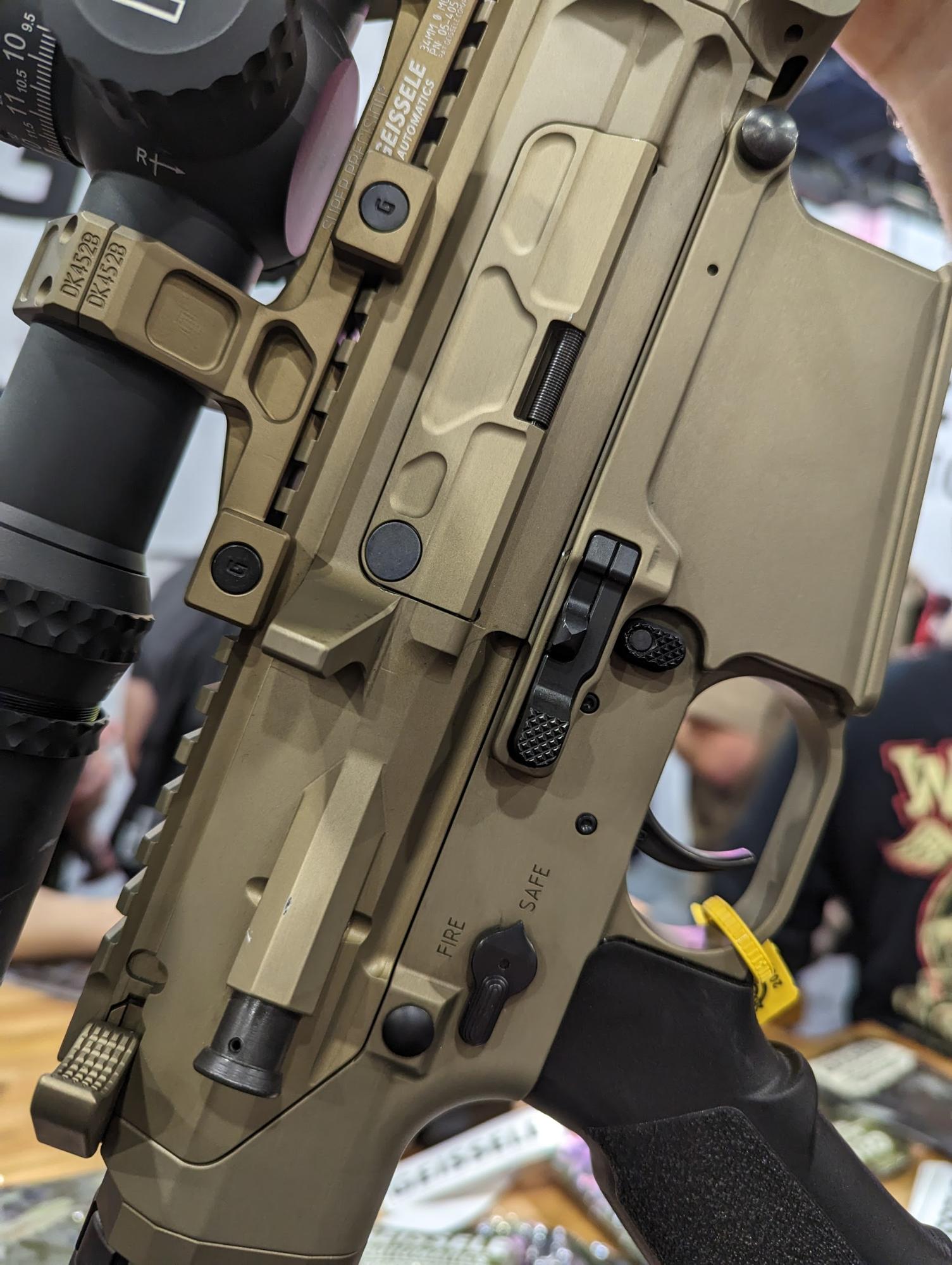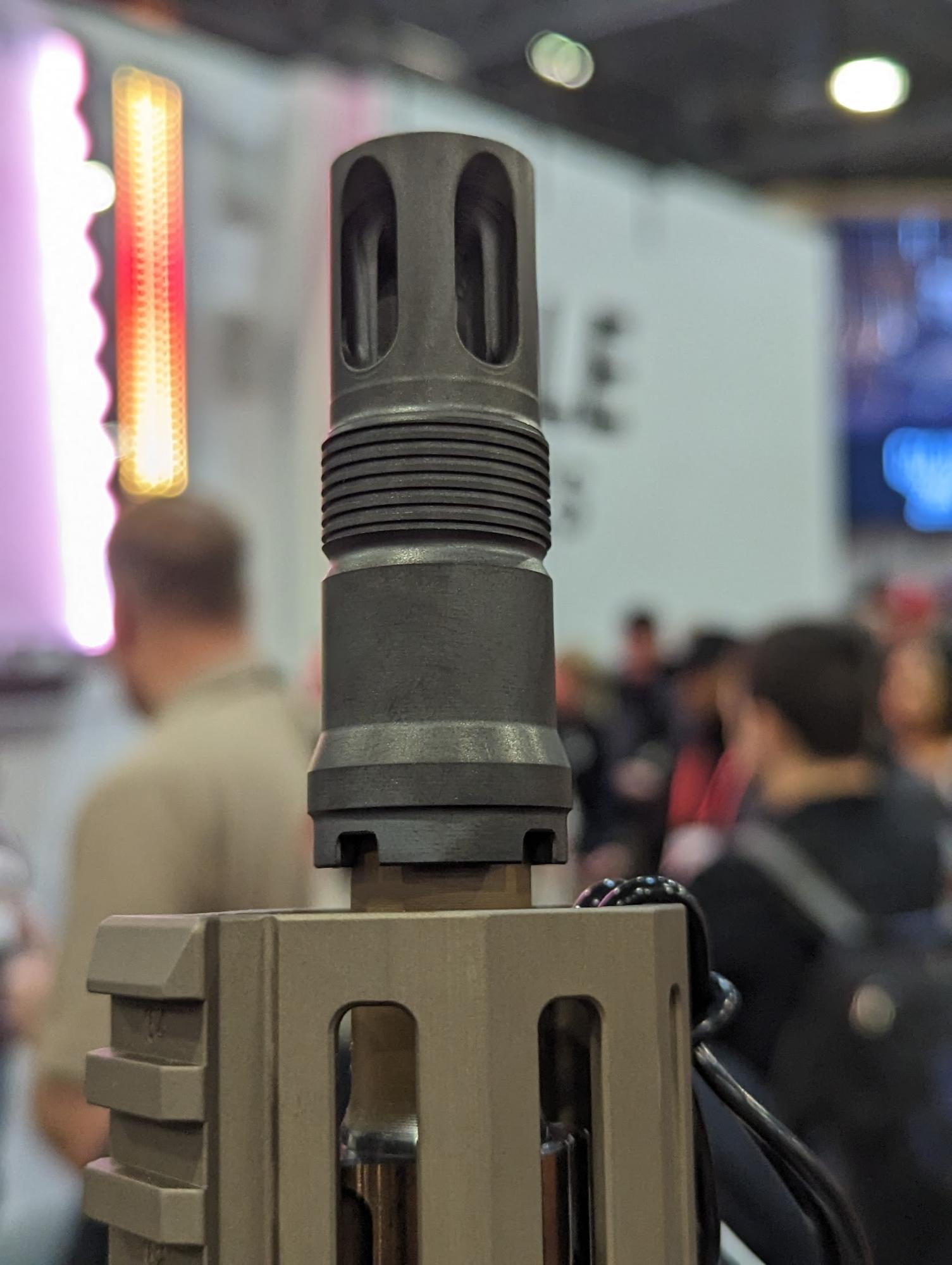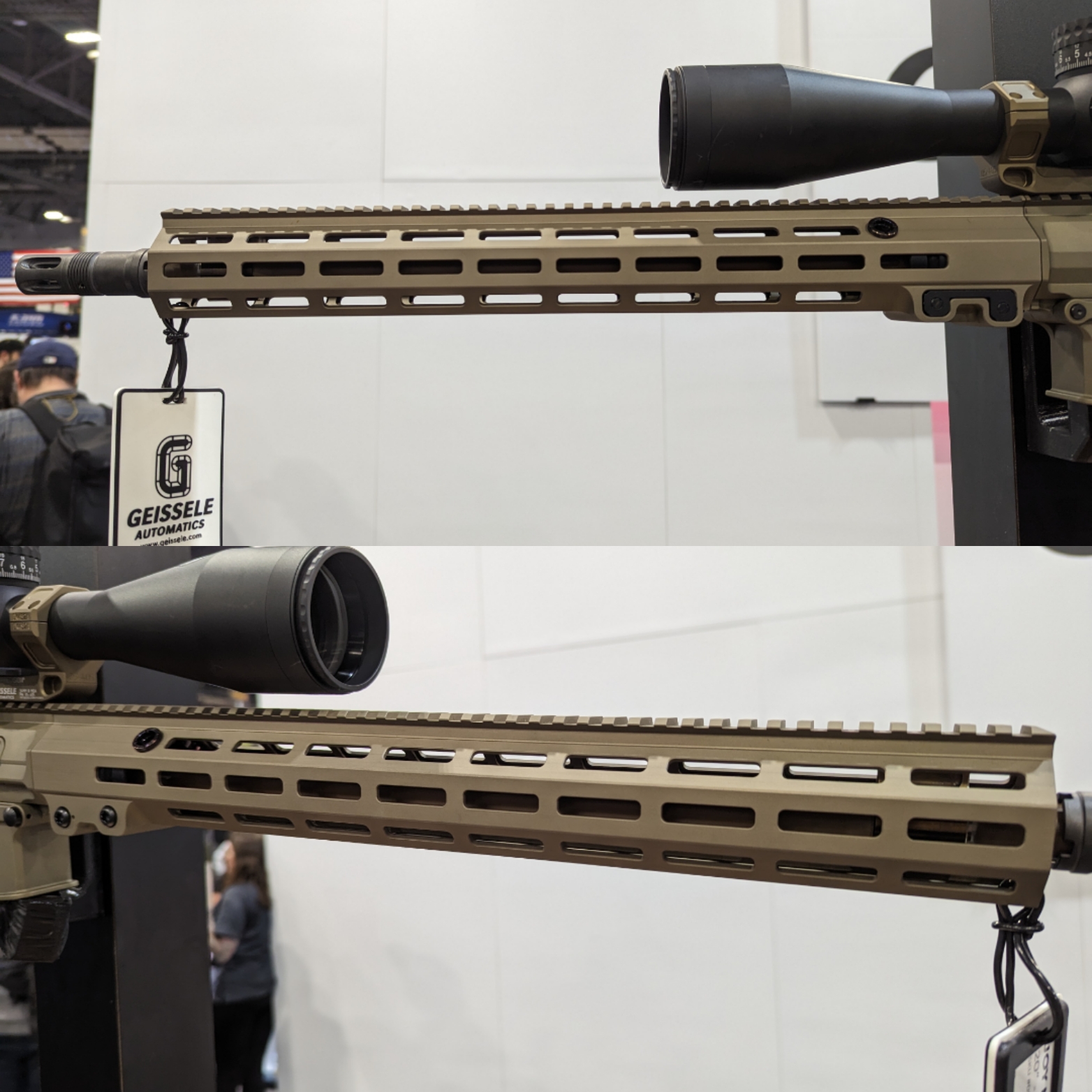 GFR

had a conspicuous anchor laser engraved on it. I wonder who that's for 🤔😉

GFR-X

: Select Fire version

MK20 rail:

Super skeletonized M-LOK rail for fast cooling; Commercial Release TBD, currently for CBP contract guns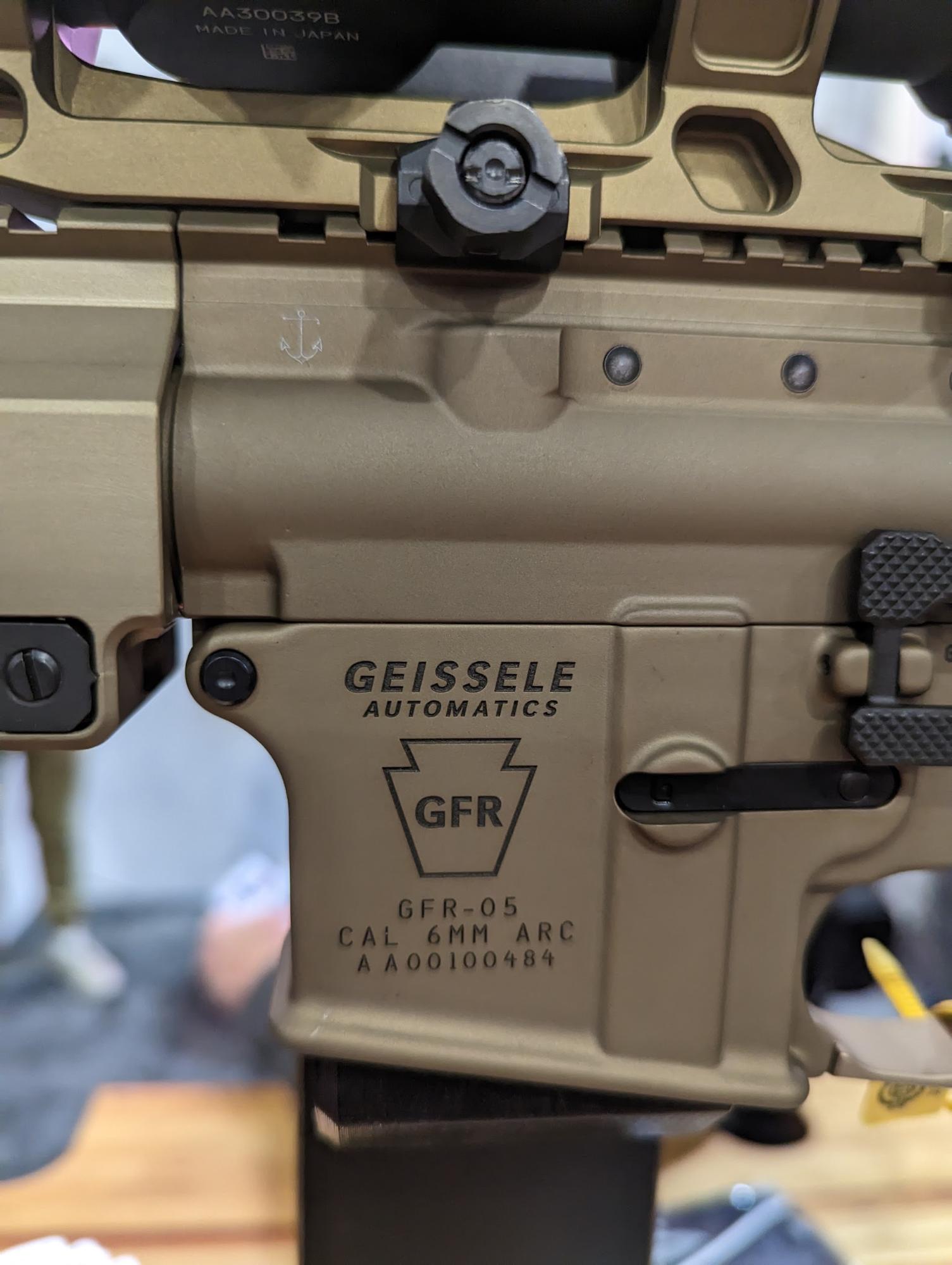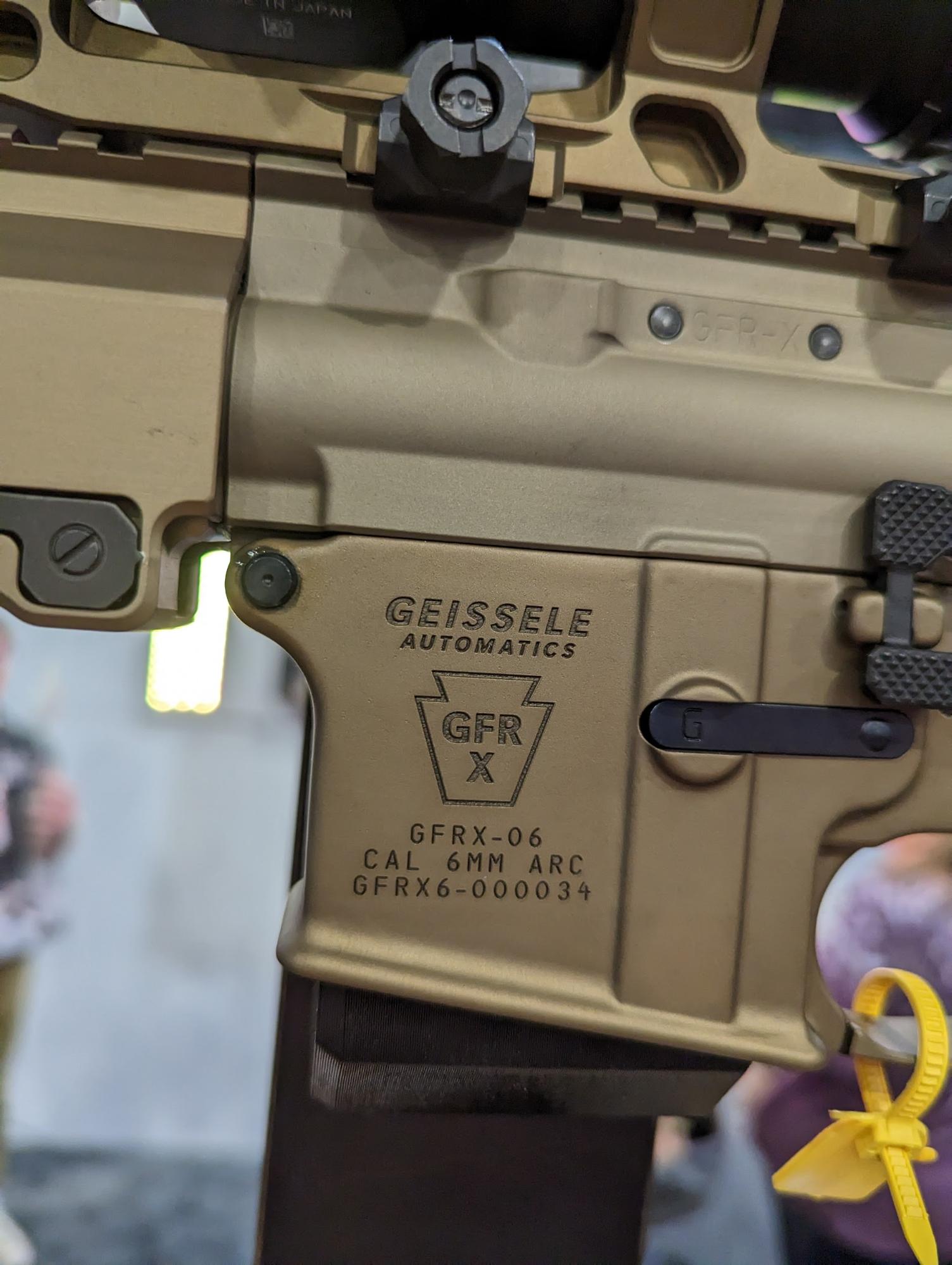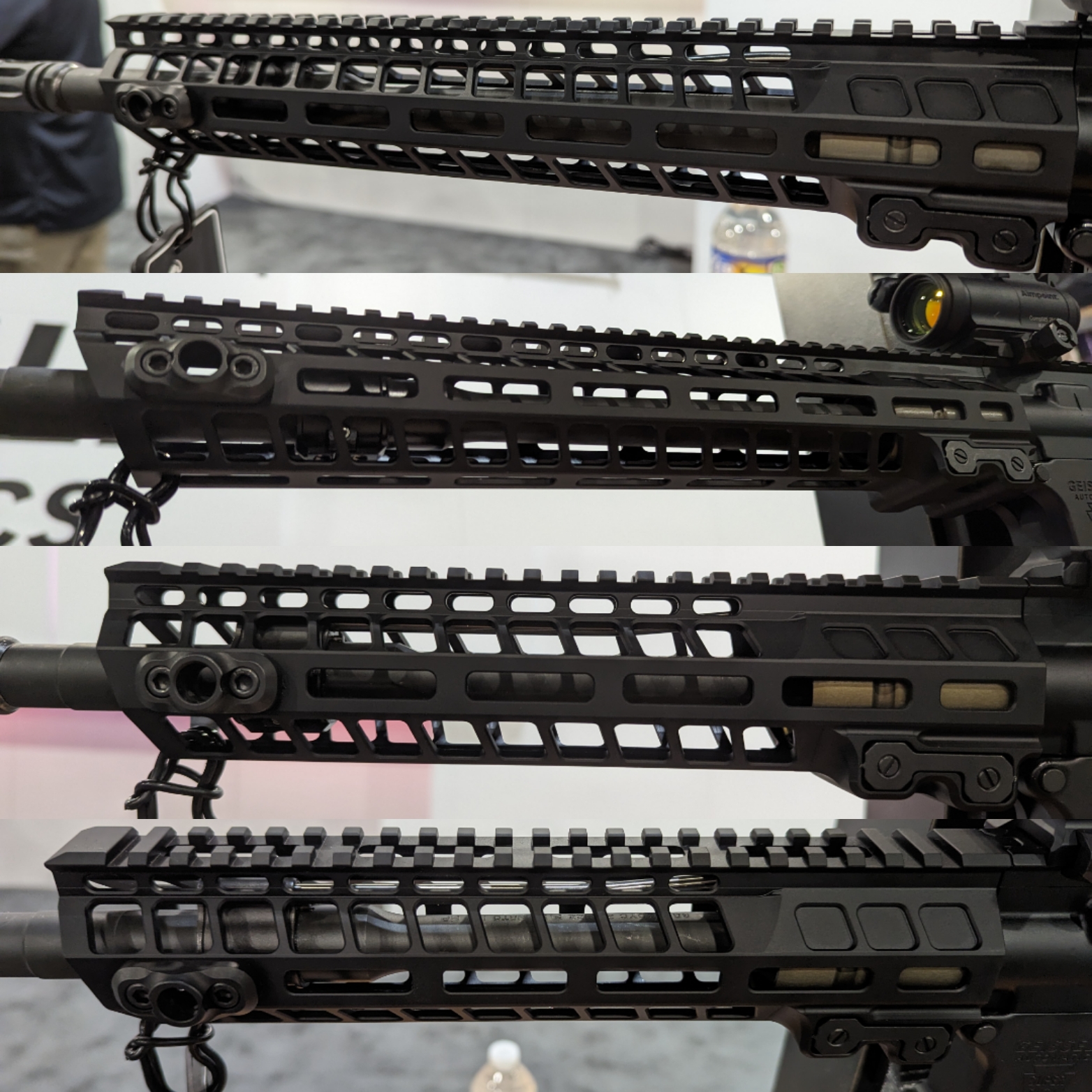 Eleven 10 Gear:
New IWB CAT-7 carrier, perfect for EDC/CCW market

SOFTT-W version in development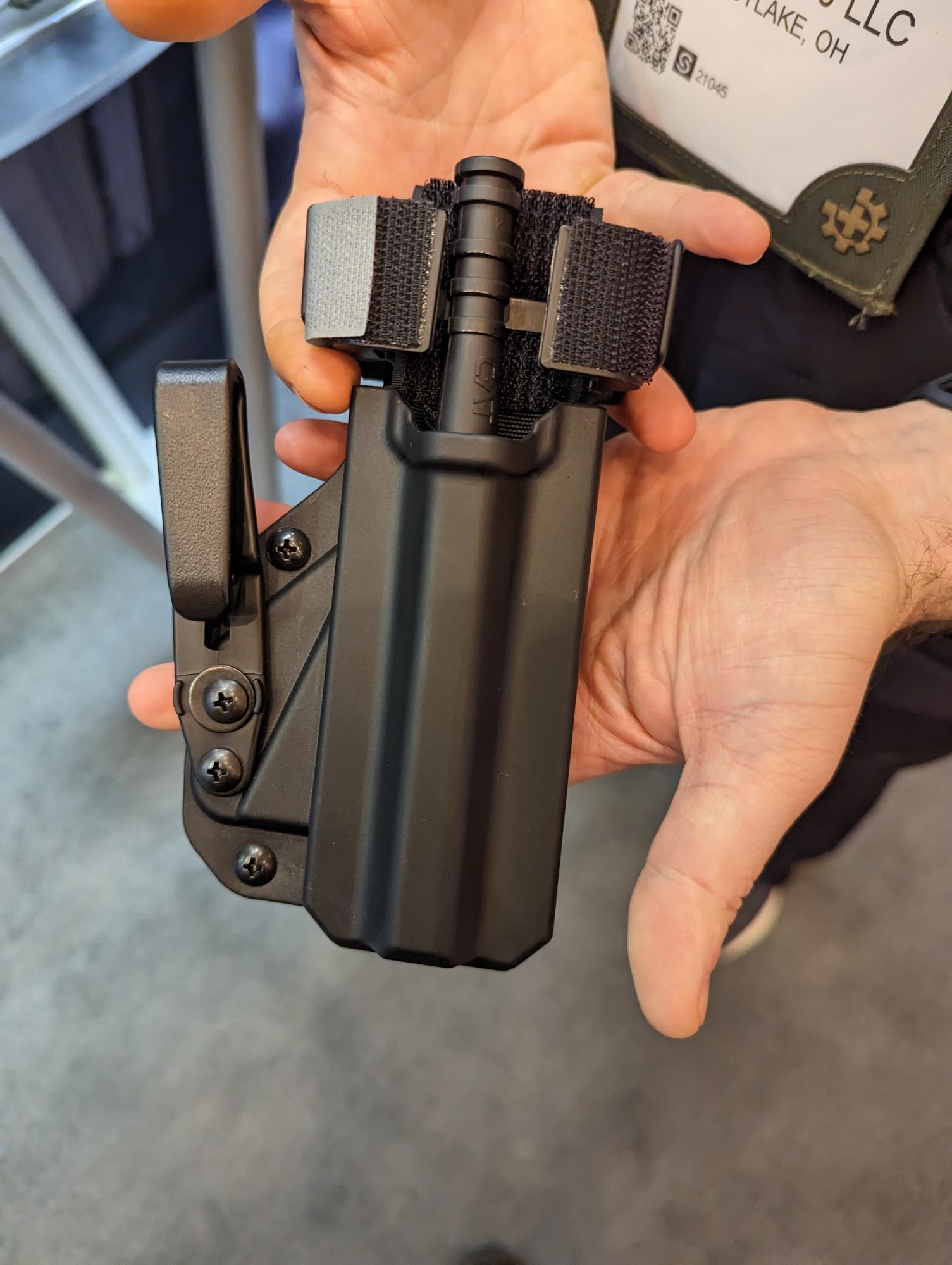 Ops-Core: Powered rail suite
Lights, IR strobes, other electronic accessories directly mounted to and powered by rail, powered from a battery pack

Last year it wasn't on the floor, and only shown in private behind closed doors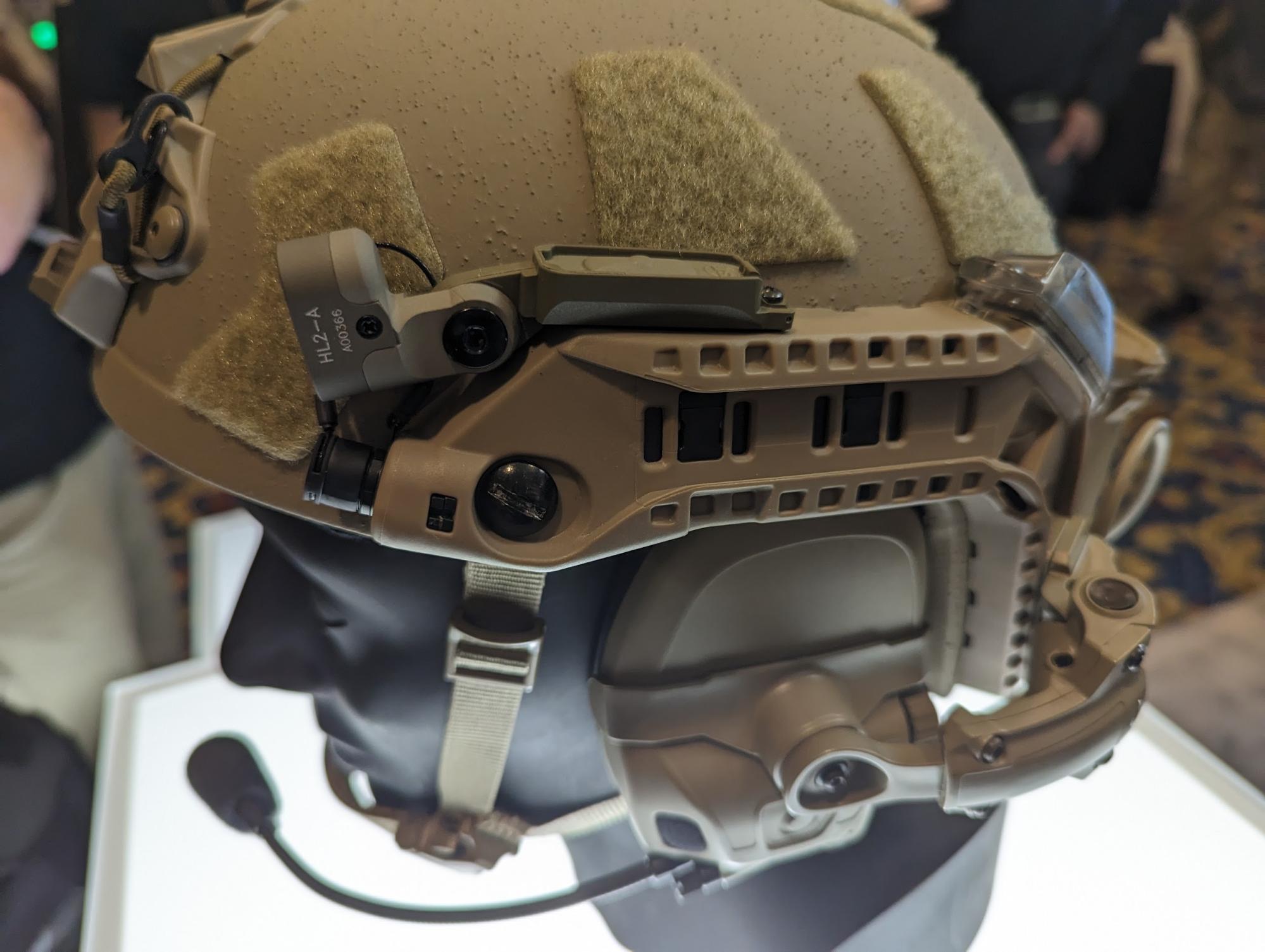 Nocturn Industries: Chimera
Articulated Quad Tubes

Comes with Photonis 4G Echo tubes for $15,000; Elbit & L-3 tubes and higher FOM either way would increase price 

Chassis available alone for $7500

Uses standard 18mm tubes (GPNVG-18 tubes proprietary in comparison)

Polymer chassis said to be extremely durable and impact resistant, comparable to Katana chassis

Quad tube chassis in standard stowed/up position placed a lot of weight forward on the helmet. Folding the articulated arms while stowed noticeably moves weight and center of gravity rearward towards head/helmet. 

If one side is articulated upward while deployed, you could run a thermal optic on your rifle, and aim with an MFAL using the NV over the other eye

Individual pod shutoff: The upward articulated side will turn off automatically when lifted

Utilizes battery pack (sold separately), can be used with onboard battery via adapter to utilize counterweight instead

CR123 batteries with onboard adapter, battery pack can use AA or CR123 batteries

Onboard illuminator in bridge

All polymer chassis and bridge; Development of hybrid with aluminum bridge and arms could not be confirmed or denied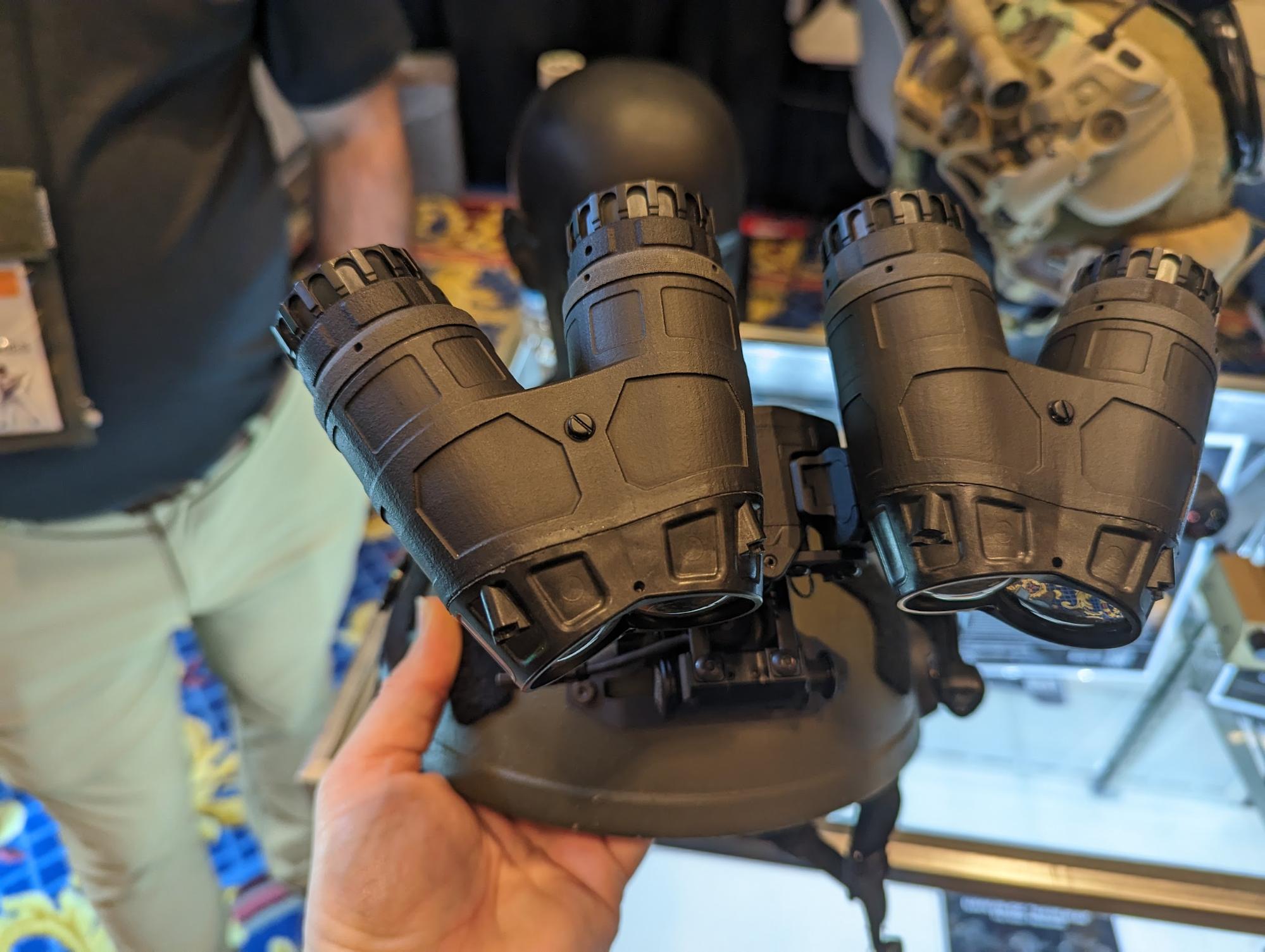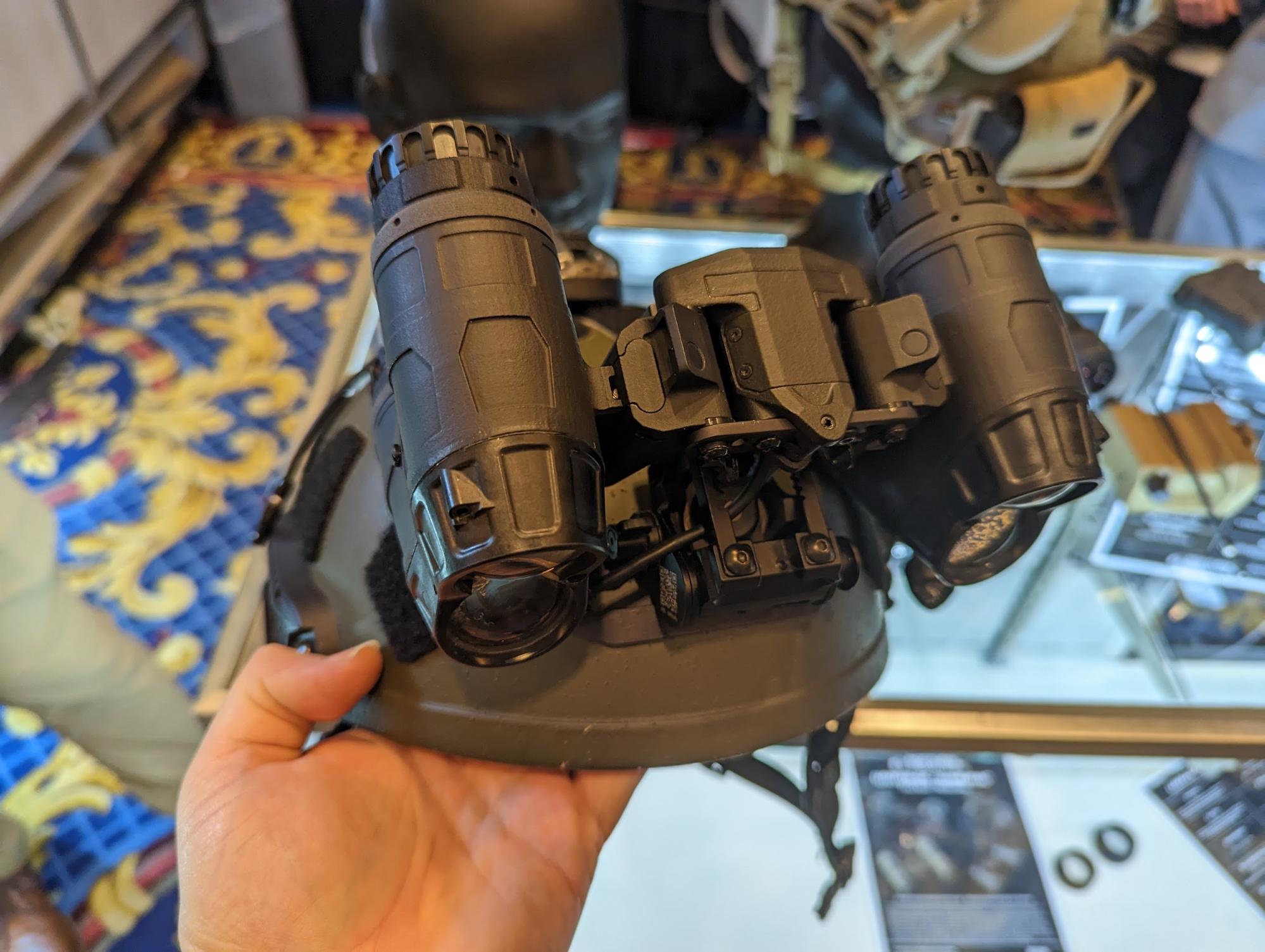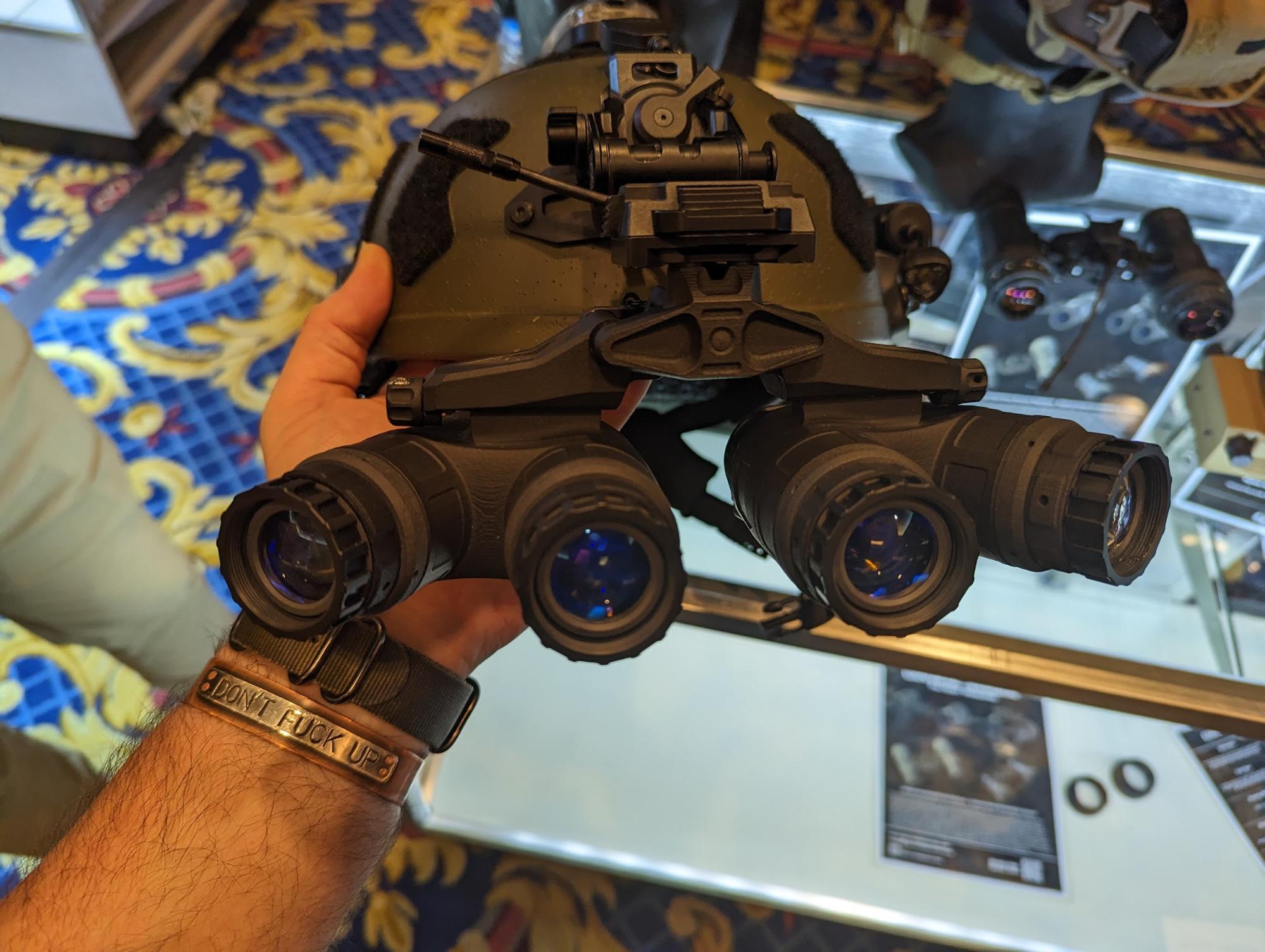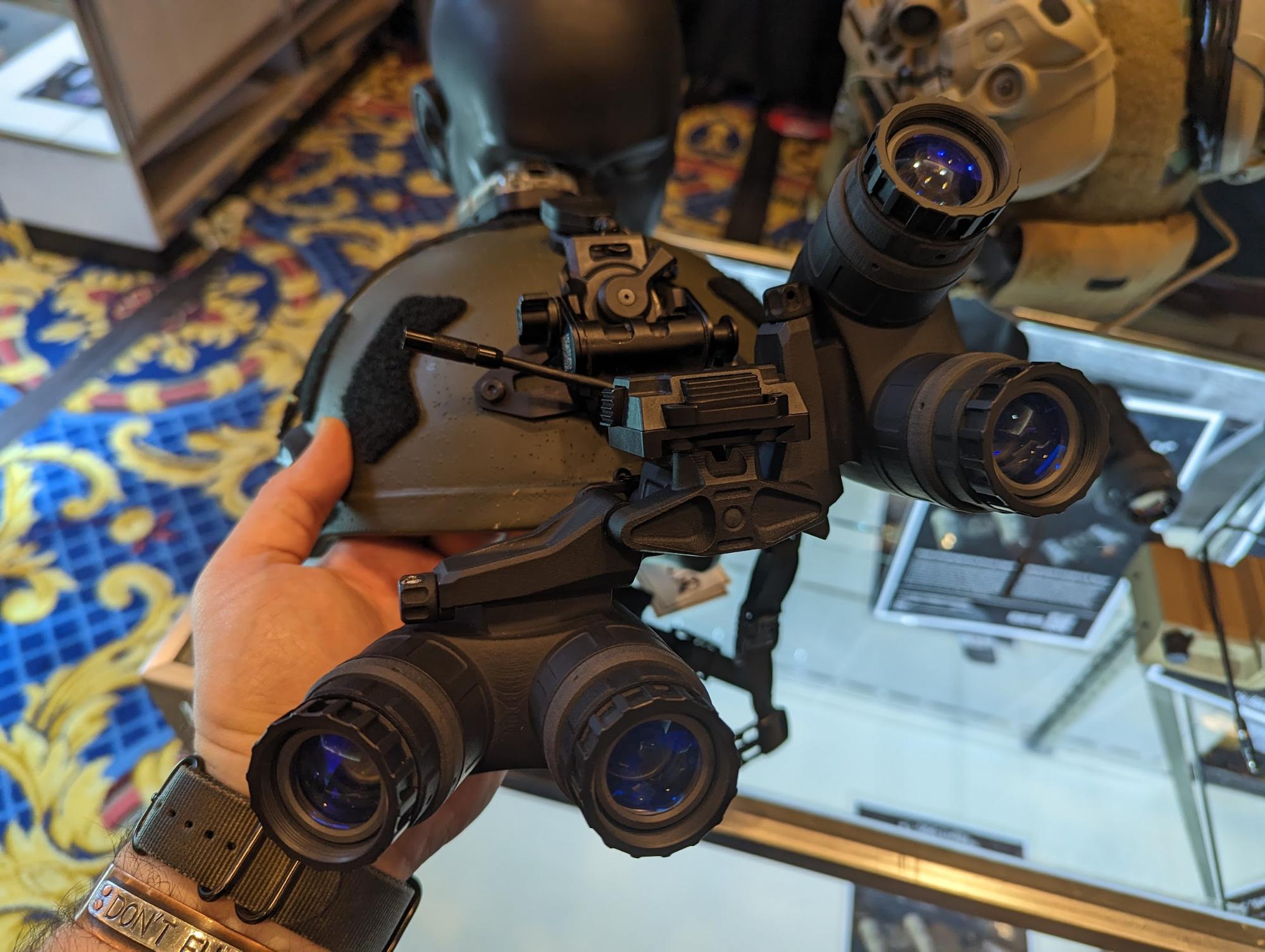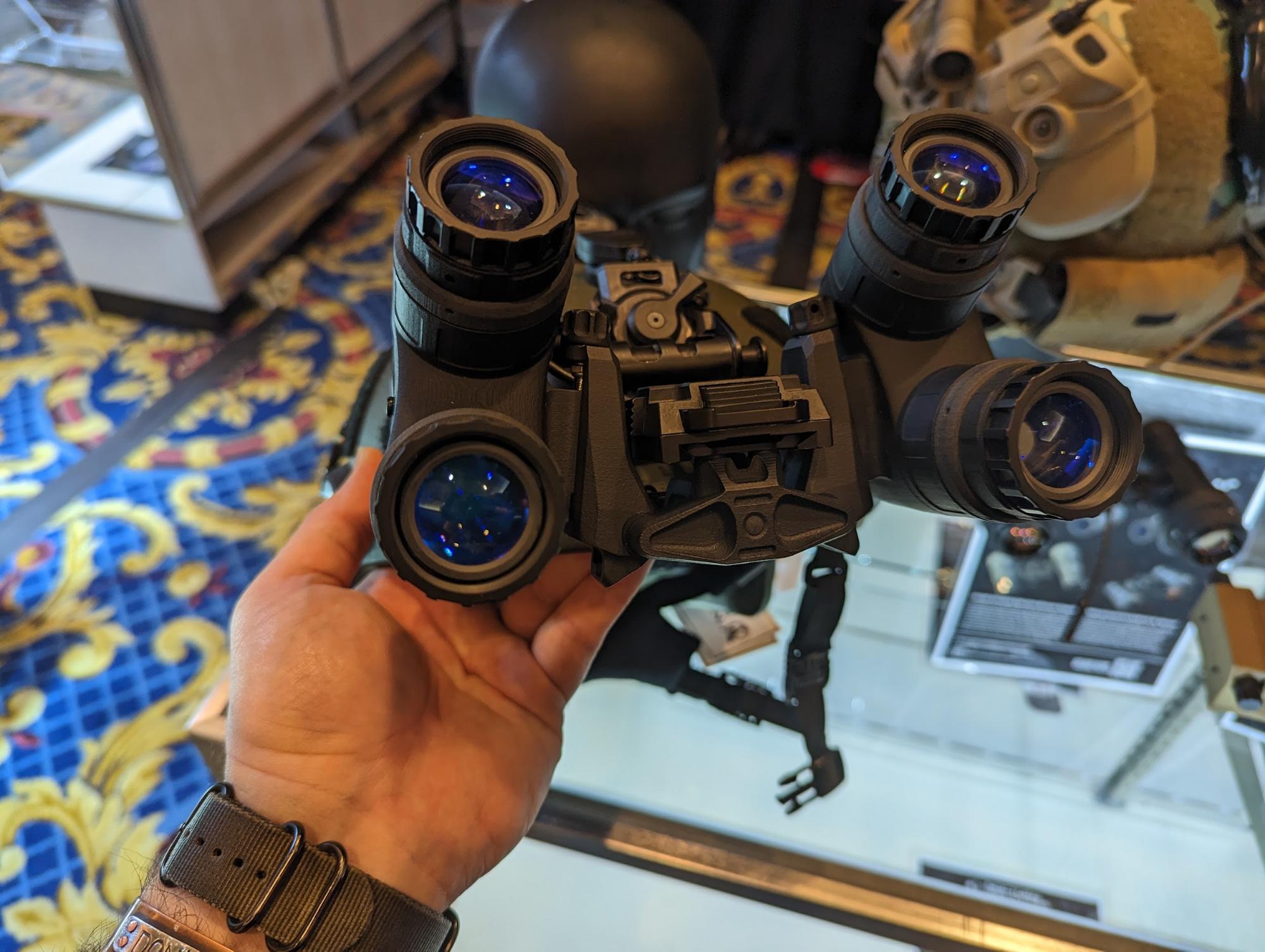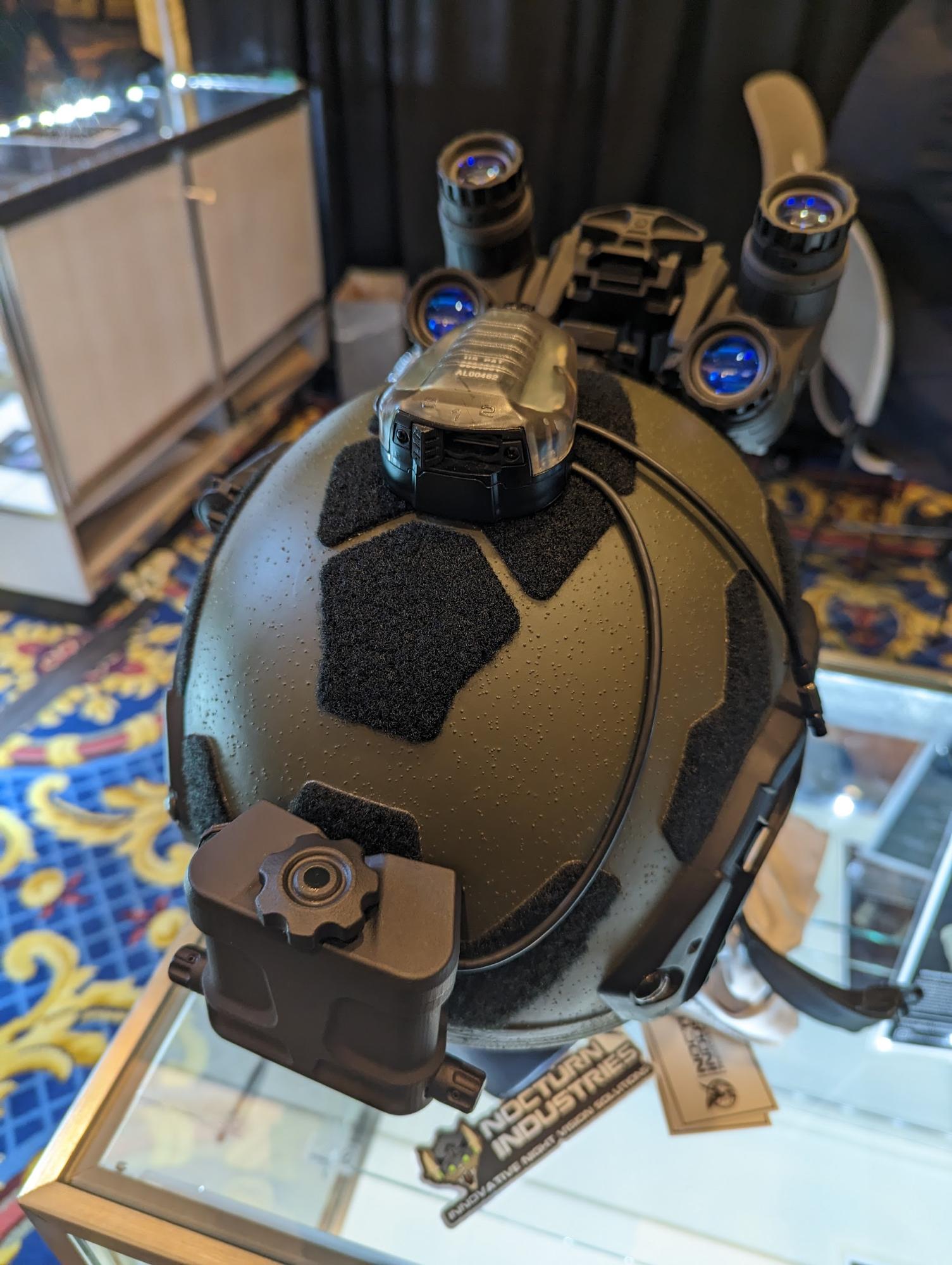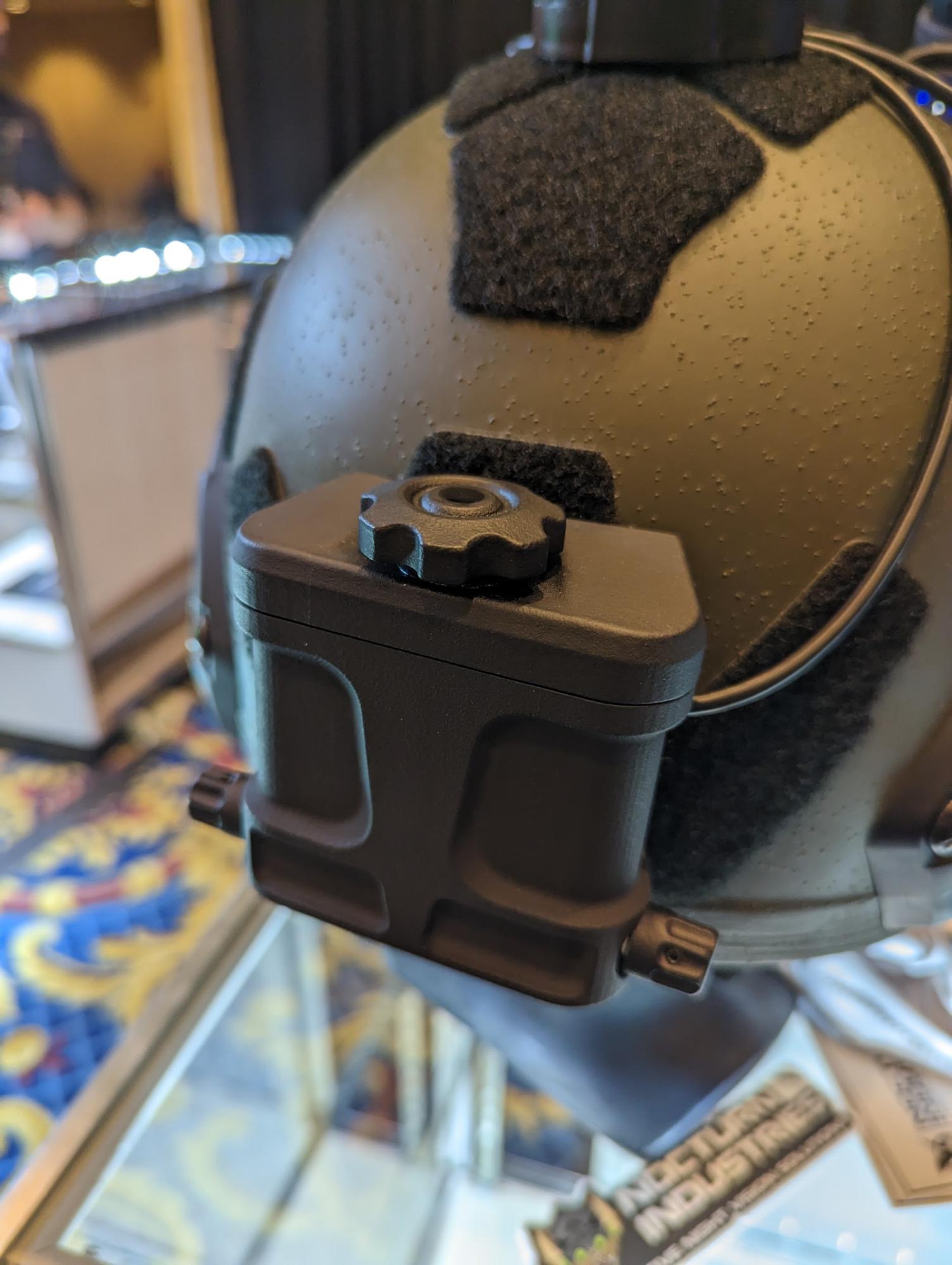 OTTO: LynQ Pro Team Tracking Device
See

Video

for in depth tech demo

Commercially Available: $3000 for 2 units

Extremely useful for Armed Citizens; better to have 1-2 radios and multiple LynQs per squad vs Every person worrying about having a radio

OTTO supports Armed Citizen capability and ensures their products will be available to the commercial market for all lawful purposes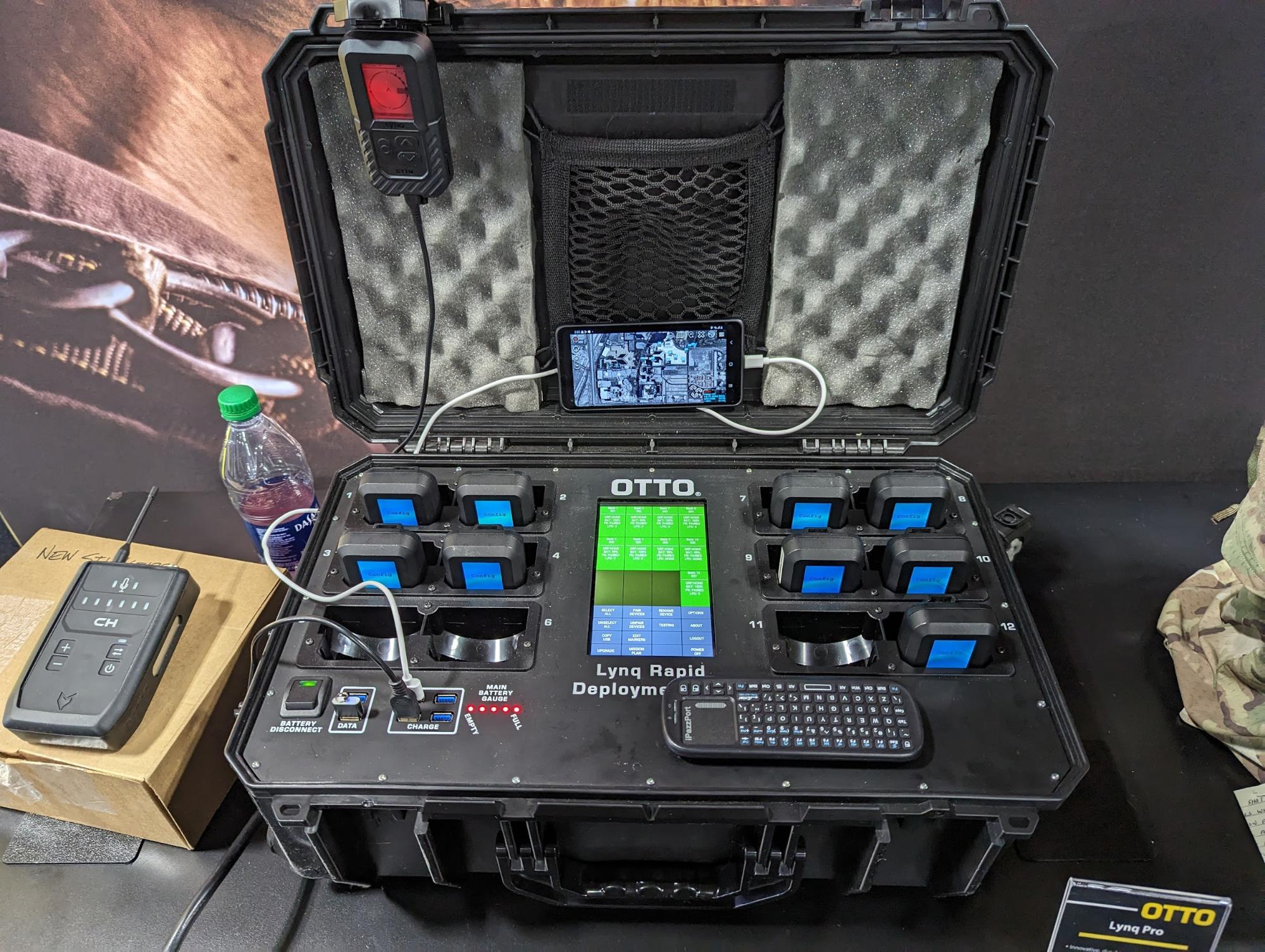 Magpul: X4 HUD
Range Finder component separate

Can dial in range holds manually or leave on automatic

HUD programmable for rifle & caliber

Not noticeably heavy despite the bulk

Estimated Cost: Less than $3,000

Unrelated, but noticed 45 degree offset MRDS scope ring mount can be seen by picking head up and aligning with shooting eye, no need to fully cant rifle against shoulder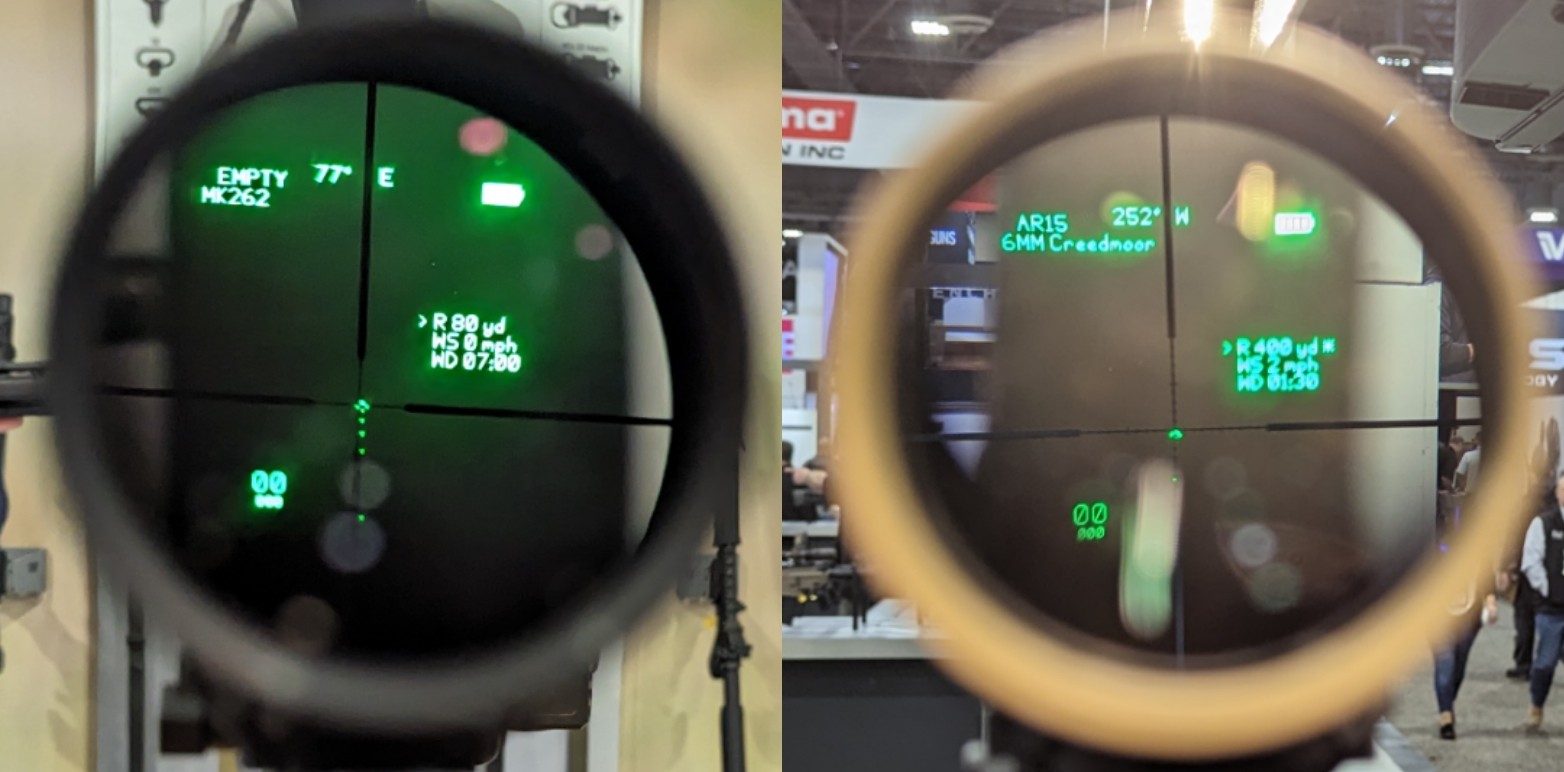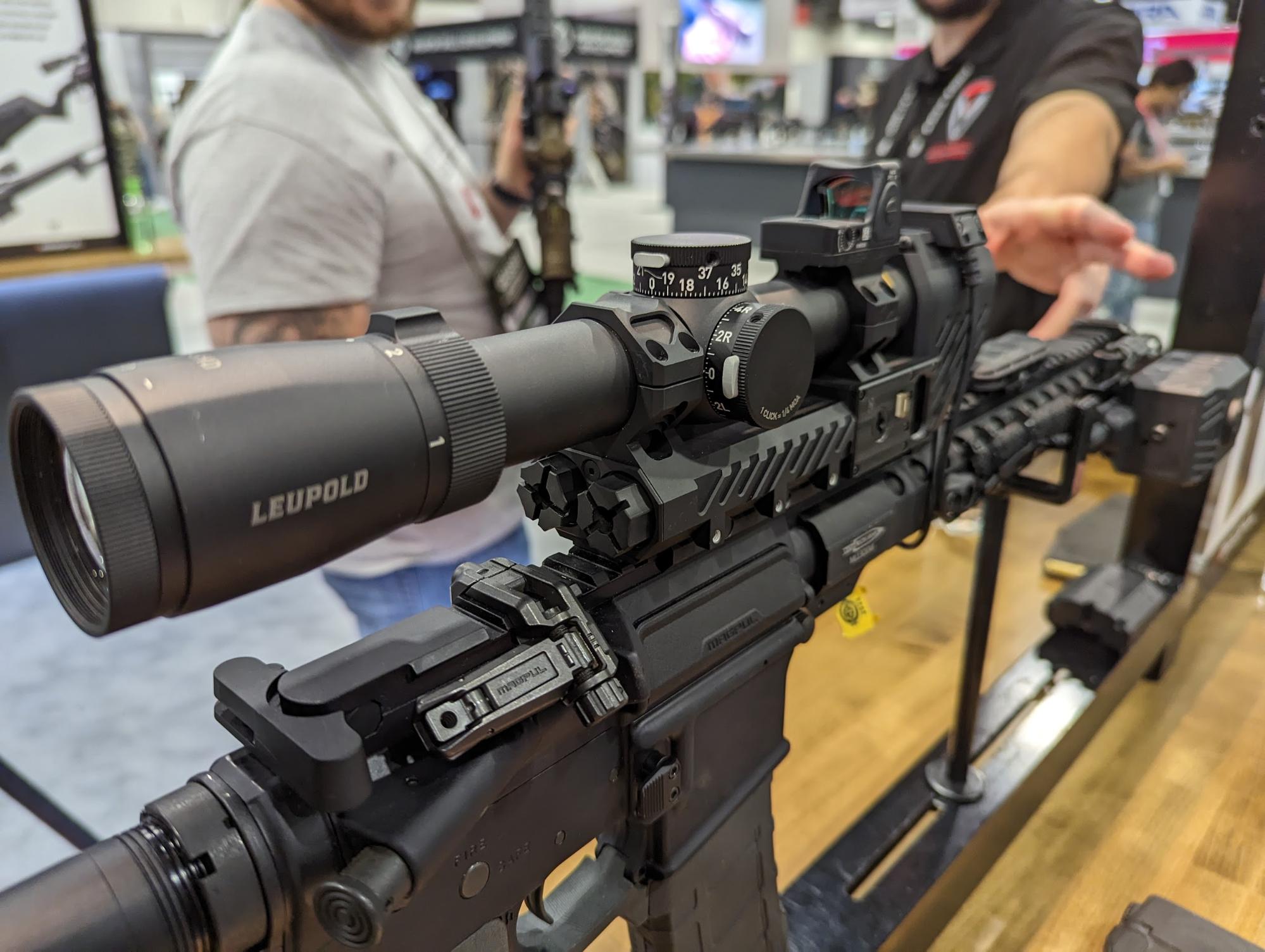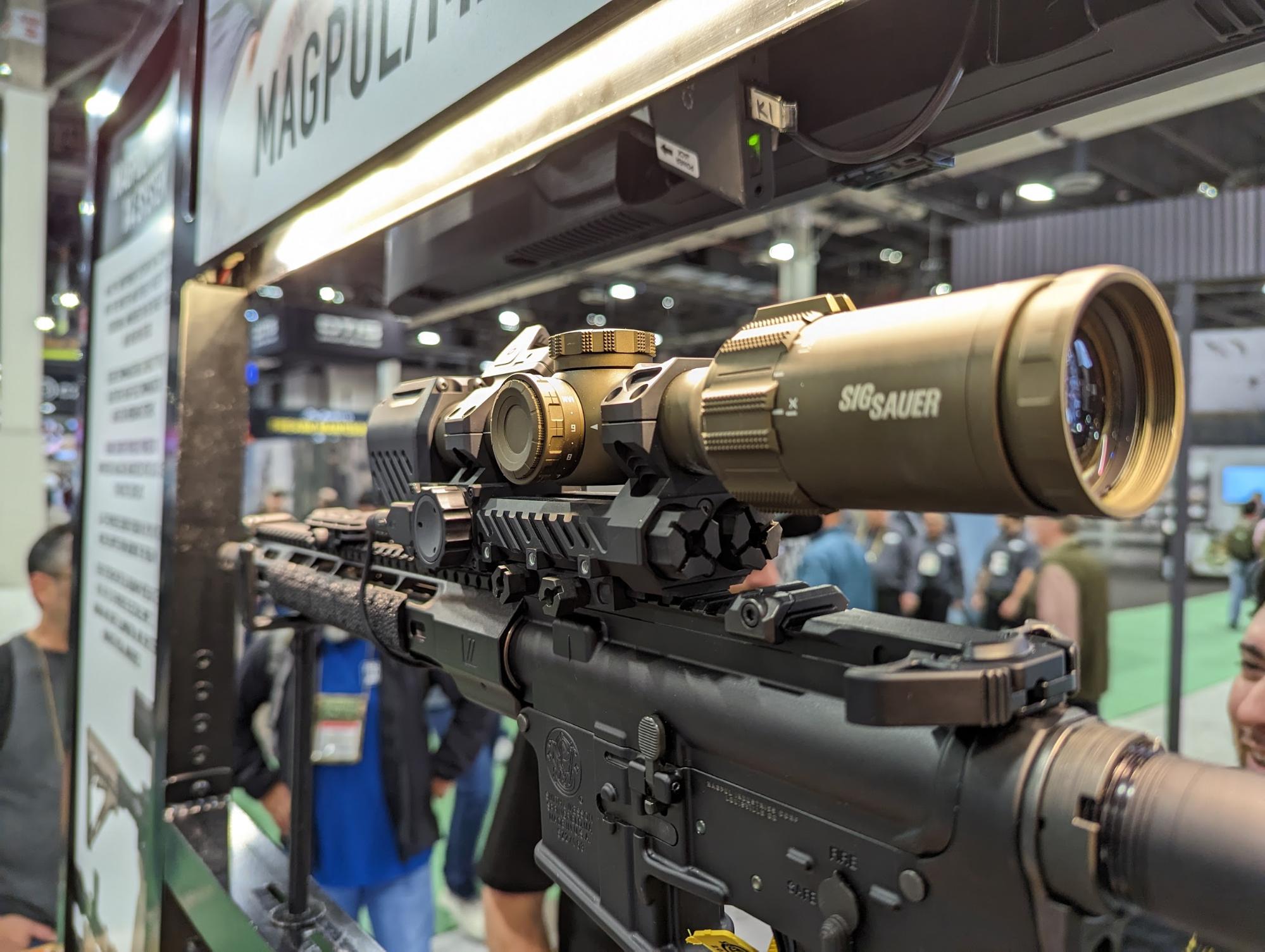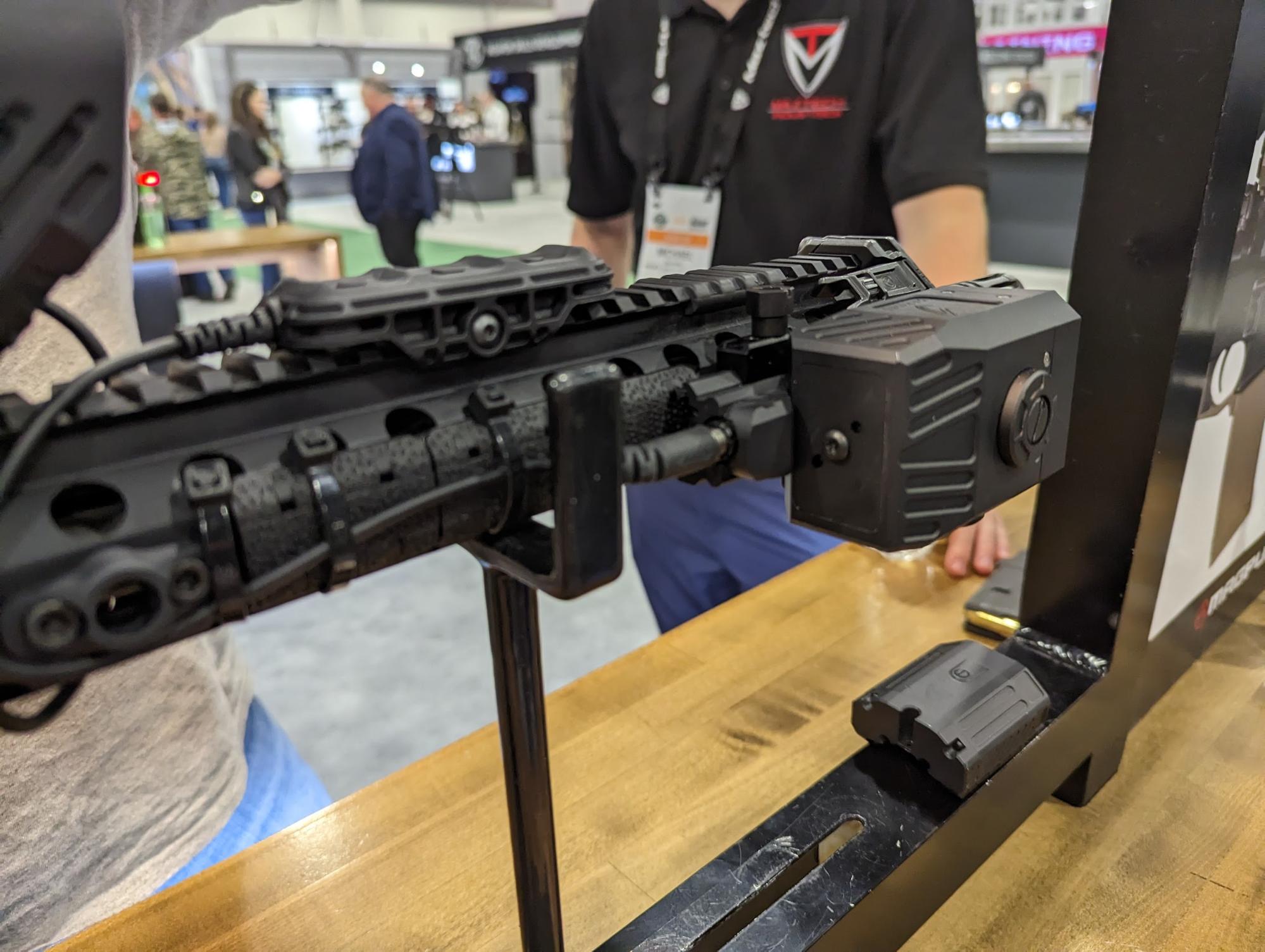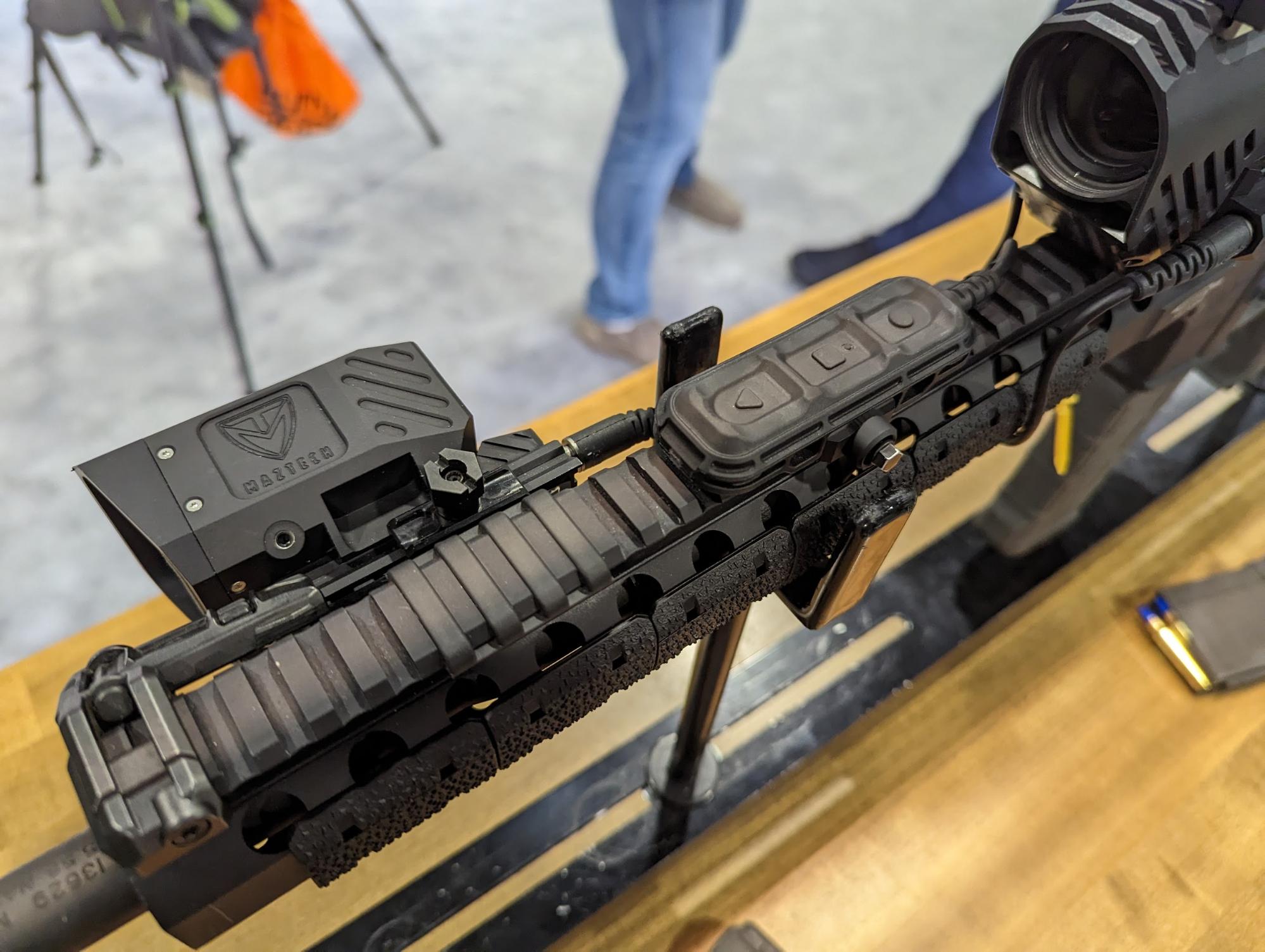 Bushmaster: ACR
I was surprised to see Bushmaster even had a booth, but I noticed only AR rifles on display

I walked by just in time to hear the rep tell someone the ACR wouldn't be happening for a while, and it sounded like it wasn't going to be remotely soon judging by his tone and body language

That concludes the roundup. Now that that's out of the way, I want to speak on a growing trend I'm pleasantly surprised to see:
100% Ambidextrous AR Lowers: This is when the Mag Release, Safety, Bolt Catch, and Bolt Release are ALL accessible on both sides of the lower receiver. Consider, that every "Next Gen" weapon design in the last 10 years at least has been incorporating this design feature. There is no reason NOT to apply it to the AR since it's so easily done.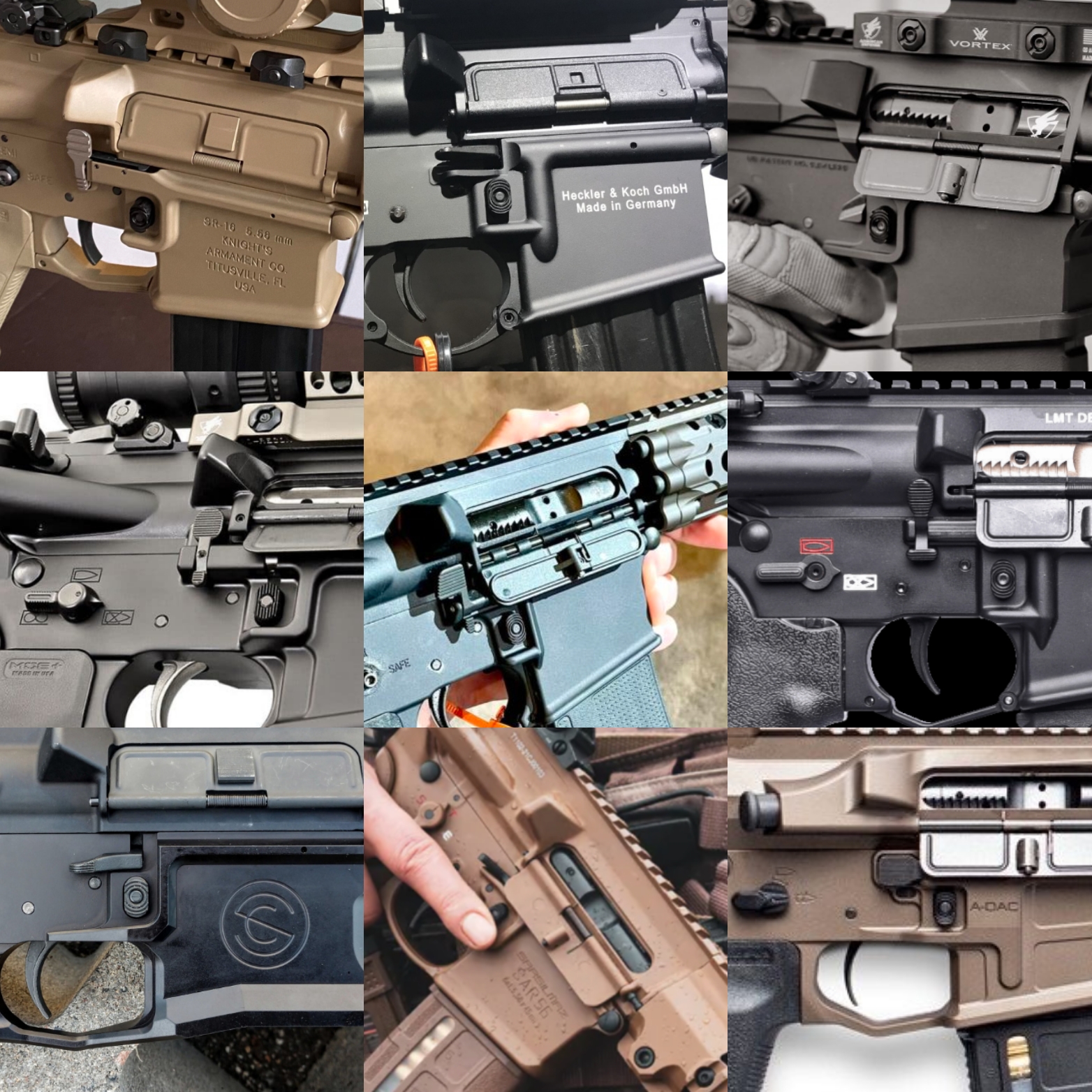 THIS is the way the industry is moving, and it's nice to finally see more of the bigger companies not only adopting it but getting contracts with weapons so designed, where in some cases the contracts are calling for them anyway. All together so far, off the top of my head:
Knight's Armament

Heckler & Koch

ADM

LWRCI

Daniel Defense

LMT

SilencerCo

Sarsilmaz

Radian
The writing is on the wall for the industry: Get with the program or fall behind. We've previously established that the AR-15 isn't going anywhere; but the standard AR lower layout since 1959 is on the way out. We're talking about one extra cut in the lower, with one drop in part replacing one that's always been there, with an extension on it but otherwise the same form factor (SiCo/HK ver). That's it. 
Get it done guys, the future is now
Stay Dangerous.
Stay in this L.A.N.E.