EX PLURIBUS: Culture Without Community
5. Tasker re: Social Landscape
Author: Frank Woods
We've collectively and commonly used phrases like "2A Community" and "2A Culture" to refer to gun owners in America as a whole; we like to think of ourselves in such tight knit fashion because we know it's what we're capable of. We see signs and hints of it throughout our day to day interactions and efforts rooted in good will: from the interpersonal to national extremes, be they at the grass roots ground effort at home, or the growth of those organic efforts into activist movements that extend all the way to the Capitol.
Unfortunately, we don't have both; we certainly are a culture unto ourselves, what with myriad best practices, personalities, and manufacturers in the industry that cater to them. But we are not really a community. Once you take a closer look at those day to day interactions, you start to see the ugly side of common practice among us, and a great deal of it is wholly antithetical to the idea of a community and the sense of belonging intrinsic to it. Far too often we are adversarial, for the sake of being adversarial.
Some might attempt to make the excuse that this is a pressure release valve in action; a bunch of folks that see a fight coming, are ready to rock (they think they are anyway) but the who/what/when/where/why are beyond their vision. So they turn that pent up (and often self-inflicted) frustration towards and eat their own, mainly because they can get away with it… or so they think. Although the repercussions aren't immediately detectable, time and perspective reveal the interior rot that's pervasive throughout the American gun owning rank and file, despite the patriotic and constitutionally inspired veneer. This is simultaneously detrimental to the would-be members of our "community" interpersonally, and of considerable benefit to our enemies, the political variety in particular.

This is a topic that's come up a few times in conversation among close friends, often in response to the outright gauche display of animosity we so often see. I spoke in depth about this phenomenon to Gary Hughes from Survival Armor and M.O.D. Outfitters, and Mike Mihalski of Sons Of Liberty Gun Works (SOLGW hereafter) fame, although not deliberately; we were reacting to what we observed and comparing notes, in a sense checking to determine what was fucked up: Us, or what we were seeing. Short answer, speaking as those among the initiated: It's not us.
The question became, why? Why are we such a disjointed people, despite having more in common than not? Why do we celebrate infighting while talking about unity and sticking together in the face of oppression? Our story begins.
•••
Not too long ago, I came into possession of one of the new RIS III rails from Daniel Defense, and when I posted about it on Instagram, the comments section boiled over into a sperg-fest spearheaded by those far more passionate than they are sensible. The first shots in the shit slinging volleys were to the tune of accusing Daniel Defense of being a bunch of "bootlickers" (read: supporters of statist overreach), and that it'd be better to give money to SOLGW instead, in acknowledgement of their rebellious branding nodding to our Revolutionary War heritage, and grassroot 2A activism participation, while completely (and perhaps conveniently) ignoring the fact that both companies sell their products to Law Enforcement agencies nationwide.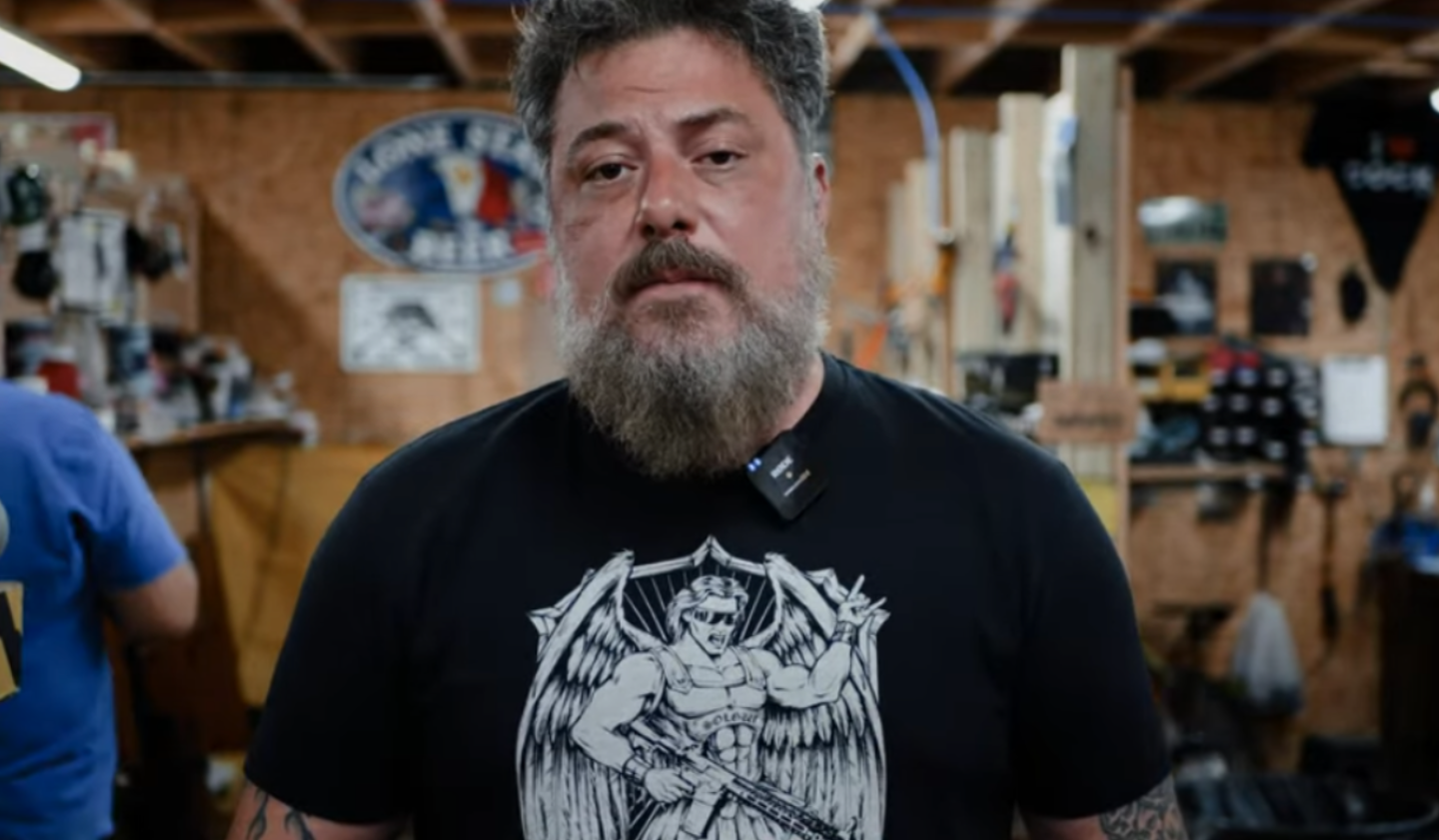 Mike is a friend of mine, and I have a great deal of respect for him. I had a meeting with him and the SOLGW team to discuss other matters during SHOT, but while I was there, this incident came up, and he had a few things to say about the subject. We decided to set up a call following SHOT to discuss the matter further, and this article is the fruit of that conversation. In essence, he wanted to explain the reality of life as an FFL in the Firearms Industry in the USA, and highlight the differences in where and how the 2A and its protections apply to the industry compared to the individual, in light of how many unfortunately just don't understand.
"I wanna talk about this knee jerk reaction among enthusiasts where they see the industry attempting to navigate all these restrictions the government puts in place, and react with hostility aimed at the manufacturer rather than the legislature that put them in that position in the first place. The question has been asked, 'Well if you're such a patriot and such a strong supporter of the 2A, why not sell machine guns to the public?' The answer is Protections."
"There's a misconception amongst people that expect manufacturers to solve the problem that anti-gunners create; the constitutional agreement is different for the individual versus the FFL. In particular, the Second Amendment protects the individual's right to keep and bear arms– it has nothing to do with commerce for profit, or manufacturing. In order to be in the business, you need an FFL; when you enter that agreement, you're voluntarily and preemptively agreeing to comply with federal gun laws, to include audits from the ATF. "
"That agreement is made in good faith; ultimately, the individual has protections that the FFL does not. Therefore, constitutionally speaking, the proverbial 'garage gun guy' has a stronger argument backed by the Second Amendment than the FFL does; As an FFL, you're no longer an individual, you're a business entity. Law Enforcement can't just search an individual whenever they want, within constitutional limits. The ATF? They can roll up on any business entity at any time as often as they want for a spot check."
"Going back to that agreement between FFLs and the Federal Government… by and large, FFLs held up their end of the deal, the ATF has not. They're not supposed to massively disrupt commerce, such that the recent brace ruling does, for example. Rather, the ATF has, in their regulatory duties, become hostile to the industry. They aren't supposed to do that. And it's not like they make it easy to play along to begin with; among the myriad agreements to conduct business in accordance with federal laws and regulations applied to FFLs… some are explicit, some are very gray."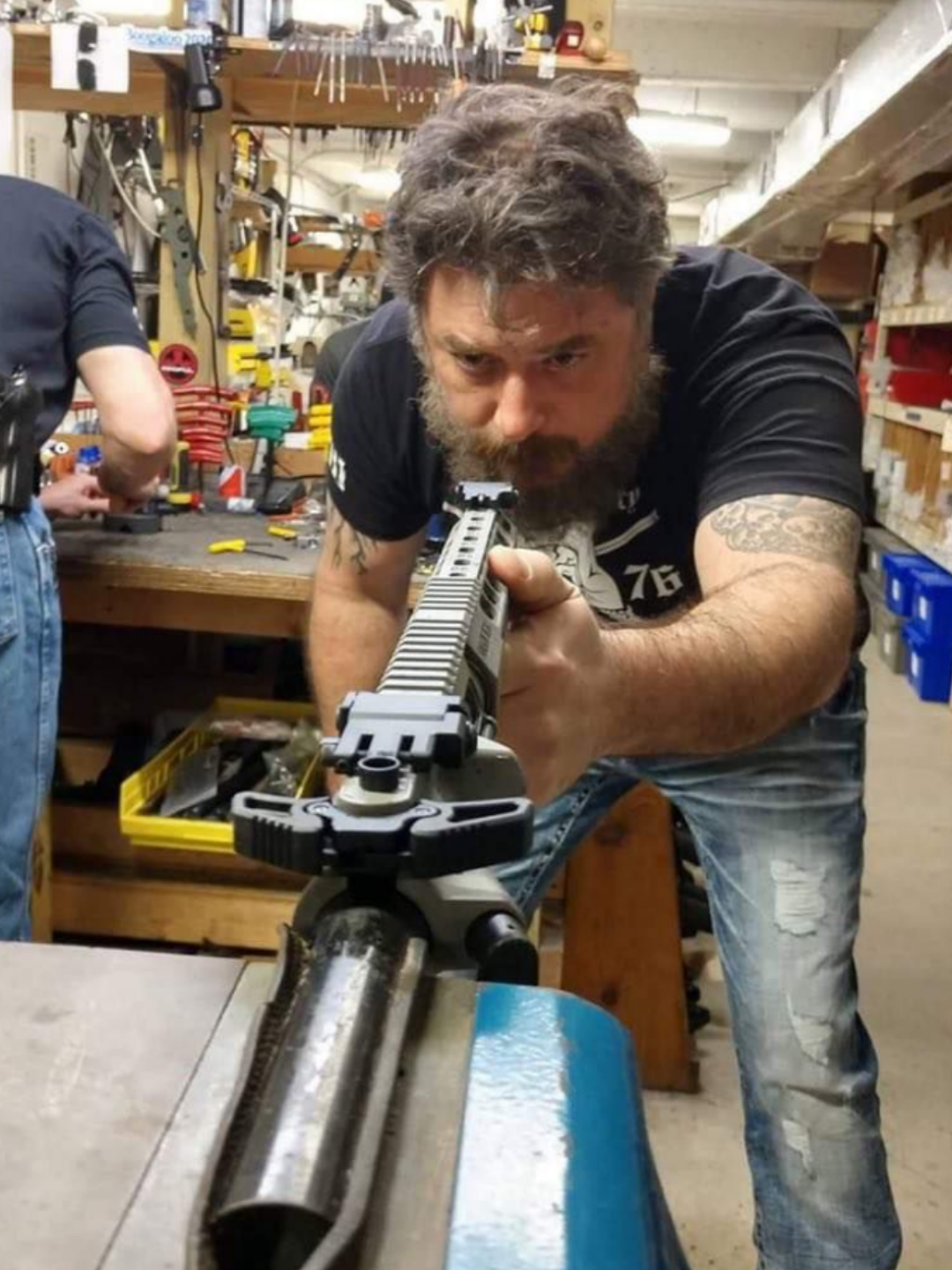 "If you were to ask 10 compliance officers at the ATF the same one question, you'd get 11 different answers, none of which would protect you as a business from FFL revocation, which is up 500% in the last 18 months. And these aren't for nefarious things; No manufacturer is going to rush to the defense of criminal behavior. These FFLs are being revoked over minor administrative or clerical errors.
So for perspective, imagine having 500 employees, and one of them makes ONE clerical error… You're looking at your entire business being shut down. But in cases of medical malpractice for example, you don't see a whole hospital getting shut down. To the point: The ATF should be more concerned with preventing prohibited persons from obtaining the various wares the firearms industry has to offer, not making prohibited persons out of people that already lawfully possess said items."
"As it relates to where we started with Marty Daniel and Daniel Defense… Marty Daniel has my respect. Daniel Defense is the pinnacle of what a privately owned firearm company can do, having started out as just a rail manufacturer. If they had a legal defense fund, I would donate to it despite their being a competitor. I understand why Marty said what he said at that Congressional hearing; I would presume that he was advised by his attorneys to answer the way he did, in light of the fact that a significant amount of his company's business comes from DOD & DOJ contracts, against the backdrop of avoiding any provocation of the ATF while his company was being hit with lawsuits over mass shootings. I sympathize with him, because of the unfair hate he gets from people that aren't in the hot seat."
"I have friends (that work for firearm manufacturers) that went and got vaccinated because they couldn't risk losing the revenue from gov sales; we keep that percentage of sales to go entities low on purpose to avoid that very situation. Because SOLGW isn't dependent on gov sales, we retain that flexibility in posture and the ability to remain outspoken on 2A issues– and that is by design."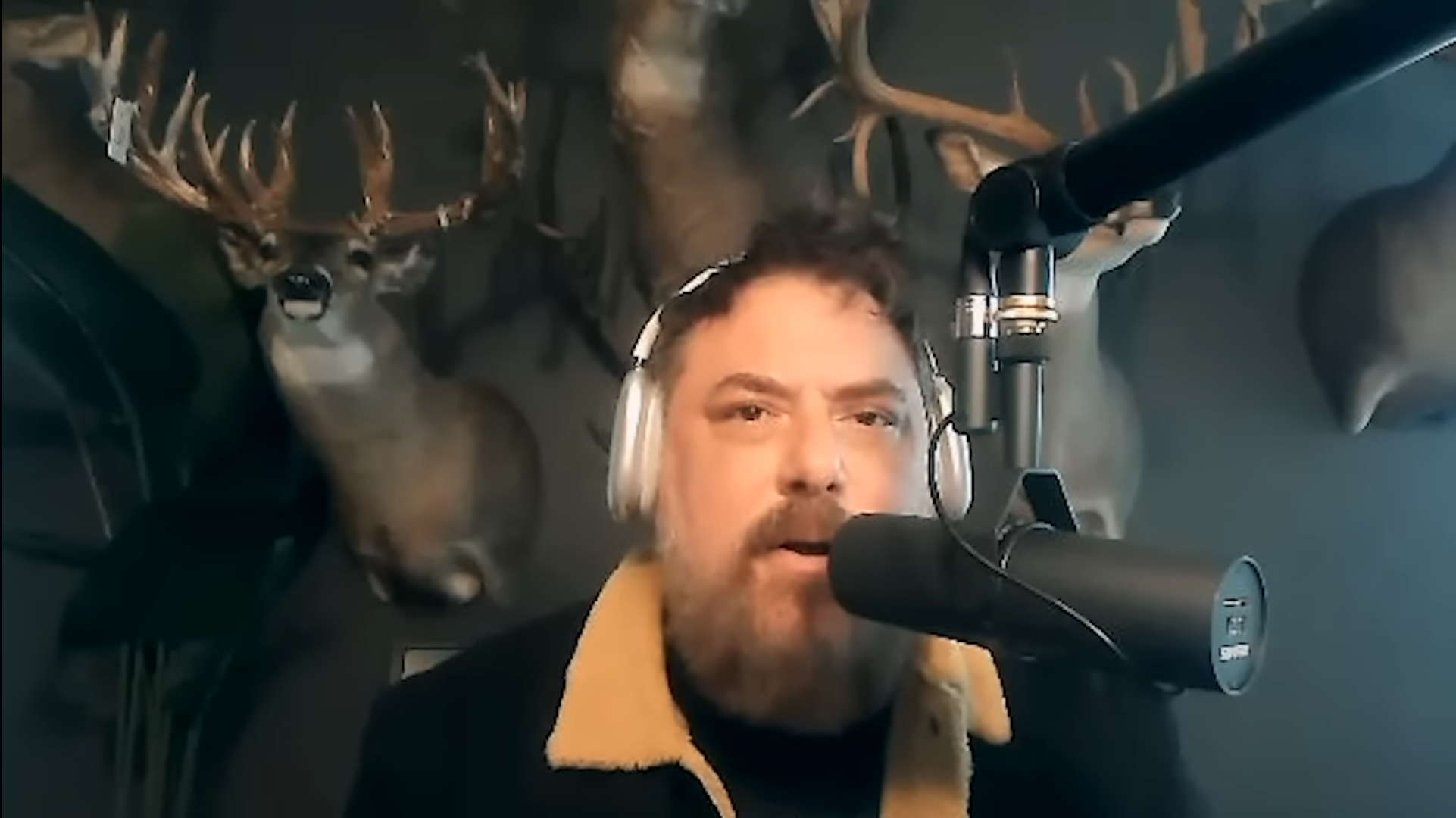 "Having said that, I would have answered that question differently; I would have been more honest, albeit diplomatic. In other settings I've been asked the same question, of whether I thought the ATF should be disbanded. My answer has been, 'In its current form, Yes.' They need to revisit their intent and mission; they've gotten away from it. They're not worried about cartels and terrorists as much as they've become preoccupied with going after individuals and participants of lawful commerce."
"The thing people need to realize is, the anti-gun lobby realizes that going after the industry admin style is easier than going after individual gun owners. They've tried that and haven't gained much traction. But jamming up FFLs? That restricts individuals anyway, because the FFLs are the ones providing the individual with the product to begin with. So there's a lot of times when the FFL, the manufacturer, the industry, gets it from both ends: The .gov on one side, and those uninformed but no less passionate on the other. As FFLs, we all entered into an agreement to benefit those individuals, and there are rules to the game; but only one side is playing by them."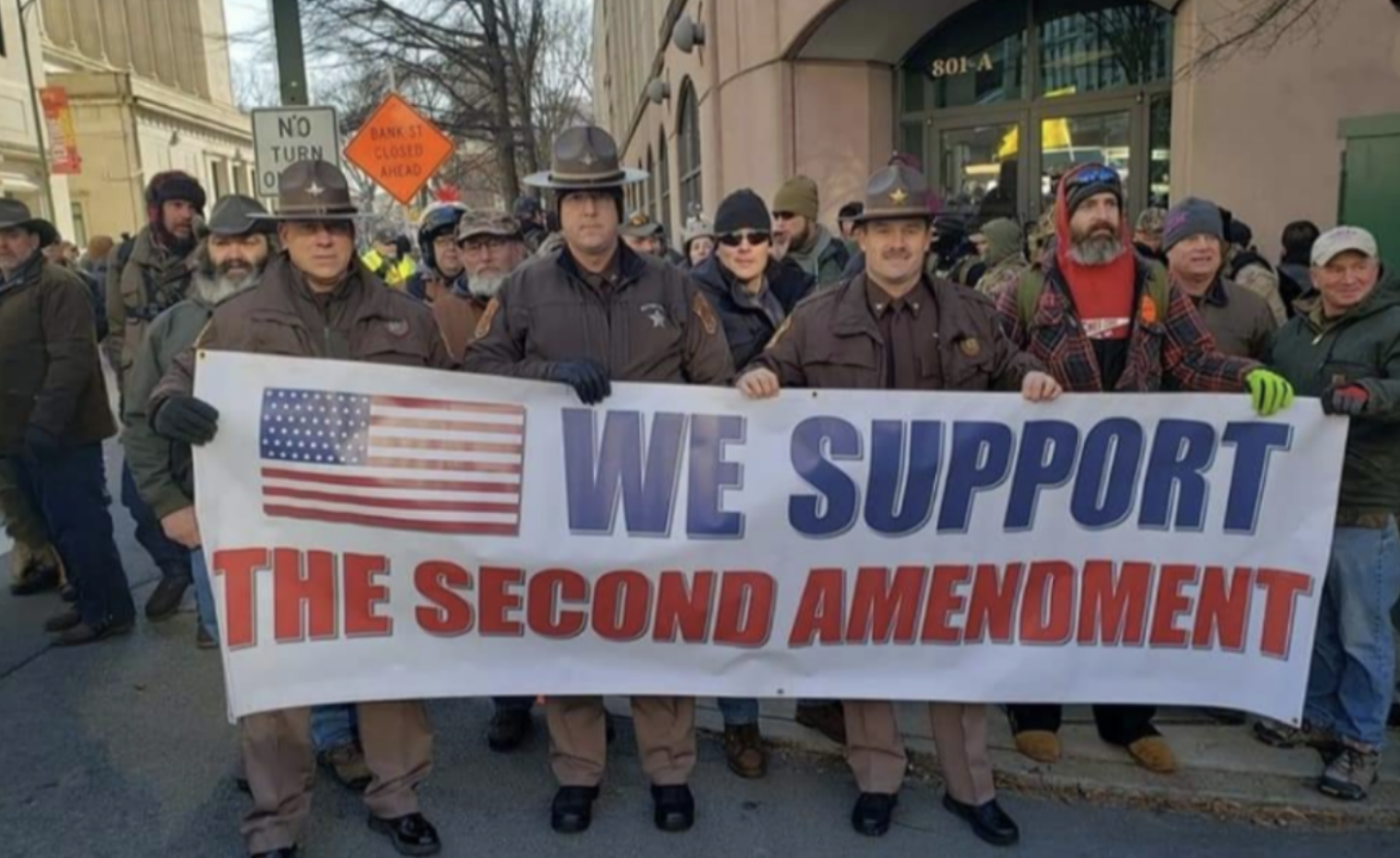 "That being said: I support Law Enforcement. We are a Constitutional Republic, a nation of laws. What gives it teeth is the enforcement of those laws. In light of that, I believe Law Enforcement is necessary, and society is better off for it. While I'll never arm the ATF or the IRS, I'm not ideologically opposed to supplying state and local police. But it's nuanced; I'm strongly opposed to red flag laws, gun control, confiscation and asset forfeiture. But if LE is going after an active shooter, and keeping the peace? I support that."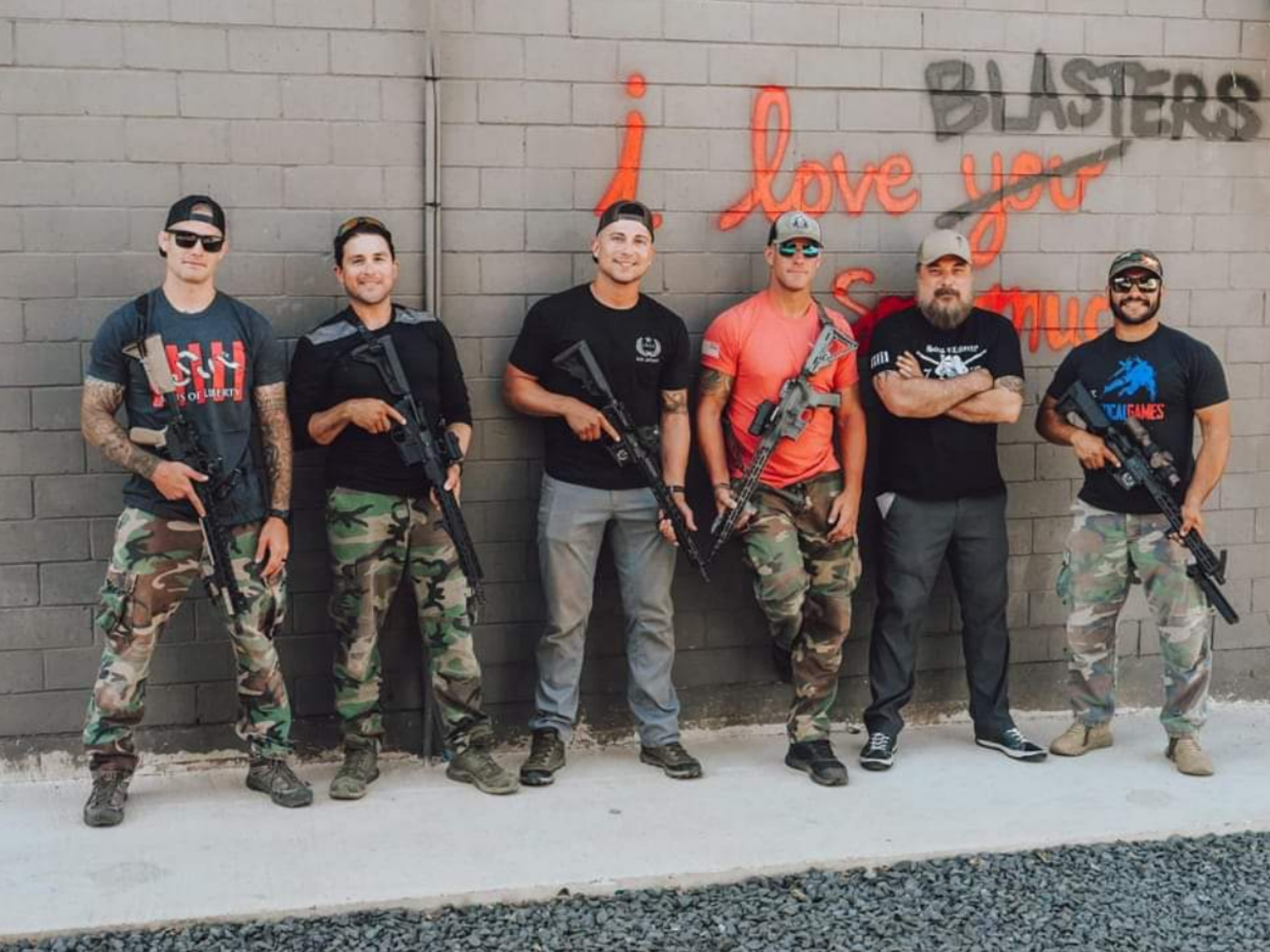 "Anytime a manufacturer says something like that, there's always someone that likes to ask something like, 'What if the guns you sell to LE are used to confiscate the guns you sell to civilians?' That's a stupid question. The only 'safe' way to avoid that is to not ship any guns anywhere; the same amount of risk exists that one of my guns would be used in a crime as there is that they'd be used in a bad police action– it's not my job to decide who should be armed or not.
You don't know if commies or criminals are buying your guns, but what I do know: Out of the 1000s of SOLGW guns in circulation, 99.9% of them are not being used for anything I find abhorrent. When that day comes, I'll cross that bridge when I get to it. That doesn't mean LE is infallible; it means there's no right answer."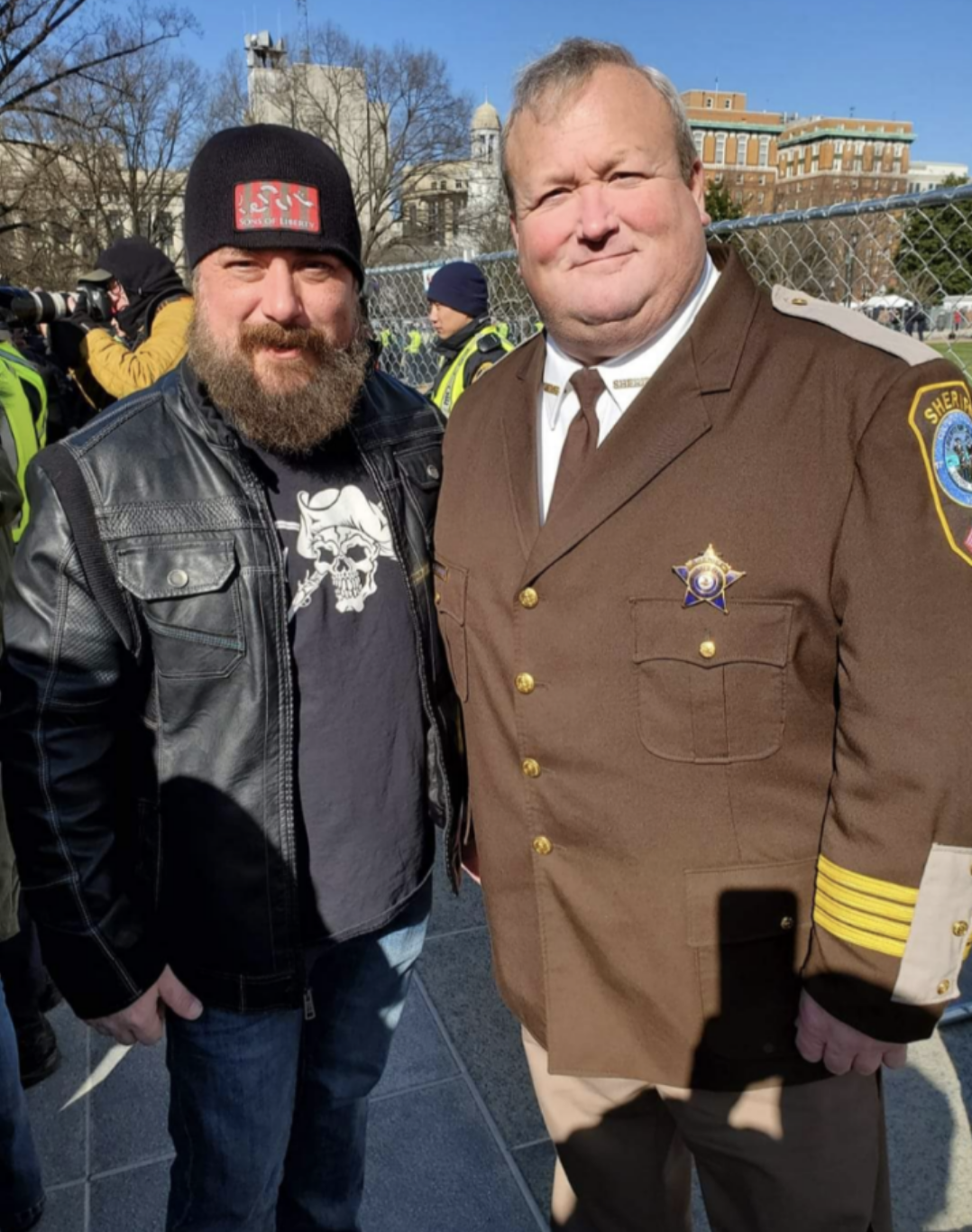 "People like to say we shouldn't sell guns to agencies in certain states, but it's never that simple: In New Mexico, 32 out of 34 counties in a blue state opposed Red Flag Laws. Two blue counties surrounded by red counties, the sheriffs of which stood up and said, "No": Do we punish them ALL? Should they be deprived for doing what we asked them to do? Why not support agencies that have done what we asked?
Civil service is a cross section of society. Most cops I deal with are legit gun guys: They compete, they train civilians, they're armorers that we train for free in classes that they permit civilians to attend with them, because they're gun guys first and foremost. And I love that. I love my craft. I love to talk about and make guns. I love people that love guns."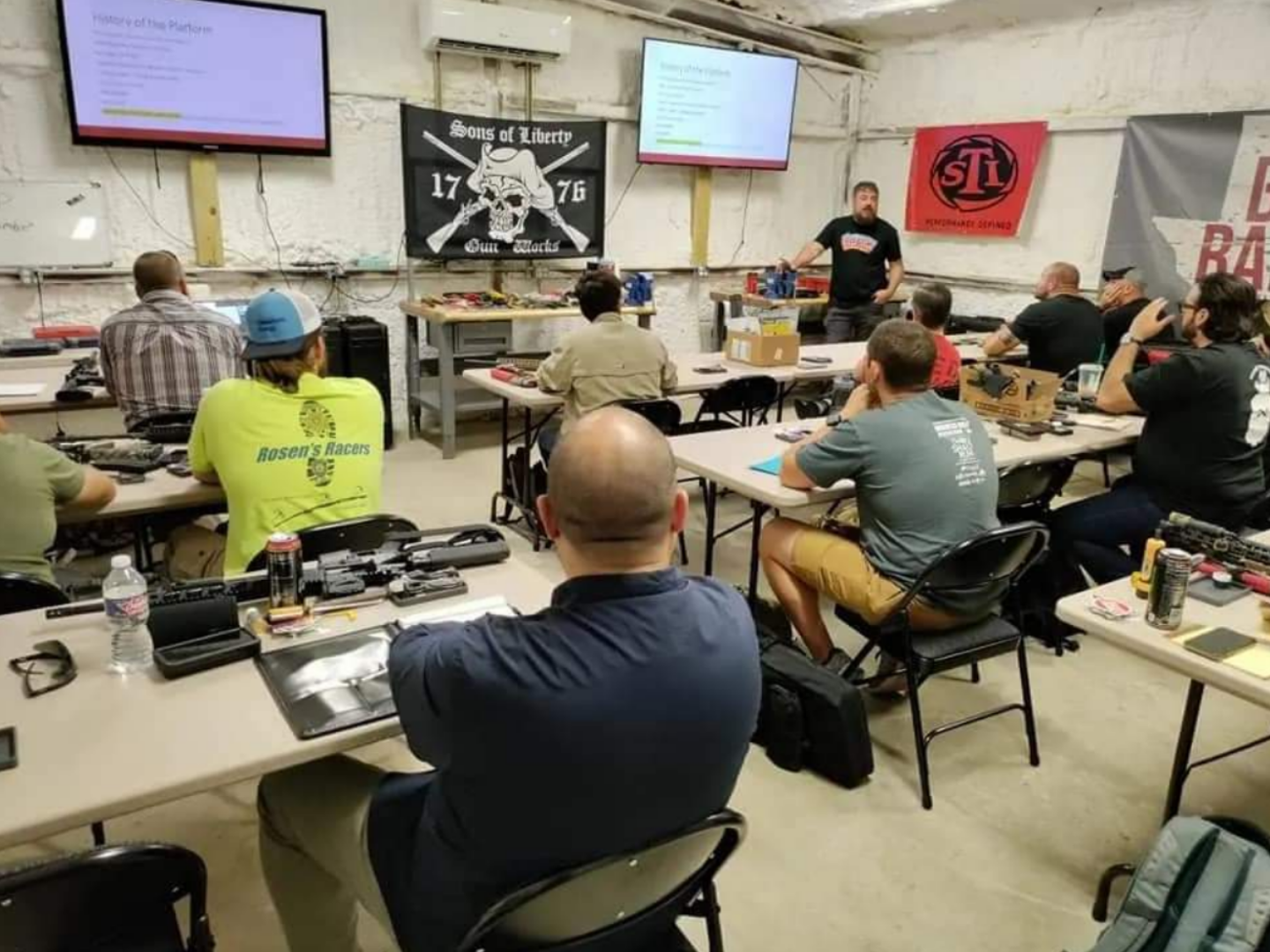 "If people have a problem with me saying that? I don't give a fuck. I am not afraid to speak the truth, and if people don't like me for it, I'm okay with that. I'm guided by my conscience. I'm not out here looking for validation and approval from an anonymous consensus on the internet; I've got bigger and more important things to worry about. These people don't move the needle. Most of them have no skin in the game, but look at what we're doing in the meantime:
We're on the ground participating in activism and lobbying: constantly speaking at town halls and donating to causes, going on podcasts, helping to write and guide the messaging for national level Pro-2A spokespeople, guest speaking at schools and universities and on the news. We appeared at Kyle Rittenhouse's trial and supported him before it was 'safe' to do so. Mark McCloskey also has my support and respect after talking to him, especially for the fact that he's a hardcore constitutionalist and anti-communist.
SOLGW is out there fighting that fight. I took a part of myself and channeled my problems with authority into my activism and lobbying, and that's still part of who we are today at SOLGW, even in our Revolutionary War style branding. The people talking shit on the internet? They're not in it. They don't matter."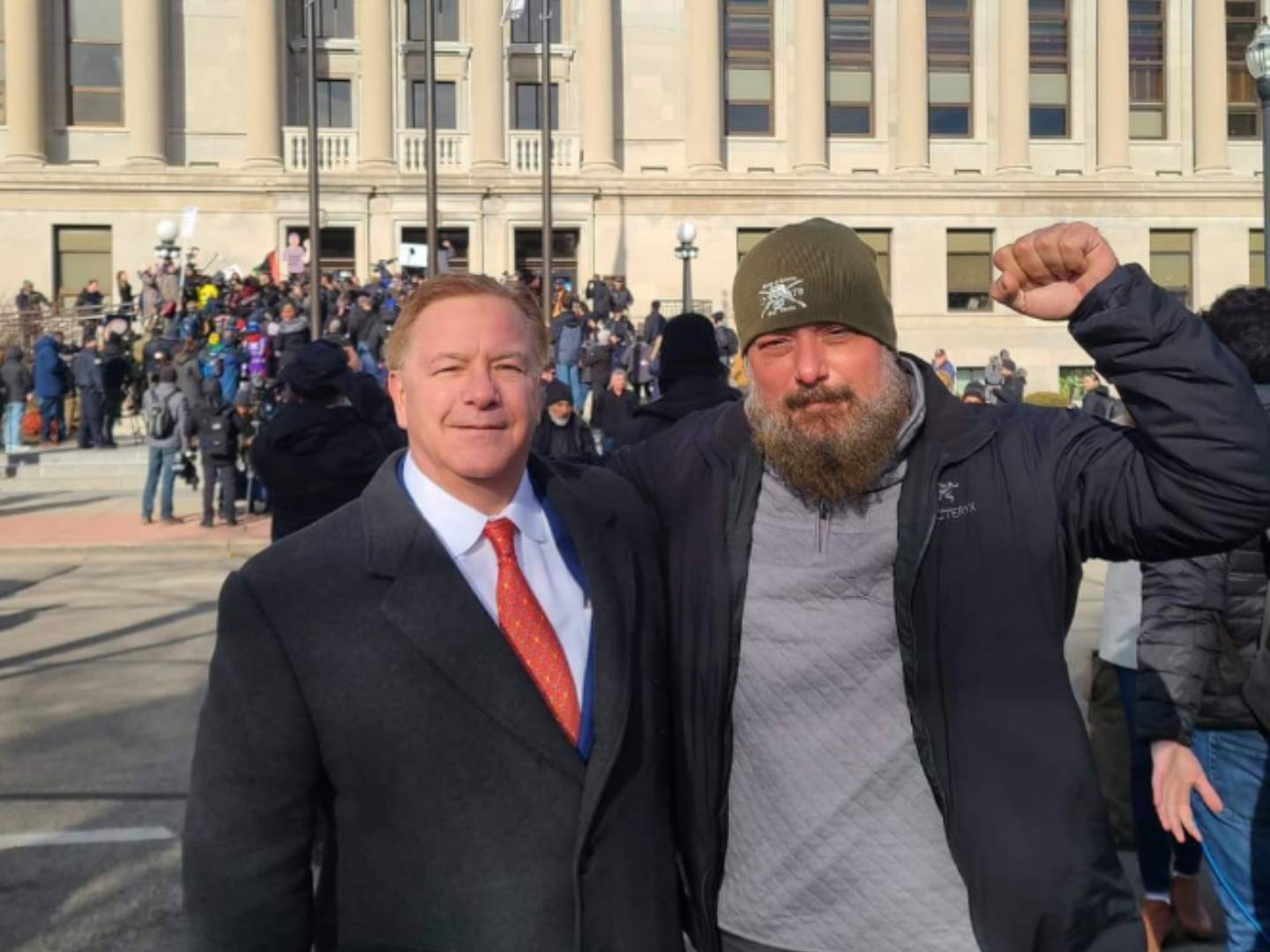 "It's easy to focus on cops because enforcement is their job. What about everyone else, though? Look at what happened with the pandemic. COVID-19 enforcement, seeing it by LE was bothersome. But seeing it by civilians really bothered me. When I walked into a restaurant without a mask, nobody apologized for having to ask whether I was vaccinated; they did it with gusto. It was disturbing to see my fellow Americans enthusiastically enforce COVID-19 regulations and confront other people about it. Families were torn apart over it. People's response to the pandemic was a good look at who's who, cops and civilians alike."
"I remember being on a flight when the mask order was rescinded. When the pilot announced it, the crew cheered. But some left their masks on– I don't know who they are, what they do, or what they believe. Probably not too far from the people that dismiss the idea of standing up to the government with ARs, and honestly, they are joined by people that conversely romanticize revolution as two sides to the same flawed coin.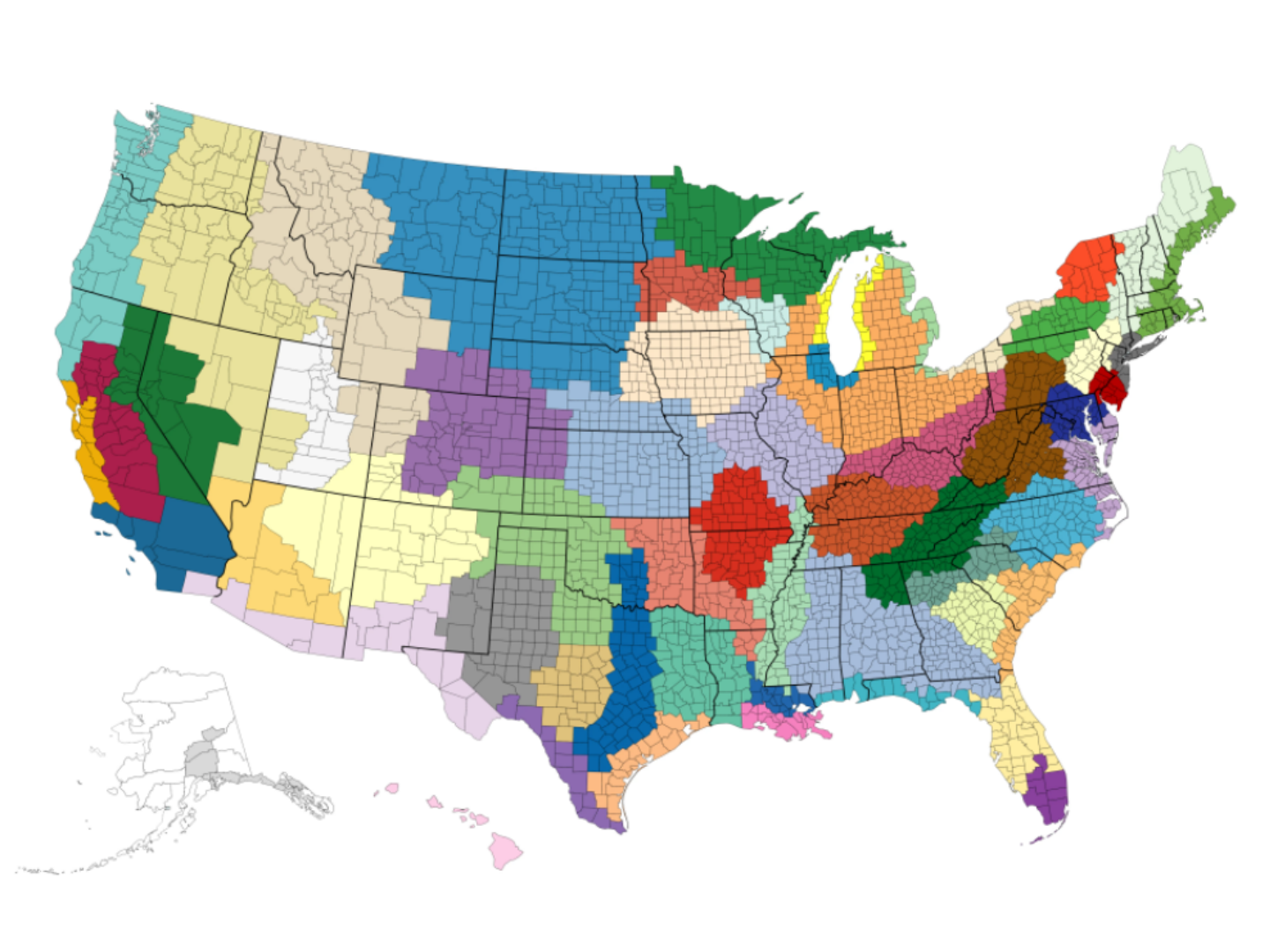 They think there's two Americas– Left & Right, Red & Blue, Pro Gun & Anti Gun. But there's really 1000 Americas. Just because someone likes guns doesn't mean they're your friend and won't be pointing theirs at you for the 0.1% of stuff you disagree on. People are worried about LE but after the pandemic I'm looking around and thinking, you should be more concerned about your neighbor that would sooner throw you under the bus for being a political dissident or 'extremist' in Germany '39 fashion. As a business, I don't know who's who or how to tell among them. But I can say this– I see that same infighting among our own. We have a culture, but no community."
•••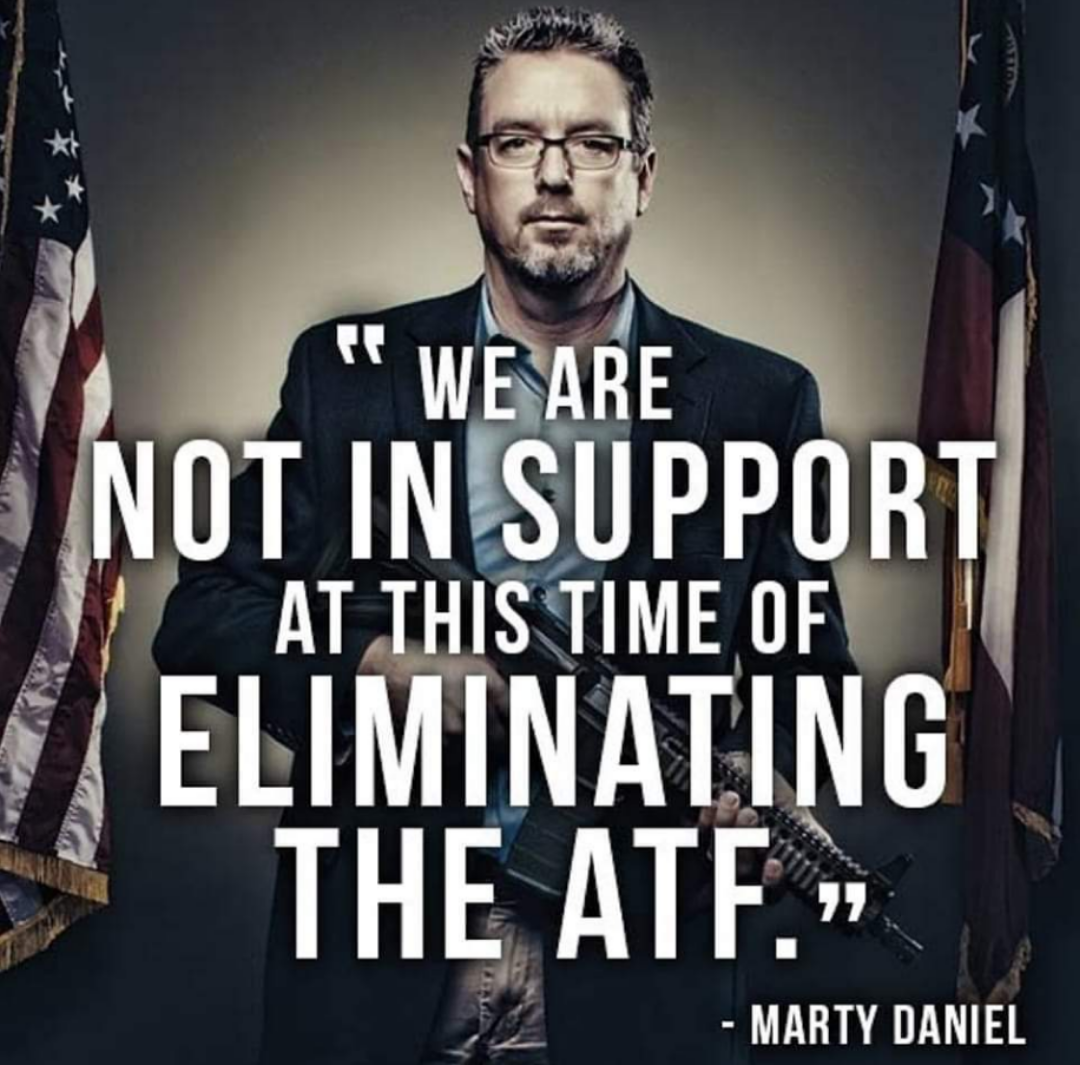 When everyone was all up in arms over that aforementioned congressional hearing where Marty Daniel spoke as quoted in the attached image, a friend who had earlier expressed interest in getting a DDM4A1 shared a post to me about it and said, "On second thought, maybe not."
I said to him, "I can tell you exactly why he said that, and it didn't have anything to do with his moral compass or political/philosophical beliefs. Which is to say, it was fucking dumb for him to say it, but I know why he said it.
So think of it like this. You're a business owner, and you sell firearms. A LOT of firearms. You sell to the government and the commercial market alike, and probably more of the latter considering agencies aren't making big agency sized purchases all that often.
The ATF has purview over EVERY single product you sell. You have to submit all sorts of paperwork to them to get approved and signed off on, in order to maintain your day to day operations.
And you're already in the hot seat catching shit from the government and private organizations wanting to nail you to the cross because your guns were used by active shooters, so you're already dealing with a smear campaign of sorts.
Now you're put on TV being questioned by the politicians that the government agency your day to day operations and livelihood are hinged on the blessing and authority of, answer to.
And they ask you to flip them the bird of your own volition.
How do you think actually flipping them the bird on national TV might possibly affect your day to day operations and therefore livelihood?
How much red tape to slow down or stall your manufacturing and commercial operations outright do you think might magically start to come up, as a result of that? Sales completely stopped, gov and commercial alike.
Wouldn't be the first time our government harassed a private business for not aligning with its views. Imagine getting audited by the ATF every day.
So, knowing the ins and outs of the industry the way I do, as it relates to government approval, and the politics therein;
• I don't think this was Marty Daniel saying "I love the ATF and think it should stay."
• I believe this was Marty Daniel knowing that if he gave any other answer, his entire livelihood, and therefore that of his family, and that of his employees, and their families, could come to a dead halt in an instant.
People that cry bootlicker will spin it like this because the answer he gave wasn't the answer they wanted to hear. So they light the virtue signal and pop off with principled albeit shallow arguments.
But that's because they don't even consider or give a flying fuck about this livelihood detail. They're not footing the bill to put roofs over these peoples' heads and food on their tables.
It's one of the shit sandwiches that are served on the menu of leadership that you sometimes have to take a bite of. Second and third order effects. "Chess, not checkers."
The people shit talking Daniel Defense over this now are the same people that were already shit talking Daniel Defense product in the first place and saying their products were priced too high for what they were offering anyway.
Whose best interests and approval will be of higher priority to Marty Daniel? The faceless critics on the internet? Or the people that depend on him to make a living and provide for themselves and their families, who make HIS success and ability to provide for his own family possible in the first place?
Sure, some in the market will vote with their dollars and boycott DD products. But I'm willing to bet more people understand the reality of the situation less the political idealism, as I've described it here. I can't be the only one."
Turns out I wasn't the only one. The shade that is now customary to throw at police and the companies in the industry that supply them whenever elected officials acting in tandem tow the party line to destroy the 2A start pushing more control, is hard to avoid noticing.
One day I noticed some radio jockey talking some ACAB shit about how you can't trust police cause they'll be the ones coming for your guns, and I asked him why. He did a shitty job trying to walk back what he said, but in the process, it dawned upon me:
"All local law enforcement are suspect because some law enforcement enforces gun control, and they all have the means to do it."
Mirrors…
"All gun owners are suspect because some gun owners abused their 2A rights to violate the rights/safety of others, and they all have the means to do it."
I was sitting here scratching my head going "Why the hell does this sound so familiar, like I've argued against it before, but on a different subject?" And when it clicked I went "Holy shit. People will actually argue against those that say that about gun owners; we would never stand for it– We'll go toe to toe with them in any setting with all the argumentative ammo we need to shut those arguments down and prove them wrong– and then some of those same people will turn around and make the exact same argument within their own circles, against people that were (for the most part/by majority) in chorus with them in the first argument. And they don't even realize it."
And all of it by design. Our enemies needn't divide and conquer us; they just have to conquer us. We divide ourselves for them.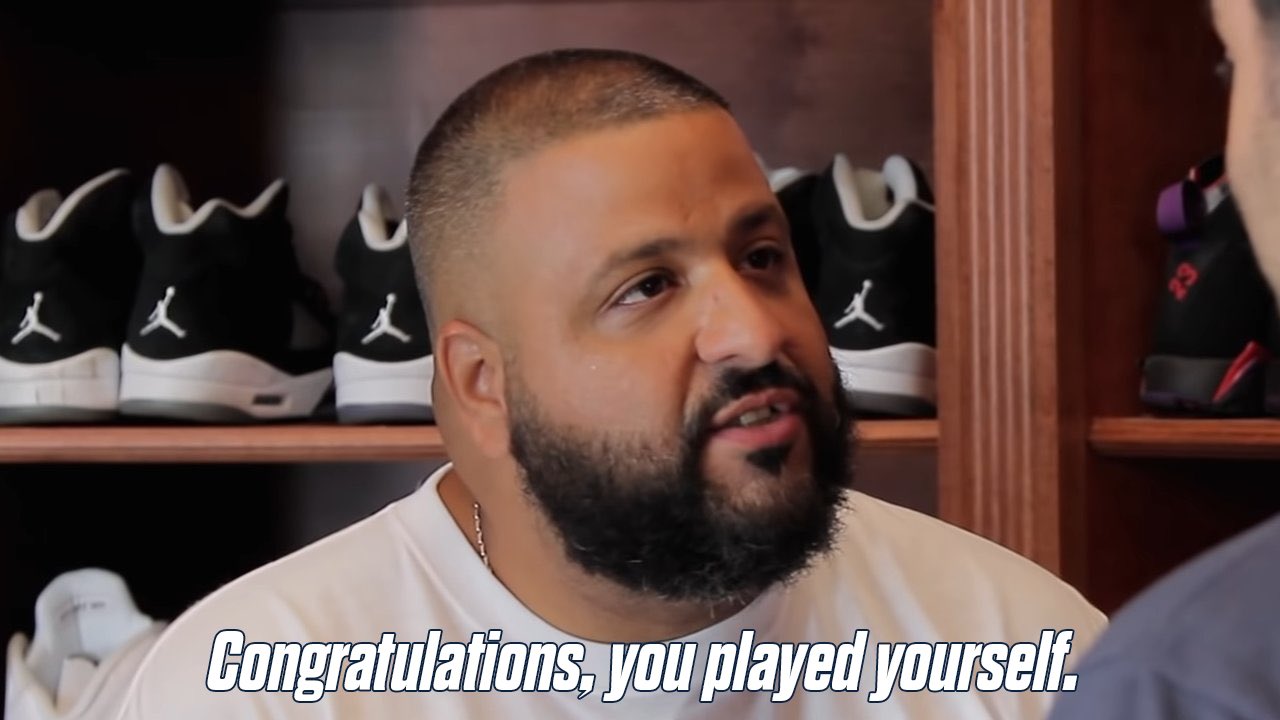 If a company endorses, suggests, or promotes additional gun control laws than there already are, that is one thing. At that point, they deserve every criticism they receive. That is not what we're talking about here. Eating our own for playing by the rules of the game gains us nothing.
Do you accept when the woke mob tells you all caucasians are inherently to blame for every hardship experienced by all people that aren't caucasian, based on the notion that whiteness represents bigotry?
No? Then you can't turn around and use the same logic against all police officers, or you're just as bad. Doesn't matter how you try to slice it with whatever bullshit doublespeak you can conjure, like "I know good people that are cops. But there are no good cops." You're just as guilty as our SJW opponents when you employ their logic and tactics against your own.
•••
That last thing Mike said, about how we're a culture without a community, made my ears perk up. Not because it was new or interesting, rather the opposite: I've said the same thing. I've witnessed it. I've discussed it before, with a few people over the years, but one in particular: General Hughes.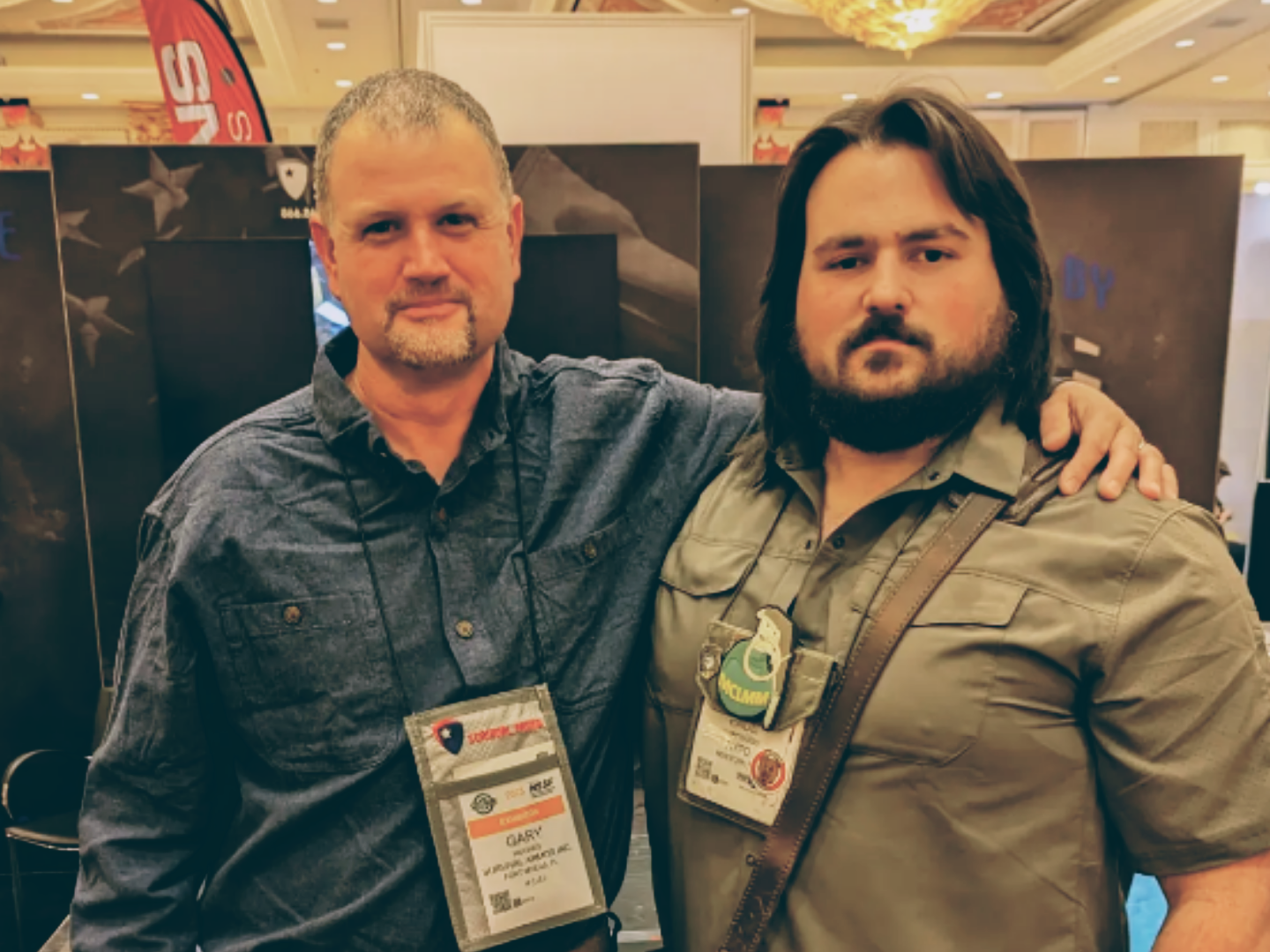 If you don't know who Gary Motherfucking Hughes is, you're wrong, unfuck yourself. To me, he isn't just a friend, but a mentor, and one I regularly consult with to check myself and calibrate my compass on a variety of topics, especially those involving constitutionality. Not because I'm unsure, more so because we both subscribe to a particular brand of anti-communism that could be described as… militant. I like to make sure I've not yet gone off the deep end in that regard. The General is one of the last real Libertarians left among us, and he doesn't just talk the talk, he walks the walk.
Gary and I have discussed this matter of our having a culture without a community before, at length. Unfortunately I hadn't thought to write this article when we spoke of it last. Lacking a transcript from our previous conversation, I had to make a call and ask him to refresh my memory: What were his thoughts on the matter again, about how we're a Culture without a Community? How did he delineate between the two? Why couldn't we have both?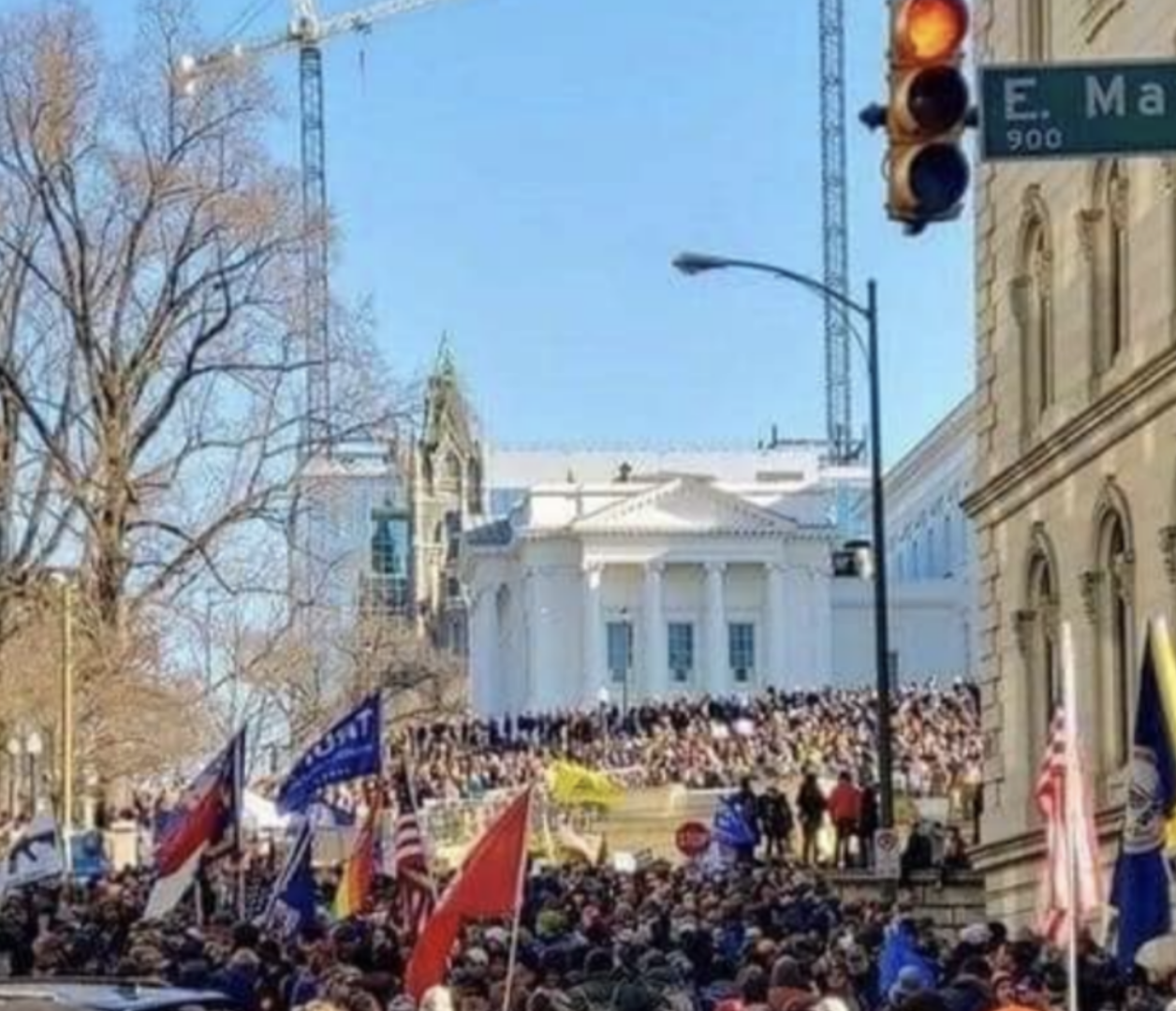 "2A Culture is when one's affinity for guns or anything related is the overriding facet of their life, in some cases to the point of becoming a career; it's the most important thing beyond one's family, in other words. It includes a variety of subcultures (AR guys over here, AK guys over there, armorers, tactical guys, competitive guys, etc), but they're still the culture nonetheless, who all understand the meaning and implications of the 2A. It's more than a hobby to them, it goes beyond that."
"Then you've got these casuals, on the other hand, that embrace all manner of depravity and press. Any press is good press. Everyone is welcome. The tent is large and your golden ticket is simple ownership. They embrace what I call tourists. Like a car guy that's got extra money to spend and wants a new toy, or gamer who wants to buy a gun like the ones he plays with, and has it cerakoted to match his shoes or his hoodie, then they go online and call it 'drip.'
They're not in it for the sacrosanctity of the 2A, they get into it to look cool; to them it's fashionable and convenient. But the second the anti gun lobby makes it not cool, they'll be the first to go– right now it's cool cause it's edgy, they're the 'gun guy' and therefore unique among their leftist friends.
Casuals are inclusive, and younger people embrace that inclusiveness. They think possession equals participation and membership. All they want is more gun owners, but that's how we get vets and hunters that say shit like 'People don't need weapons of war,' and presume to speak on our behalf in saying as much. This is obviously a bad look for us in the crosshairs of the anti gun lobby, because it gives them ammo to present their "common sense gun control" arguments with the idea that gun owners agree with it."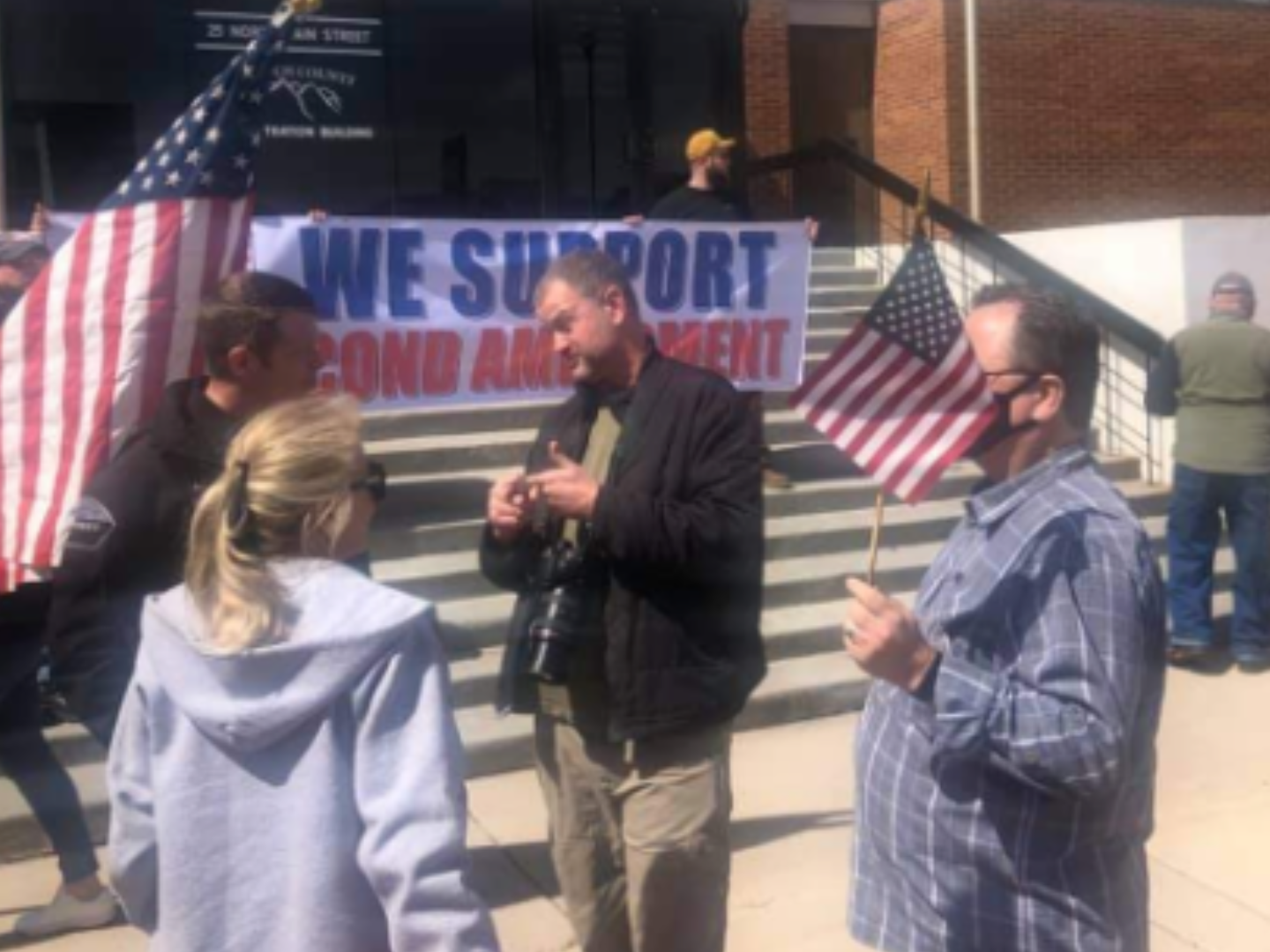 "You're a culture guy. I'm a culture guy. Mike Mihalski is a culture guy. Mike and I have been to the steps of the Capitol. We've been to rallies. We put our money where our mouth is, and we did it even though we had a lot to lose. The casual guy? He checks out as soon as the going gets rough, and sells off his guns to fund other hobbies.
But don't get me wrong– this isn't a knock on the younger echelon of gun owners wholesale. There are young guys that are culture and old guys that are casual. But like, flex groups for instance? Casuals, and all about fashion. You're not in vogue? You disagree with the trend the rest of the hivemind is preaching? 'Flex for ban, fuck his dad.' Fuckouttahere. They call us gatekeepers for saying it, but the truth of the matter is we didn't gatekeep enough."
"Culture is exclusive. You don't just get to be a part of it; you have to earn it. There's a rite of passage required. There's merit. Ownership isn't necessary, but it also isn't a guarantee of inclusion. Culture guys have skin in the game. They respect knowledge, experience, and tradition over opinionated blabbering and fashionability. It's quality over quantity.
Casuals lack commitment; they pay lip service to the culture to legitimize their participation by regurgitating scripted responses along the lines of 'Muh rights ' and likewise ranting. Culture is all about software, Casuals are preoccupied with hardware."
"No matter how much some dislike it, criticize it, and outright talk shit about it to their 'enlightened' friends because they 'just do it for a job,' the industry is a culture. A culture with a few distinct subsects, but a culture nonetheless. A culture with its own societal norms, customs, language and moral code.
Do we eat our own when they fuck up, like really fuck up? You're Goddamned right we do. It's called self-policing, because sometimes the fucking herd needs to be culled. Otherwise it won't be a culture anymore. It'll be a steaming heap of disunited, disgusting, all inclusive shit that is so confused, it doesn't even know which bathroom to use or have the good sense to vote for the lesser of two evils to save our collective asses.
So whine and cry about it, and do us all a favor, when this shit isn't fashionable or cool enough anymore, move your ass on to something else you can brag about to your trendy liberal friends."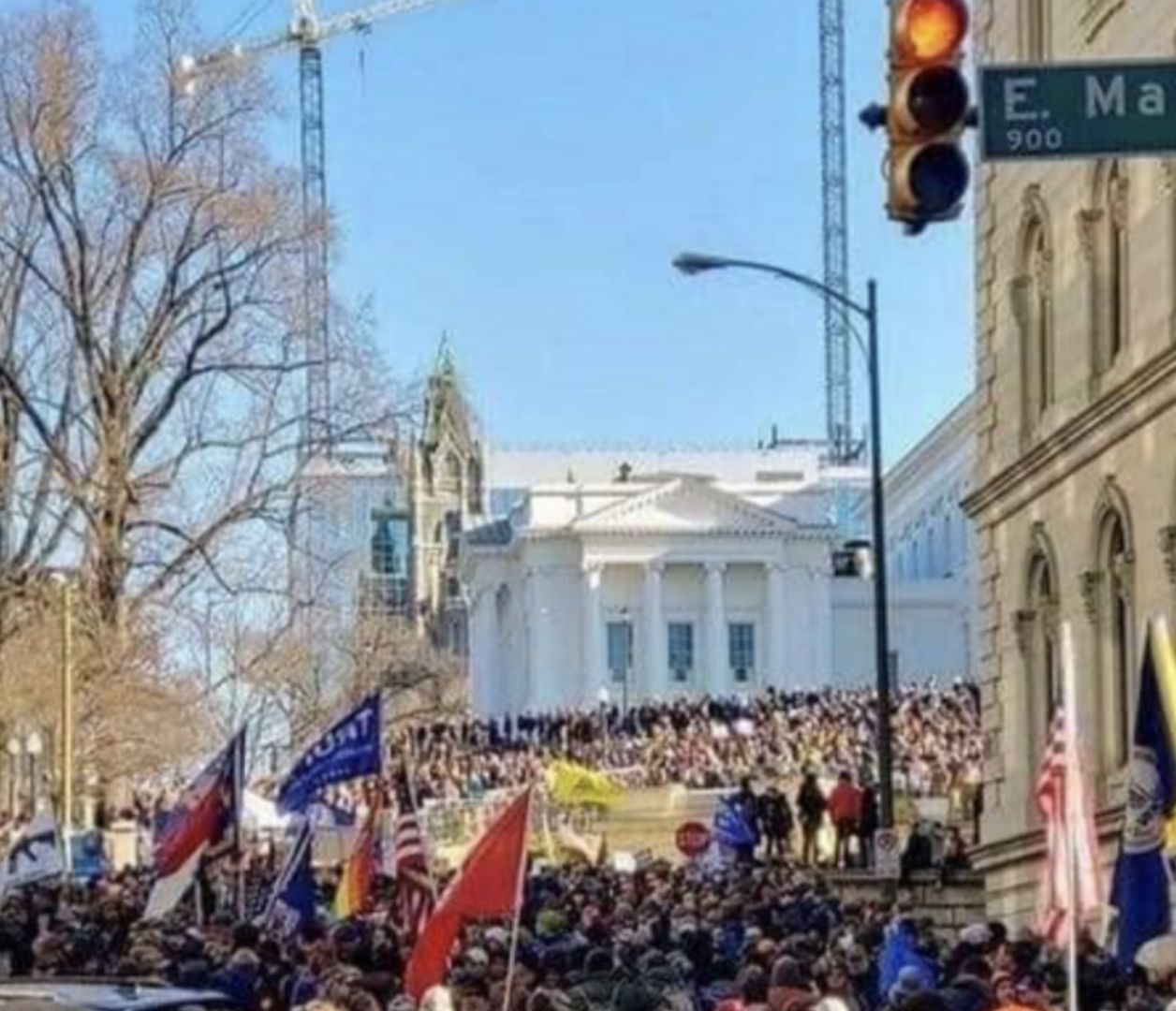 "The 2A is for everyone. The culture isn't.
The casuals will pride parade and alternative lifestyle its way to irrelevance with the culture in the name of inclusiveness. These dipshits that jump on the internet and sling shit at the industry for not bending over backwards to placate their every seethingly absolute demand? They're not Culture, they're not even Libertarians. They're Anarchists. And if there's one 'approach to societal governance' that's got even less examples of successful implementation than communism, it's anarchism.
We've discussed how we've noticed socialists with a fondness for guns that have been infiltrating the community and calling themselves libertarians until they out themselves and get called out on it for a few years now; the anarchists are even worse. In attacking their own, those that enable them especially, for the sake of being angsty fucks and trying to pass it off like rebellious cries for liberty, they're basically cutting off their own nose to spite their face."
•••
There is a common thread and truth to which both Mike and Gary spoke on with various contextual examples, so summarized: The tenacity of those who assert themselves out of turn and out of place, and their attempts to destroy that from which they benefit but contribute nothing to. Behold, our current state of affairs; and what a sorry state we've arrived upon. What a mess.
For all of the accessibility the internet provides, 2A knowledge and culture is abundant, yet we've collectively failed to foster a community beyond our shared interest in firearms and other related subjects. Casuals (both familiar and unfamiliar) who haven't been properly vetted have been allowed to run rampant and unchecked throughout the rank and file, and as a result we've become fractured and divided.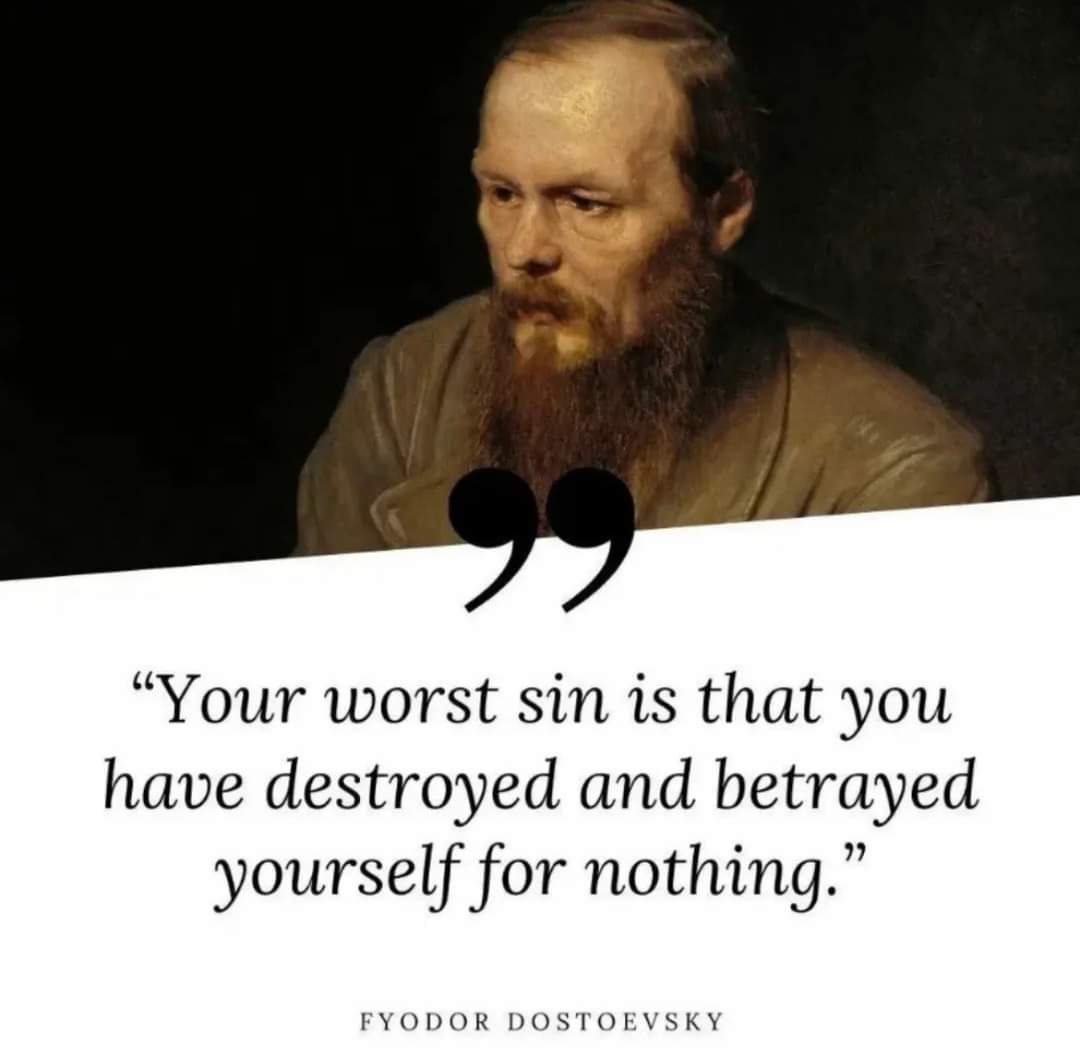 We've squandered our energy in becoming preoccupied with hostility among ourselves, bickering and attacking one another instead of uniting and embracing our collective strengths; our potential to become what is oft romanticized as the founders once envisioned never realized, at the behest of those who treat tools as toys and what is truly a lifestyle as a mere hobby, who've committed no greater effort than self sabotage. What a pathetic, wasted opportunity.
Matthew 12:25 states, "Every kingdom divided against itself is brought to desolation; and every city or house divided against itself shall not stand." This will certainly be true of the current state of our "community," rife with the cancerous rot of tribalism for tribalism's sake; in a word, absurdity. Divided by infighting, ego-driven behavior, and lack of focus, we are vulnerable to outside forces and unable to make meaningful progress as a people.
The tapestry of the 2A community… the culture, the casuals, and their interactions with each other, along with the industry and law enforcement, and myriad sociopolitical issues all fit together. Having been led astray however, wayward in our convictions and deceived into misinterpretation (especially by our own), we have lost sight of this.
Of knowing one's place…
First understand where this is coming from: I do not consider myself a subject matter expert by any stretch, and any time I've been credited as one I've experienced imposter syndrome. I just keenly understand them as a professional and translate that into layman's terms really well. Beyond that, I know who the real ones are, I know where to find them, and I'll point you in their direction so you can hear it straight from the source. Everything I say or suggest in terms of content I generate, I run by them first anyway to make sure it's all good. Other than that, I'm just a guy, and that's all I really ever wanted to be: one of the guys.
I came into adulthood and gun ownership during a war. My mentors, my betters, and many friends of mine otherwise fought in that war. Those people learned from the men that built the standards upon which we all stand, the legacy inherent throughout. We were all on the same page, we were all on the same team, we knew who was on that team, and we knew who the fucking bad guys were. By and large, we were joined in that perspective by many in the professional and armed citizen circles.
I don't know how many MIL & LE personnel collectively stopped follow-up terrorist attacks on US soil during the GWOT, both at home and abroad. But the ones doing it, the guys tasked with going after the baddest of the bad… Those were the guys me and mine learned from. We listened to everything they had to say, cause they were the ones doing the damn thing. We knew our place.
That is how we came up, those are the circumstances we learned the game under, this is how we came into the culture. This is therefore how we proceed to pass it down to the next generation, many of whom were born later towards the end of that war. They didn't grow up with the same role models, or the same priorities. They came to us through people and portals that weren't there and never did the damn thing, insisting that their skill and enthusiasm alone qualified them to speak on things beyond their experience. So there's already a language barrier of sorts in play, which is understandable but not insurmountable.
Having said that, understand this also: being new to all of this doesn't make one undesirable to those that have made a life of it. Those of the culture are the stewards of the craft, tasked with welcoming the uninitiated and bringing them into the fold. They are entrusted to ensure that those among us who don't know better are educated, and that those who talk out of turn are held accountable.
Said uninitiated break down into two groups: The prospects, who are new to the fold and seeking to learn; in other words, normies with the potential to be valued members of the culture, as we all began. Then there's the casuals; the aforementioned hobbyists or tourists. Put simply:
Culture cares about the 2A in the context of defensive applications, as it was intended.
Casuals only care about the 2A because they think it's fun; the "sportsman" and fashionability byproducts are what matter most to them.
Culture therefore is for those among the initiated and their prospects apprentice, who take the craft seriously and embody the sacrosanctity that comes with it. Casuals can be those who are new to the game and/or those that just don't care enough to really learn and get into it, and thus may not understand the gravity that comes with it.
There's segments of the culture that are actually dedicated to casual outreach; they all together function like a Welcome Center of sorts; they're there to ease newcomers into it, be it through press articles, local classes, lectures, etc. When someone that's never owned or perhaps even fired a gun, the Welcome Center folks are there to open the door and sort of concierge them in and guide them along their first steps, from picking stuff out to actually learning how and why they're used the way they are. John Q Public wants to get a revolver, or his wife wants a carry gun, or a young man needs to take a hunting safety course so he can get his first tags. The Welcome Center is there for them.
This is not about the Welcome Center. They're a boring albeit necessary part of the culture. When we say Culture here, we're talking deeper into the weeds, further into the back of the building where they keep the good shit.
While we must recognize the difference between those who are immersed in our culture and those who aren't so much, the delta between those knowledgeable and experienced in the craft and those who are not must also be accounted for. However, those who haven't yet developed the maturity and wisdom to be the community leaders they purport to be have managed to fail miraculously in this endeavor, as they encourage the infighting among their own.
It's not that Culture is incapable of forming true Community because no one can get along; All the friction we're seeing is actually a result of Casuals clashing with Culture, far worse than the growing pains typical of the tension between the old guard and the new arrivals. This gets in the way of a larger, stronger, more formidable Community from forming, and that's where we're at now.
General Hughes is correct: We didn't gatekeep hard enough. Consequently, as Mike pointed out, the signal to noise ratio is now egregiously skewed by casuals with no true investment in any of the systems they actively endeavor to sabotage; They just showed up one day expecting everything to be handed to them without putting in the work, and when the culture tells them "Earn it," they cry "Muh rights" and throw a fit of malicious contempt. The reality remains, however: Those with nothing constructive to offer don't get a say, because they had nothing to say worth considering in the first place.
🎶 Miss me with that bullshit; You're not a gang member you're a tourist. 🎶
It's understood and accepted among the culture that there will always be a degree of disagreement and infighting as long as there are multiple methods of equivalent efficacy and a need to police ourselves in the practice thereof, as ever; this is done to improve the collective and maintain its integrity. That self-policing manifests itself in the form of steadfast adherence: The culture will maintain its standards and make sure that those who wish to be part of it truly understand and appreciate what it stands for. Its legacy will continue to be upheld, accepting only those who are willing to do the same and rise to those standards.
The power of the culture is strong, but it must be guarded. We must ensure that those who have earned their place in the culture remain there (rather than pushing them to withdraw from the discussion to avoid arguing with know-nothing hobbyists to whom they've nothing to prove), while also providing a way for the new blood seeking to join us and contribute to do so. Those who seek to divide us from within and undermine our unity are undeserving of the respect they feel they're entitled to command.
Conversely, those who've been part of the culture for a long time understand the importance of paying dues and respecting the legacy of those who came before them, in turn earning their respect and place among them. That is what the culture was built upon. However, the younger generation often has a sense of entitlement which leads to divisiveness when they are not immediately accepted and respected as peers among the culture, despite having never contributed anything to earn such deference beyond parroting those who already paved the path.
I've observed for some time now that our ranks are plagued now by those who erroneously believe their opinions are entitled to value and consideration for the fact that they have an internet connection and money to spend, lacking any informed understanding or experience to substantiate their subjective input; They are not. Some would say "cringe" and call me a gatekeeper for saying that… and I do not care.
Gatekeeping is another word for quality control, ergo it is a necessity. We self-police, remember? Take for example, armed communists like the SRA (Socialist Rifle Association) and the John Brown Gun Club: Fuck them, and anyone who enables them. They're no friends of ours either way, and they are not wanted among me and mine. Thankfully I'm not alone in that assessment; During a previous conversation on the topic of Culture vs Community, a known and respected vendor in the industry market space once lamented:
"A community with no gatekeeping is just a random collection of assholes. I used to want to have guns elevated above partisan politics… and it appears I've gotten my wish with all the outright open communists getting into the 'gun community' these days."
This in turn calls to mind what Jack Donovan wrote in The Way of Men: "You have to define your group. You need to define who is in and who is out, and you need to identify potential threats." Those threats come in a variety of forms among the problematic demographic of casuals; The most recent waves have brought with them a particularly loud and obnoxious variety of dipshits and troublemakers. Regardless of age they act like children, quick to aggression; their choice to be cunts for the sake of being cunty betrays their lack of value, despite their overestimation thereof.
Just as well, there are those older (even some with culture-like amounts of time invested, unfortunately) who conduct themselves with no higher maturity than their younger casual counterparts what with all their trivial bullshit; They fallaciously presume that the amount of money they've spent alone exalts their presence. There are multiple varieties of casual, however: Some are political, some merely a nuisance.
•••
Of the political variety…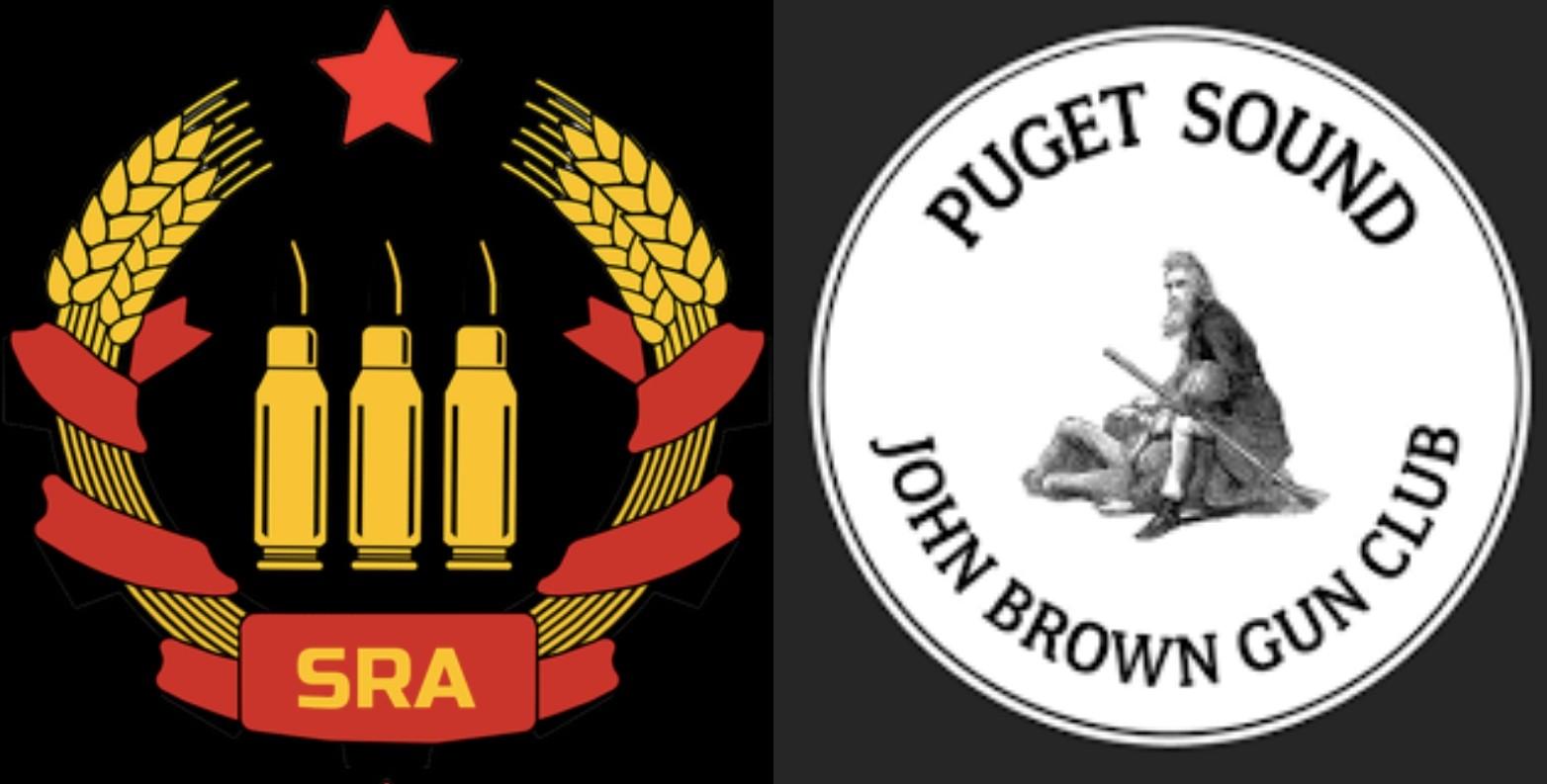 Some individuals identify as pro-Second Amendment yet are still willing to vote in line with political parties that are against the 2A and the Firearms Industry. The cognitive dissonance between their beliefs and the platform of their chosen party should be called out with the disdain it deserves for the danger of its inconsistency. Such individuals are nothing more than wolves in sheep's clothing; they attempt to deceive by labeling themselves as "Socialist Libertarians" or "Libertarian Socialists," to conceal the fact that they're just socialists who like guns.
Needless to say, the two ideologies are like oil and water, and a fondness for guns does not a libertarian make; all they're trying to do is use guns to dupe their way into the community to preach and advocate for their socialist ideology from within. As for those that outwardly declare themselves as communists or socialists or imply any such affiliation, fuck em. They are not our friends, and our shared interests do not endear them to us. They can hang from the same rope as Neo-Nazis.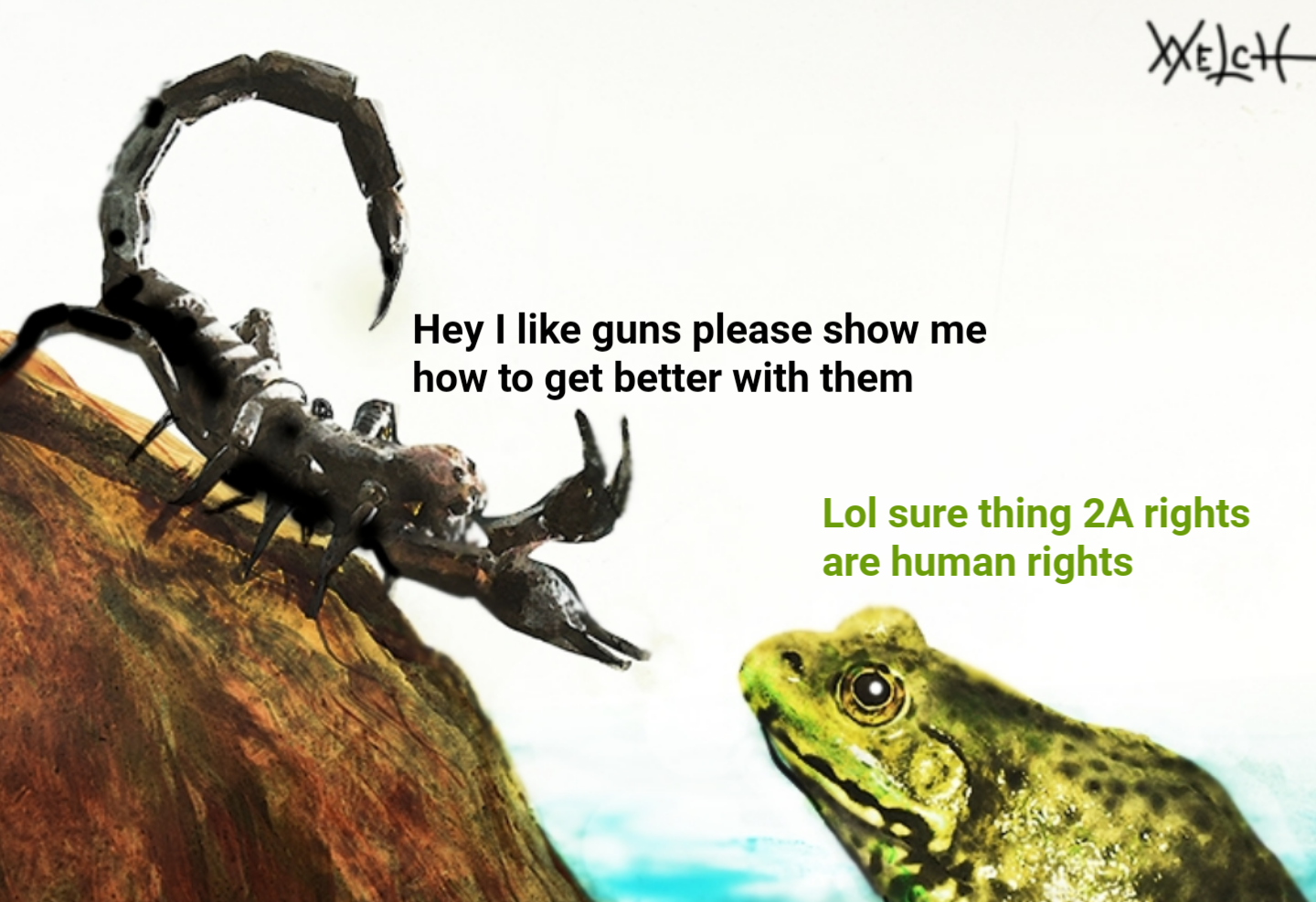 "Leftists have gun rights, too…"
– Near-sighted Coward
Then there's the enablers: Those that refuse to take a side and would rather make excuses for the likes of them. They are naive and soft, and lack the strength to face the reality of our circumstances and call a spade a spade: that the 2A very much is a political issue, and one side is invested in destroying it.
Instead they try to hide behind hollow and sanctimonious virtue signaling, attempting to fool everyone with their false veil of unity from a presumed moral high ground. Peep the pictures or posts they put up in the vicinity of June 2020, there's a good chance you'll see a blank black profile pic and/or a #BLM somewhere in there. Capitulation, pure and simple.
Meanwhile, our enemies have already made their choice and are working towards a goal that is antithetical, detrimental, and therefore incompatible with the American way of life. As our nation is being tested, their lack of vigilance and attempt to blur lines wastes our time and welcomes the unwanted among us. To those vigilant wardens of the culture (old and new) I would encourage you to be brave and stand firm in your convictions in regards. You're not wrong for it.

"I support destroying the system."
– Uncalloused Suburbanite Gamer
Yet more pathetic than the enablers however, are the radicals likewise in the opposite direction. At first they purport to be champions of small government, but are nothing beyond anarchists masquerading as righteous. In truth they're a spineless lot, mere hypocrites who enjoy the safety and privileges of a bourgeois lifestyle that they're too afraid to put their lives on the line to protect.
They talk a tough game about tearing down the system that provides the comfort of civil society for them despite contributing nothing to it, but will never take the risk of actually doing it. Thus, their words are empty and their actions are meaningless. Knowing this, they deflect their cowardice onto others in the form of shaming and belligerence, their cries of "bootlicker" signaling the pathetic frustration that comes as a byproduct of the confusion resulting from their own cognitive dissonance.
Think college liberal dipshit but on the other end of the political spectrum; too young to have actually experienced or understand any of the hardships they complain about, but too stubborn to entertain articulate logic if you're not telling them what they want to hear. They intentionally inject partisan political bullshit into the conversation in an attempt to be edgy.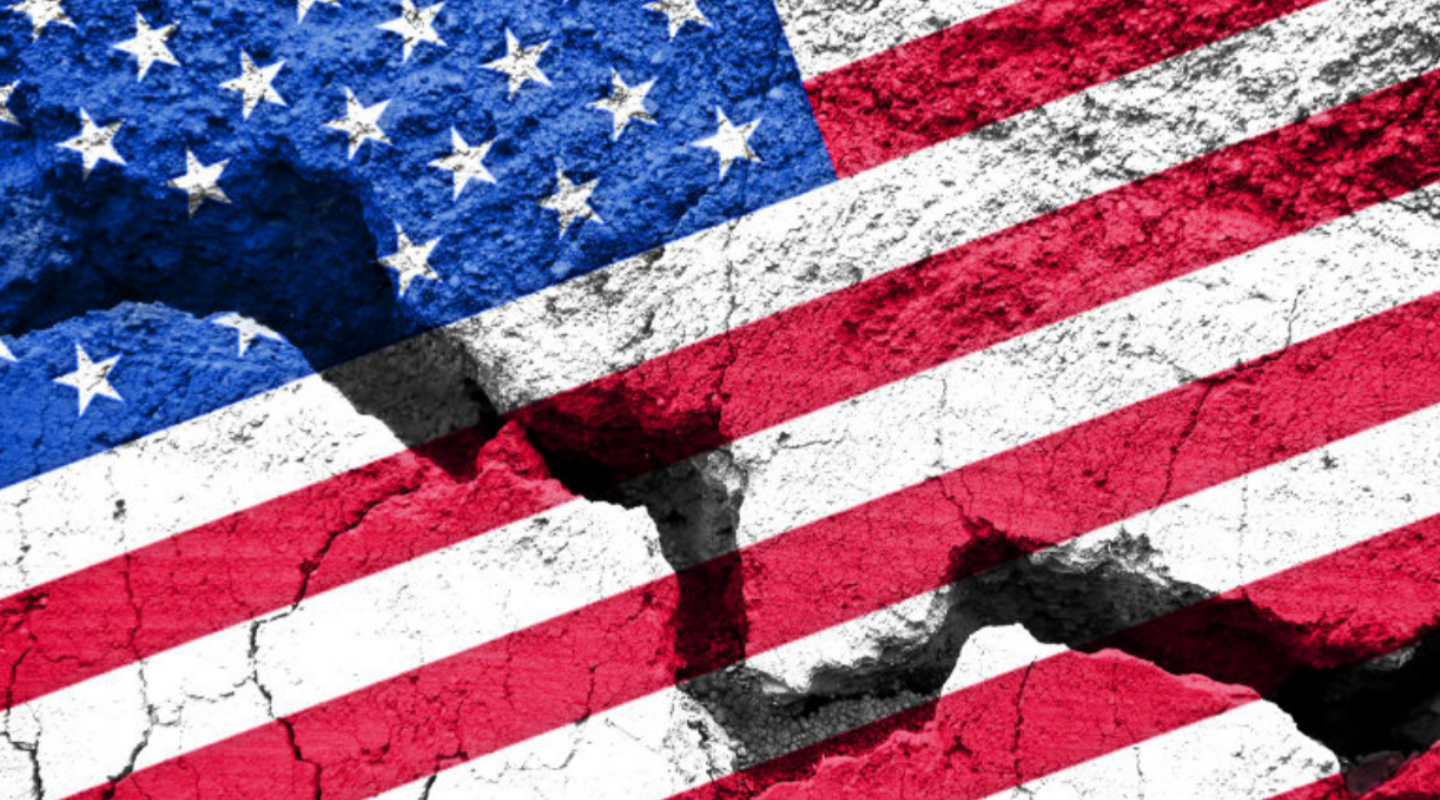 The worst part of the whole thing though? They're all playing themselves, and no one realizes it. Our enemies, those who will pull at every thread they can to tear down and destroy the fabric of our society are exploiting our divisions and capitalizing on our foolish carelessness to further their own agenda, using our own people to weaken us from within.
That is by design! They love to see the infighting, against the industry and those it serves, and among the end users, because it cuts their work in half. I already told you, they don't have to divide and conquer us; they sit back and watch us divide ourselves by using the same logic against our own that they've used against us for decades, like cancel culture, and "Don't trust X" and "As a civilian, I don't need…" and wait for the right moment to do the rest.
They rely on their infiltrators, among the casuals that were welcomed into the community, to start the fire and fan the flames. However, we fail to collectively recognize this, and instead commit to counterproductive behavior.
•••
Of the usual suspects…
🎶 Trigger fingers turn to Twitter fingers 🎶
Pretenders and wannabes are all too common in our circles. Although not the most disorderly, they know enough to be the most dangerous variety of casual; they sound qualified and informed to those that don't know any better but often preach to mediocrity, suggesting one shortchange themselves based on what they feel "most people don't need…" that they've arbitrarily determined is universally applicable based on random statistics they pulled to support their opinion. However, they lack the foresight to see the second and third order effects of how their watered down approach actually weakens the strength of the 2A by limiting the capability and efficacy of the culture surrounding it.
They believe they can take shortcuts to the stations of respect they feel they're entitled to within the culture without actually contributing anything of value by parroting the experts in the industry, having never put in the necessary dedication and hard work of their own. In doing so they'll play the angle of "Good information is good information, no matter who says it," as if repeating it qualifies them as much as those who wrote it originally. They're arrogant enough to proceed under the guise of offering wisdom they do not possess, and have the audacity to take the credit people give them for it.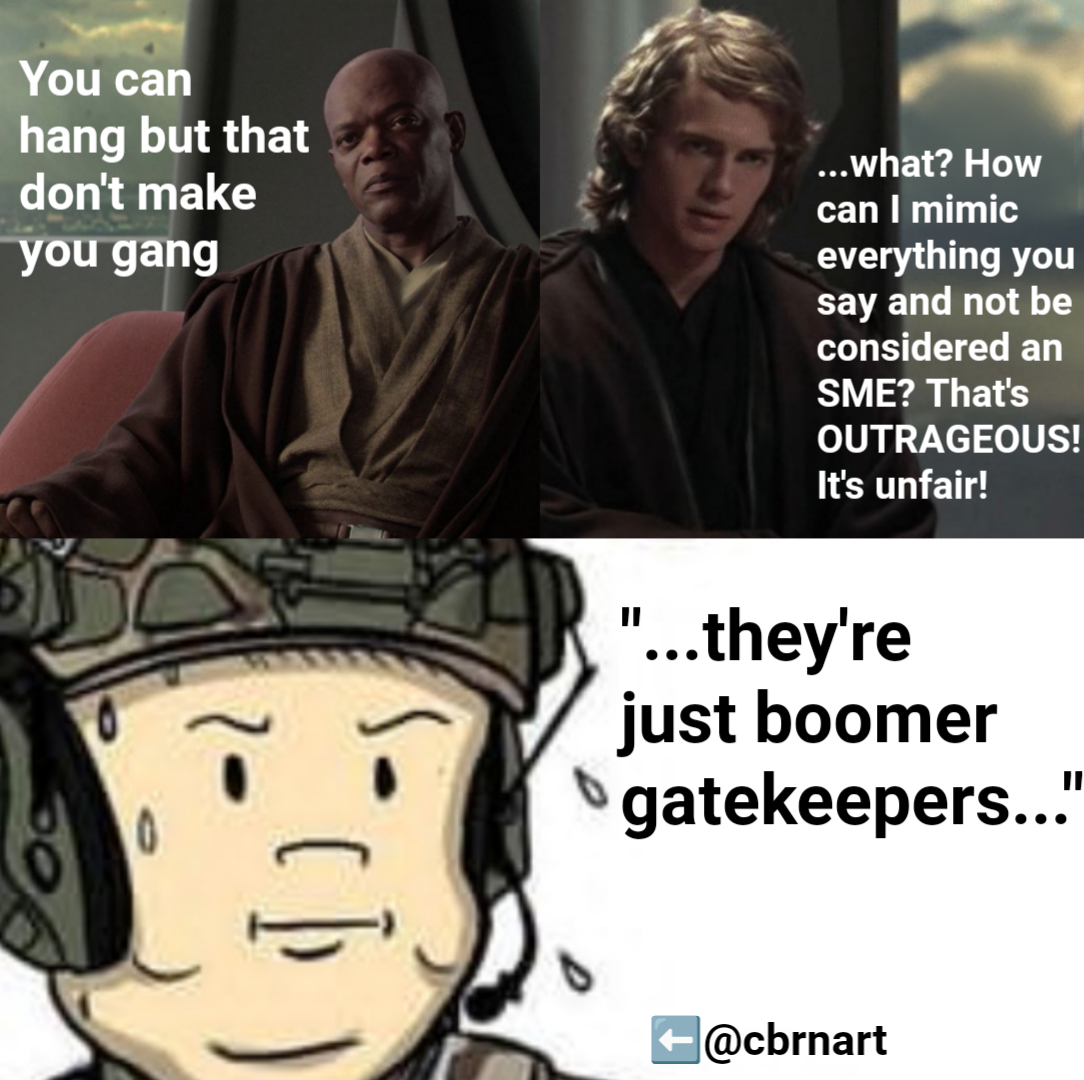 By and large, these charlatans are a nuisance. They're usually found in large social media groups, and their presence is a blight on the quality of discussion there. However, they tend to rely on their associations with these pages and regurgitate the words of SMEs to boost their legitimacy, yet offer nothing more than the same words we've already heard with no insight of their own to substantiate it. Their lack of knowledge and nuanced experience is exposed sooner or later, because they forget that they can exercise their 2A and 5A rights simultaneously.
Despite their unsolicited and often ill-informed opinions, they're nothing more than cheap imitations of the authorities they desperately wish to emulate; their fraudulent attempts to capitalize on the hard work of genuine subject matter experts who've devoted their lives to mastering their craft is an affront to them. This charade should be dismissed accordingly; they're imposters, who are not worthy of the same respect and regard as those who've actually earned their place in the conversation.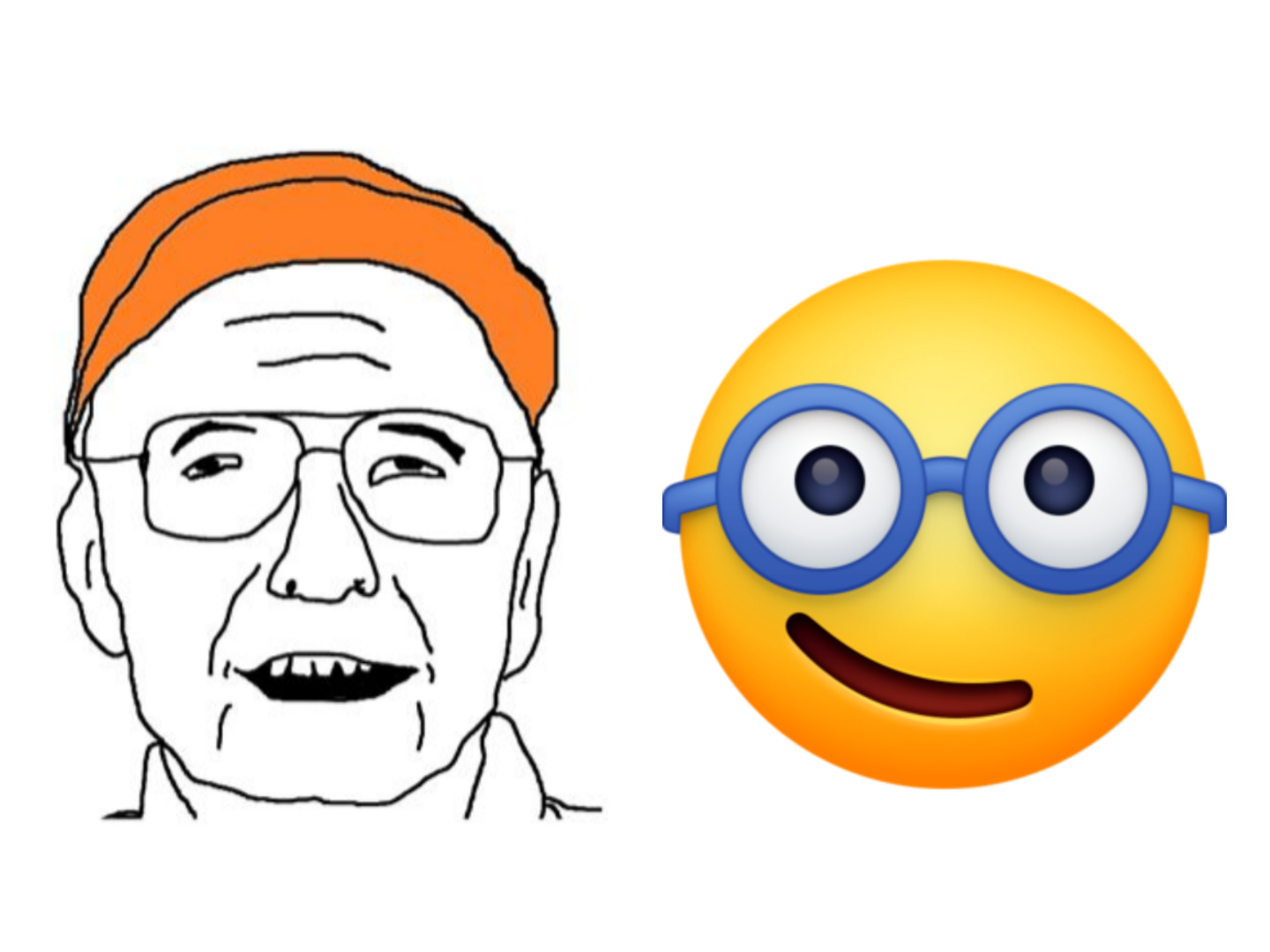 If you know what a fudd is, you're familiar with the older variety of the pretender: Someone who confidently preaches bad information or opinionated dribble disguised as objective facts, only with the added layer that the bad info in question is obsolete because they're older and still swearing on shit they heard decades ago. The Neo-Fudd is a younger version of the same thing: A lot of what they have to say is irrelevant, either by niche or circumstance, but it's their way of trying to be a relevant/reliable source of something nobody else is talking about. They just overlooked that there's good reason as to why nobody's talking about it.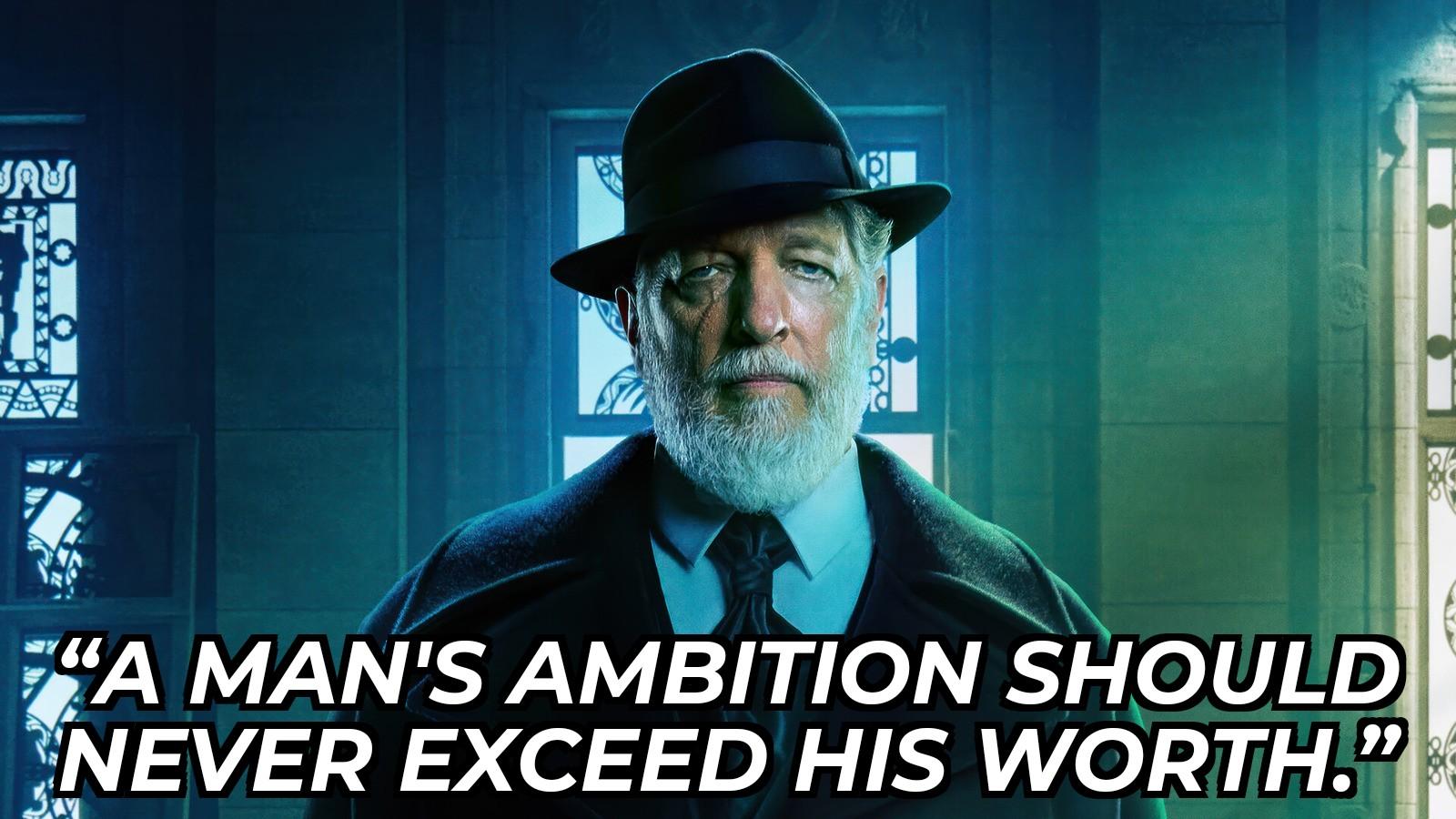 Now. Have you ever been part of a conversation where a particular brand gets mentioned, and you've seen someone say something to the tune of, "I'm sure Company X makes good products, but I won't buy any because I don't want to be associated with their customers since they're a bunch of douchebags"? We've got this next category of characters to thank for that phenomenon, and there are two varieties of them that are actually diametrically opposed.
First you've got the Wannabe Brand Ambassadors. These would-be influencers AKA shills are opportunistic pests to many companies in the industry of both high and low regard. Whatever they spent their money on is awesome and you should buy it too, no matter how shitty everyone else says it is; theirs has never given them a problem in hundreds of rounds over as many months.
Sometimes they act as if they have an inside connection to a company or brand, yet have no affiliation with them whatsoever. Their ulterior motive here is to elevate their own status and give themselves an air of authority regarding the products thereof, but this is a façade; everything they do is a transparent attempt to flatter and ingratiate themselves to the company's owners and senior executives.
All told, these sycophants offer nothing of tangible value to the organization or the segments of the market they serve. They'll usually behave belligerently towards those who can't afford or criticize their chosen company's products, but their loyalty will rarely be rewarded with any special favor. Most companies wish they'd just go away, as their presence is more of a bad look in terms of representation.
There is an offshoot to this variety of casual that I've always referred to as "high rollers." These guys typically swing their dicks around like a bunch of condescending pricks based solely on the amount of expensive stuff they've purchased. It's quality product, don't get me wrong, but beyond this collection the only thing aggressive about them is their internet attitudes.
They buy stuff, some even train with it, but that's it. They could be in construction, or do photography, or whatever, but they always act abhorrently holier than thou as if what they own and how long they've owned it entitles them to some higher social status.
The junior varsity version of the high rollers are the drop culture guys. The "rarity" of their obsessively purchased trinkets and clothing items are more for flair or "drip" than anything else, since none of the things they buy typically do anything functionally that an alternative product wasn't doing already; They do it "for the gram."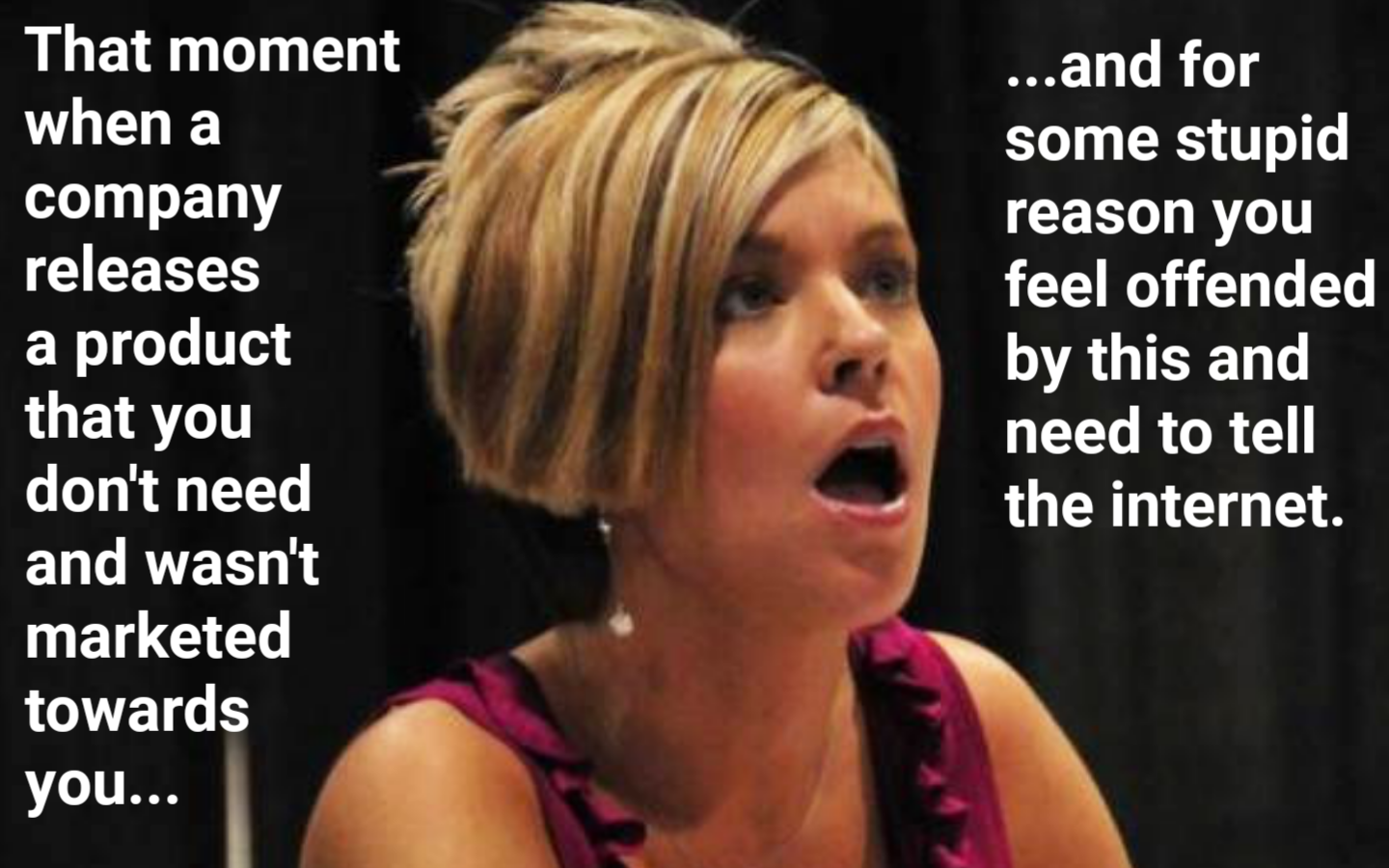 Then you've got the Anti-Ambassadors. Karens, basically. Rather than incessantly boasting about how good Company X's product is, all they do is talk shit about them and suggest they know how to run the business better than anyone that works there. Bear in mind, they've never designed, developed, manufactured, or brought to market a single fucking thing. But based on their limited scope of sales from their perch at the counter of the local brick and mortar gun store combined with internet access on tap, these guys think they've got the whole game figured out. They discuss the products more than they actually use them, ironically enough.
They presume to tell huge companies that have fielded several multi-million dollar contracts for various DOD and .gov customers otherwise that they need to innovate or get left behind, completely betraying how off base and overestimated their understanding is: both of their role in the machine and how the machine works. They've got the "money talks" part down, but haven't grasped that for all the money they've seen moved in exchange for product in their little corner of the market, it wasn't enough to be heard by those whose attention they were trying to gain.
That, or they very assertively demand these companies develop products according to their say so, based again on their limited scope and understanding of how and where what they have to say fits into the whole process. If, after all this, they feel like they're being ignored (rather than just not being noticed cause they're small fish in the pond, tadpoles even) then they fire up the smear campaign machine, often running right to that company's competition to aid them at the disadvantage of the company they felt ignored by. Then they end up in the first category.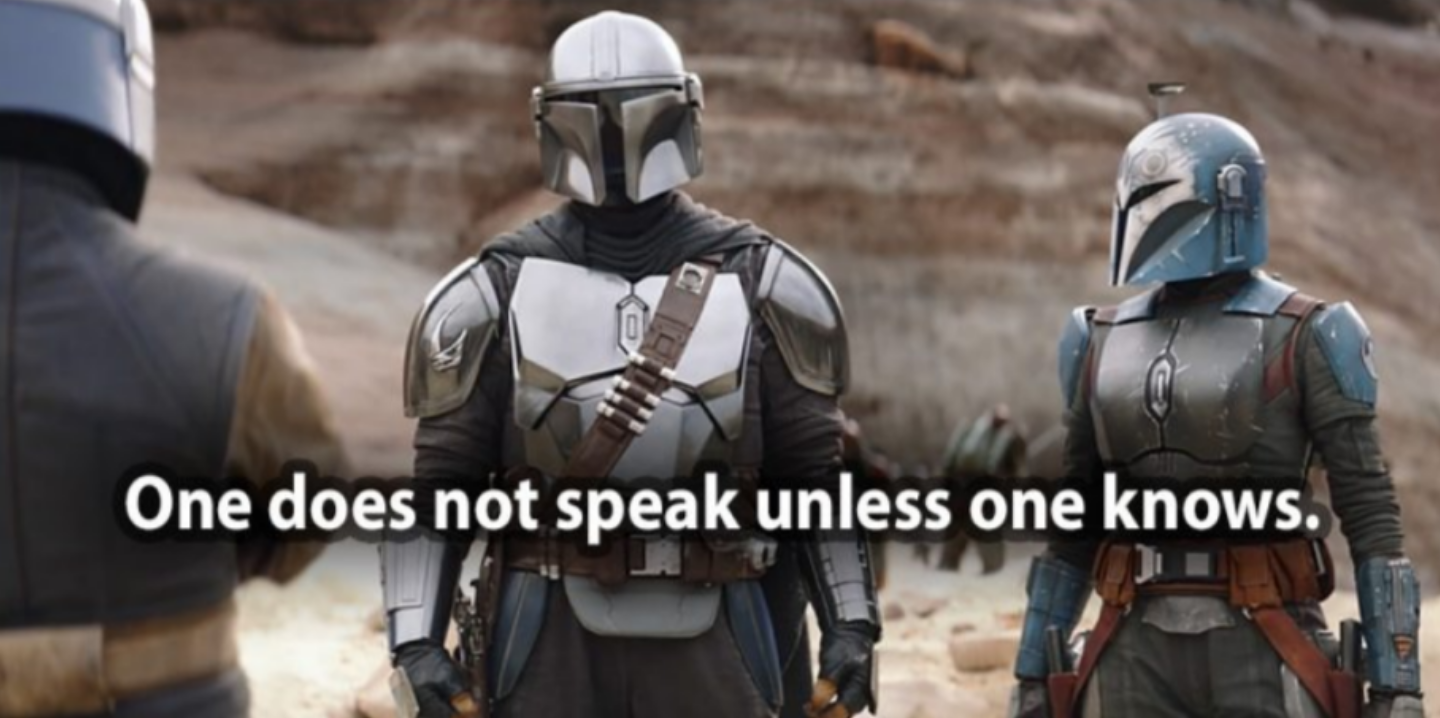 Then you've got the kids. In a roundabout consequence of their innocent naivety, they inadvertently make NPCs of themselves; Not so much because they don't know better, but because they don't know that they don't know better. So all they've got is what they learned upon entry, and they respond to anything challenging those notions with hostility.
You can almost always count on getting a live/in-motion example of the Law of Primacy (that which was learned first is retained most) out of these guys; they're all "Daddy said…" because they haven't been around long enough to learn much first hand or alternative to whatever they learned from whoever or wherever gateway they came from. Could be airsoft, video games, YouTube, Reddit, you get the idea; A lot of opportunities for them to learn the wrong shit stated confidently by one of the aforementioned imposters.
These are the ones that are new to the game and ask for suggestions about whatever product category and after you give them an articulate, informed, and detailed response they say something like "Hmm okay yeah I gotta do my research." And you're like "Resear– What research? You don't even know what you're researching how do you know whether or not what you're reading is accurate?"
A lot of their first encounters among more experienced people in the culture go this way. We should all know, we've all been there. The ole "impress them with knowledge they could tell you in their sleep" routine, before you're taught "Shut up and color." Eventually we learned to observe twice as much as we spoke.
But with a little patience and maybe a light tap on the head, you can get through to them. So I'm a little more forgiving towards them; they're eager to learn, you just gotta get em to slow down enough to listen to those trying to teach them. Unfucking their wiring can be tedious but it's not hard. You're actually cleaning up someone else's mess. Some unqualified schmuck got to them first and then they ran into you, and you had the integrity to realize "Damnit I have to help this person before they put someone's life or their own in danger talkin' all that bullshit."
The thing to remember about the kids is they're harmless, even if they step with an attitude. They're noone that anyone has heard of. Compared to the imposters I mentioned earlier they're not trying to pass themselves off as something they're not with the limited knowledge they do have, they just want to be taken seriously. Once they realize you're only trying to help them (and that by accepting that help you'll consider them worth your time) they usually mellow out and become much more receptive to guidance, even correction. Those are the good ones.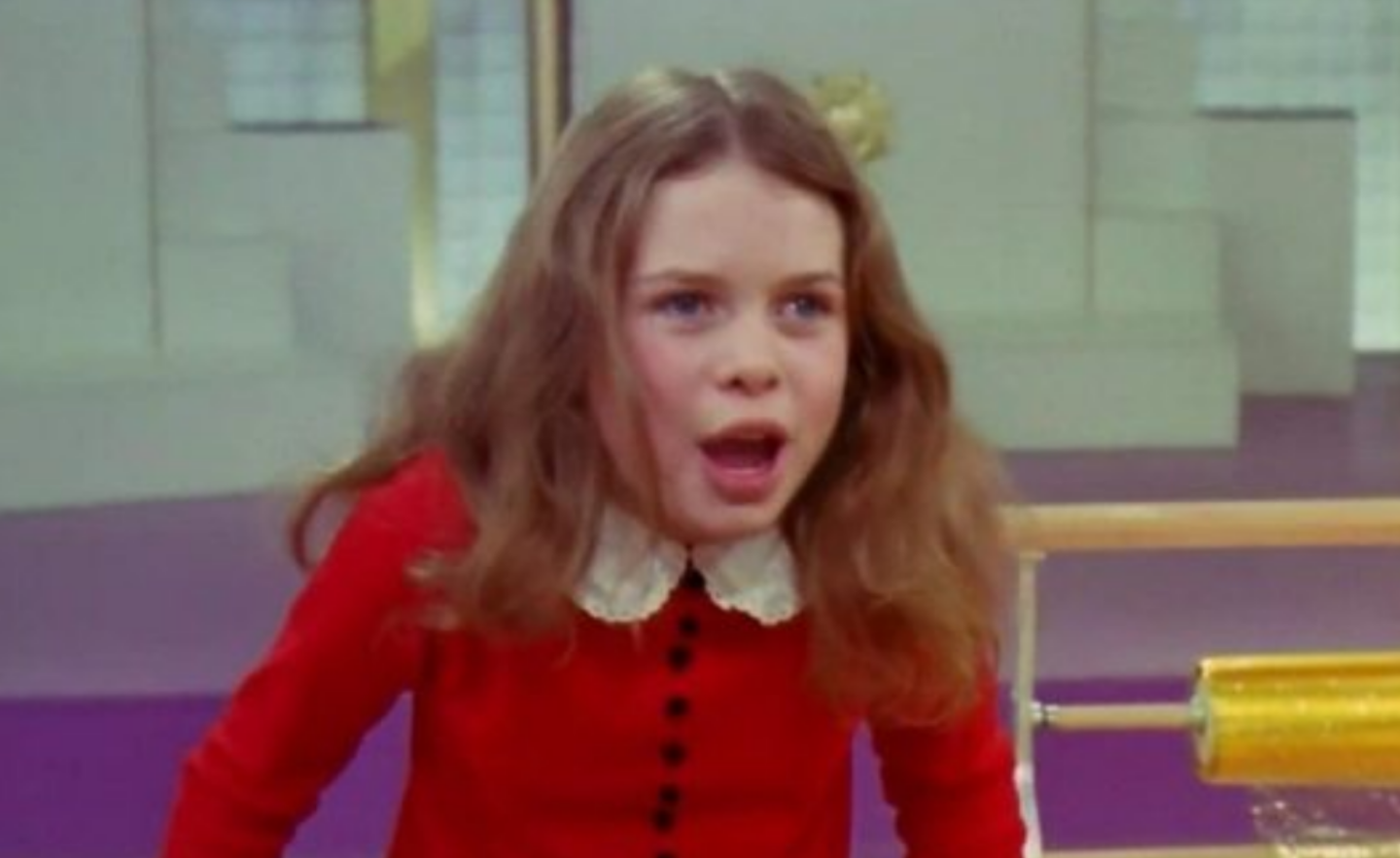 The bad ones… They just suck. They're as inexperienced as the kids I just talked about, but they're a bunch of obstinate fucking brats. They want what they want and they want it now, and once they think they know what they want they don't want to hear shit until they learn the hard and/or expensive way why their idea was retarded.
Challenging those more experienced is very common with these guys. You can't refer them to SMEs or more qualified sources of knowledge that they've never heard of because they respond like "Who's that and why should I care about what they have to say?" They try to be slick and cover this stubbornness with some platitude like "Fuck professional opinions, I want to see data," despite the fact that they couldn't tell the difference between the two if it was right in front of them.
You know when they get to their college years and think nobody else knows the stuff that they just learned for the first time, so they presume to tell you how it is and you let em ramble a bit before humbling them with the reality check rather than cater to whatever fantasy they've dreamt up to justify their misinformed wants or questionable purchases? Like "Yeah I heard it directly when I trained with the person you're quoting," or "Yeah I remember when the data you're reciting was new."
That doesn't sit well with them. They become spiteful and throw a fit, and sometimes they'll make a personal vendetta out of it. They've also got this wayward idea that the money they've spent on guns and gear along the way is a substitute for the effort required to obtain the knowledge and proficiency they seek or pretend to have.
If you've ever read "Lights Out" by David Crawford, you'll recall the main antagonist known by the name of "Big O" who was a particularly spiteful prick; these casuals have the same psyche profile: Nothing of substance to offer, aggressively demanding, and quick to turn on you when they're denied as much.
They're basically a proto-form of the earlier described imposters: Usually it's some pencil-neck dipshit who knows that the internet is the only setting they'd get away with being so assertive. The kid telling you to be a man and get an ACOG or a quad rail when he wasn't old enough to buy guns by the time both of those things became obsolete is probably one of these, and will sooner block or ban you from their ant hill of a group to silence your dissent rather than let you make a fool out of them with facts and personal experience.
For what it's worth, you can and often will encounter casuals who exhibit traits of all the varieties described so far; it's not uncommon to find people that are combinations of them out there. Brushing them off is easy, they become white noise eventually.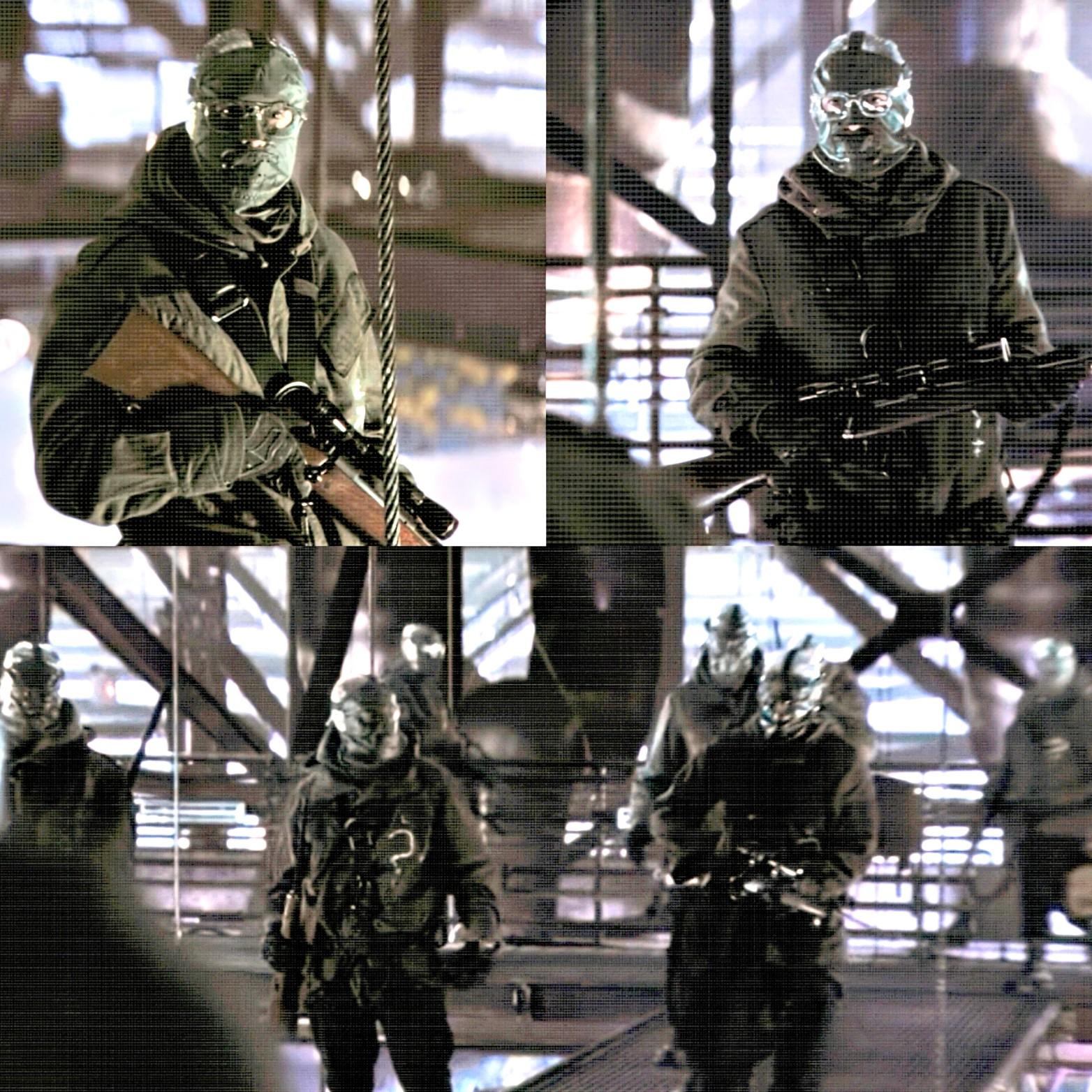 But worse than any of those described above are the Shitposters. "Autists," albeit politically incorrect, is also fitting. "Gun counter commandos" not so much since they don't ALL work at a gun store. But imagine if you had The Kids, only they were off their meds, and then combined it with every other description here. Then you'd have these guys.
As bandwagon riders they're quite impressionable, quick to sensationalize and blow things out of proportion as they move in packs. Most of them hide behind masks in the form of alt accounts because they don't have the spine to stand behind what they say or face direct confrontation and character judgement as a result. They stand upon an altar of iconoclastic demagoguery and radicalized tabloid rhetoric, especially when they want to get political. But they also like guns, to which we owe the displeasure of their presence in our shared space.
These guys are fucking cancer. They create chaos with their petulance and erratic behavior, having nothing worth considering to say for all the energy they put into their toxicity. They are unpredictably volatile, often engaging in doxxing, smear campaigns, cancel culture and/or trivial dick measuring contests in an effort to silence anyone who disagrees with or knows better than them, and to attack companies in the industry while calling it "accountability" as they incite others to turn against each other.
They believe this corner of social media belongs to them, and their outbursts of vitriol and baseless accusations are a purposely disruptive smokescreen to conceal both their fear of repercussions and lack of credibility; merely an attempt to move to goalposts whenever you paint them into a corner with a valid rebuttal since they're not actually open (or perhaps even capable) of having a real discussion. Although they've garnered a following across various meme pages and social media groups otherwise, they are the blind leading the blind; any cogency to their arguments is eclipsed by their propensity for tumultuous and ego-driven infighting.
Fortunately they've gone so far out of their way to prove what worthless pieces of shit they are as humans that onlookers, culture and casual alike, are starting to get sick and tired of their bullshit and say it out in the open now. I have seen this happen before. I know how it ends. They are not long for this realm, for their relevance has always been counterfeit; the patience and tolerance they've been granted as "fellow enthusiasts" is starting to wear thin.
The strangest thing about them though is how scared they really are, beneath the veneer. Go ahead, try to get them on a phone call or a group call to talk to them like adults in realtime after all their postured shit talking online. Watch how fast they avoid you. It's a rather surreal juxtaposition when you realize they're afraid of you; then you understand why they hide themselves from the world they dedicate so much time to harassing.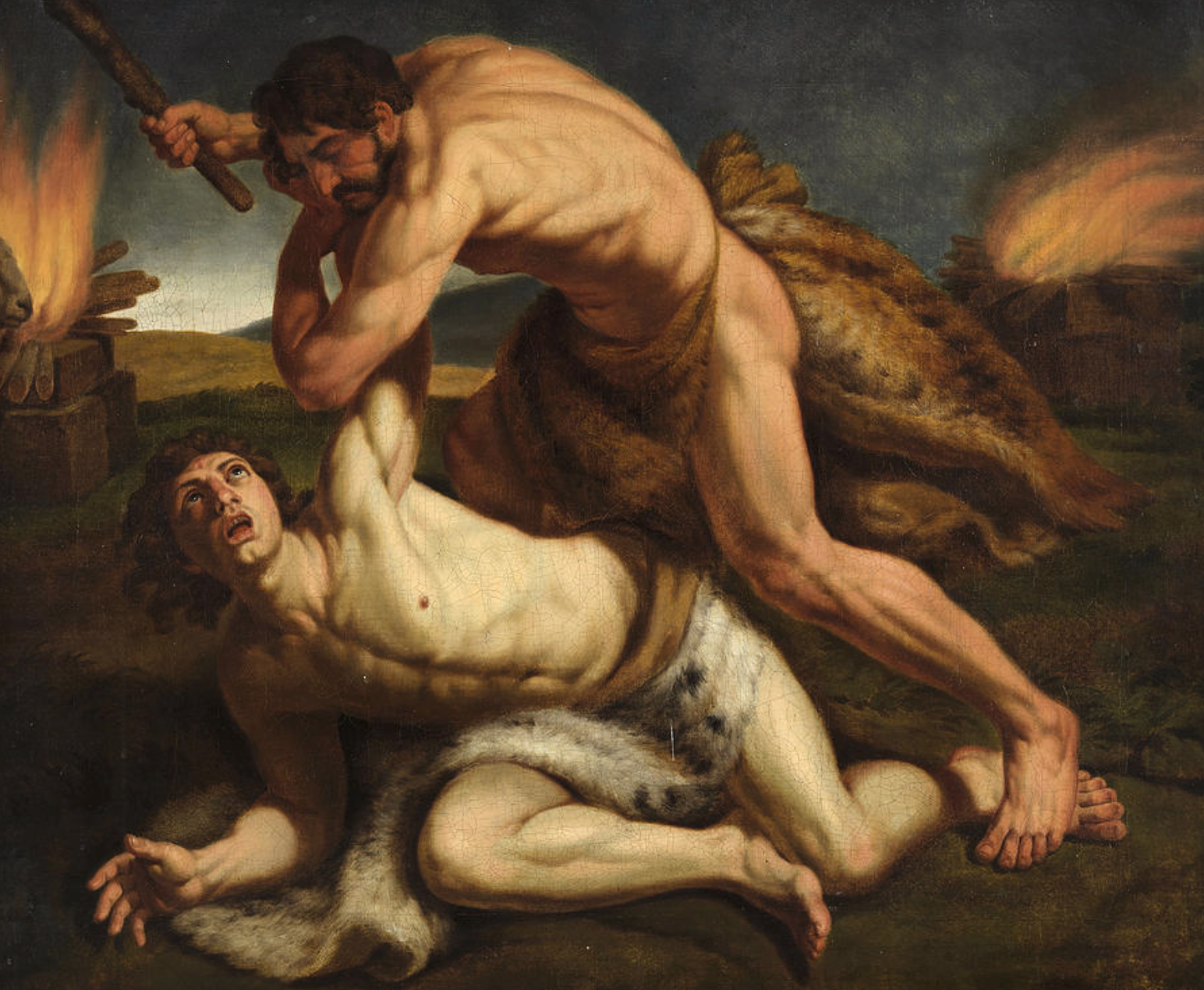 But it goes beyond communists and wannabes and schizos that are contributing to this larger matter of infighting. I saved these guys for last on purpose. Because I expect LE & .mil guys to be better than this.
It's been a great disappointment, having witnessed that men who've stepped forward to risk their safety for the benefit of others are as capable of being as despicable to each other as less disciplined citizens of our society (and the casuals in our community especially). It's not for a matter of self-policing that these individuals visit backstabbing and lies among their sworn brethren either – it is borne of insecurity and frustration, with no outlet for it that does not bring legal repercussions.
If you could see these interactions for yourself, you'd be astounded at the level of animosity and malice and spite they demonstrate. Such behavior and callous indifference towards those they call "brother" isn't just unbecoming, but also a disservice to the cause they've sworn to uphold. It's a sad display of those attempting to inflate their own egos by putting others down in order to make themselves feel more significant, and behind their backs rather than directly.
I'm not talking about the typical ball breaking over investing time and effort into one's own skill and readiness, like being called "gun buff" or "Tackleberry." They bring it up to a whole new level, slandering armed citizens and industry personnel and colleagues alike, sometimes pairing it with pro gun control sentiments. The shit I've seen these guys say about each other and gun owners in general in settings where they think they're safe to say it is disgusting.
•••
Culture demands that standards be met. The bar has been set, and it is our duty to uphold it. Those standards are encouraged with a welcoming hand, not an elitist one. They exist for good reason, and are not meant to be exclusionary, but rather to ensure that we are all working together to reach our goals. You can meet them, and we want those who would abide by them among us. It is how we separate adults from children; qualified from unqualified.
Rising to that challenge and proving one's worth isn't even hard, really, and those who are willing to make the effort will find a supportive and encouraging environment in which to grow and succeed. But despite this, the generation of casuals raised by iPads and participation trophies can't handle that requirement of commitment. They expect to waltz in without paying their dues and demand respect without having the integrity to truly earn it, only to find themselves unsuccessful and deemed unconvincing.
So what have we ended up with?
We get a power struggle among jesters who call themselves "King"; A misguided attempt at a community, full of misguided individuals. A community of ignorance and apathy, where the most obnoxious with the loudest voices carry the day. A community full of vapid and immature enthusiasts looking for a substitute for actual violence, so they've created out of our would-be community an environment where they belittle and ostracize others who do not share their opinions as a matter of sport and perceived social status and attempt to qualify it by saying "Bullying works."
Where vanity has corrupted what could have been a great community. Where the emphasis on who's got the highest priced gun, gear, accessories, and collection thereof is more important than knowledge backed by experience and time invested in the craft that informs the selections of veterans in the culture. Where wannabe warlords pose as the "everyman" while showing off their numbers and how organized they are, and in the same breath turn around and tell the audience beyond their locality to go fuck themselves.
You're sure to get a hobbyist that has done nothing but buy parts to assemble a rifle and wear a patch on a ball cap and call it a day and pass it off as "building a gun", but that's our corner of the internet and it's a cesspool; a reflection of the worst of us. A battlefield of the egos of those that have nothing more to show for themselves than the amount of money they spend to qualify their opinions, and that's what they think passes for power these days. They consider themselves "ready" for what the 2A enables us to prepare ourselves for, but distract from that when you catch them off guard with facts.
Be that as it may… the behavior I have seen exhibited by those around me is unacceptable: Those insolent who seek to argue when they do not understand; Those who derail academic conversations with emotionally charged subjective input; Those who encourage fratricide and rivalry over menial matters; Those who attempt to remain relevant by fomenting drama or think their frivolous spending entitles them to status; Those who engage in drama over mere disagreements; Those who presume to dictate the industry based on a limited understanding thereof; Those who confuse their opinion with facts; and those who proudly display evidence of their being petty, rude, and unhelpful when they had an opportunity to do the opposite; Those who hide behind anonymity while spreading chaos and internecine strife; and those who enable our enemies while attacking those who enable us, ARE TO BE CONDEMNED!
I'd sooner consider such people Agents Provocateur acting at the behest of the anti gun lobby, their divisive approaches laced with intent to prevent the greater whole from coming together to form a more effective capability, and to further the effort to dismantle the industry's collective potential to stand against increased efforts to push gun control legislation.
And if you've tolerated this, instead of correcting it? If you've participated in it, while pretending you're some sort of advocate for the "2A Community"? Fuck you. You should be ashamed of yourselves, especially if you've been around long enough to know better. You choose to be part of the problem. Sit in that stink and dwell on your failure, you useless fucking hypocrites.
•••
All in all, antithetical to the idea of the "2A Community" that we tend to fall in love with. We wanted more people. We wanted greater numbers, hell we needed them. We got them, at the cost of having to talk over some manufactured bullshit they attempt to disguise as a principled argument. Yet they pass themselves off as the voice of a new generation, and therefore an authority. This is starting to sound familiar. But this isn't unique to "Gun Culture X.Y"; the negligence of this internal rot has spanned generations of gun owners nationwide.
Ultimately: They cannot guide, because they never learned how to be guided.
•••
The TASKER Network's goal is to facilitate better informed and highly capable shooters, both professional and civilian, but with proper guidance and drawing from the correct sources with the right experience and context to support and substantiate their input. The Second Amendment exists for the American populace to stand up a defensive capability among themselves, from the individual to the national level. Our job is to get you there, the right way.
At the same time however, TASKER is not for people that get preoccupied with stupid shit like the gundies. We were supposed to be an aggregate, but we can't do it absolutely because of all the bullshit people preoccupy themselves with; therefore we had to be selective about who we catered to and focused on enabling; All are welcome… but we don't want everyone, either.
We're an institution for higher learning. We have the resources, and will use them, to provide the ultimate resource for those that want to be better versions of themselves as far as shooters go. That's how we give back. The masters shared their wisdom with us, after years of searching them out, and we in turn share that wisdom with those who seek and are ready to receive it. They can spend years internalizing it and improving not just themselves but those who follow them also, with proper grasp and context on the subject matter.
It's our duty, therefore, to make sure people learn the right things the right way for the right reasons, the first time. So no, we're not going to be immediately welcoming or enabling towards the type of people that just put anything out there based on nothing but their feelings at any given moment based on with direction the wind is blowing, or how much they like the thing they spent their money on cause they got a deal on it but now they have to justify the purchase despite its track record of performance and quality suggesting it should have been avoided. They poison the well.
Right now there's a lot of people out there in wild space that approach the topic from a variety of angles. They make memes, they do videos, they're on Instagram, they're in Facebook groups, they're all over the place, and the one thing they have in common is this idea that "I don't need to be qualified, I just need to be into it and have money to spend and that's good enough," and they say whatever they want. They'll have no idea if or why they're wrong, and if you try to point it out and correct them, you're a gatekeeper that doesn't want people to have fun. You get told, "You have no experience, shit take" by the random kid you've never heard of with no experience and a shitty attitude. That's some logic for you.
Like Gary said, these guys are only part of the scene because they wanna be seen. They don't actually give a shit. They'll attack anybody, regardless of whether it's the industry that enables them or the armed citizens they claim to advocate for. They're not invested in the agriculture of the 2A culture like Mike and Gary and guys like them. So the irony of it is, they actually necessitate gatekeeping. Remember: Gatekeeper doesn't mean you keep the gate closed, and it's not some dirty word for people to be ashamed of like some try to treat it; it means you open it to the worthy.
Don't get me wrong, I enjoy memes and friendly ribbing as much as the next guy, that's one thing. I used to be a savage when it came to that shit when I had time for it. But character assassination? Doxxing? Smear campaigns and cancel culture tactics? All based on fundamental misunderstanding, or none at all. Those who would employ the enemy's tactics against their own are enemies just the same.
Hell I've probably been guilty of fitting some of these descriptions myself along the way. But by following better examples, I've grown and matured enough to look back and admit when I was wrong and correct others when I see them making the same mistakes.
I don't expect to stop any of it with this article. I don't suspect the casuals to go away, it's all they've got to make themselves feel relevant in these circles. But I do intend to give those in the audience capable of critical thinking a new lens and awareness with which to more easily evaluate and discard them when they get on their soap boxes to beat their chests and rattle their sabers, shouting oversimplified bullshit out of one corner of their mouths, while purporting to be 2A supporters and activists from the other. Because honestly, at that point, it's neither Culture nor Community; it's just noise. A waste of time.
You want to learn how to shoot? Seek out those who can shoot remarkably well. You want to learn tactics? Seek out those who use(d) them for a living professionally and understand the nuances of their application. They're out there and they want to teach you.
You want to learn sniper stuff? Seek out PRS and sniper guys. You want to learn about gear selection? Talk to the guys that live in it.
You want to talk activism, politics, and advocacy? Look for those with the approach that strengthens our people to protect our way of life and its longevity, and those that actually fight the legal fights in the legal arena.
You want to know how and why the industry works the way it does? Grow the fuck up and TALK to the people that make the shit you buy at the gun store, not the retailers that sell it, or the ones that treat it like collectors pieces to flex when they buy it.
All these kids and fake ass people that pretend they're one of those guys while they obsess over all these things like fashion label accessories and sling shit at each other in the process? Fuck em. They are not worth your time.
We're not going to always agree on everything, and that's okay because there's really so few absolutes that we all ought to agree on. Highly among them however is standing in unison against our enemies, both they who attempt to destroy us and/or weaken us from within.
•••
Earlier I spoke of a war that my generation came up under; that war is over. With the end of the GWOT behind us, we've lost a reliable tool to determine the validity of input and product alike: Wartime Experience. The culture's job in maintaining its integrity has therefore become a little harder without that rubric to measure off of. Perhaps we were spoiled; it made things easy when you knew the thing track record or the person's input was informed by the rigors of combat they'd just recently been through.
There is a way forward though; we can have a Cultured Community. We just have to follow Gary and Mike's example: Recognize these particular casuals for the no value added loud and distracting minority they are, and… disregard them entirely. Focus your energy into more constructive uses for it than wasting time on them. They are unwanted, they are not needed.
Protect this craft and discipline. Encourage, Establish, and Enforce a standard. Reach out to those looking for help, and deliver unto them the knowledge they seek. Welcome them. Enable their efficacy as the industry enables our own, for they might be the only help you have to rely on. If you knew you were on someone's short list to call in case of an emergency, you would honor that trust. Develop that capability in others. Lead. Advise others to beware the pitfalls of those aforementioned and their false credibility, and point them in the direction of quality: learning and equipment alike. Demonstrate how, when, and why it's important to police our own when we're discussing tools and techniques of life and death. Then, guide them to set their sights on the fight worth fighting: Not amongst ourselves, but against those that would deign to take it all from us.
We should be thankful that good Americans are willing to devote their time, energy, and livelihoods into enabling (in more ways than one) the American People's ability to wield one of their greatest strengths– the ability to protect their freedom by force if necessary. In doing so we must also be cognizant of the limitations they're working in spite of, and not allow ourselves to be distracted from those who put them in place to begin with.
Go on now. Go ahead. Tell everyone how "anti-freedom" TASKER is for taking the position stated here towards enabling those that would kill or enslave you in support of their ideology, or how much cope and seethe there is in this article for putting people in their place and calling them out on their bullshit. I don't care. Your criticism (read: publicity) is appreciated.
I understand what's at stake here, I am not alone in that understanding, and I will not apologize for being accordingly militant in regards.
We no longer have the luxury of saying "the enemy is at the gates," because we let them in. They are among us.
"E Pluribus Unum"… "Out of many, one."
One people.
"One nation, under God, with liberty and justice for all." Communism was unaccounted for when those words were written because it didn't exist, so from where I'm standing it doesn't extend to anyone that would enable it or its practitioners.
But in extension… One mission. One standard. That used to be us, as a people. As a community. Now, "Ex Pluribus," or "Of several" is how we find ourselves. And what a mess we find ourselves in. Behold, our current state of affairs. And lest we get our shit together and get on the same page…
Our downfall.
Stay Dangerous.
Stay in this L.A.N.E.

Join the discussion on this and related topics: